Cowboys and Their Wives!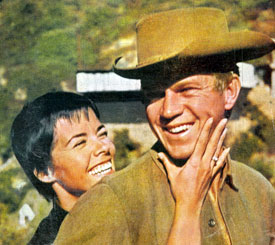 Steve McQueen of "Wanted Dead or Alive" and his dancer/singer/actress wife Neile Adams. They were married in 1956.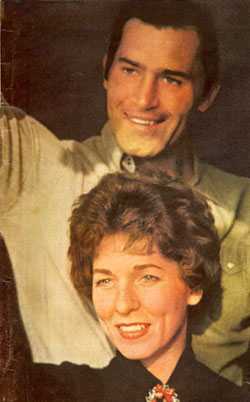 Clint "Cheyenne" Walker and his wife Lucille Garver in 1959.
They were married in 1948.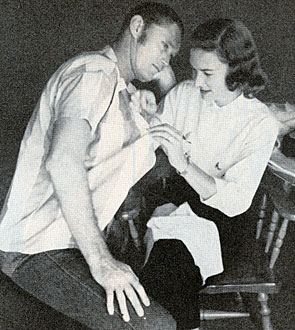 "The Rifleman" Chuck Connors and his wife Elizabeth Jane Riddell
whom he married in 1948.
Jack, Bart Maverick, Kelly with actress/wife May Wynn in 1959.
They were married in 1956.
"Lawman" John Russell with his wife Renata Titus in 1959.
Childhood sweethearts, they wed in 1943.
Marjorie Sloan and her husband Robert Loggia, aka Walt Disney's "Elfego Baca", with their children John and Tracey. They married in 1954.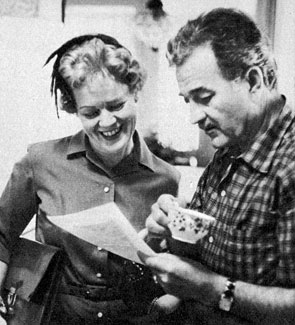 Milburn Stone, Doc Adams of "Gunsmoke", married Jane Garrison in 1940. She was the secretary to Ralph Edwards of "This Is Your Life".
Gerry Stowell married Dennis Weaver, best known as Chester on "Gunsmoke", in 1945.
Actress Andra Martin was Ty "Bronco" Hardin's second wife from 1958 to 1960.
WC columnist Will "Sugarfoot" Hutchins with his wife Barbara "Babs" Christensen. They wed in 1988.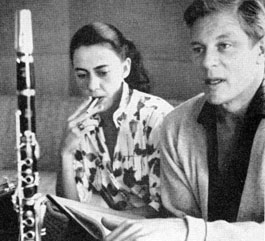 Peter Graves, brother of James Arness and star of TV's "Fury" and "Whiplash", with his wife Joan Endress whom he married in 1950.
Jock Mahoney and actress/wife Margaret Field who often appeared with him on "Yancy Derringer". They were married in 1959.
Jan Merlin, star of "Rough Riders", and his wife Patricia spent their honeymoon in Africa in 1951.
Married in 1957, "Trackdown" star Robert Culp and wife Nancy Asch were both motorcycle enthusiasts.
Betty Kalb married Gene Barry in 1944. When this picture was taken in 1959 Barry was TV's "Bat Masterson".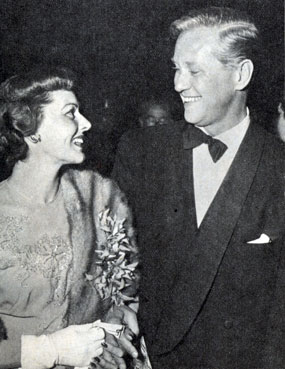 Newlyweds Adrian Booth and David Brian in 1949.
George Montgomery and singer Dinah Shore cooked up a marriage from '43 to '63.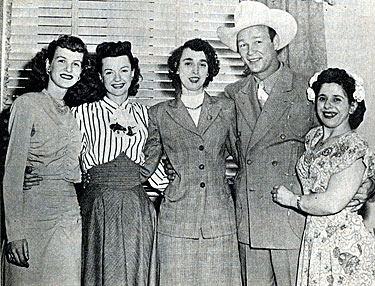 On a 1949 trip to New York, Roy Rogers and Dale Evans met with three devoted
Fan-Clubbers. (L-R) Marcella Zarek, Lillian Whitzgall and Fan Club president Virginia Picolis.
William Boyd, wife Grace Bradley and friend at the once operational Desert Air airport in Palm Desert, CA.
Gabby Hayes and wife Olive Ireland in 1953. Gabby was 68. The couple were married from 1914 til her death in 1957. She was also known as Dorothy Earle in vaudeville.
John Wayne with wife Josephine Saenz and son Michael. They were
married from '33 to '45.
John Wayne and his wife Pilar relax on location during the filming of "The Searchers" ('56). They were married in '54.
Monte and Joanne Hale (formerly Joanne Levitov). They were married in 1977.
Tom Mix and wife Victoria Forde with daughter Tomasina. Tom and Victoria were married from 1918 to 1932.
Rex Bell and wife Clara Bow, Hollywood's "It Girl", were married in 1931. Seen here with children Rex Jr. (born in '34) and George (born in '38).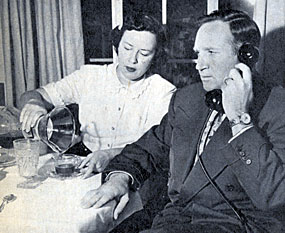 Gene Autry talks a little business while his wife Ina pours a cup of coffee. The couple was married from 1932 until her death in 1980.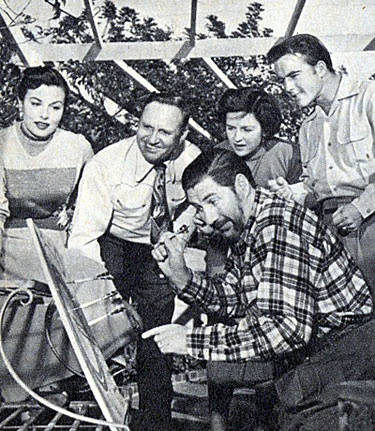 A comical game of darts during a barbeque at Gene Autry's home in 1952 with Pat Buttram and his wife Sheila Ryan (left) and Betty and Dick Jones.
In 1948, Audie Murphy and his soon-to-be wife actress Wanda Hendrix play cards with Wanda's parents. The couple were married in 1949.
Silent and early '30s B-Western star Jack Hoxie and his wife Bonnie flip through a scrapbook of Jack's films in May 1964.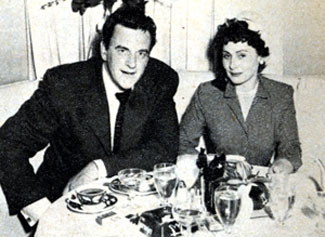 "Gunsmoke" star James Arness and his wife Virginia having dinner out in 1958. They were married from 1948 to 1963.
"The Texan" Rory Calhoun and wife/actress Lita Baron greet fans in late 1955.
They wed in 1948.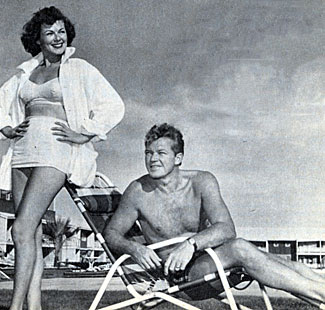 Some say those Hollywood marriages never last. This one did. Barbara Hale (Della Street on "Perry Mason") and Bill Williams ("Kit Carson") were married from June 1946 until his death in September '92. 46 years.
Lorne Greene, Ben Cartwright on "Bonanza", displays a welcoming sign produced by is wife Nancy for the benefit of weekend guests at their Mesa, AZ, home. The couple were married in 1961.