M E R R Y C H R I S T M A S !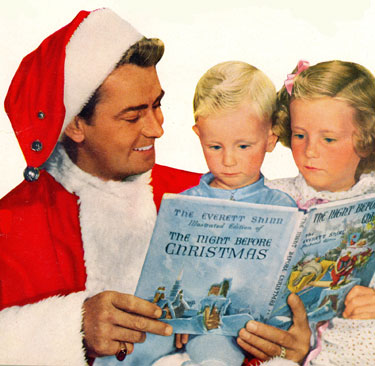 Alan Ladd reads a Christmas story to his children, David and Alana, Christmas 1949.
Gene Autry and the Cass County Boys at a "Gene Autry Melody Ranch Radio Show" rehearsal. Circa 1950.
(© Autry Qualified Interest Trust and Autry Foundation.)
Hopalong Cassidy with eleven and a half year old Lee Nevers at an Akron, OH, Soap Box Derby event on August 13, 1950. Lee's father, Frank Nevers, was a writer for AP and the picture was issued in the BECON JOURNAL. (Thanx to Lee's son Ian Nevers.)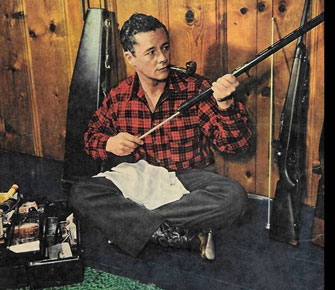 Tim Holt keeps his hunting rifles clean in 1948. (Thanx to Bobby Copeland.)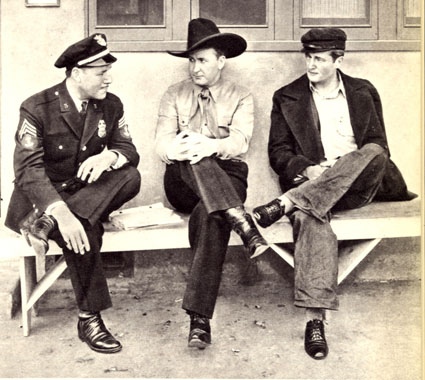 Three Western greats relaxing on the Columbia backlot...Jack Holt, Tim McCoy
and Richard Dix.
Protecting Mrs. Smart Buyer and her cart full of Del Monte products are Lorne Greene and Michael Landon of "Bonanza", John Smith of "Laramie" and Doug McClure of "Overland Trail".
On the set of "Apache Woman" ('55) with producer Alex Gordon and star Lloyd Bridges.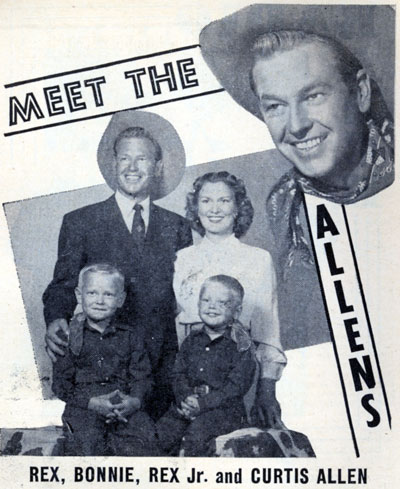 COUNTRY SONG ROUNDUP article in Oct. '53.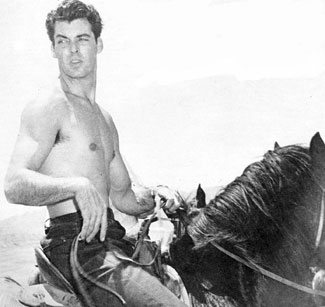 Barebackin' with Rory Calhoun in the Summer of '47.
Gary Cooper and KFVD L.A. radio disc jockey George Sanders give each other a few pointers on the fine art of baseball in the summer of '52.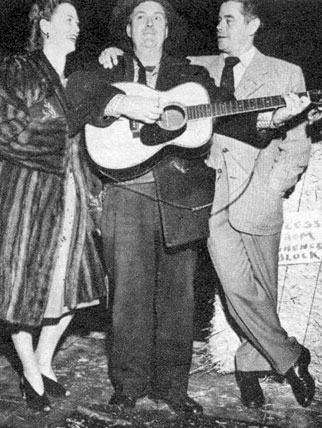 Smiley Burnette serenades the Fords...Eleanor Powell and Glenn Ford at the Hitching Post Theatre in the Fall of '47.
Rod Steiger, Brian Keith and Sara Montiel on the set of "Run of the Arrow" ('57).
Clint Walker and daughter Valerie Jean and her pet rabbit. Circa March '58.
Getting ready for a ride in the Summer of '47 is Sheila Ryan...briefly married to Allan "Rocky" Lane and later Pat Buttram.
"Laramie" stars Bob Fuller and John Smith. (Courtesy of Neil Summers.)
Just dating in 1947, Guy Madison and Gail Russell were married from August '49
until October '54.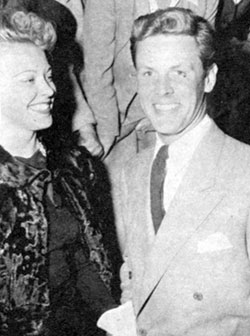 Up and coming star Bill Edwards out on a date with non-actress Hazel Allen in early '46. At the time Edwards had a small role in "The Virginian" remake with Joel McCrea. Edwards later starred in "Fighting Stallion" and "Border Outlaws" (both '50) before becoming a respected oil painter.
"Dodge City", "Rocky Mountain", etc. Western star Errol Flynn presents a cake to Claudia Crawford on her 11th birthday in February '58. Looking on at the back stage party are Jan Brooks, Avis Scott. The company was getting ready to move to Detroit for the premiere of the play based on the novel JANE EYRE.
Hugh O'Brian as "Wyatt Earp" followed by eager fans during
a Dodge City visit in 1958.
John Wayne with Li Hua Li, the number 1 boxoffice star in the Far East at the time, with her brother. Wayne's Batjac Productions was preparing Li to star in "China Doll" with Victor Mature in '58.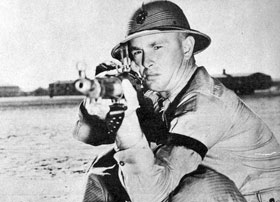 March 1943. Private Sterling Hayden in training at the Marine Corps depot at Parris Island, SC.
Jack Hoxie appearing on a program at the Derby Stay At Home Camp in North Carolina with (L-R) Galloping Horse (Mrs. Mary Reed), her husband Chief Running Horse
(Daniel Reed), and their granddaughter Linda Daniels. Reed's were members of the Cherokee Nation.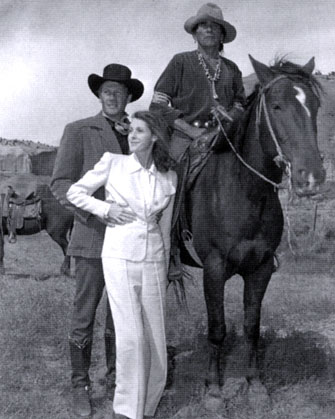 Frances Dee and Joel McCrea on location for "Colorado Territory" ('49 WB).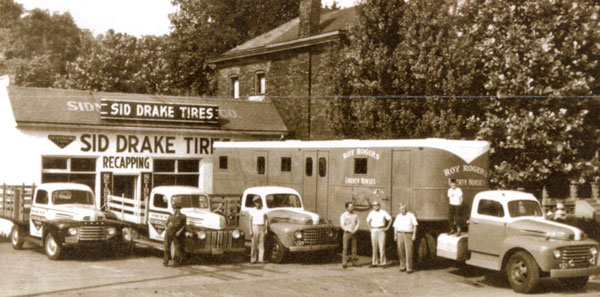 Large Ford trailer truck parked at Alton, IL, circa 1950. The truck belonged to Roy Rogers and transported his Liberty Horses.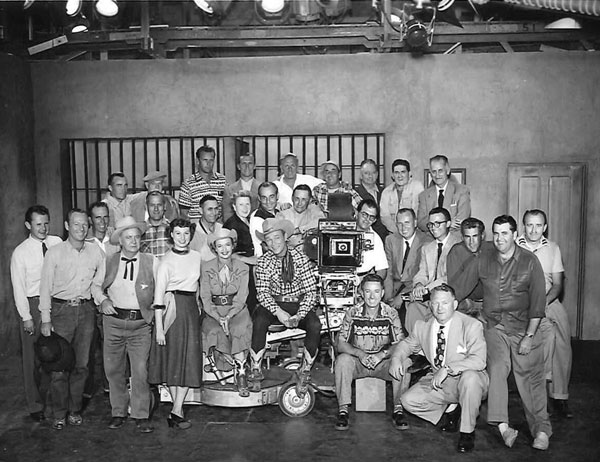 Primary cast and crew of the "Roy Rogers" TV series. Roy and Dale with Harry Harvey to the right of Dale. (Thanx to Steve Hazelwood.)