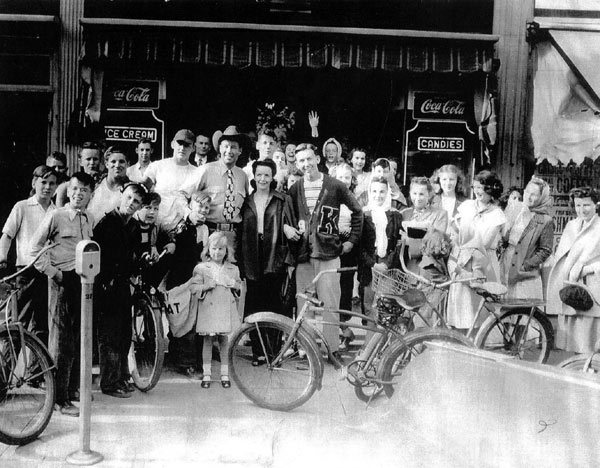 Wild Bill Elliott and singer Colleen Summers (aka Mary Ford) at a personal appearance in Kenton, Ohio. The tall youngster beside Ford is Bob Bailey, one of the founding board members of Kenton's annual Gene Autry Days. (Thanx to Billy Holcomb.)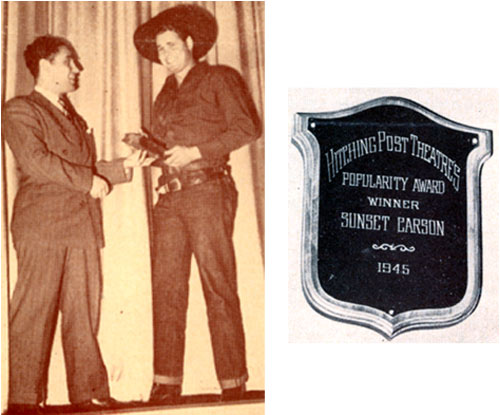 Republic's Sunset Carson receives the Hitching Post Theater's Popularity Award for 1945 at the Fox West Coast Rivoli Theater in Los Angeles. Presenter is Fred Gebhardt, manager of the Rivoli, the largest all -western theater in the country.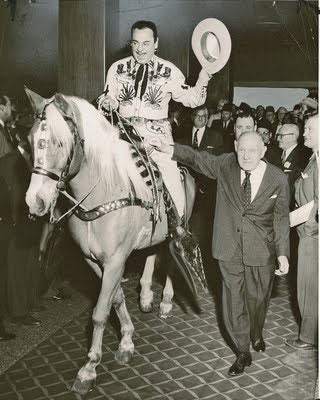 Leo Carrillo, TV's Pancho on "The Cisco Kid", and his horse Conquistador ride into the foyer of the Sherman-Ambassador hotel in Chicago on December 5, 1957, for the 45th Annual Convention of the Showman's League of America. Beside Carrillo is hotel board chairman Frank W. Bering, a livelong friend of Leo's.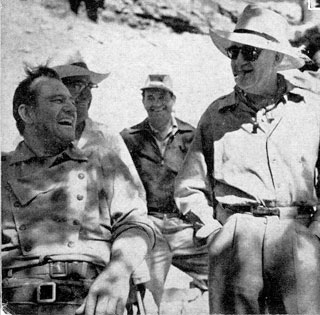 John Wayne and John Ford enjoy a laugh in Monument Valley while filming "The Searchers".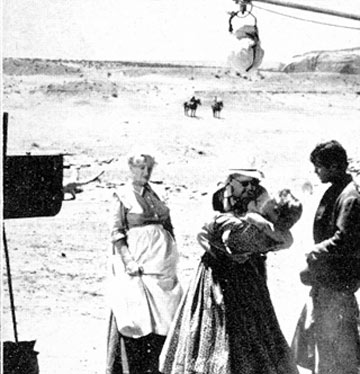 Olive Carey and Jeffrey Hunter observe as John Ford demonstrates the embrace he wants for a "Searchers" scene.
John Ford adjusts Pat Wayne's wardrobe before a "Searchers" scene in Monument Valley.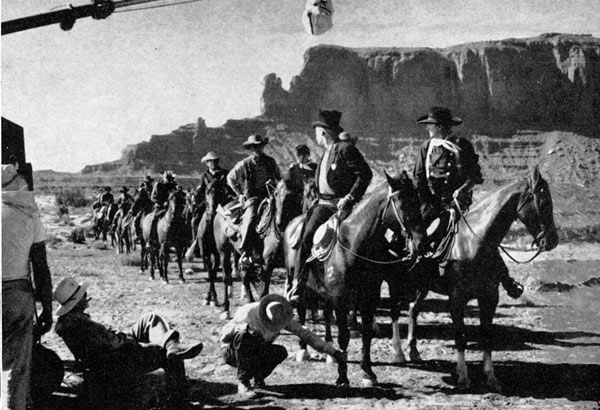 John Ford (seated) directs a sheriff's posse scene with Ward Bond and John Wayne in the lead for "The Searchers".
Time to relax and sing. From left, standing: Mrs. Ken Curtis, Ken Curtis, Jeffrey Hunter, Harry Carey Jr., Mrs. Wayne, John Ford (eye patch). Seated, L-R): Dan Borzage, John Wayne, Antonio Moreno, Mrs. C. V. Whitney, Dorothy Jordan, C. V. Whitney, Winton Hoch, Ward Bond.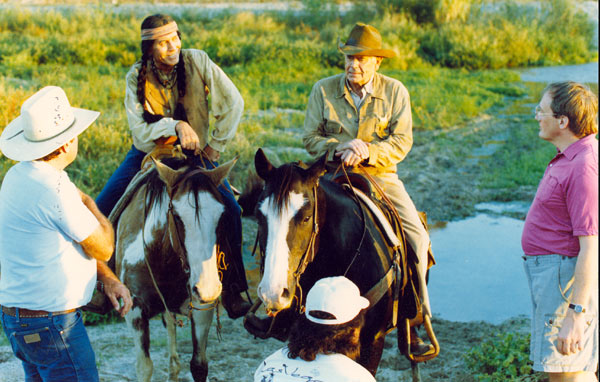 Michael Ansara and Glenn Ford with director Chris McIntire (pink shirt) on location for "The Law at Randada" (aka "Border Shootout"), a Turner TV movie in 1990. (Thanx to Neil Summers.)
Leonard Slye...Roy Rogers...at 16 with his three sisters in the summer of 1927. Mary Elizabeth is on the left, Cleda Mae is on the right with younger sister Kathleen Loretta in the middle. (Thanx for the IDs to Janey Miller.)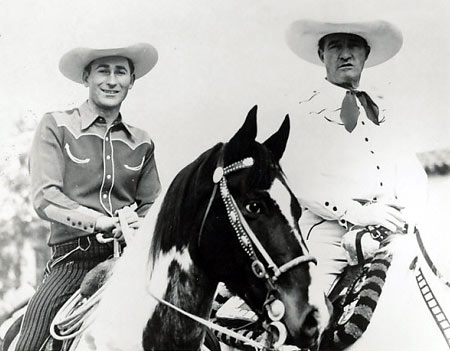 Montie Montana saddles up beside Tom Mix. Probably late '30s. (Thanx to Bobby Copeland.)
Cowboy cancer alert! 1950 Chesterfield magazine ad with Alan Ladd and Mona Freeman while filming Paramount's "Branded".
Monogram B-western star Jimmy Wakely and his family before their North Hollywood home in November 1948.
Monogram leading lady to Whip Wilson, Johnny Mack Brown and Jimmy Wakely, Reno Browne polishes up her Bohlin silver saddle in December 1949.
Hugh O'Brian, TV's Wyatt Earp, races pretty Eva Norlund of Denmark to the draw as the Norwegian girl joined other members of the Miss Universe contest in a visit to a Hollywood studio in July 1958.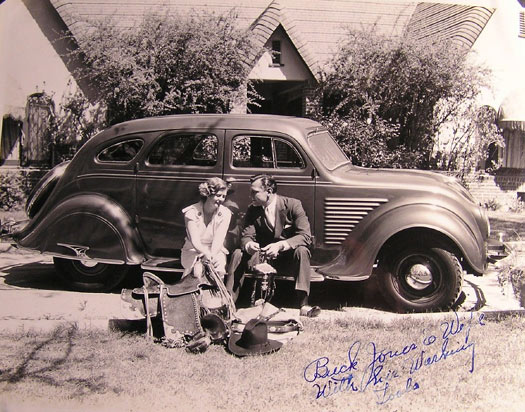 The caption reads "Buck Jones and wife [Dell] with his working tools [saddle, rope, hat, bridle, etc.]." Taken in front of Buck's home. Car identified as a 1937 Chrysler by stuntlady Martha Crawford. (Thanx to Bobby Copeland.)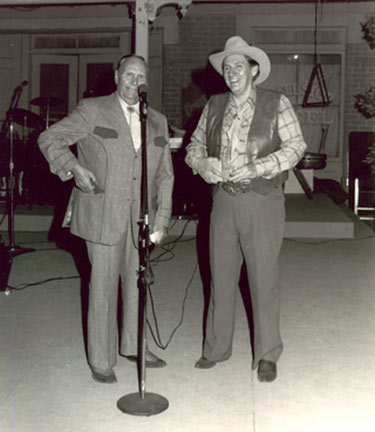 Gene Autry and Pat Buttram at CBS in North Hollywood for an event honoring Vera Ralston, wife of Republic honcho Herbert J. Yates. Date unknown.
Between halves of the Leading Men-Comedians Football Game, Randolph Scott, Rita Hayworth, Don Barry, unidentified and John Wayne watch film stuntmen put on a musical acrobatic rodeo. Year unknown. (Thanx to Billy Holcomb.)
Rico Alaniz (left) points out the notches on the grip of his gun to Robert Loggia who plays the lead in Disney's "Nine Lives of Elfego Baca". Photo taken on location in Cerrillos, New Mexico, in June 1958.
Robert Loggia, star of Disney's "Nine Lives of Elfego Baca", chats with Ed Pennybacker who had a small role in one episode. At the time Pennybacker was news director of KQUE radio in Albuquerque, New Mexico. This photo was taken near Santa Fe where much of the series was filmed.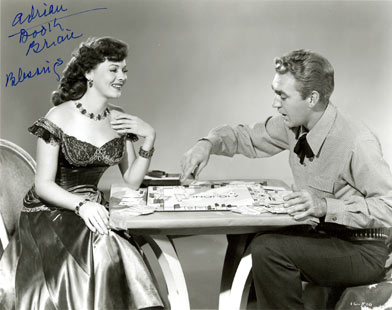 Adrian Booth and Forrest Tucker play a little game of Monopoly to relax between scenes.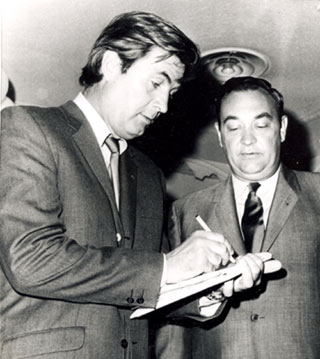 Fess Parker, TV's Daniel Boone, and Kentucky governor Louie B. Nunn announced plans in September '68 to build a $13.5 million Disneyland type amusement park in Cincinnati to be completed in 1970. They hoped to generate $180 million over 10 years in tourist expenditures. The park was to be called Frontier Worlds and would be located at the interchange of I-71 and I-75. Question: Was this ever built?
"Yep, it's real," says Gabby Hayes as golfer great Ben Hogan playfully tugs on Gabby's beard while John Payne and Mary Beth Hughes have a chuckle. Hogan was recovering in an El Paso, Texas, hospital following a near fatal auto accident in 1949. Payne, Hughes and Hayes were in El Paso for the world premiere of Paramount's "El Paso". (Thanx to Bobby Copeland.)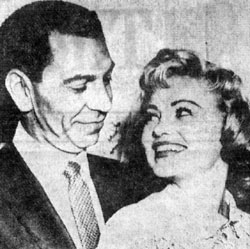 Jack Webb, star of TV's "Dragnet", and his bride, Jackie Loughery, at their wedding reception in Hollywood, June 1958. The third Mrs. Webb was a former Miss U.S.A. and co-starred as Letty Bean with Edgar Buchanan on TV's "Judge Roy Bean" from '55 to '56. It was Loughery's second marriage.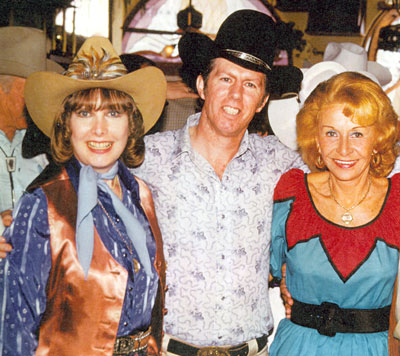 Stuntman Neil Summers surrounded by beauty--Penny Edwards (left) and Vera Hruba Ralston (right) at a Monte Hale birthday party in 1979.
Taking a break between scenes of Warner Bros.' "Lawman" are John Russell, Peter Brown, badman Chris Alcaide and his wife Peri Alcaide, a noted foreign corespondent. Note the cigarette in Russell's hand.