Monogram B-Western star Johnny Mack Brown with his cowgirl daughter Cynthia.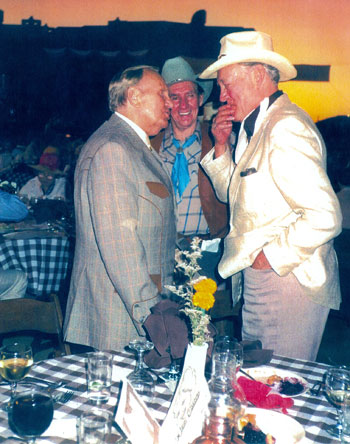 Gene Autry shares a little humor with a bemused Charles Starrett and Pat Buttram at a Hollywood function. (Thanx to John Buttram.)
Dale Robertson, Raquel Welch and Gig Young on TV's "Hollywood Palace".
(Thanx to Terry Cutts.)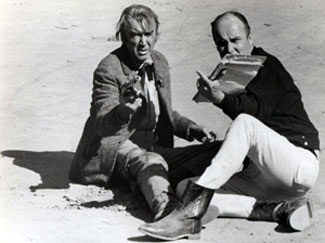 While making "Firecreek" ('68 Warner Bros.) in Sedona, AZ, James Stewart takes a few pointers from director Vincent McEveety.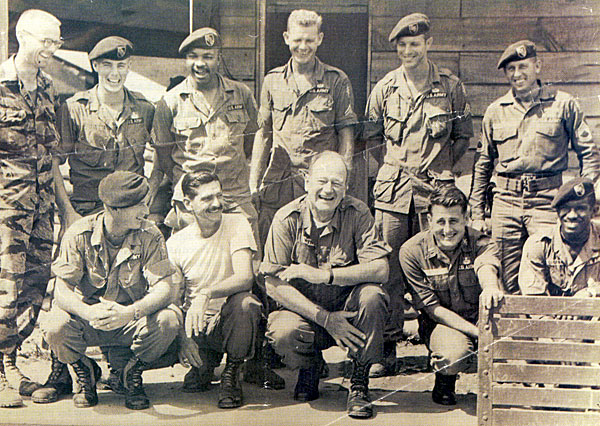 John Wayne made a three week USO tour to Viet Nam in June 1966 . For 14 days from 6 in the morning til 10 at night Wayne walked around and introduced himself to G.I.s.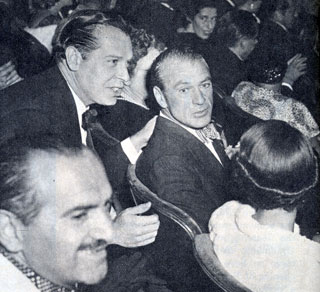 Gary Cooper and his daughter Maria, 13, chat with comedian Milton Berle at the premiere of Cooper's "The Fountainhead" ('49).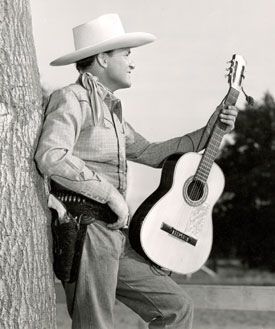 Whip Wilson. (Photo courtesy Neil Summers.)
Clint Eastwood stateboarding in Rome in 1965. (Thanx to Terry Cutts.)
A terrific threesome from the late '50s: James Garner, Steve McQueen, James Coburn. (Thanx to Terry Cutts.)
Working for the Hollywood Boys' Club...Russell Hayden, comedian Jerry Colonna, Jean Phillips, Dick Dickson and Bruce Gear.
On the set for "Gunsmoke: Hack Prine", the first episode filmed, are (L-R) James Arness, Amanda Blake, Leo Gordon, Harry Ackerman (VP in charge of CBS West Coast progamming) and Hal Hudson (CBS program advisor).
Tim Holt and leading lady Martha Hyer. (Courtesy Billy Holcomb.)
Frank McGrath, Charlie Wooster on "Wagon Train", celebrates his 58th birthday on February 2, 1961 while filming the "Tiburcio Mendez Story" and receives a kiss from guest star Lisa Gaye. Terry Wilson in on the right. Cinematographer Walter Stenge
is on the left. The episode aired March 22, 1961.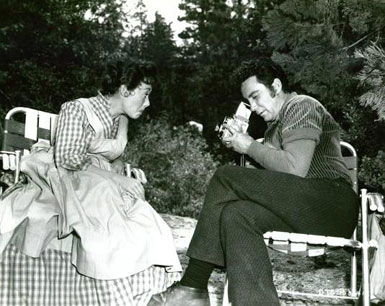 Glynis Johns makes a face for Cameron Mitchell's camera. The couple were filming "All Mine to Give" in 1957. (Thanx to Marianne Rittner-Holmes.)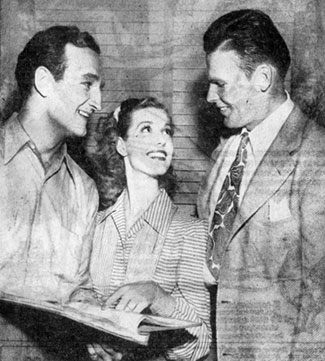 Tom Harmon and John Kimbrough, team mates on the mythical All-America Football Team, meet on August 26, 1941 at Columbia Studios where Harmon was filming "Harmon of Michigan" ('41) co-starring Anita Louise (center). Kimbrough starred in "Sundown Jim" and "Lone Star Ranger" (both '42) at 20th Century Fox.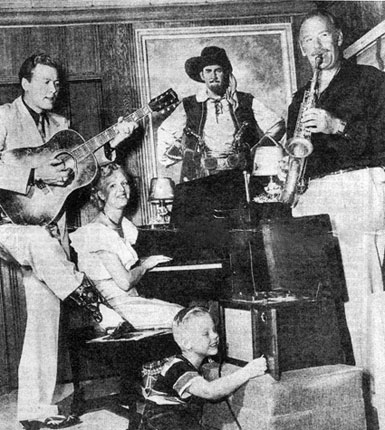 Roy Barcroft on saxophone, Monte Hale on guitar, Roy's wife on piano with young Michael Barcroft recording the jam session in Barcroft's home. Note the painting of Barcroft as Captain Mephisto used in the 1945 Republic serial "Manhunt of Mystery Island". (Photo courtesy Bob Burns and CI.)
Roger Moore helps to touch up Kathleen Crowley's make-up as they prepare for a scene on "Maverick: A Bullet for the Teacher".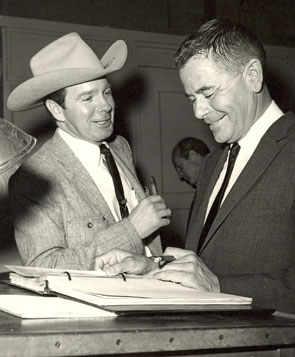 Rodeo star Casey Tibbs and movie star Glenn Ford.
Joel McCrea's son Jody McCrea with his date Maria Cooper, Gary Cooper's daughter, attending a film premiere in 1957. In 1959 Jody co-starred with his father in the "Wichita Town" TV series.
Buster Crabbe in a publicity shot for his WOR TV Channel 9 in New York TV series in 1951. Note the horse's hooves are covered for this indoor photo.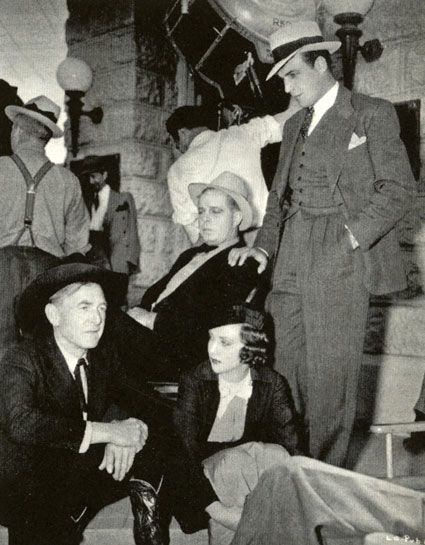 Harry Carey, Margaret Callahan, Hoot Gibson and Tom Tyler take a break while filming RKO's "The Last Outlaw" ('36).
Tom Mix, age 22, as a top sergeant in the artillery upon his return from the
Boxer Uprising.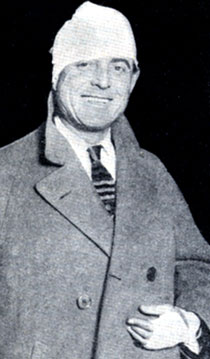 A fog is responsible for J. Warren Kerrigan's bandages. The accident happened in early 1925 when the silent Western star was driving his car from Sterling, IL to Chicago following a personal appearance. His auto hit another car in the fog.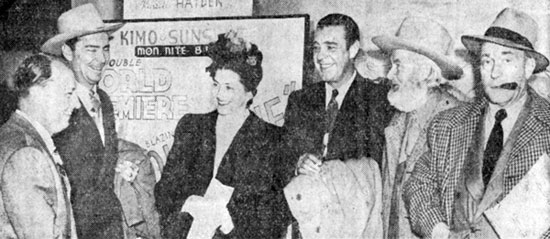 Attending the world premiere of "Albuquerque" in Albuquerque, NM are (L-R) co-producer Bill Thomas and stars Russell Hayden, Catherine Craig, Lon Chaney Jr., Gabby Hayes and William Demarest.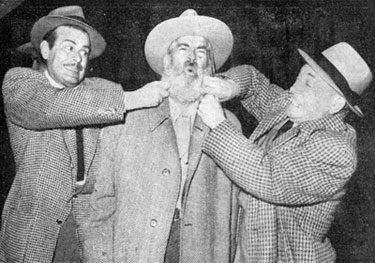 Billy De Wolff and William Demarest jokingly try to see if Gabby Hayes' whiskers are real. Promotional photo for the Houston, TX premiere 2/4/48 of "Albuquerque".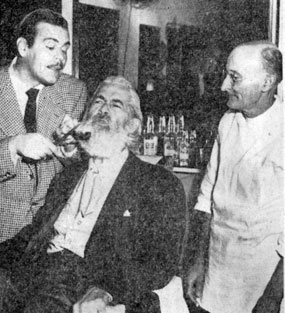 Gabby Hayes gets his beard trimmed by comedian Billy De Wolff while barber R. D. Carothers supervises. The stars were at the Southern Pacific terminal in Houston for the opening there of "Albuquerque" on 2/4/48.