Roy Rogers and friends celebrate Roy's 50th anniversary in show business on "The Nashville Palace" in 1981. On top of the stage (left) Jock Mahoney, Lash LaRue. (right) George Montgomery, Montie Montana. Inside stagecoach: Eddie Dean, Rex Allen. (Standing L-R) Monte Hale, Tex Wiliams, Iron Eyes Cody, Dale Evans, Roy Rogers, Linda Hayes Crosby, Pat Buttram, Sunset Carson. (Front row L-R) Sons of the Pioneers: Doc Denning, Roy Lanham, Dale Warren, Rusty Richards, Luther Nallie.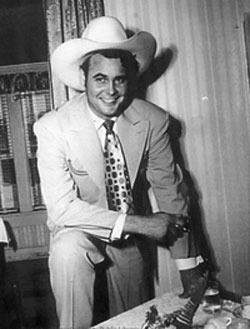 Sunset Carson during his "Six Gun Heroes" TV show era. (Courtesy Billy Holcomb.)
President Jimmy Carter welcomes Iron Eyes Cody to the White House.
President Ronald Reagan welcomes Iron Eyes Cody to the White House.
Longtime friends gathered on December 24, 1960 to wish former Western star Hoot Gibson a Merry Christmas at Southern Nevada Memorial Hospital where Gibson was recovering from an ailment. (L-R) Lt. Governor Rex Bell, Hoot Gibson, Constable Woody Cole, Woody Woodard, Sid Freedman.
29 years earlier in 1931 here's B-Western star Rex Bell with wife Clara Bow at their Walking Box Ranch in Nevada.
Tim McCoy honored on "This is Your Life" hosted by Ralph Edwards. Iron Eyes Cody
top right standing and onetime outlaw and film star Al Jennings sitting far right.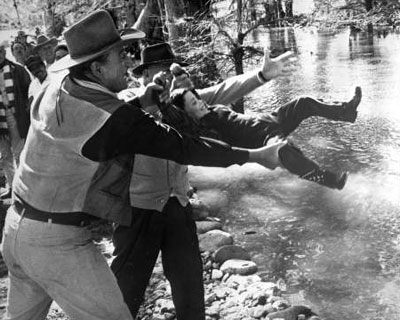 John Wayne teases 3 year old son Ethan preparing to toss him in the creek while making "Sons of Katie Elder" in 1965. Did he really toss him? Doubtful.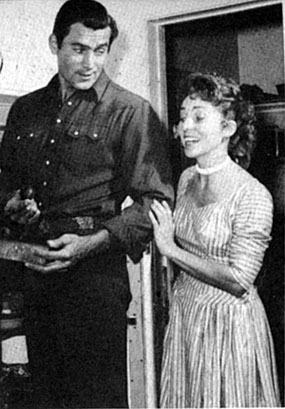 Clint Walker offers daughter Valerie a refrigerator snack in April 1958.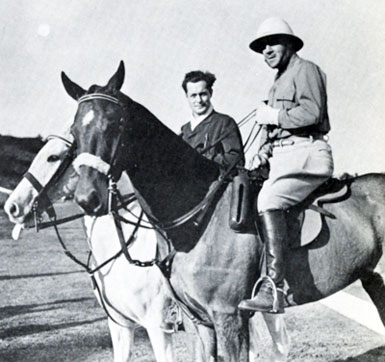 Polo at the Riviera Club in the '30s with Jack Holt (right) and Robert Montgomery.
On location for "Cowboy and the Indians" Gene Autry rewards Charles and John Kee
for tracking down and finding one of his horses that ran away.
In November 1944 Bill Elliott and 16 year old daughter Barbara Helen admire one of Bill's favorite photos, Tom Mix in "The Great K&A Train Robbery".
Family jam time! (L-R) Johnny Mack Brown, son Lachlan, daughters Cynthia and Jane and wife Connie in 1944.
Lloyd Bridges, star of the underrated TV Western "The Loner" with his family. (L-R) son Beau, 16, wife Dorothy, daughter Cindy, and son Jeff, 9 in June 1959.
Richard Boone gave up his gun and traveled to Broadway to appear in "The Rivalry" with costars Martin Gabel and Nancy Kelly in June 1959.
Robert Culp, star of TV's "Trackdown", and wife Nancy check out a motorcycle Culp
was thinking about purchasing in June 1959.
Republic buddies Roy Rogers and Rex Allen.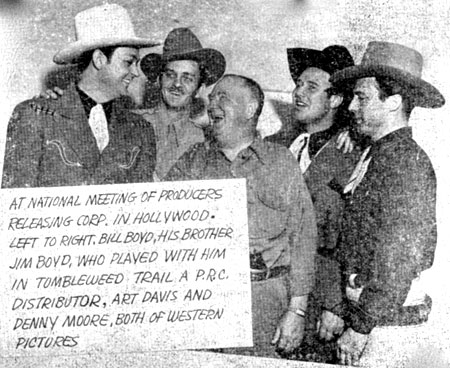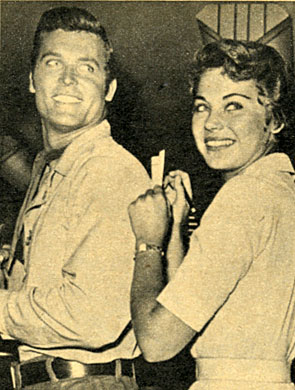 Ty "Bronco" Hardin and second wife Andra Martin. They were married from
August '58 until June 1, 1960.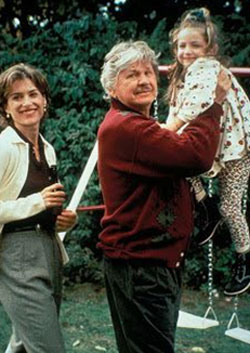 Charles Bronson and wife Kim Weeks with unknown child. Photo date unknown.
Mano...of "High Chaparral"...Henry Darro with first wife Lucy de Puy in 1968.
They were married from '56 to '79.
Gary Cooper rolls his own while taking a break from filming.
"Johnny Ringo" co-star Mark Goddard out on the town with Marcia Rogers in 1960.
Tom Mix at 15 in Texas. He donned this fancy Mexican outfit to participate in a rodeo.
Kenneth Kitchen found this Tom Mix Ralston ad in a 1935 issue of
GOOD HOUSEKEEPING.