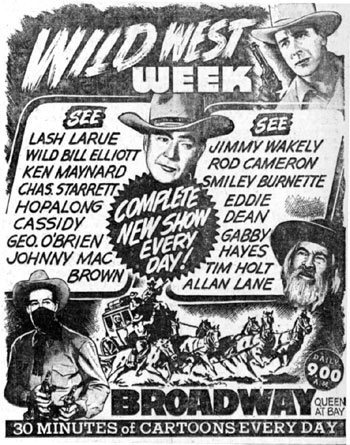 I would have loved to have lived in Toronto, Canada, during this week in the late '40s.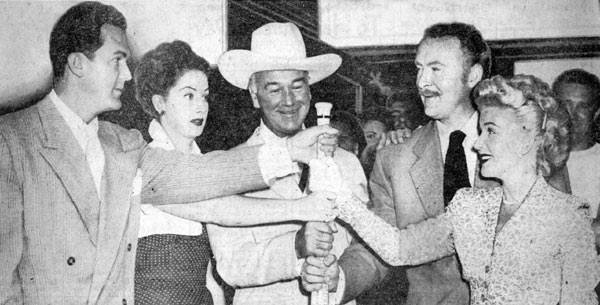 Kirk Alyn (left), Virginia O'Brien, William Boyd, Albert Dekker and Grace Bradley Boyd choose sides before a '50s Movie Stars World Series charity game at Wrigley Field in Chicago.
Audie Murphy and Dan Duryea try to rehearse their lines but are interrupted by Audie's dog Long John, a gift from and named for John Huston, on the set of "Ride Clear of Diablo" ('53 Universal-International).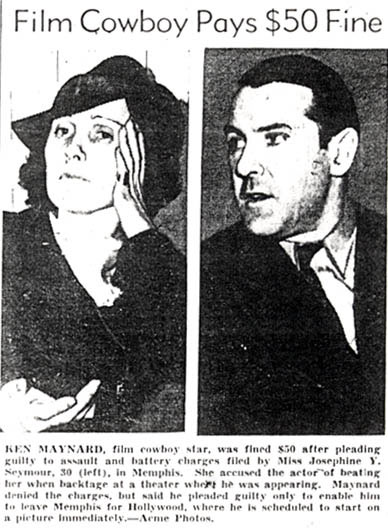 L.A. DAILY NEWS article from March 21, 1938.
In the mid '70s Noel Marshall and actress Tippi Hedren bought acres in Acton, CA, as a sanctuary for wild animals and called it "Roar!" Will Hutchins and his wife Barbara were invited guests.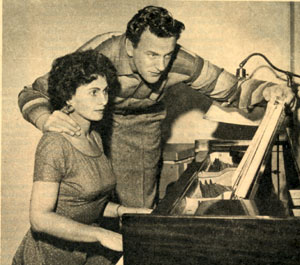 James Arness at home with his then wife Virginia.
A birthday party for Sunset Carson's wife sometime in 1948-'49 while Sunset was making his low budget series for Yucca Pictures. Sunset's kid brother, Dale Harrison, is on the left, above him is leading lady Pat Starling. (Thanx to Bobby Copeland.)
Taking a break on location for "The Dalton Girls" ('57 United Artists) are (L-R) John Russell, Penny Edwards, Merry Anders, Sue George (standing), Johnny Western and Lisa Davis.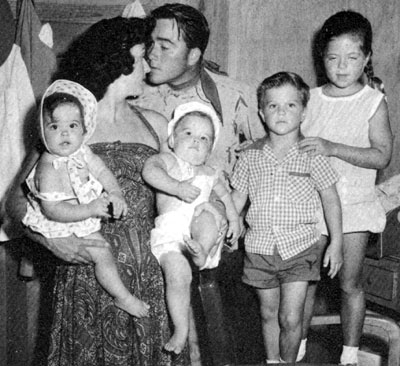 Dick Jones ("Range Rider") and family circa 1958. Dick's wife Betty holds the twins, Jennafer and Jeffrey, as Dick looks for a kiss. Beside them are Rick and Melody.

English cartoon strip that appeared in TODAY on July 21, 1995. (Thanx to Terry Cutts.)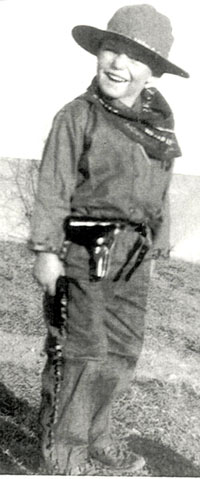 A gunslinger even at age five! Kelo Henderson ("26 Men") as a youngster in Colorado.
Tom Mix and Tony II in Birmingham, England, near New Street Station prior to Tom's opening at the Birmingham Hippodrome. (Courtesy John Hall and Terry Cutts.)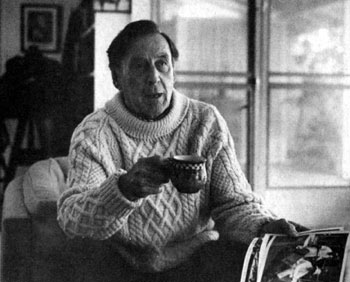 George O'Brien at home circa mid-1975. (Thanx to Bob Birchard.)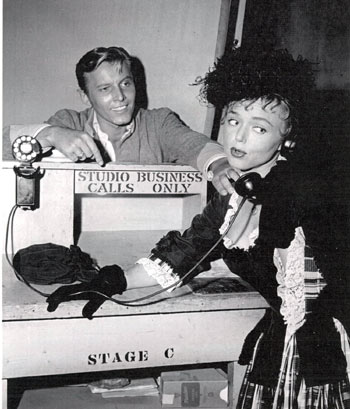 A staged publicity gag shot on the set of "The Rough Riders:The Electioneers" (1/1/59) with star Jan Merlin and guest star Yvette Vickers.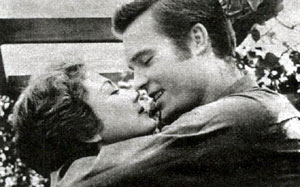 Ty ("Bronco") Hardin with actress wife Andra Martin in February 1960. The couple were married from August 30, 1958-1961. (Thanx to Terry Cutts.)
Clint ("Cheyenne") Walker with wife Verna and 10 year old daughter Valerie circa early '60. Clint and Verna were married from September 5, 1948 to 1968. (Thanx to Terry Cutts.)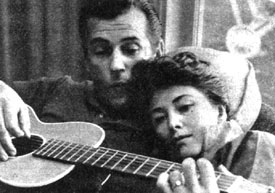 Jack ("Maverick") Kelly with actress wife May Wyn in early '60. They were married from October 14, 1959 to October 19, 1964. (Thanx to Terry Cutts.)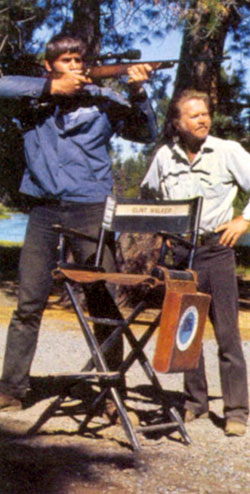 Hollywood gun coach Arvo Ojala (right), trains Clint ("Cheyenne") Walker.
In London, Gail Davis ("Annie Oakley") takes a look at Buckingham Palace. (Thanx to Terry Cutts.)
Gene Autry and a group of young fans in Berwyn, OK, which became Gene Autry, OK. (Thanx to Bobby Copeland.)
Hugh O'Brian and Dinah Shore doing a shadow dance on the "Dinah Shore Show". Note the Wyatt Earp shadow behind Hugh and Dinah with a dress.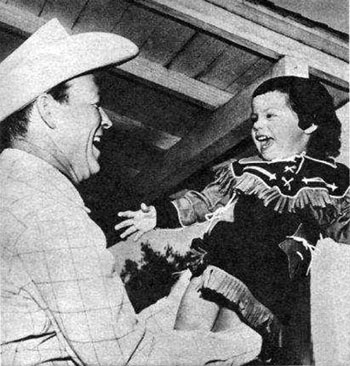 Roy Rogers in 1955 with 2 year old daughter Dodie.
Both Jimmy Wakely and Eddie Dean lent their endorsements to Texsun grapefruit juice in the late '40s.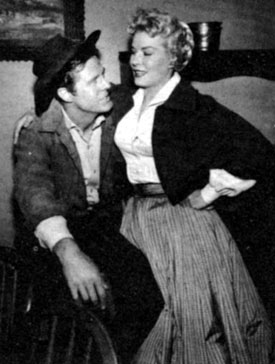 Robert Culp, Hoby Gilman on "Trackdown", takes a break with leading lady Jeanne Willes.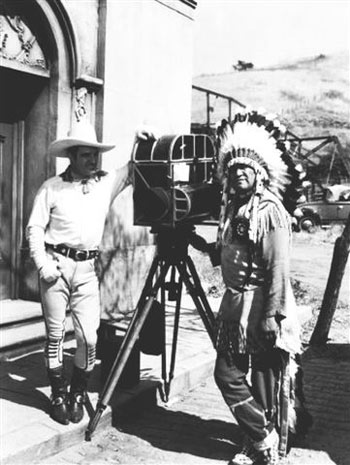 Tom Mix on location with noted Indian athlete turned actor Jim Thorpe. (Thanx to Bobby Copeland.)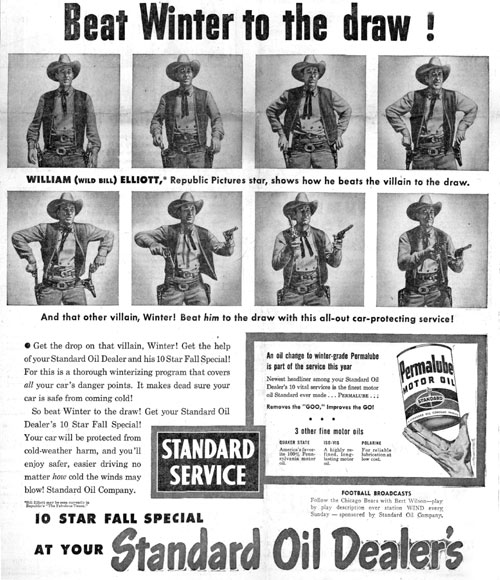 Bill Elliott endorsement for Permalube Motor Oil in 1947 while he was starring in Republic's "The Fabulous Texan".