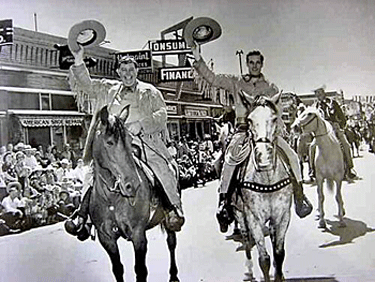 Happy 4th of July 2023 from Wild Bill Hickok and Jingles!
Guy Madison and Andy Devine.
Roy Rogers took a group of young friends hunting in Marysville, CA in May 1953.
The dog is Trig, one of Roy's Weimaraners.
Ken Maynard, photo taken during a radio interview Brent Davis did with him around
'69-'70. Brent says, "The photo was taken in Ken's trailer in the San Fernando Valley after we bought him a bottle of bourbon...the only way he was willing to do the interview. Not much of the interview was good enough to air."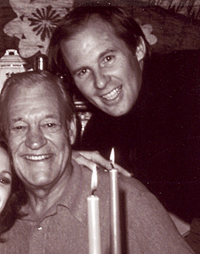 Charles Starret and Brent Davis, taken at Starrett's home in Laguna Beach about 1980.
A Boy Scout troop plays host to Hopalong Cassidy.
Blue on "High Chaparral", Mark Slade and wife Melinda Marie.
Lee "Lasses" White and Jimmy Wakely at the Variety Club in Oklahoma City in front of a painting of humorist Will Rogers.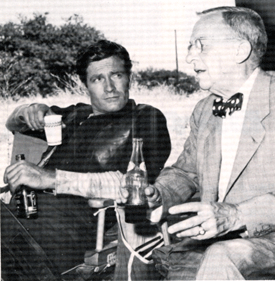 Hugh "Wyatt Earp" O'Brian relaxes on the set with Stuart Lake, consultant to the
ABC-TV series, who lived with the real Earp prior to his death while gathering material for his best selling biography.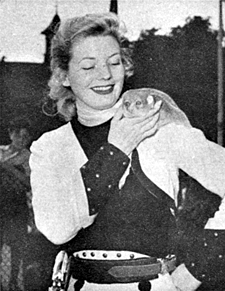 Gail "Annie Oakley" Davis visiting the London Zoo.
Smiley Burnette in 1947 with Polly Jenkins (1903-1983) and her Musical Pals,
Uncle Dan and Texas Rose. Polly Jenkins and her Plowboys were in Gene Autry's "Man From Music Mountain" ('38 Republic). They were stars on WKTV, Utica, NY. Jenkins played piano, organ, vibraphone, accordion and xylophone.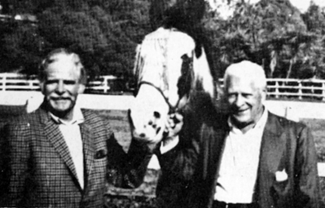 Dave Sharpe and Duncan "Cisco Kid" Renaldo at Renaldo's ranch in
Santa Barbara, CA.
Fess Parker with date Ann Tynan at the Harwyn Supper Club in New York
in August, 1957.
Warner Bros. TV Western stars gathered for a United Cerebral Palsy fund raiser in the New York area on October 18, 1958. Hosts were Dick Clark and Dennis James.
Warner Bros. TV Western Stars on the United Cerebral Palsy fund raiser.
(L-R) Will "Sugarfoot" Hutchins, hosts Dennis James and Dick Clark, John "Lawman" Russell, Peter "Lawman" Brown, Ty "Bronco" Hardin, Wayde "Colt .45" Preston...and below: Jack "Maverick" Kelly, hosts Dennis James and Dick Clark, Will "Sugarfoot" Hutchins, John "Lawman" Russell, Peter "Lawman" Brown, Ty "Bronco" Hardin, Wayde "Colt .45" Preston.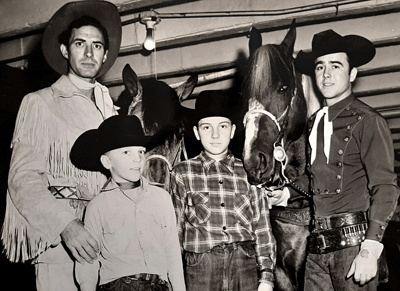 Jock Mahoney and Dick Jones of TV's "Range Rider" pose with rodeo child trick riders Butch and Danny Dent. (Thanx to Johnny Dent.)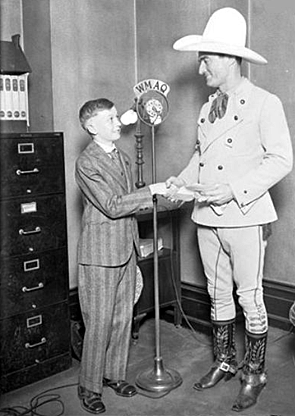 Tom Mix and ??? on WMAQ Radio in Chicago in the '30s.
Johnny Western and Tex Ritter catch up on the news from COUNTRY SONG ROUNDUP.
At home with Bill Elliott and wife Helen.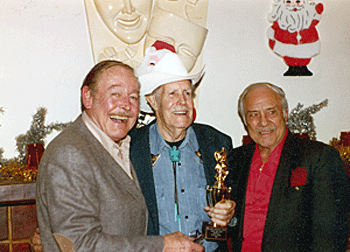 B-Western badmen Myron Healey and Terry Frost alongside Masquers Club awardee director Oliver Drake.
Lash LaRue, Russell Hayden, Don Barry with Max "Alibi" Terhune and his dummy Elmer at an early Memphis Western Film Festival at the Sheraton-Peabody Hotel.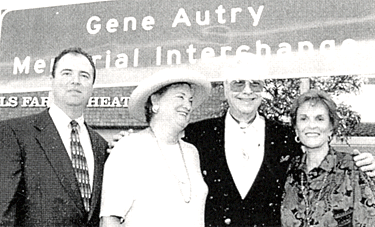 California Senator Adam Schiff, Jackie Autry, Monte and Joanne Hale at the dedication of the Gene Autry Memorial Interchange.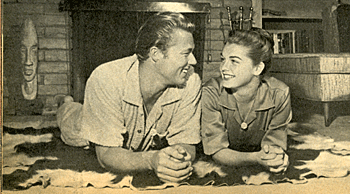 John "Laramie" Smith and wife Luana Patten in 1960.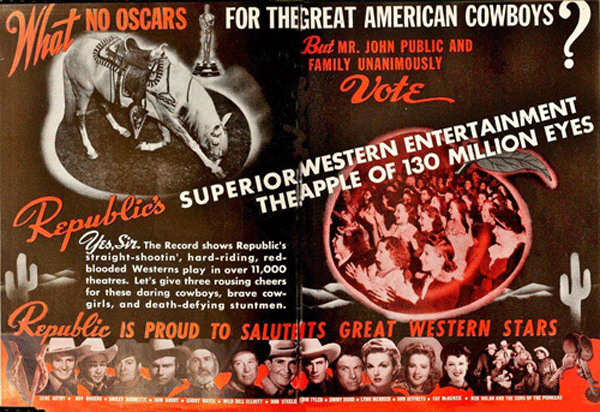 Hollywood tradepaper ad. At the bottom L-R: Gene Autry, Roy Rogers, Smiley Burnette, Don Barry, Gabby Hayes, Bill Elliott, Bob Steele, Tom Tyler, Jimmie Dodd, Lynn Merick, Ann Jeffreys, Fay Mckenzie and the Sons of the Pioneers. (Thanx to Billy Holcomb.)
Simply a great pose of Allan "Rocky" Lane.