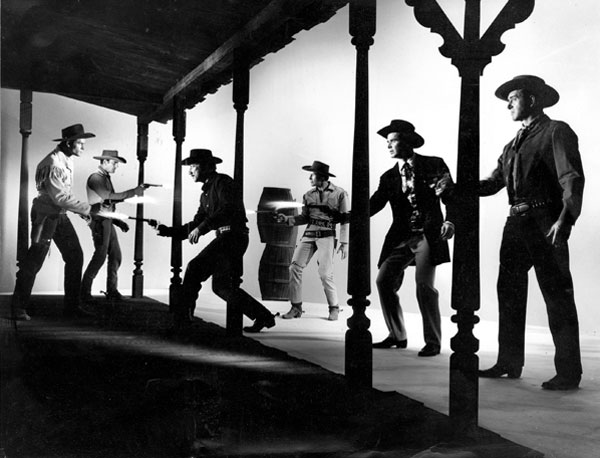 Talk about a gathering of guns! Magnificent TV Western round-up with (L-R) Clint Walker ("Cheyenne"), James Arness ("Gunsmoke"), Richard Boone ("Have Gun Will Travel"), Robert Horton ("Wagon Train"), James Garner ("Maverick"), John Payne ("Restless Gun").
A crowd estimated between 15 to 25,000 persons jammed the streets of Albuquerque, NM on March 13, 1939 to celebrate the Will Rogers Highway 66 Convention. After the route was originally well on its way to completion, founders decided Hwy 66 should be designated as a living memorial to Will Rogers as it begins in Santa Monica, passes through L.A. where Will last lived and also passes through the old Cherokee Nation, Claremore and Rogers County, OK, scene of Rogers' early life. Attending the ceremonies (above) were (L-R)New Mexico Governor John E. Miles, actor Monte Blue, Albuquerque Mayor Clyde Oden and Columbia B-Western star Charles Starrett.
Charles Starrett (right) tossed a lariat over postmaster general James Farley and topped him off with a cowboy hat. On the left are convention general chairman Pat Flynn and Monte Blue. Actress Rochelle Hudson and Arthur "Dagwood" Lake were also in attendance.
Newspaper ads from 3/14/39.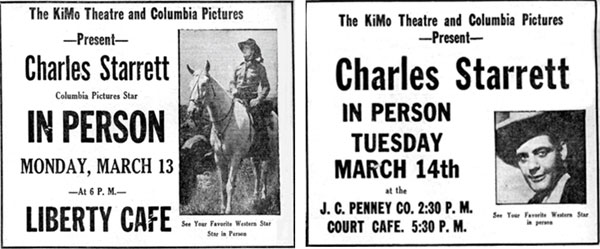 Newspaper ads from 3/13/39.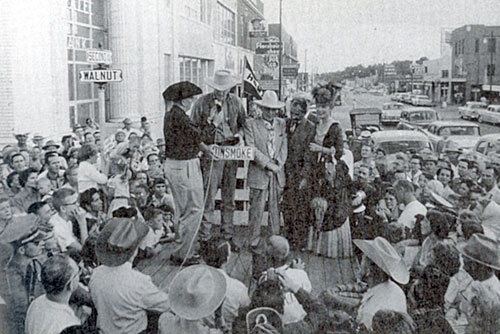 James Arness, Milburn Stone and Amanda Blake help rename Walnut Street to Gunsmoke in Dodge City, Kansas, 1958.
James Arness and Amanda Blake in Dodge City, Kansas in 1958.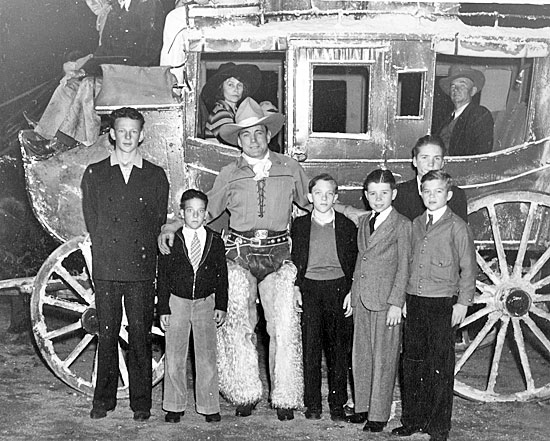 Buck Jones and some boys from the McKinley Home for Boys in Sherman Oaks, CA perpare for a Christmas Parade. The McKinley Home operated from 1920-1960.
PRC star Eddie Dean performs at the 1955 Heart O'Texas Fair and Rodeo in Waco, Texas. (Photo courtesy Roy Bonario.)
Jock Mahoney with co-star Luana Patten and her sister Marcy on Jock's horse on the set of "Joe Dakota" ('57 U-I). (Photo courtesy Roy Bonario.)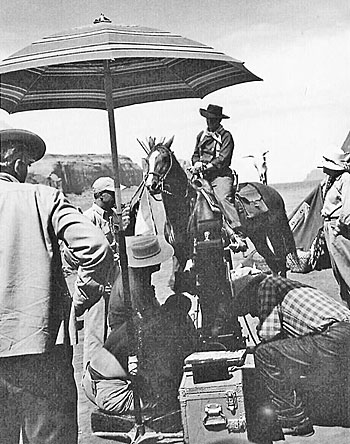 John Ford (right) directs John Wayne in a scene for "The Searchers" in
Monument Valley.
Smiley Burnette visits John Garner, host of the Port Arthur, TX kids show "Circle 4 Ranch" on KPAC-TV Channel 4 in Port Arthur. 10/2/62. (Photo courtesy Roy Bonario.)
Roy Rogers and Trigger on location for "The Golden Stallion" ('49 Republic).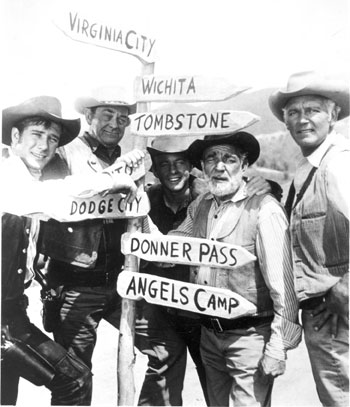 Which way do we go? The "Wagon Train" cast (L-R) Robert Fuller, John McIntire, Michael Burns, Frank McGrath, Terry Wilson. (The hidden sign behind Bob's arm seems to be Modesto.)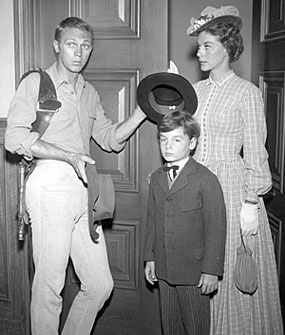 Steve McQueen, Joyce Meadows and Bryan Russell kid around while on the set of "Wanted Dead or Alive: One Mother Too Many" ('60).
Marie Windsor, Lloyd Bridges and members of the Truth or Consequences, New Mexico Sheriff's department pose for a photo during the making of "The Tall Texan" ('53).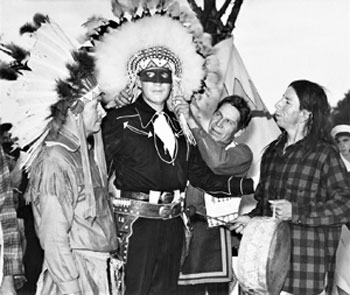 Radio's Lone Ranger, Brace Beemer, poses wearing a feathered head dress with the chief of the Chippewa Nation and other tribe members during the 49th annual Indian Fair in 1946. (Photo courtesy Roy Bonario.)
Johnny Mack Brown caught in mid-air performing a crupper mount.
The camera catches Duncan Renaldo as the Cisco Kid mid-air-stunt into the arms of a waiting stuntman/heavy.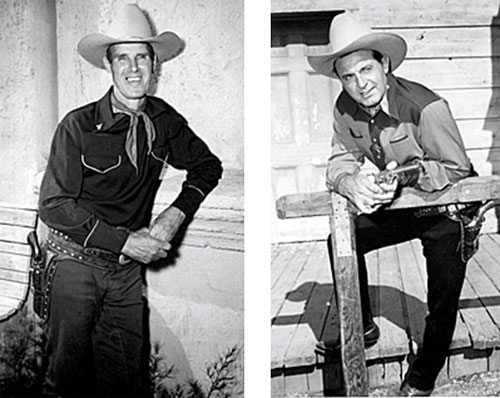 Great poses of Kermit Maynard and Ray "Crash" Corrigan taken while they were guest starring in Roy Rogers' "Trail of Robin Hood" (‹50 Republic).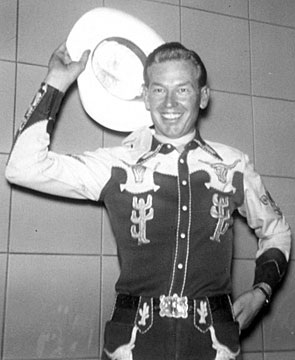 A young Rex Allen at WLS Radio, Chicago, circa 1945 seems to say, "See ya next month here on Western Treasures!"