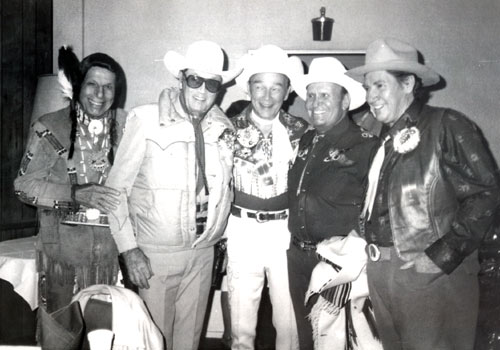 Iron Eyes Cody, Clayton Moore, Roy Rogers, Gene Autry, Pat Buttram at the 1981 Hollywood Christmas Parade on November 29.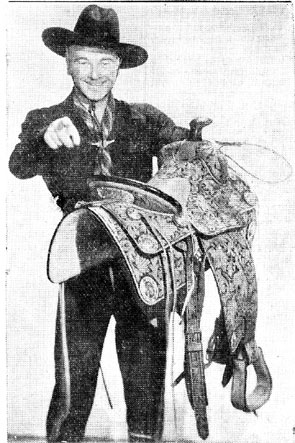 William Boyd holds the prize saddle that was given to the winner of the Hopalong Cassidy Most Colorful Cowboy or Cowgirl Contest which was held in conjunction with the premiere of "In Old Mexico" at the Plaza Theatre in El Paso, Texas in July, 1938. Boyd, Geroge "Windy" Hayes and Russell Hayden and his wife-to-be leading lady Jane (Jan) Clayton all made personal appearances for the premiere.
Charles Starrett and his horse Raider take a break from filming "South of the Chisholm Trail" ('47 Columbia). (Thanx to Bobby Copeland.)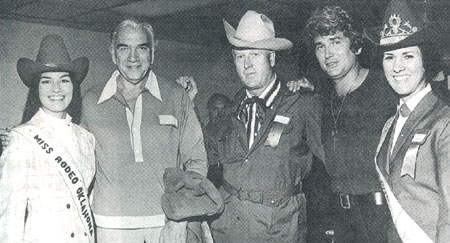 "Bonanza" stars Lorne Greene (second from left) and Michael Landon (second from right) visit with Miss Rodeo Oklahoma (left) and another Oklahoma Rodeo Queen (right). In the center is Jiggs Beutler, son of Elra Beutler, one of the three well known Beutler Brothers whose livestock was well known across the country in rodeo events. Jiggs was a key player in continuing the Beutler and Son Rodeo Company. (Thanx to John Stovall.)
Many women scripted TV westerns. Shown in this TV GUIDE spread from June 6, 1959, are (l-r) Kathleen Hite ("Gunsmoke", "Wagon Train"), Fanya Lawrence ("Have Gun Will Travel", "Restless Gun") and her husband, badman Marc Lawrence (in black), Will ("Sugarfoot") Hutchins (in foreground), Virginia Cooke ("Roy Rogers", "Sugarfoot"), Mary McCall ("Restless Gun") (both on horseback), Dennis ("Gunsmoke") Weaver, Ruth Woodman ("Death Valley Days") on the mule with Terry ("Wagon Train") Wilson steadying her mount. In the foreground are Pat Fielder ("Rifleman") and Gerry Day ("Wagon Train") who surveys the situation with opera glasses.
Sports cartoon for the L. A. EVENING HERALD EXPRESS on August 31, 1945.

Newspaper ad from August 19, 1946, for the L. A. County Sheriff's Annual Rodeo.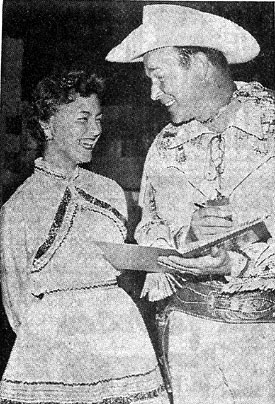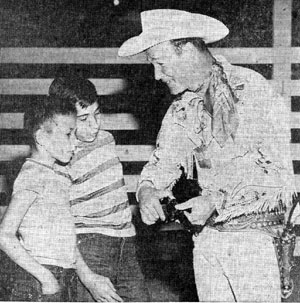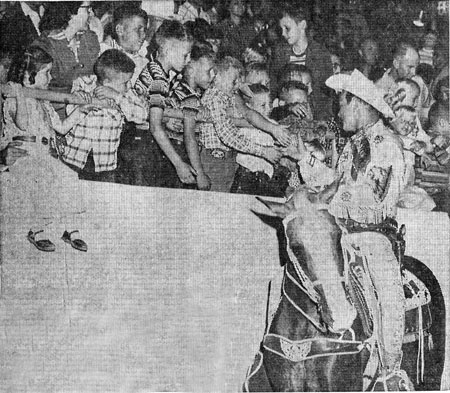 Above three photos taken during Roy Rogers' appearance in early October 1957 for the New Mexico State Fair in Albuquerque. Top photo, Roy signs an autograph for 14 year old Janet Latsha. In the second photo Roy displays one of his guns for two members of a family of ten orphaned earlier in the year, Eddie and Gregory Chavez. In the third photo Roy shakes hands with children at the State Fair Coliseum.
Russell Hayden and producer Harry "Pop" Sherman take a little time off while filming "Heritage of the Desert" in Kernville, CA, in January 1939, to cook up some Mexican tortillas over an open pit fire.
Ray Whitley outside the Normandie Theatre in New York City on September 28, 1947. Whitley had come to talk to Gene Autry before the showing of "The Last Roundup". Whitley was working with Gene's Melody Ranch Madison Square Garden Rodeo. (Photo by Lillian Spencer.)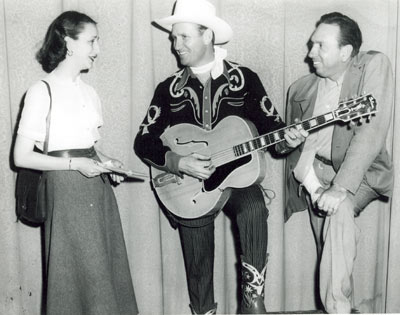 Gene Autry is interviewed in Jackson, MS, by a lady reporter and photographer Cliff Bingham. Date unknown. (Thanx to Danny Brown and Marjorie Bowron.)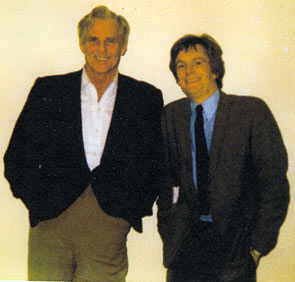 WESTERN CLIPPINGS columnist John Brooker of England met Jimmy Ellison in 1970 while doing interviews in the U.S.
Sammy Davis Jr. displays some of his fast gun dexterity to Frank Sinatra and...Is that young Eddie Hodges?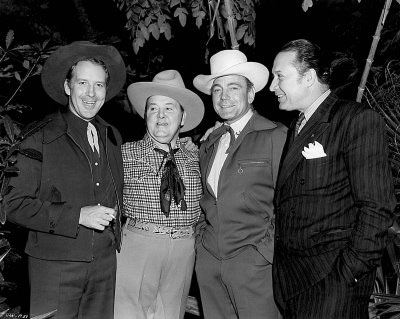 Dick Foran, producer Henry McCrae, Buck Jones and Monte Blue take a break from filming "Riders of Death Valley" serial ('41 Universal). (Thanx to Bobby Copeland.)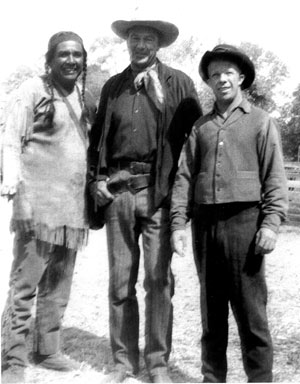 Bit player Tony Urchel and stuntman Whitey Hughes pose with Gary Cooper.
Andy Devine and Bill Elliott rehearsing for the first annual "Hoss Opera" at L.A.'s Olympic Auditorium on November 28, 1948.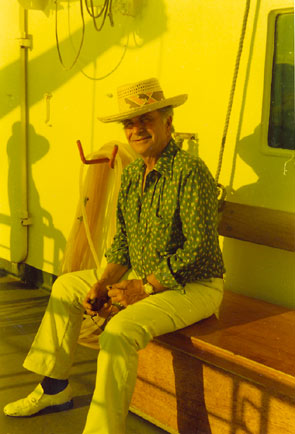 Noah Beery Jr. on a cruise ship in the '60s. (Photo courtesy Norman Foster.)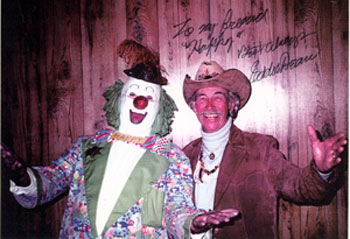 PRC's Singing Cowboy Eddie Dean with Happy the Clown (Dave Twomey).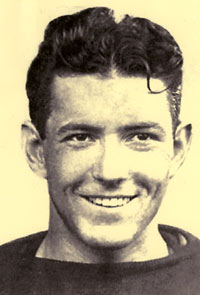 Johnny Mack Brown during his Alabama Football days. (Thanx to Bobby Copeland.)
"Tumble" Weed at WLS Radio, Chicago, before becoming Bob Baker at Universal. Note the inscription, "Happy Trails to Edna, 'Tumble' Weed, Just a cowboy, WLS." Bob may have used the "Happy Trails" signature before RoyRogers. (Photo courtesy Bobby Copeland.)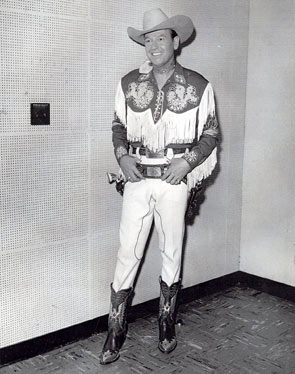 The Arizona Cowboy, Rex Allen, waits backstage at NBC where he was set to appear on "The Lux Show Starring Rosemary Clooney" which aired between September 26, 1957, and June 19, 1958.
On a 90 degree day before 35,000 people, Berwyn, Oklahoma, officially became Gene Autry, Oklahoma, on Sunday, November 16, 1941, when then postmaster O. D. Thomas took down the old post office sign and replaced it with a new one. Gene broadcast his "Melody Ranch" radio show from the newly named town that day.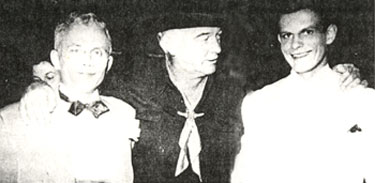 William Boyd as Hopalong Cassidy appeared with Cole Bros. Circus in 1950. Hoppy shown here with Milton and John Herriott of Cole Bros. Milton had the center ring Liberty act of eight horses and a pony while John presented the two end ring Liberty acts of seven and eight horses, respectively. (Thanx to Jack Bennett.)