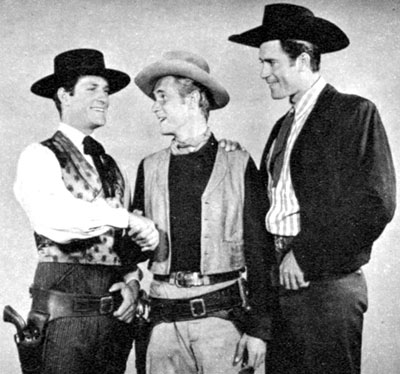 Three of our favorite TV western heroes gather to compare notes: Hugh O'Brian ("Wyatt Earp"), John Lupton ("Broken Arrow") and Clint Walker ("Cheyenne").
Relaxing at home, James Arness, star of TV's long running "Gunsmoke", brushes up on his western history by reading a copy of PORTRAIT OF THE OLD WEST by Harold McCracken, first published in 1952.
James Arness compares his sixshooter with a new Mauser rifle while on a practice shoot at the Los Angeles Police Academy Pistol Range in 1959.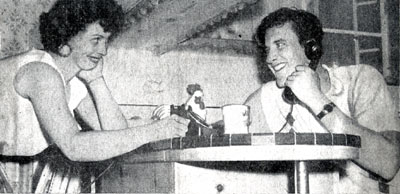 James Arness with his first wife Virginia. (Thanx to Terry Cutts.)
Susan Oliver and Lorne Greene take a coffee break from filming "Bonanza: The Outcast" in January 1960. (Thanx to Terry Cutts.)
A Clint Walker wardrobe test at Warner Bros. for "Cheyenne".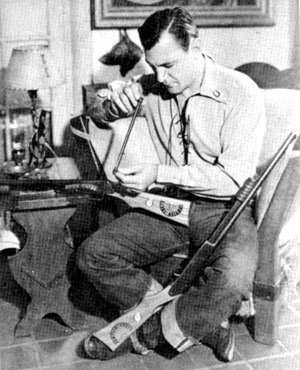 At home, Buck Jones inspects the Daisy Air Rifle named after him in the late '30s.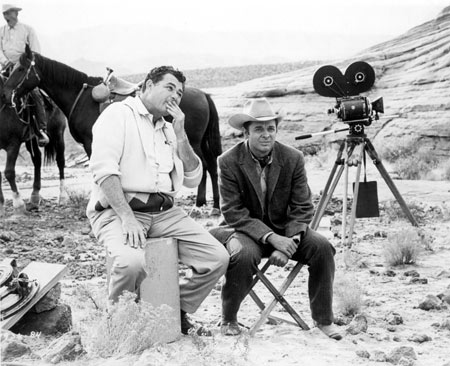 Production manager Howard Pine and Audie Murphy wait for a scene setup on Universal's "Bullet for a Badman" ('64).
Angie Dickinson discusses her "Rio Bravo" script with director Howard Hawks. Note in the first photo John Wayne is mostly obscured by the camera, but by the second photo he has walked into the background.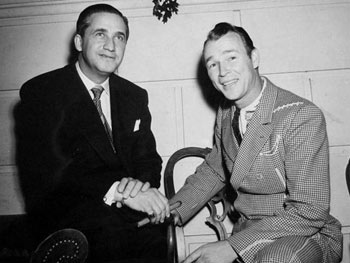 Above two photos are of Roy Rogers with CHICAGO SUN-TIMES newspaper columnist Irv Kupcinet. Both circa late '40s early '50s. (Thanx to Bobby Copeland and Janey Miller.)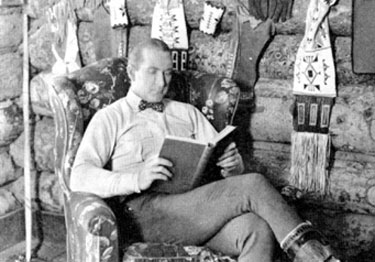 Tim McCoy relaxes in his den surrounded by many of is Indian momentos.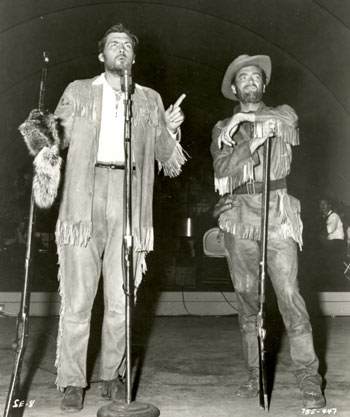 On a personal appearance in 1955, Fess Parker as "Davy Crockett" with Buddy Ebsen as Georgie Russell.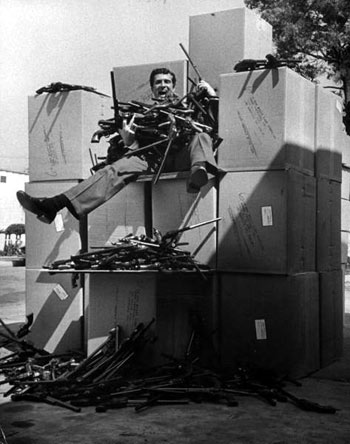 Hugh O'Brian in July '57 sitting on boxloads of toy Buntline Special guns promoted on his "Life and Legend of Wyatt Earp" TV series.
James Garner ("Maverick") and Ty Hardin ("Bronco") having fun at a party circa 1960. (Thanx to Terry Cutts.)
Sparring partners...World Heavyweight Champion from 1919-1926, Jack Dempsey, and Tom Mix. (Thanx to Bobby Copeland.)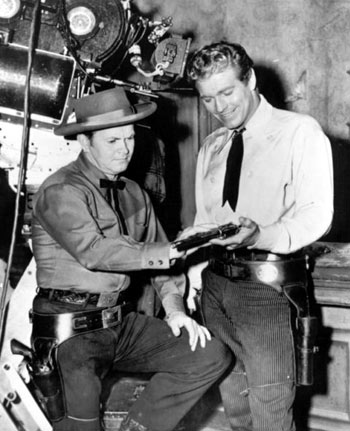 Wayde Preston (R), star of Warner Bros. TV series "Colt .45", gets some pointers on handling a sixgun from Arvo Ojala, the acknowledged dean of Hollywood's gun-coach experts.
Hoot Gibson, young Buddy Champion and entertainer Bill Woods while filming "Life in Las Vegas" in 1945. (Thanx to Chuck Anderson.)
Gail ("Annie Oakley") Davis poses at the London Zoo with a ??? (Thanx to Terry Cutts.)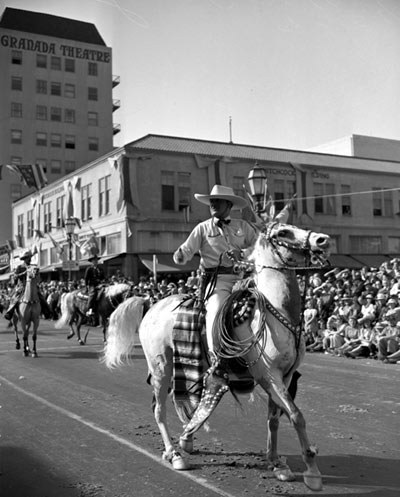 Leo Carrillo at the 17th annual Old Spanish Days Fiesta in Santa Barbara, CA, in 1940. (Thanx to Alan Magers.)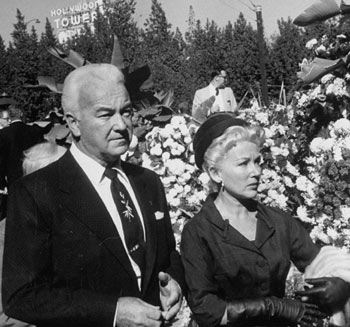 William Boyd and wife Grace Bradley attending Cecil B. DeMille's funeral in 1959. (Thanx to Gene Douglass.)
Eric Fleming ("Rawhide") chats with TV TIMES reporter Nora Laing and casting director Russel Trost. (Thanx to Terry Cutts.)
Smiley Burnette, Montie Montana, Gene Autry. Early to mid-'40s? (Thanx to Bobby Copeland.)