Tim McCoy looks over his Eagle Nest Ranch near Thermopolis, WY. Taken in 1927. (Photo courtesy Elijah Cobb.)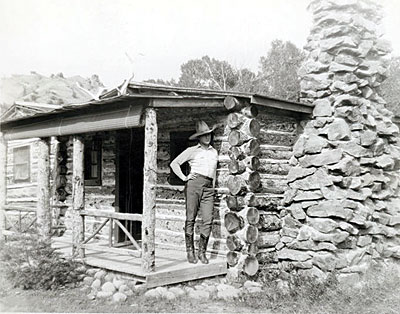 Tim McCoy at his Eagle Nest Ranch near Thermopolis, WY in 1927.
(Photo courtesy Elijah Cobb.)
Camping Out with Clint Walker...
Clint Walker, his cousin Bob Walker and friend Don Wyatt spent a weekend in 1959 for an adventure on the Feather River in California. First up, rig the tents!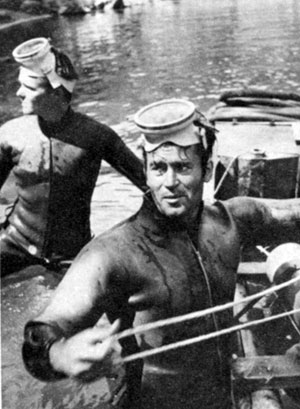 Diving in the river requires wetsuits to combat the icy currents as Clint and Don search for an underwater pocket that might contain gold.
Staying upright on rolling logs can be tricky.
Showering off and...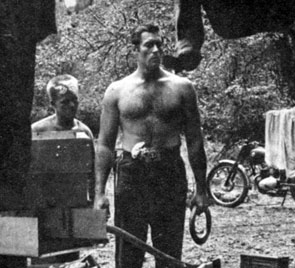 ...hanging out the wet wash to dry.
Time for dinner at day's end.
"The Rebel" Nick Adams on the town with Kathy Nolan of "The Real McCoys".
"The Rifleman" Chuck Connors purchased the big brown horse he rides on the series for $1,500. The steed is the grandson of Flying Jet, the 1925 Kentucky Derby winner.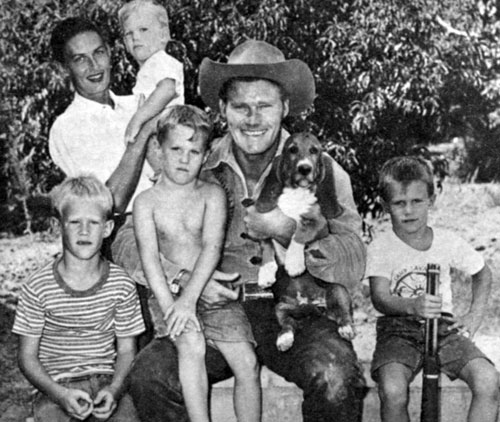 Chuck with his family in late 1958...(L-R) Mike, 8, Jeff, 6, Steve, 5, Kevin, 2 in wife Betty's arms.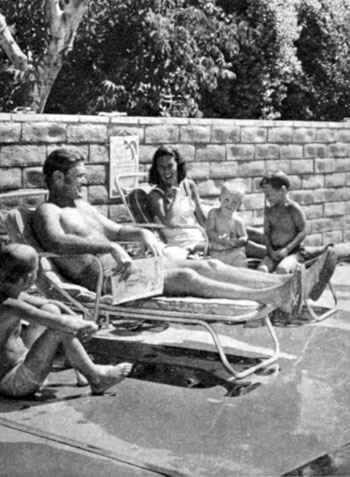 The Connors family relaxes poolside.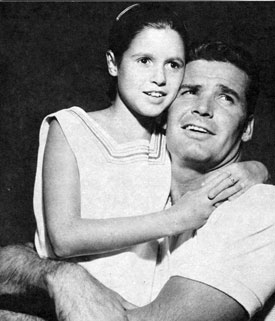 James Garner and his adopted daughter Kimberly while filming
"Up, Periscope" in 1959.
Dad introduces Kim to Gary Cooper and she doesn't miss a chance for an autograph.
Dale Robertson at home on his ranch in Oklahoma.
Gene Autry and wife Ina ponder over which pair of boots Gene should wear
to dinner tonight. Photo taken in 1939.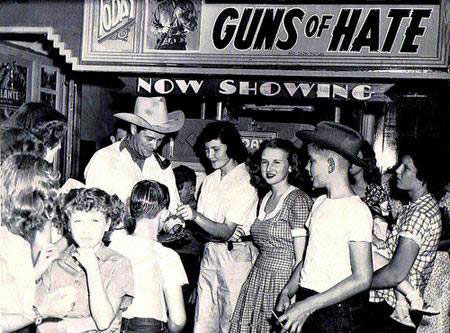 Tim Holt signs a few autographs in August 1948 at the Temple Theatre
in Mangun, Oklahoma.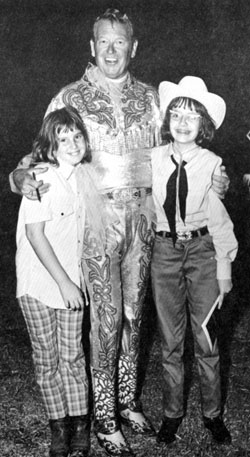 Rex Allen at the 101 Ranch Rodeo in Ponca City, OK in 1971. Shown here with Ellen Whall and Evelyn Galutia.
Dale Evans performs with bandleader Austin Mansfield in Chicago.
(Thanx to Janet Brayden.)
World's Champion Cowboy Yakima Canutt with two fans as he headlined the World's Show Sensations sponsored by the Toledo, OH Shrine club in January 1930.
Filming a scene for 'The Ballad of Cable Hogue' ('70) are director Sam Peckinpah (wearing the bandana), Jason Robards, Slim Pickens (stage driver) and author Max Evans (shotgun guard) in his only acting role. Script supervisor stands by.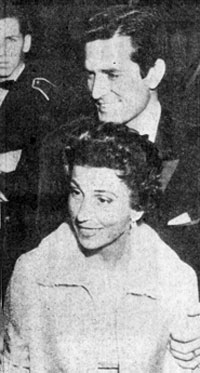 In December 1957 Hugh O'Brian escorted the former Mrs. Frank Sinatra (Nancy) to a Hollywood event. Nancy and Frank were married from '39 to '51. Looks like Frank Sinatra Jr. in the background.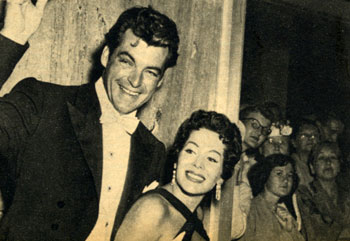 "The Texan", Rory Calhoun and wife Lita Baron greet fans in 1956.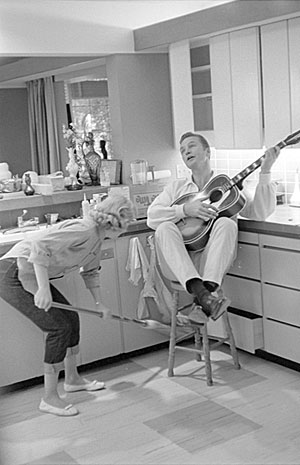 Not sure what's going on here! Eric Fleming strums a guitar while Carol Byron sweeps the floor beneath him in a very domestic scene. Problem is, Fleming was never married, but Byron did make an episode of "Rawhide", "The Woman Trap".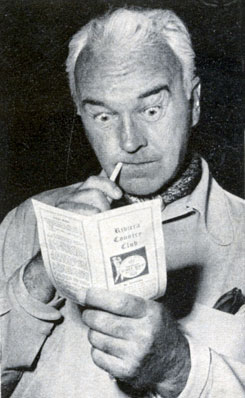 OMG! William (Hoppy) Boyd seems quite startled by his golf scorecard.