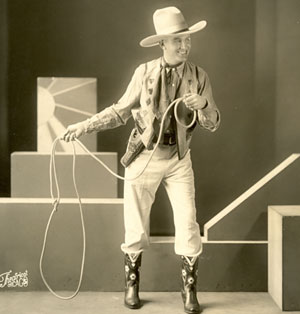 A rare early glimpse of Gene Autry during his days at WLS Radio in Chicago.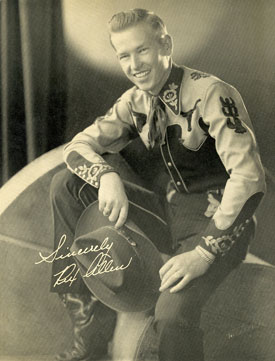 Rex Allen during his tenure at WLS Radio in Chicago.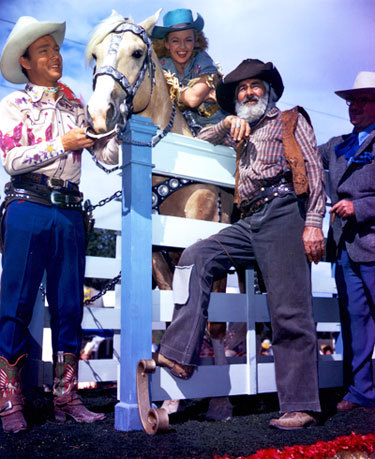 Roy Rogers, Dale Evans on Trigger and Gabby Hayes during a rodeo performance.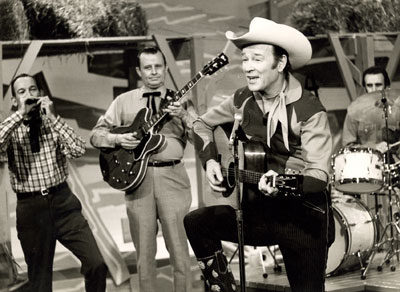 Roy Rogers sings on "Hee Haw" February 9, 1971.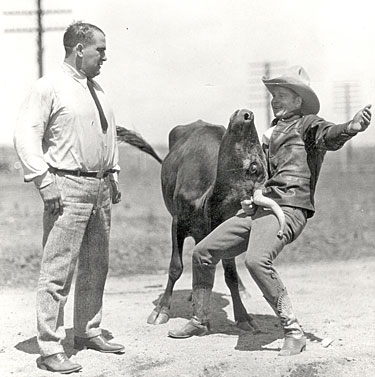 World Champion cowboy Yakima Canutt shows four time World Heavyweight Championship Wrestler Ed "Strangler" Lewis how to hold ‹em with one hand.
Photo circa late '20s-very early '30s.
Dale Robertson as Wells Fargo agent Jim Hardie tangles with a bevy of dancehall girls in the 1960 episode "The Governor's Visit". (L-R) Kristina Hansen, Mari Lynn, Joan Granville, Joan Staley, Helen Stern and (partly hidden) Jean Stanley.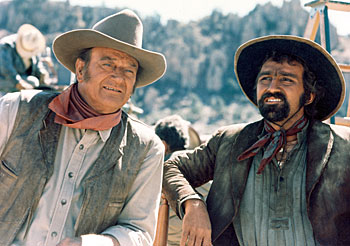 John Wayne and Pedro Armendariz Jr. take a break from filming
"The Undefeated" ('69 20th Century Fox).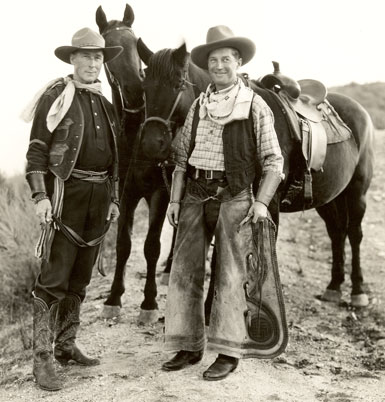 A duded up Maurice Chevalier visits silent Western star William S. Hart at Hart's ranch in Newhall, CA.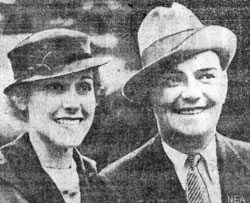 Wedding bells rang in 1932 for Charles Starrett sidekick Cliff "Ukulele Ike" Edwards and Nancy Dover.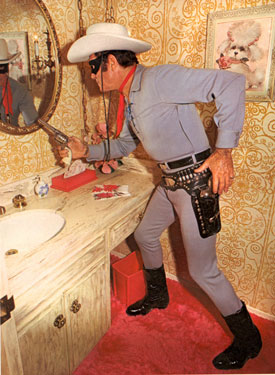 A latter day Clayton Moore ("Lone Ranger") practices his draw in front of a mirror
in his suburban Hollywood home.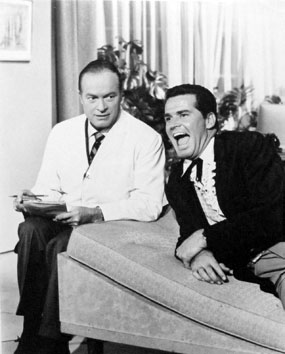 Bob Hope's the psychiatrist in a skit for an on the couch James Garner on a 1961
Hope Buick Show. (Thanx to Terry Cutts.)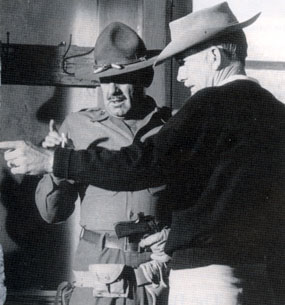 Director Sam Peckinpah gives some direction to William Holden during the making
of "The Wild Bunch" ('69 WB).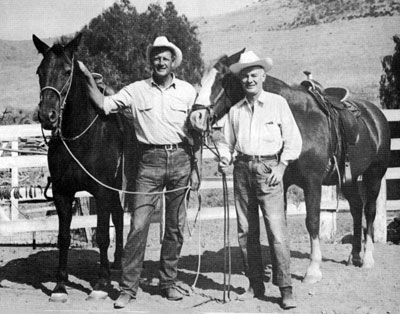 Joel McCrea on his ranch with author Tom Murray. McCrea›s horse is the famous movie horse Dollar, so named because of a white spot the size of a dollar on his rump.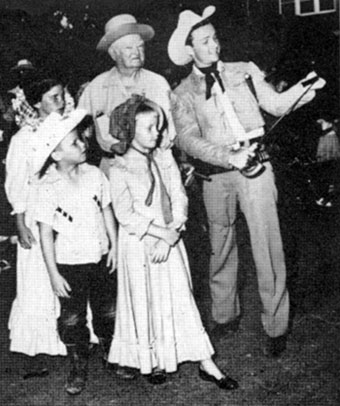 During the making of "The Last Command" ('55 Republic), Ben Cooper and others in the cast stopped to call on former U.S. VP John Nance Garner where Cooper introduced some direct decendents of the heroes of the Alamo to distinguished guests.
At the premiere of "The Last Command" associate producer Frank Lloyd (left), stars Sterling Hayden, Richard Carlson and Republic prexy Herbert J. Yates are presented with an official Heritage of Freedom Day proclamation by San Antonio Mayor Kuykendall (right) and Mrs. Megarity, acting for Texas Citizens and Pioneer Patriots.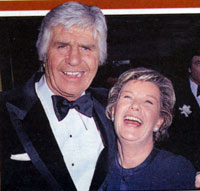 Appearing at a Hollywood function were Jim Davis (Texas oilman Jock Ewing on "Dallas") and his TV wife Miss Ellie, Barbara Bel Geddes.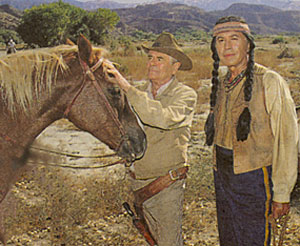 Glenn Ford and Michael Ansara take a break from filming the TV movie "Law at Randada" aka "Border Shootout" in 1990.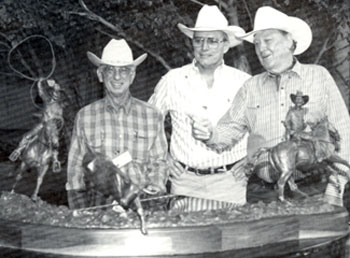 Team roper Joe Crow (left) and his favorite roping partner Ben Johnson (right) flank sculptor Edd Hayes at a Ben Johnson/Bum Phillips Celebrity Roping and Cutting in Houston, Texas. Hayes created the 110 lb. bronze which sold for $62,000 at auction.
An elderly James Coburn leaves his footprint in cement at a Paris, France
celebrity hangout.
Clint Eastwood and Sheb Wooley emerge from men›s wardrobe ready for action on another episode of "Rawhide". (Thanx to Terry Cutts.)
Sam Elliott and Katharine Ross head for a benefit in L.A. after recently completing
the TNT TV movie "Conagher" in 1991.
Stuntman and artist Walt LaRue happily finds himself surrounded by Susan Deland (left), the former Gene Autry Museum's director of merchandise operations, and the late Joanne Hale, Monte's widow, who was the Autry Museum's executive director.
On April 26, 1996 during the 10th anniversary of the Chornobyl nuclear accident in Kiev, Jack Palance, whose parents emigrated from the Ukraine, unloads containers of medical supplies for Chornobyl victims. Palance was a representative of the Children of Chornobyl Relief Fund.
For a group of fans, Hugh "Wyatt Earp" O›Brian demonstrates the use of his
12 inch barreled Buntline Special.
Monogram Western star Jimmy Wakely adjusts his tie before a personal appearance.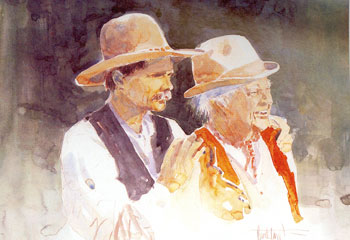 "Dad and Me" is a self portrait by Western artist Buck Taylor of he and his
father Dub Taylor.