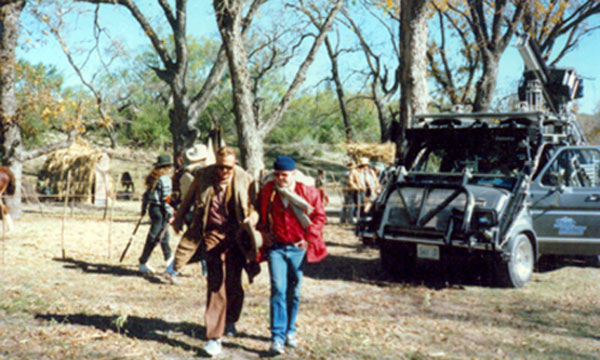 John Wayne and costumer Luster Bayless on location in Ridgway, CO, for
"True Grit" ('69).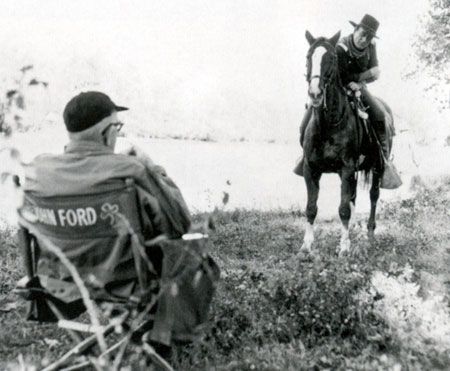 John Ford gives John Wayne a bit of direction on "The Horse Soldiers" ('59).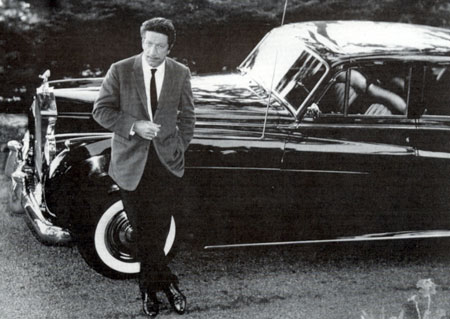 Richard Boone leans against the Rolls Royce John Wayne gave him for playing Sam Houston in "The Alamo" ('60).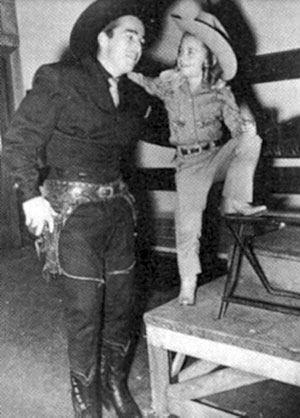 Youngster Walleen Zanutto of Wallowa, OR, with Lash LaRue at her parents' ranch
in Pleasanton, CA, circa early '50s. (Thanx to Frank Story.)
Chill Wills gets out of the Chief Joseph Days stage in the late '40s in Joseph, OR, while fellow chatacter actor Walter Brennan stands below. Brennan owned a ranch near Joseph and was an early and important promoter of the annual Chief Joseph Days celebration. (Thanx to Frank Story.)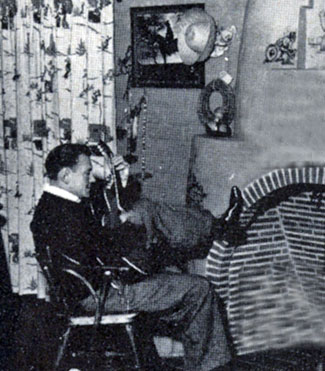 Singing cowboy Buck Jones? Buck at home circa late '30s.
Audie Murphy in early 1951 with wife-to-be Pamela Archer, an airline hostess supervisor in Dallas for Braniff Airways.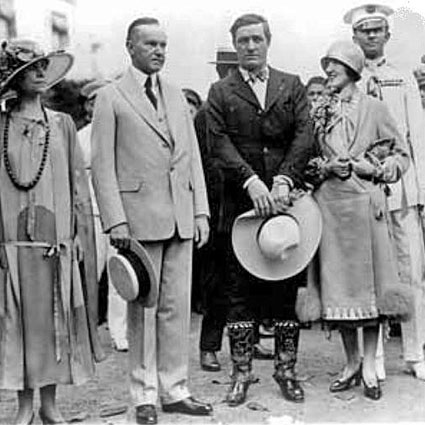 Tom Mix poses with President Calvin Coolidge, circa mid '20s. (Thanx to Jerry Whittington and Tinsley Yarbrough.)
Reb Russell shakes hands with President Lyndon Johnson. Reb ran unsuccessfully in 1964 for Congress as a Democrat from Kansas. Reb was a successful rancher near Coffeyville, KS. (Thanx to John Brooker.)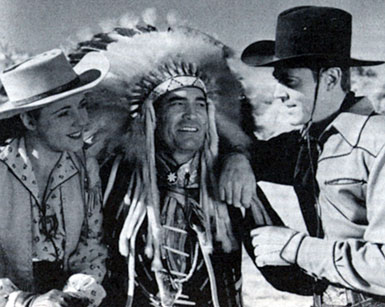 Kay Aldridge, Chief Thunder Cloud and Allan Lane chat while making Republic's "Daredevils of the West" serial ('43).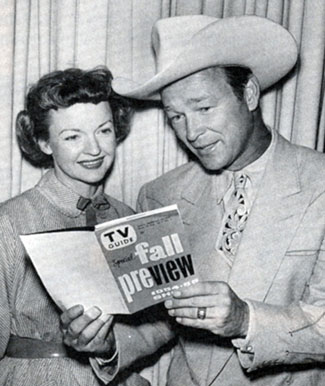 Roy Rogers and Dale Evans check out their TV series listings in the 1954 Fall preview edition of TV GUIDE.
Gene Autry with Champion and Little Champ. (Thanx to Jerry Whittington.)
Nick Adams' "Rebel" cap is a bit big for his new born daughter Allison.
Rare early silent days signed photo of veteran badman and character player
Tom London.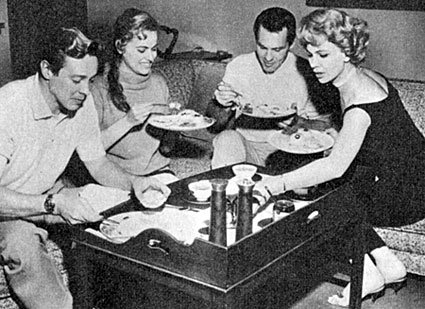 Pat Conway (center) of "Tombstone Territory" cooked up a great meal for his guests Britt Lomond of "Zorro", Lomond's fiancee Diane Tutini and actress Pamela Duncan.
(June '59).
Will "Sugarfoot" Hutchins, singer Keeley Smith and columnist Walter Winchell. Circa early '60s.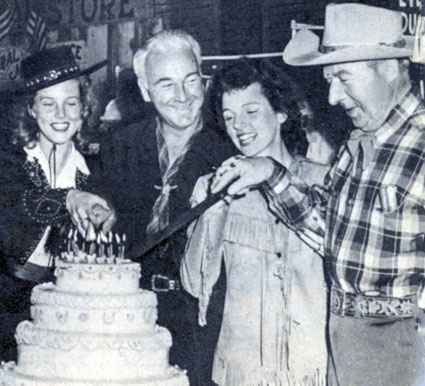 Celebrating 50 Hopalong Cassidy features in 1943 are Barbara Britton, William Boyd, Jane Wyatt and Harry "Pop" Sherman.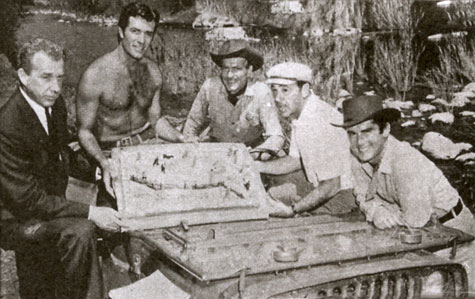 The cast and crew presented Hugh O'Brian a huge birthday cake during the filming
of "The Fiend Who Walked the West" ('58). (Thanx to Terry Cutts.)
Hoot Gibson at home circa early '30s.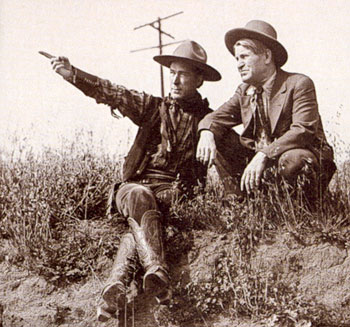 William S. Hart and artist Charlie Russell in 1920.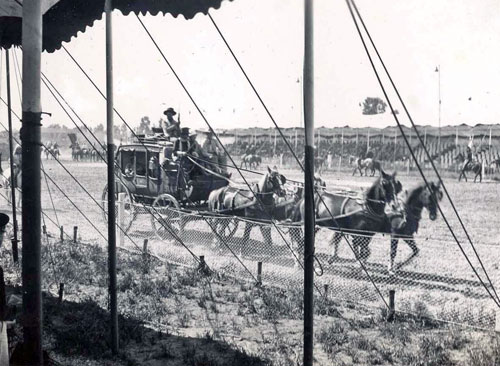 Photo from Ken Maynard's Wild West Show, May 2, 1936. (Thanx to Jerry Whittington.)
Cowgirl Cheesecake!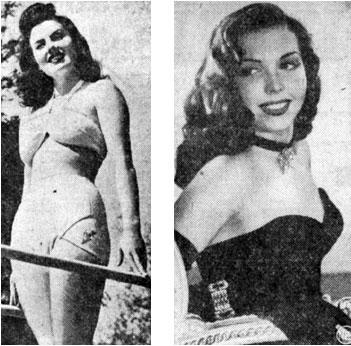 Sheila Ryan (left) and Ann Miller in January 1946.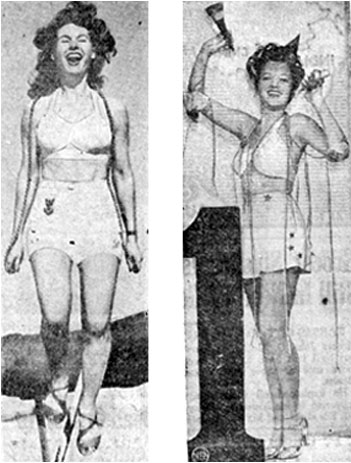 Shirley Patterson keeps fit in 1943 by skipping rope while Lois January celebrates
January 1, 1943.
Mari Blanchard demontrates a handy chest for holding sewing articles. When closed it serves as a small seat.