James Arness and wife Virginia in 1957. (Thanx to Terry Cutts.)
James Coburn and director Sam Peckinpah discuss a scene while making "Pat Garrett and Billy the Kid" ('73).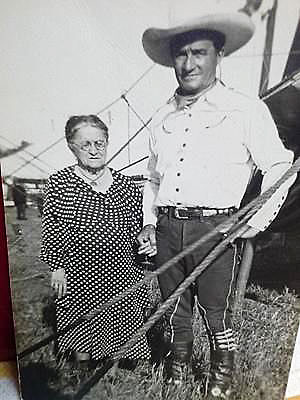 Tom Mix on circus grounds with his mother. (Thanx to Bud Norris and Bobby Copeland.)
Bob Shelton, founder of Old Tucson where "High Chaparral" was filmed, introduces the cast of the series after a hot day of filming. (L-R) Jerry Summers, Don Collier, Rodolfo Acosta, Leif Erickson, Linda Cristal, Mark Slade, Shelton, Roberto Contreras, Ted Markland, Henry Darrow, Bobby Hoy. (Courtesy "High Chaparral" website.)
Tex Ritter helps young Heather Moore read her storybook backstage while waiting to go on for a show at the Denver Red Rocks Amphitheater.
Smiley Burnette with a Nashville rep Jeane Matthews in 1965.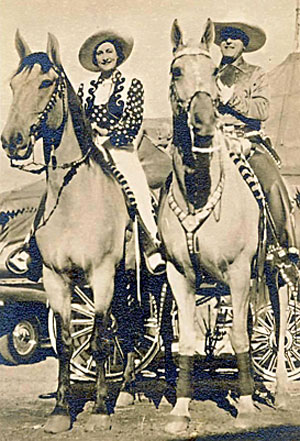 Mr. and Mrs. Ken Maynard. (Thanx to Jerry Whittington.)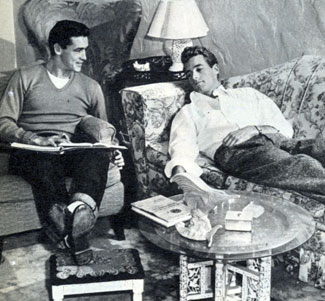 A pre-Wild Bill Hickok Guy Madison and younger brother stuntman/actor Wayne Mallory relax at home in 1947.
In 1959 this group of Warner Bros. stars were sent out to plug the movie "The Young Philadelphians". None of the group was actually in the movie but they went all across
the country in the tour bus seen in the photo. (L-R) Arlene Howell, Peter Brown, Troy Donahue, Will Hutchins, Roger Smith, Alan Hale Jr., the WB exec who was sending them off on the tour, Louis Quinn and Jacqueline Beer. Kneeling are Diane Jergens (married to Peter Brown from '58-'60) and Connie Stevens. (Courtesy Will Hutchins.)
Gene Autry waves from in front of Gene Autry Trail, dedicated in
Palm Springs, CA, in 1984.
Ed Cobb (right) and Slim Freeman in costume for a Rio Grande Motion
Picture Company film in Albuquerque, NM, circa 1914.
Dog owner Lee Duncan and Rin Tin Tin (center) at the Alvarado Hotel in
Albuquerque, NM, circa 1925.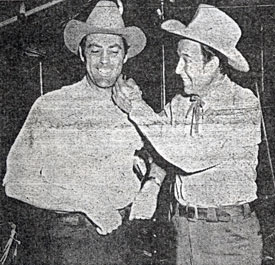 Bill Elliott seems to be chiding Allan "Rocky" Lane about his five o'clock shadow.
Lane was visiting Elliott on the set of "The Last Bandit" ('49).
It was a battle of the cowboys double feature at the Lowe's Sheridan in New York in 1947. Roy Rogers vs. Gene Autry. (Thanx to Billy Holcomb.)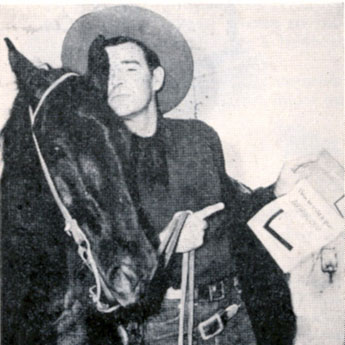 Rod Cameron feels it necessary to explain to his horse about the savings bond drive they were taking part in from May 15-June 30, 1949.
Rory Calhoun, Montie Montana and Gale Storm at a western rodeo in
Palm Springs, CA, circa 1952.
Gale Storm chats with Raymond Hatton at the Palm Springs rodeo circa 1952.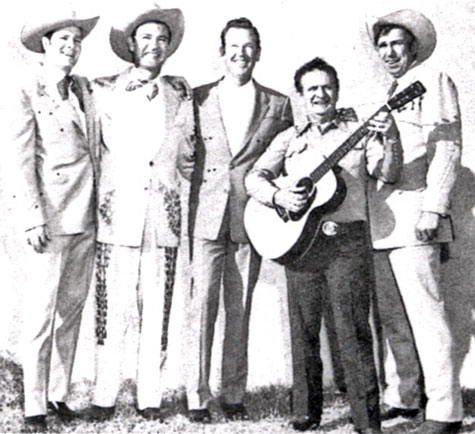 Western wear tailor Nudie with (L-R) Casey Tibbs, Tex Williams,
Rex Allen and Slim Pickens.
Hugh O'Brian teaches a young fan the art of the fast draw while making "The Fiend Who Walked the West" ('58). (Thanx to Terry Cutts.)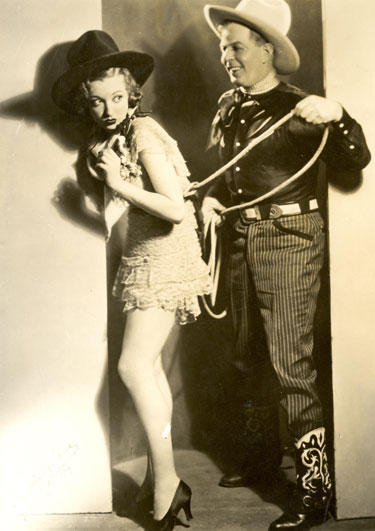 Hoot Gibson seems to enjoy roping June Gale with whom he was romantically linked for a spell in the mid-'30s. Gale (1911-1996) made three films with Hooter—"Rainbow's End" ('35), "Swifty" ('35) and "Riding Avenger" ('36). Gale was one of four sisters—June, Jane, Joan, Jean, who all appeared in vaudeville and later in films.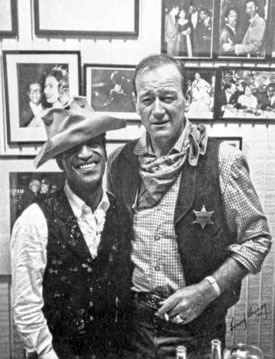 For "Sergeants 3" ('62) John Wayne generously loaned Sammy Davis Jr. his weathered hat he had worn in John Ford cavalry films and in "Rio Bravo". Even with extra padding in the liner the hat still fit Davis loosely. By the time Wayne got the hat back the top front of the crown was badly worn and the hat was ready to be retired.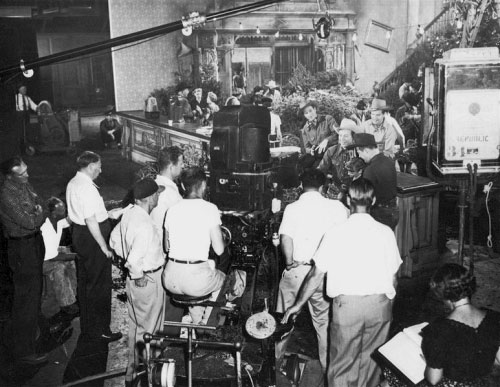 Behind the scenes photo taken during the filming of "Trail of Robin Hood" with Roy Rogers, Foy Willing and the Riders of the Purple Sage in 1950. (Thanx to Jerry Whittington.)
Production shot of James Stewart filming "Night Passage" in 1957.
(Thanx to Jerry Whittington.)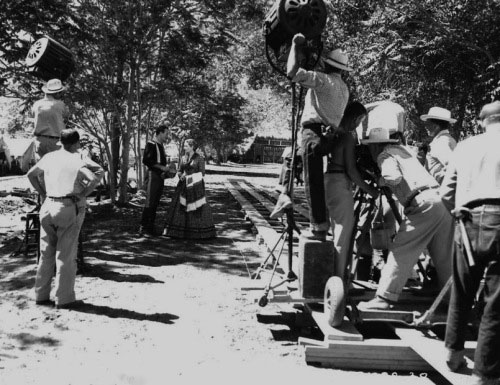 Production shot of John Wayne and Maureen O'Hara filming "Rio Grande" in 1950. (Thanx to Jerry Whittington.)
A little cheesecake publicity photo of 20 year old Nancy Saunders taken in December 1945. Nancy was in six films with Charles Starrett as the Durango Kid plus one each
with Lash LaRue and Whip Wilson, all in the '40s.