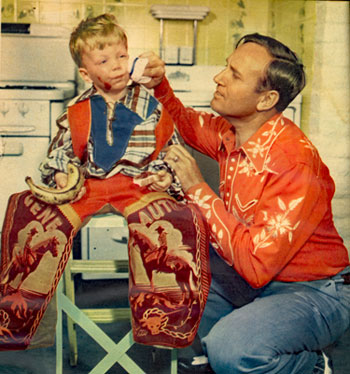 Gene Autry cleans up the face of little Jeffrey Burch after the youngster had a slight accident with his jelly sandwich. Gene and Ina were babysitting for Gene's radio
program producer Bill Burch and his wife in October 1950.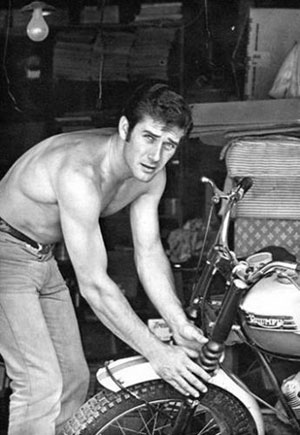 "Laramie" star Robert Fuller prepares to take a ride on his motorbike. (Thanx to Terry Cutts).
Throngs of admirers greeted Tom Mix upon his arrival in London, England in 1925.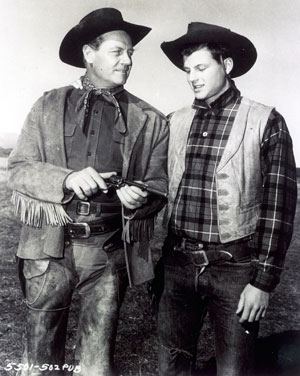 Joel McCrea demonstrates the finer points of his six-shooter to son Jody while
filming "Wichita" ('55).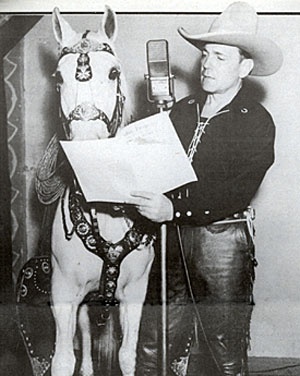 Buck Jones shares a script of his 1937 radio series "Hoofbeats" with his great
horse Silver.
Before he became Sunset Carson, Mickey Harrison rode a horse named Dusty into the lobby of the Hollywood Roosevelt Hotel in L.A. for a publicity shot.
Hugh "Wyatt Earp" O'Brian shows off his Buntline Special to Clint "Cheyenne"
Walker and John Lupton of "Broken Arrow".
Jock Mahoney, Clint Walker and Leo Gordon on set to film "The All American Cowboy" in 1985. (Thanx to Judy Pastorius.)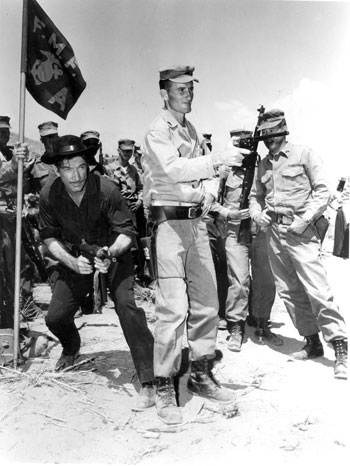 Have Machine Gun Will Travel. Richard Boone trades in his six-gun for a publicity
shot with the U.S. Marines.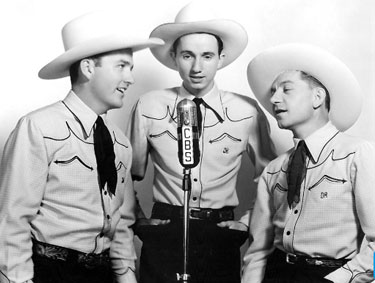 The Jimmy Wakely Trio on CBS Radio. (L-R) Wakely, Johnny Bond, Dick Reinhart.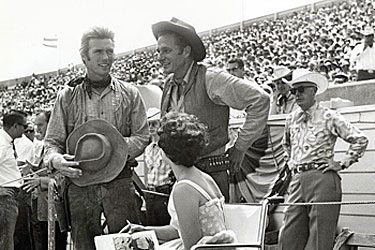 A rodeo public appearance for "Rawhide" co-stars Clint Eastwood and Eric
Fleming. (Thanx to Terry Cutts.)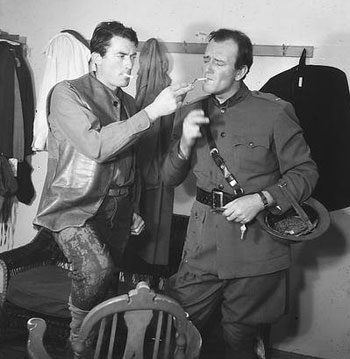 Gregory Peck and John Wayne share a cigarette backstage.
Monogram B-Western star Tex Ritter takes a break between scenes.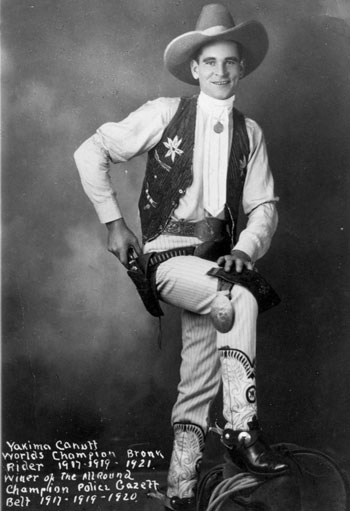 Rodeo champion Yakima Canutt in 1921. (Thanx to Neil Summers.)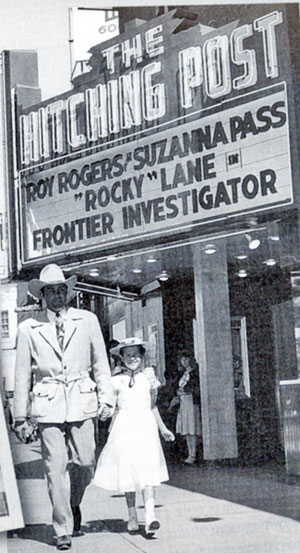 Allan "Rocky" Lane escorts young Cheryl Rogers to a showing of his "Frontier Investigator" in 1949 at the famous Hitching Post theater in L.A. (Note the misspelling
of 'Susanna' on the marquee.)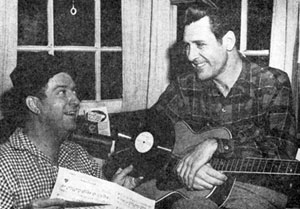 Singer/actor Doye O'Dell talks over his new record with Smiley Burnette in 1947.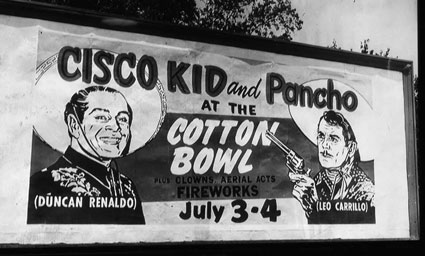 Billboard advertising the appearance of The Cisco Kid and Pancho at the 1954 Cotton Bowl in Dallas, TX. (Thanx to Billy Holcomb.)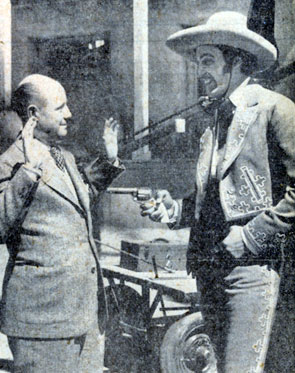 Mitchell Woodbury, TOLEDO (OH) BlADE theatrical editor, visited the 20th Century Fox lot in March 1940 and wandered onto the set of "Rogue of the Rio Grande" and ran afoul of Cesar Romero as the Cisco Kid.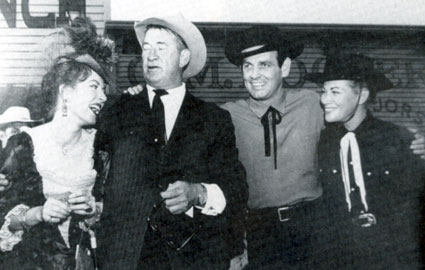 Amanda Blake, Miss Kitty on "Gunsmoke", along with Chill Wills and Mr. and Mrs. David Janssen, in Dodge City, KS to dedicate Front Street in 1958.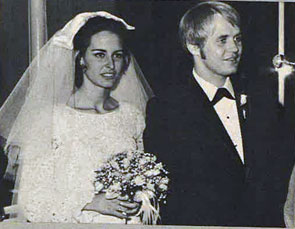 Mark and Melinda Slade were married January 6, 1968. Slade was Blue on "High Chaparral". (Thanx to Paula Smith-Skidmore.)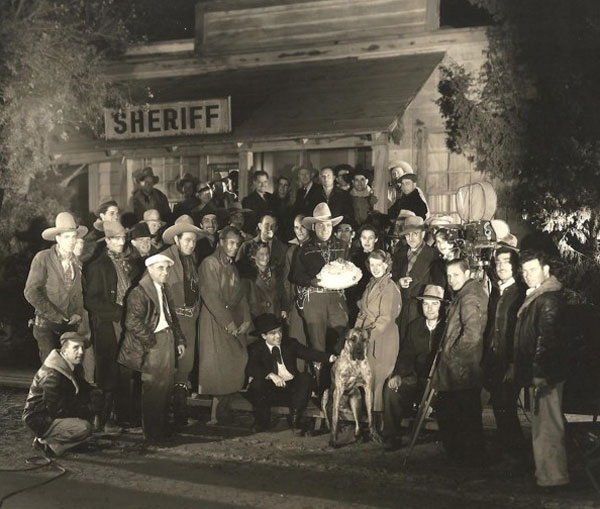 Buck Jones celebrates a birthday with the cast and crew of "Left-Handed Law"
('37 Universal). (Thanx to Tinsley Yarbrough.)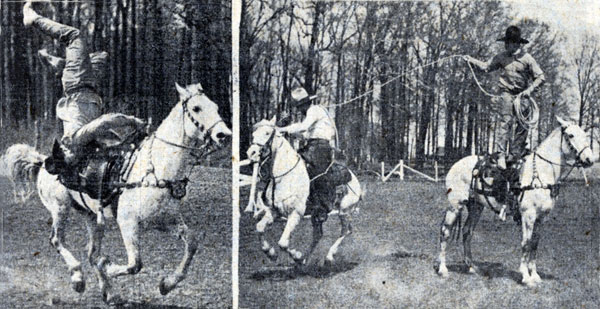 Buff Brady performs some trick riding and roping in May 1931 for a big rodeo in Toledo, Ohio. Brady was voted World's Champion All Around at the Cheyenne Days celebration in 1930. Brady got into filmwork in 1950 with "The Dalton's Women" with Lash LaRue. Brady doubled Roy Rogers for awhile in 1952 for Roy's TV show and later did stuntwork in major Westerns such as "The Big Country", "Yellowstone Kelly", "The Alamo" as well as many TV Westerns. He died at 86 in 2004.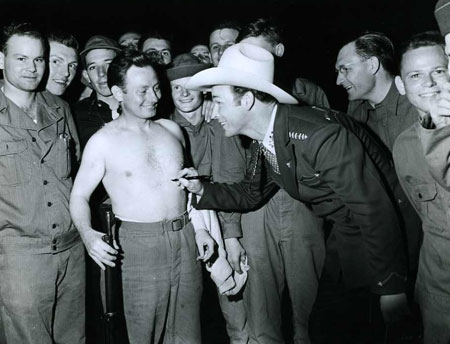 Wonder if this soldier still has the autograph on his chest? Roy Rogers visiting
troops in the early '40s.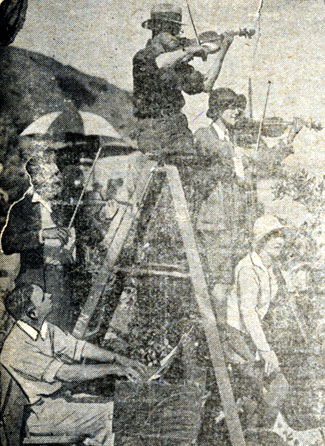 Live music was often played on the set of silent films to inspire the actors. This rare 1920s photo shows Rudolph Berliner, a former symphony orchestra conductor who was then a studio musical director, playing a violin on the top step of a ladder.