A true Gathering of Guns: "When the West was Fun" aired on ABC TV in 1979. (Top row l-r) Rod Cameron, Jock Mahoney, Jack Kelly, Tony Young, John McIntire, Ty Hardin, Darby Hinton, Lee Van Cleef, Will Hutchins, Clayton Moore and Doug McClure. (2nd row l-r) X Brands, Bill Williams, Michael Ansara, Slim Pickens, Dick Jones, Don Diamond, Ken Curtis, John Russell, Terry Wilson, Peter Brown, James Drury. (3rd row l-r) Pat Buttram, Milburn Stone, Dan Haggerty, Guy Madison, Rex Allen, John Bromfield, Keenan Wynn, Jackie Coogan, George Montgomery. (4th row l-r) Denver Pyle, Iron Eyes Cody, Harry Lauter, Jeanette Nolan, Linda Cristal, John Ireland, Mark Slade, Joe Bowman, Fred Putnam. (Front row l-r) Dewy Martin, Johnny Crawford, Chuck Connors, Glenn Ford, Alan Hale Jr., Henry Darrow, Larry Storch and Neville Brand. The two producers of the special are kneeling in front.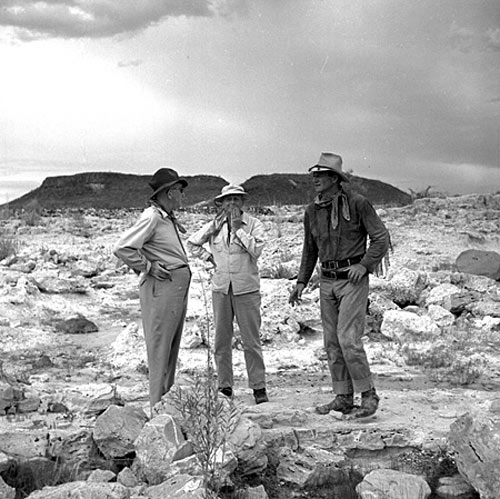 John Ford, director John Farrow and John Wayne on location in Mexico for "Hondo". Ford actually shot some scenes for the film.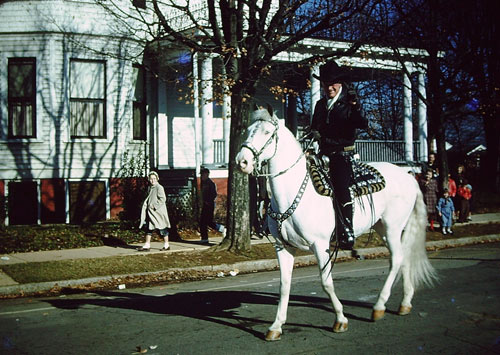 Hopalong Cassidy in the 1957 High Point, NC, Christmas parade. (Photo courtesy Theron Gailey who took the photo in'57 and his nephew Rick Clymer.)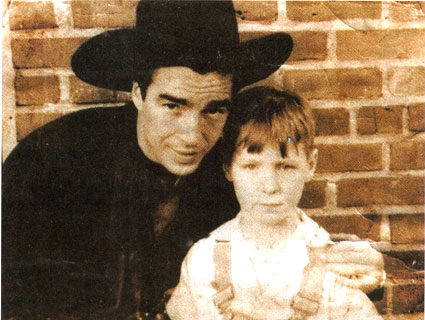 Lash LaRue poses with a young fan following an appearance in South Carolina in the late '40s. (Thanx to Steve Jensen.)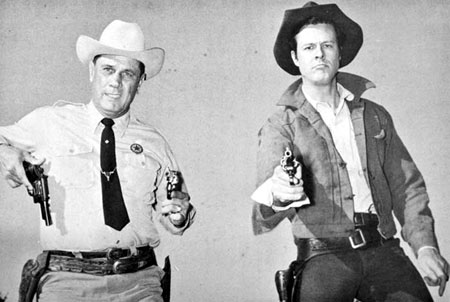 Renowned Texas Ranger Jay Banks teaches Robert Culp how to "thumb that hammer" for Culp's role as Ranger Hoby Gilman on "Trackdown". Banks later became Chief of Police in Palestine, Texas.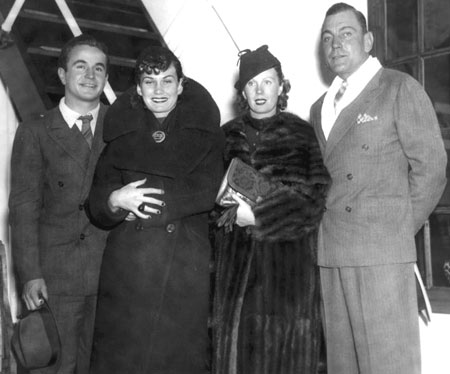 (L-R) Noah Beery Jr. and wife Maxine, Dell and Buck Jones. Maxine was Buck and Dell's daughter. She and "Pidge" were married from 1940 to 1965. (Thanx to Bobby Copeland).
Clint Walker pans for gold in California's Feather River in 1959.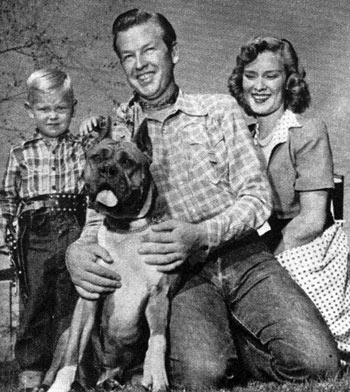 The Rex Allen family in August 1951. (L-R) Rex Allen Jr. aka Chico, Butch the Boxer, Rex and wife Bonnie. (Thanx to Jimmie Covington.)
Yoga anyone? From a '60s TV GUIDE spread (L-R) Diane Roter and Don Quine from "The Virginian", actor John Saxon, actress Dodie Marshall and instructor Virginia Denison. (Thanx to Diane Roter.)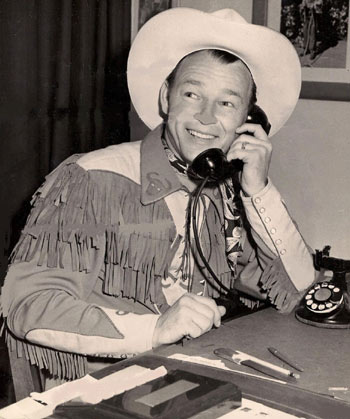 Roy Rogers conducts a little business on the phone. (Thanx to Jerry Whittington.)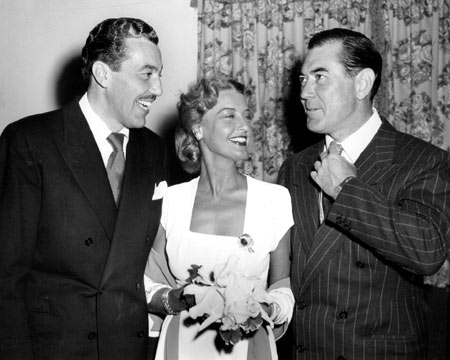 Johnny Mack Brown straightens his tie while talking to former Cisco Kid Cesar Romero and singer Jeanette MacDonald at a Hollywood function in 1948. (Thanx to Bobby Copeland.)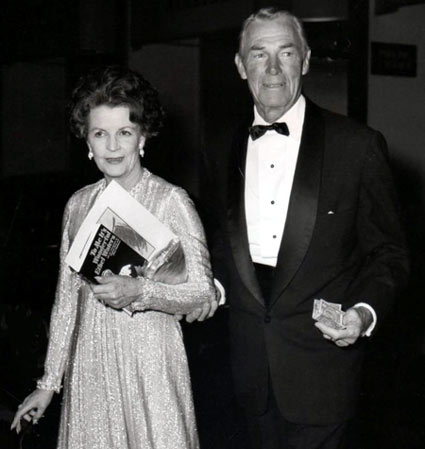 Randolph Scott may be handing money to the Valet as he and wife Patricia exit a Hollywood function. Patricia is holding a copy of TO ME IT'S WONDERFUL by Ethel Waters which was published in 1972. (Thanx to Jerry Whittington.)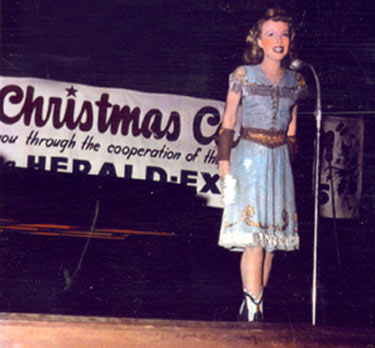 Carolina Cotton entertains troops on a USO tour sponsored in part (at least) by the Los Angeles HERALD-EXAMINER newspaper. (Photo courtesy Carolina's daughter Sharon Marie.)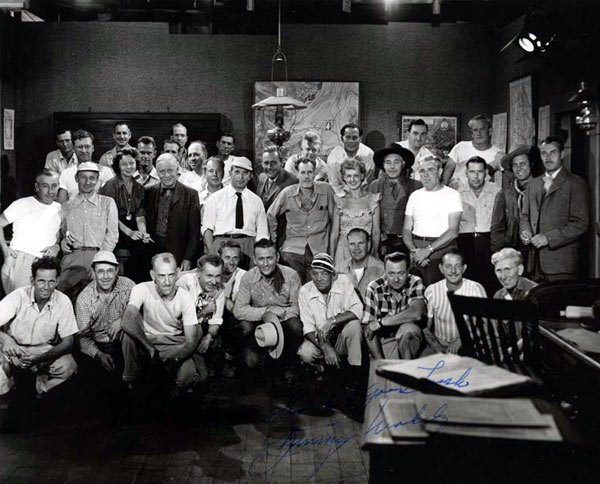 For Jimmy Wakely's last Monogram western in 1949, "Lawless Code", this partial cast and crew photo was taken. You can easily spot Jimmy, director Oliver Drake (with mustache and open shirt collar behind Jimmy), Myron Healey to the right of Ollie, leading lady Ellen Hall to the left of Ollie, Kenne Duncan to Ellen's left, Steve Clark to Ollie's right in dark coat, Terry Frost and Tris Coffin standing to the right. Set continuity lady Helen McCaffrey is to the right of Steve Clark. We're also sure Assistant Director Eddie Davis and Cinematographer Harry Neumann are in the group but unsure which two they may be. A good guess would be the man kneeling to the left of Jimmy and the man standing to the right of Drake. Note Wakely's autograph on the photo. (Photo courtesy Bobby Copeland.)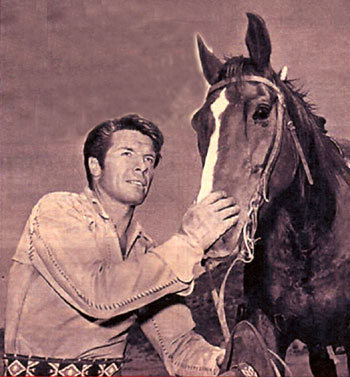 Robert Horton ("Wagon Train") headlined a big variety show in December '59 at the London Palladium. (Thanx to Terry Cutts.)
Audie Murphy doffs his hat for fans at the premiere of "Destry" ('55).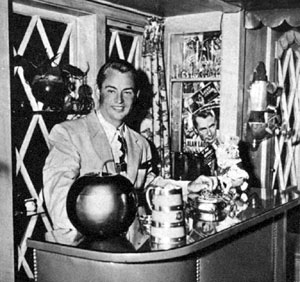 Alan Ladd stands behind his home bar decorated with posters from his films. Photo taken in late 1944.
A very young Edmund Cobb in Albuquerque, NM. (Thanx to Bobby Copeland.)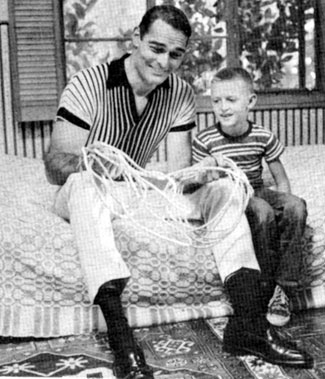 At home, John ("Lawman") Russell shows son John James, age 7, some rope tricks.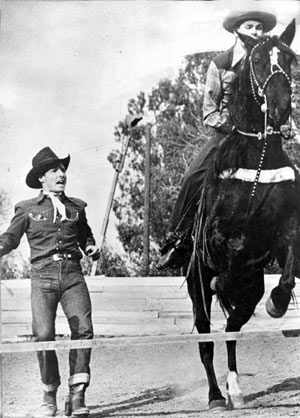 At his Heaven on Earth Ranch, Johnny Carpenter helps blind Jimmie Pruett over the jump on horseback. This builds great moral for handicapped kids.
"Bonanza"'s Hoss Cartwright, Dan Blocker, dispenses cool drinks to his four children. (Thanx to Terry Cutts.)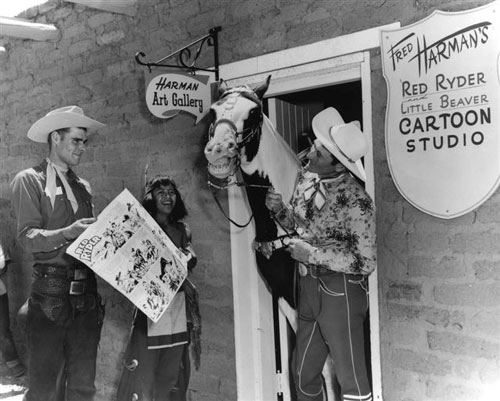 Trick rider and actor Montie Montana (right) visits the Fred Harman cartoon studio circa late '40s. (Thanx to Bobby Copeland.)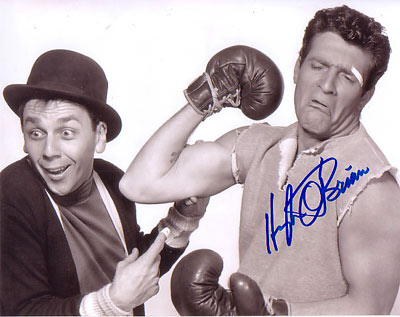 Gag photo with actor King Donovan and Hugh ("Wyatt Earp") O'Brian.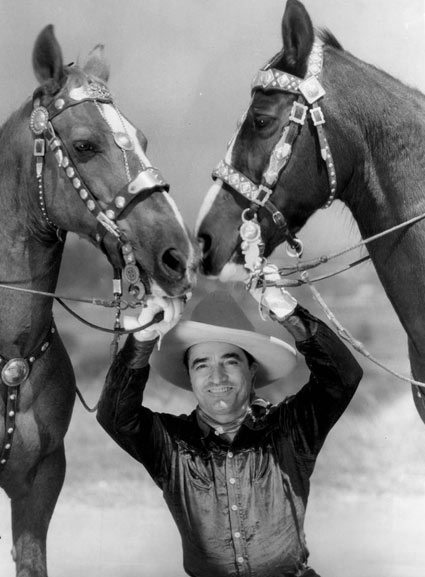 Tom Mix with his two Tony horses in 1932. (Thanx to Bobby Copeland.)