Bob Steele on an early "Voice of Hollywood" talkie short. (Photo thanks to Leonard Maltin.) By the way, Bob Steele sings in six B-Westerns, including his first three talkies. Here's the list: "Near the Rainbow's End" ('30 Tiffany), Bob and Perry Murdock sing "Ragtime Cowboy Joe" and another song. (Note: this is five years before Gene Autry became "the" singing cowboy.) "Oklahoma Cyclone" ('30 Tiffany) Bob sings several songs. "Land of Missing Men" ('30 Tiffany) Bob sings "Prairie's End" twice. "Ridin' Fool" ('31 Tiffany) Bob sings "I Fell in Love With You, Can't You Fall in Love With Me?" "Gallant Fool" ('33 Monogram) Bob sings "The Girl That I Love". "Trailing North" ('33 Monogram) Bob sings "I'm Headin' Home".
John Wayne seems a bit amused by a very drunken Steve McQueen.
Oops! I thought "Laramie" stars John Smith and Bob Fuller could draw their six-guns better than this! (Thanx to Terry Cutts.)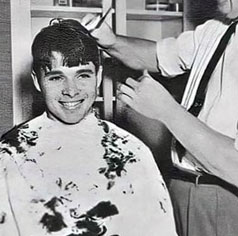 Audie Murphy gets a G.I. haircut. Probably for the filming of his bio-pic
"To Hell and Back".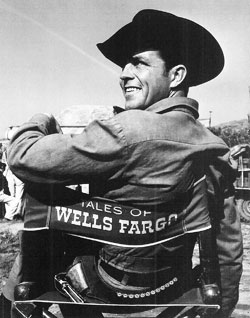 "Hey guys, hope that jet trail doesn't show up in the next scene."
(Thanx to Terry Cutts.)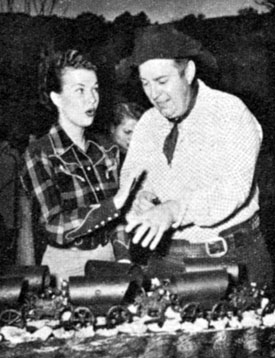 Always interested in philanthropic activities, Gale Storm and Smiley Burnette officiate at a garden party for 150 orphans.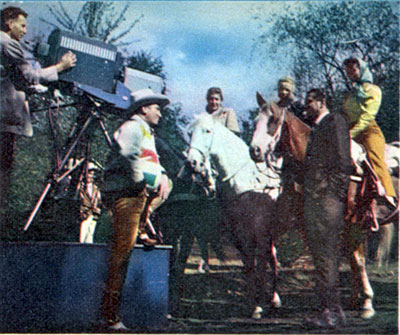 A CBS TV Gene Autry color rehearsal.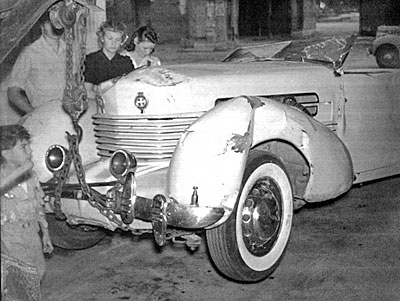 The 1937 Cord 812 Phaeton car in which Tom Mix was killed shown here still hooked to the tow truck that brought it in to Florence, Arizona.
William S. Hart pours himself a cup of coffee at a New York hotel in 1936.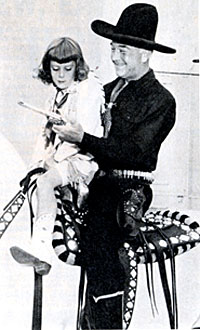 Brian Donlevy's daughter Judy was thrilled to meet her idol, Hopalong Cassidy.
In 1951 MOVIE THRILLS and MOVIE LIFE magazines ran a contest to name Whip Wilson's horse. Contest judges (L-R) magazine editor Rae Lynn, Johnny Mack Brown, Reno Browne and Whip Wilson.
Whip Wilson with the Columbia Three-Star Deluxe bicycle which went to first prize winner Ivan Schere of Brooklyn, NY, who named Whip's horse "Rocket".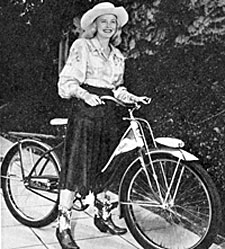 Reno Browne with the Columbia Girl's bike that went to Betty Jane Hotsler of Lincoln, MO. She submitted the name Geronimo.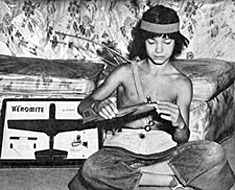 Billy Lee Curtis of Columbus, Ohio received a runner-up prize of a Wen-Mac Aeromite all plastic airplane plus a year's subscription to MOVIE LIFE. In this photo Louis Lettieri who protrayed Little Beaver on the unsold "Red Ryder" TV pilot shows the plane after assembling it.
Reno Browne presented the girl's runner-up prize, a super deluxe Max Factor make-up kit, to Allene Potter of Minnesota.
Alexis Smith, Dorothy Malone and Joel McCrea relax between scenes of
"South of St. Louis" ('49 WB).
Nose to nose, Fess Parker greets the schnoz, legendary Jimmy Durante.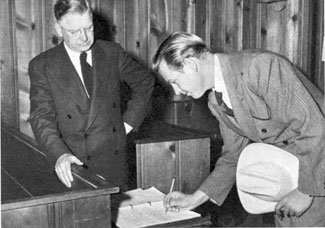 Rex Allen signs the guest roster for Rev. John Wells at the
Little Brown Church in the Valley.
Looks like MGM singer Connie Francis has found 'Where the Boys Are'...at least one of them, Eric Fleming of "Rawhide". (Thanx to Terry Cutts.)
Eric and Connie share a dance. (Thanx to Terry Cutts.)
Sonora, CA Wild West Film Festival guest stars in 1992. (L-R) John Lupton, Marilynn Horton, Will Hutchins, Barbara Hutchins, Robert Horton, Chris Alcaide, Kelo Henderson.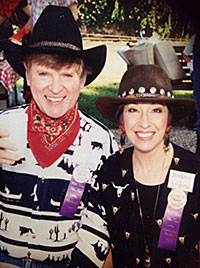 Will and Barbara Hutchins' favorite photo, taken at the Sonora Wild West Film Fest in 1992.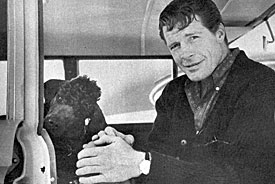 Robert Horton at age 36 while appearing on "Wagon Train" with his first Standard Poodle Jamie (Beau James in full).
Roy Rogers and Dale Evans present their latest 78rpm record for consideration to disc jockey Rosalie Allen of WOV radio New York City.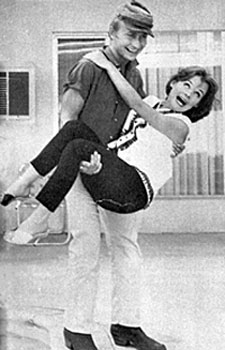 "The Rebel" Nick Adams gives wife Carol Nugent a lift in 1960.