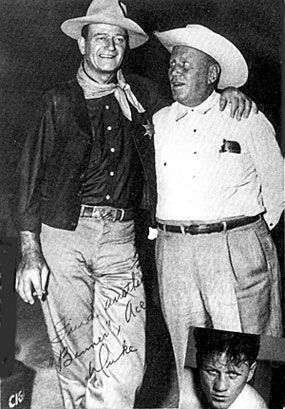 John Wayne with Ace Hudkins. Ace and his brother Clyde ran Hudkins Brothers Stables for years providing horses, wranglers, stuntmen and wagons for movies and TV. Younger headshot of Ace below. (Photo courtesy Kristine Sader, great niece of Ace.)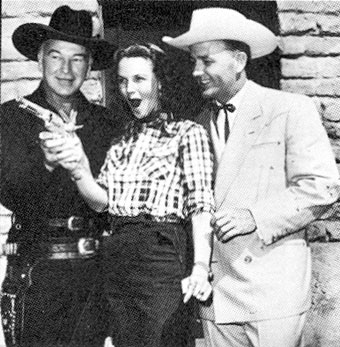 Barbara Britton and Jimmy Wakely at a birthday party for
William Boyd...Hopalong Cassidy.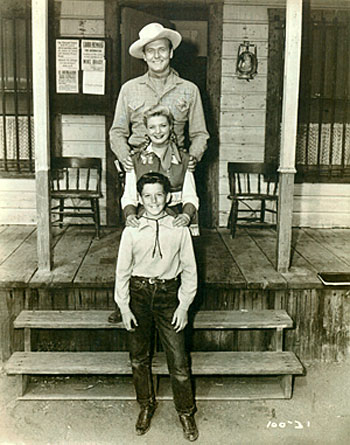 Brad Johnson, Gail Davis and Jimmy Hawkins on the "Annie Oakley" TV set.
(Courtesy Jimmy Hawkins.)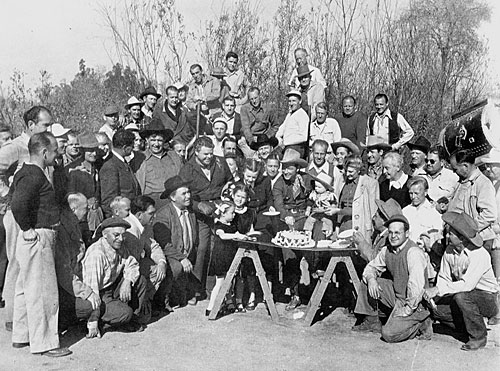 A Roy Rogers birthday party during the filming of "Under California Stars" ('48 Republic). You can spot Roy, Dale Evans, their children, Bill Witney, Andy Devine and members of the Sons of the Pioneers.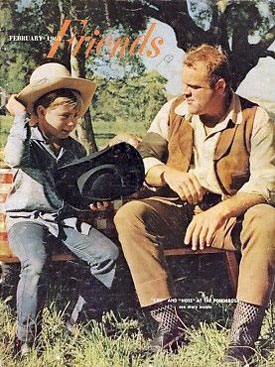 Dan Blocker watches as a young fan tries on Hoss Cartwright's hat for the
cover of FRIENDS magazine.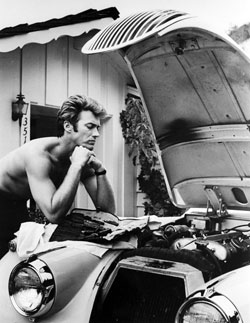 "Hmmmm...maybe I should stick to acting and directing."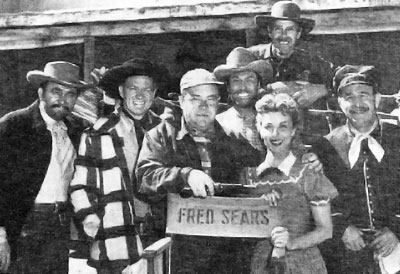 On the set of "Apache Ambush" ('55 Columbia)...director Fred Sears, star Bill Williams to his right, leading lady Adelle August to his left...and is that Clayton Moore between Sears and August? Other three unknown.
Gene Autry and Champion held a reception for fans outside the Savoy Hotel in London, England on August 2, 1939.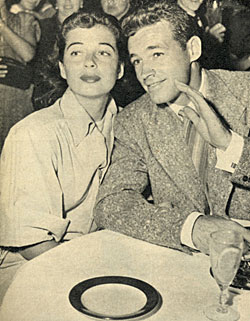 Guy Madison and wife Gail Russell out to dinner. They were married from '49 to '54.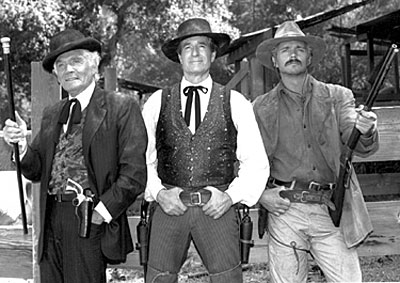 Gene Barry and Hugh O'Brian reprised their roles as Bat Masterson and Wyatt Earp for an episode of "Paradise" with Lee Horsley.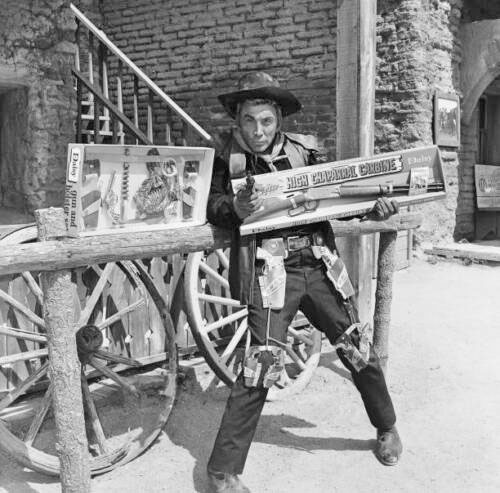 Cameron Mitchell as Buck Cannon has a little fun with the "High Chaparral" toy gun and holster set and Daisy Carbine. (Thanx to Terry Cutts.)
A later in life James Arness is still Matt Dillon of "Gunsmoke".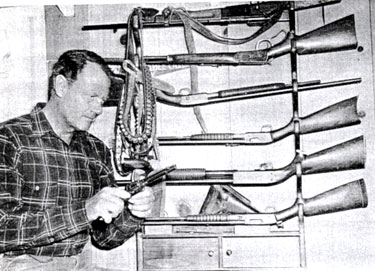 Joel McCrea and his impressive gun collection.
Leo Carrillo and ranch foreman Wally Handley near the stables at the Leo Carrillo Historic Park in Carlsbad, CA.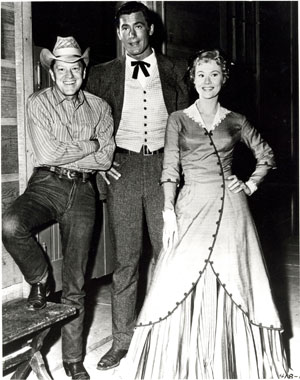 Clint Walker with Michael O'Shea and Virginia Mayo. O'Shea and Mayo were married from '47 til his death in '73.
Historic 1938 Tom Mix photo.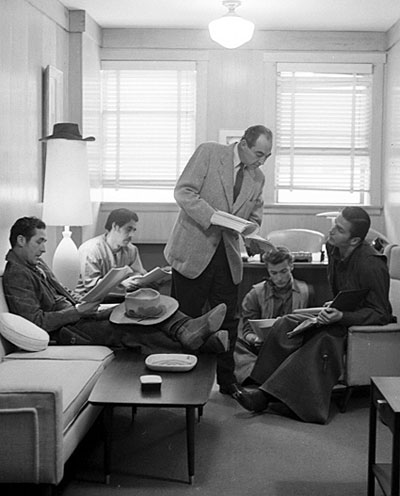 A "Rawhide" cast script read through. (L-R) Sheb Wooley, unknown, unknown (probably the director), Clint Eastwood, Eric Fleming.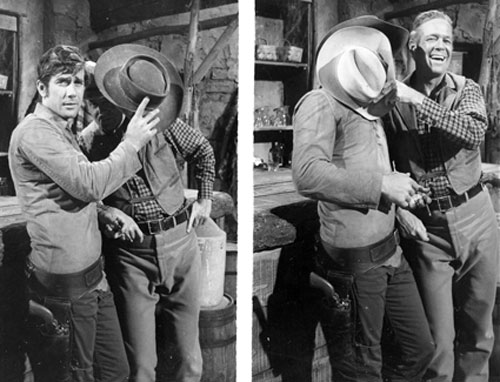 Robert Fuller and Dan Duryea clown it up on the set of "Incident at Phantom Hill".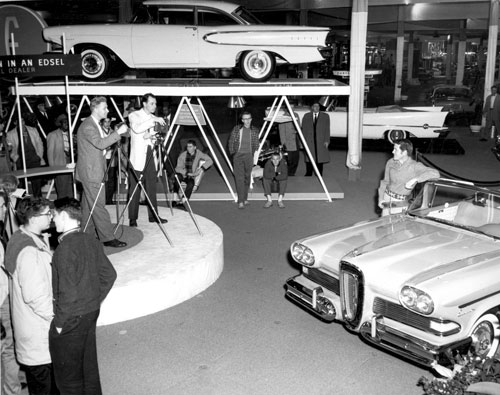 Robert Horton, star of "Wagon Train", films a TV commercial for Edsel.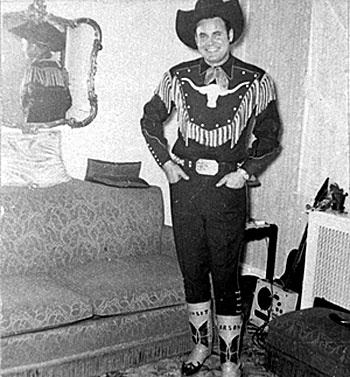 All duded up...Sunset Carson.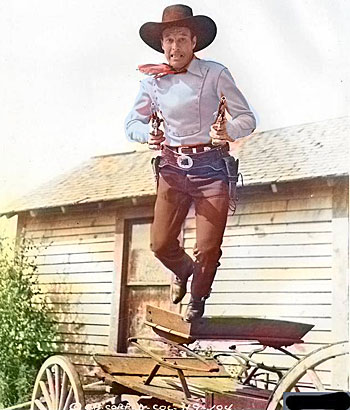 Last but not least...a fabulous color shot of Columbia Pictures' star Bill Elliott.
(Thanx to Billy Holcomb and Ed Morris.)