Not sure what is one year old...but it's sure an interesting photo of Clint Walker and Jayne Mansfield. (Thanx to Terry Cutts.)
A light moment on the "Gunsmoke" set with Matt and Kitty.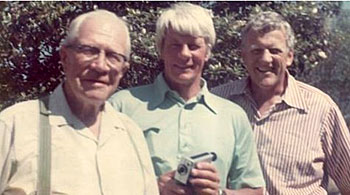 Historic photo of brothers Peter Graves and James Arness with their father, Rolf Aurness of Norwegian descent.
Audie Murphy teaches Rock Hudson the finer points of gun handling on the set of Universal's "The Lawless Breed" in which Hudson played John Wesley Hardin.
Roy Rogers teaches son Dusty the art of fisticuffs.
Knock Out!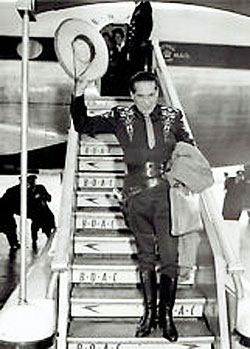 Duncan Renaldo—The Cisco Kid—lands at Heathrow Airport in the U.K. for TV appearances in 1958. (Thanx to Terry Cutts.)
On the set of "Brave Eagle", produced by Roy Rogers, are Jerry Thompson, Joe Howley and Pete de la Santos, newsboy carriers from the SAN ANTONIO NEWS EXPRESS. They were guests of Roy in Hollywood after winning a big circulation contest when Roy appeared in San Antonio with his championship rodeo. Keith Larsen was the star of "Brave Eagle".
The same three boys with lovely Indian maiden Morning Star played by Kim Winona on "Brave Eagle".
On location in Mexico City, Guy Madison meets J. Trinidad Villa, son of Pancho Villa, who plays a Civil War soldier in "The Last Frontier" with Madison and
Victor Mature. ('55).
COUNTRY SONG ROUNDUP magazine columnist and KFVD Los Angeles radio DJ George Sanders accepts a gold plaque in 1950 from KFI-TV reporter Gloria Grant. The award, known as 'The Western Life', was presented every year by Tex Williams (right) and Smokey Rodgers to the person who has done the most to encourage western music in America.
Lucy threatens John Wayne! And Duke seems to believe it!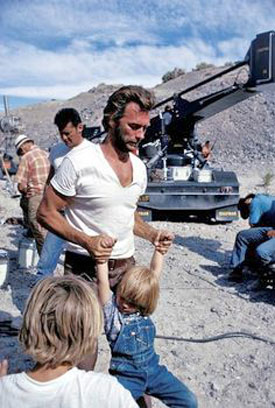 Clint Eastwood on location with sons Kyle and Scott.
Is the "Highway Patrol" (Broderick Crawford) telling Hugh O'Brian to slow down?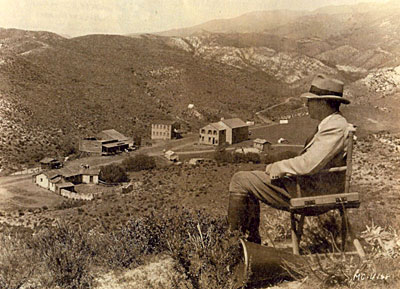 Director King Vidor looks over the set he had constructed near Northridge, CA to represent Lincoln, New Mexico territory for "Billy the Kid" ('30 MGM).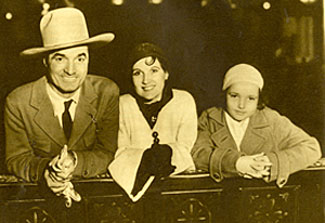 Tom Mix and new wife Mabel Ward Hubbell. Ceremony took place February 15, 1932 in Mexicali, Mexico. Beside them is Tomasina, Mix's daughter by his former marriage to Vicky Forde.
Outside the Buck Jones stable (L-R) daughter Maxine, Buck and Silver and wife Dell.
Four and half year old Cynthia gives daddy Johnny Mack Brown a loving kiss.
Ken Maynard at 73 in 1968 looks over some photos in him memory room.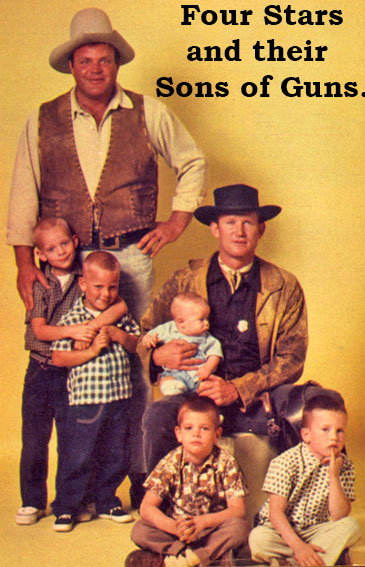 (Top) Dan Blocker ("Bonanza") and sons Dave, 6; Dirk, 3.
Don Collier ("Outlaws") and sons baby Steven James, Don Jr. and David Richard, both 6.
(Bottom) Dennis Weaver ("Gunsmoke") with Rick, 12; Rusty, 2; Rob, 8.
Michael Landon ("Bonanza") and Mark, 12.
"High Chaparral"'s Henry Darrow and actress/screenwriter/wife Lauren in 1993.
A thousand people thronged to Albuquerque Municipal Airport on October 7, 1940 to see Gene Autry when he and Champion paused in that city for the first horse flight on TWA Airline records. Gene and Champion were en route to a personal appearance in Chicago and then New York.
"Daniel Boone" (Fess Parker) tweeks the beard of rascally sidekick Cincinnatus (Dallas McKennon), tavern-keeper at Fort Boonesborough. D'ja know? Dallas was one of the busiest voice-over artists at Disney Studios...working on "100 Dalmations", "Lady and the Tramp" and "Mary Poppins" among others.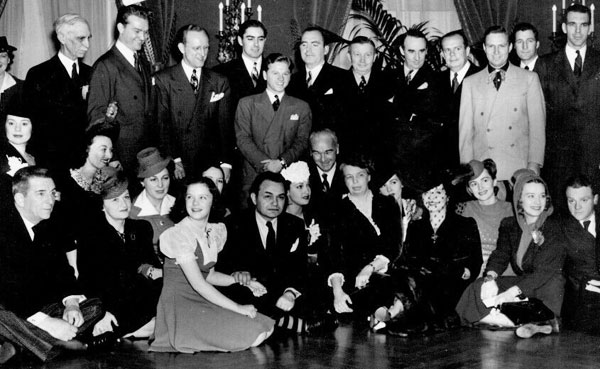 Eleanor Roosevelt's 1941 birthday celebration at the White House. Can you spot Red Skelton, Kay Kyser, Tyrone Power, Mickey Rooney, Pat O'Brien, Gene Autry, Edward Everett Horton, Elsa Lancaster, Ginny Simms, Deanna Durbin, Edward G. Robinson, William Boyd, Eleanor Roosevelt (right of Boyd), Olivia de Havilland, James Cagney. (We understand William Boyd was upset that Gene Autry wore a Western suit instead of a regular dress suit.)
Can you spot any celebrities we've missed?