(L-R Top Row) Sons of the Pioneers: Dale Warren, Tommy Doss, Shug Fisher, Lloyd Perryman. Gabby Hayes, unknown, George Gobel, Pat Buttram, Cass County Boys: Fred Martin, Bert Dodson. (L-R Bottom Row) Sons of the Pioneers: Karl Farr. Tex Williams, Connie Haines, Pat Brady, Gene Autry, Dale Evans, Roy Rogers, Ralph Edwards, Gail Davis, Jerry Scoggins of the Cass County Boys. We're not sure but believe this photo was taken during Gene Autry's "This is Your Life" TV program with Edwards. (Photo courtesy Dale Price via Gail Davis.)
In 1954 while filming an early episode of "Annie Oakley", Gail Davis tripped in the dark and fell on a curb as she was being picked up by a car for the daily ride to the location. She was immediately taken to the hospital with a broken foot. After her release, against doctor's orders, she went on location and did her scenes for the day. The foot apparently did not set properly and when Gail went home to Little Rock, AR, her father—a medical doctor—examined the foot and immediately took her to the hospital to re-break and re-set the bone. The foot apparently took considerable time to heal the second time. (Photo courtesy Dale Price.)
Gail Davis (L) on location with her broken foot stands beside Nan Leslie who stood in for Gail during certain scenes. For our book WESTERNS WOMEN Nan Leslie told writer David Rothel, "While Gail was doing one of the first episodes of 'Annie', she broke her ankle. Because of our close friendship and because we looked somewhat similar, I volunteered to double her so they could go on with production. They had me do long distrance shots where we could make it appear I was Gail. She was able to do the close-ups where her broken ankle wouldn't show and where she didn't have to walk. That was really fun for me! I went along on location and had a ball and didn't have to worry about lines. All I did was Gail's walking, mounting and riding of the horse—that sort of thing. At the end of the day, I was the one who got to go out to dinner and dance with the crew while Gail was immobilized. She's never stopped kidding me about the fun I had while she was 'suffering'." (Photo courtesy Dale Price.)
Gene Autry and Gail Davis. Taken during Gene's 1956 Canadian tour. (Photo courtesy Dale Price.)
Gene Autry, Gail Davis during Gene's '56 Canadian tour. We figure the man with the LIBERTY magazine must be a reporter. (Photo Courtesy Dale Price.)
Gene Autry, Gail Davis and a group of young fans. (Photo courtesy Dale Price.)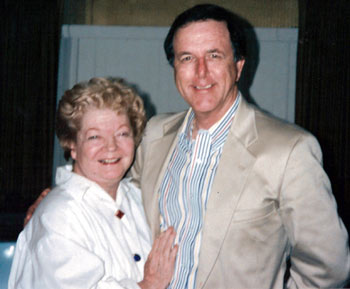 Gail Davis with Jimmy Hawkins (little brother Tagg on "Annie Oakley") in Gail's living room. (Photo courtesy Dale Price.)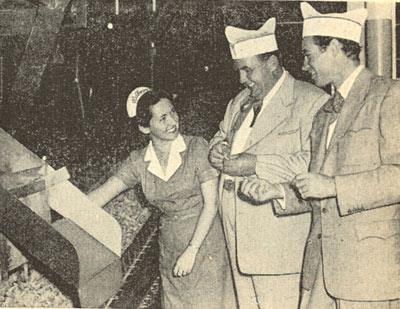 Andy Devine and Guy Madison, stars of Kellogg's "Wild Bill Hickok" TV series, visit Kellogg's new plant in San Leandro, CA, in 1953.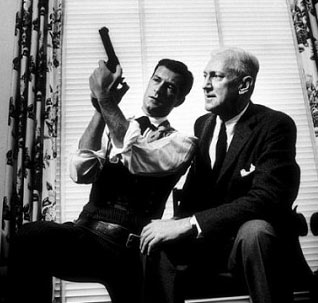 Hugh O'Brian and Pete Martin looking at a prop gun from O'Brian's "Wyatt Earp" ('57). (Photo by Sid Avery.)
Hugh O'Brian as Wyatt Earp clowns around with Bob Hope during the making of "Alias Jesse James" ('59).
Clayton Moore visiting with kids in Charleston, SC, during the Lone Ranger "mask controversy" in 1980. (Photo courtesy Kenneth Kitchen.)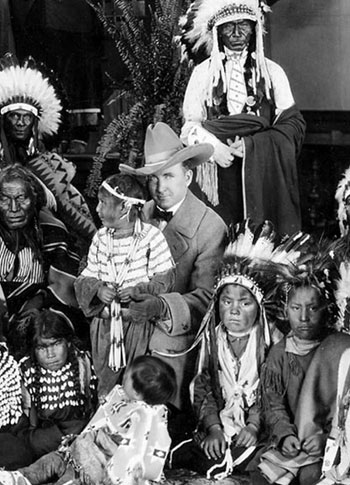 Tim McCoy and a group of Indians. Probably taken during promotion for "The Covered Wagon" ('23). (See more in our Silent Westerns Reviews section.) (Photo courtesy Bobby Copeland.)
Noted Los Angeles radio disc jockey Al Jarvis ("Make Believe Ballroom") rehearses with William (Hopalong Cassidy) Boyd and Roy Rogers. Jarvis also had a five hour a day TV talk show on KLAC-TV in the '50s .
Gene Autry and Champion Jr. make an appearance on Arthur Godfrey's radio program. (Photo courtesy Neil Summers.)
Randolph Scott, Glenn Ford and Big Boy Williams enjoy a light moment with set visitor Fred Astaire during the making of "The Desperadoes" ('43 Columbia). (Photo courtesy Bobby Copeland.)
Errol Flynn and Patrice Wymore take a break while filming "Rocky Mountain" ('50 WB) in Gallup, NM. Flynn and Wymore met during the shoot and were later married. (Photo courtesy Neil Summers.)
John Wayne and Gene Autry with Wayne's children, Toni, Melinda, Patrick and Michael at the one of the annual Sheriff's Rodeos in L.A. Colisseum. (Photo courtesy Neil Summers.)
Hopalong Cassidy at the Cotton Bowl in Dallas, TX. October 1952. (Photo courtesy Billy Holcomb.)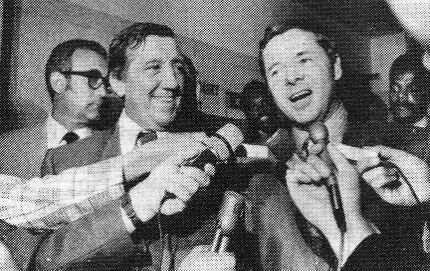 Audie Murphy faces newsmen in 1970. Man with Audie is Paul Caruso, his attorney when Audie was charged with the attempted murder of a kennel owner in a dispute over a dog. Audie was acquitted. (Thanks to Vic Mizzone.)
Songwriter Scotty Turner and Audie Murphy. Turner and Murphy wrote several songs together including the big hit "Shutters and Boards" recorded by Jerry Wallace in 1963.
Publicity photo for syndication of various TV shows in the mid '50s. (L-R) Don Haggerty ("Cases of Eddie Drake"/"Cases of Jeffrey Jones"), William Boyd ("Hopalong Cassidy"), Gloria Swanson ("Gloria Swanson Presents"), Gene Autry and Pat Buttram ("The Gene Autry Show"), Gail Davis ("Annie Oakley"). Note the "Range Rider" promo on the wall. (Photo courtesy Dale Price.)
(L-R) Doris Hill, Bob Steele, producer Paul Malvern and director Robert Bradbury. Taken at the time of the filming of either "Galloping Romeo" or "Ranger's Code" both made in 1933 with Steele and Doris Hill. Wreckage of the airplane is unknown but is not featured in either film.
Bob Steele and Tim McCoy on location with "Requiem for a Gunfighter" producer Alex Gordon in 1965.
A classic cowboy reunion on the Paramount lot in the early '60s. (L-R) Ken Maynard, Tom Keene, Rex Lease, Bob Steele, Hoot Gibson, Raymond Hatton, Big Boy Williams.
Always wondered if George Duryea didn't get his Tom Keene moniker from the cigar brand which was popular in the 1890s and the early part of the 1900s. This photo was taken in Paul's Valley, OK. (Courtesy Jack Bennett.)