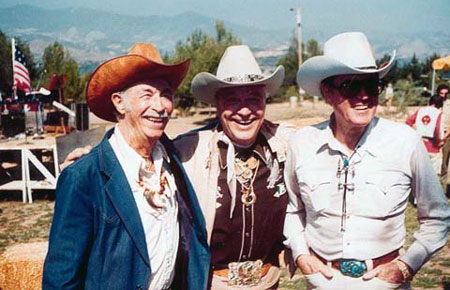 Three great senior citizen western stars: Eddie Dean, Monte Hale, Clayton Moore.
(Thanx to Pat Shields.)
Hopalong Cassidy (William Boyd) consults with film editor Fred Berger in 1947.
Johnny Mack Brown stands next to a production light while making
"Billy the Kid" in 1930. (Thanx to Jerry Whittington.)
Three giants of the movie industry take a break while making their respective films in 1956. James Stewart was starring in "Night Passage"; James Cagney was making "Man of 1,000 Faces" and Orson Welles was making "Man in the Shadow". (Thanx to Pat Shields.)
Gabby Hayes and Jackie Robinson's wife Rachel watch the 1952 World Series between the Yankees and Dodgers. Gabby and Jackie were good friends. (Thanx to Bobby Copeland.)

When he's not making westerns for Monogram, Jimmy Wakely relaxes with friends and his son Johnny playing sandlot baseball or fishing. In this photo Jimmy, screen heavy
Ted French, Jimmy's 3 year old son Johnny and sidekick Dub "Cannonball" Taylor
get ready for a game.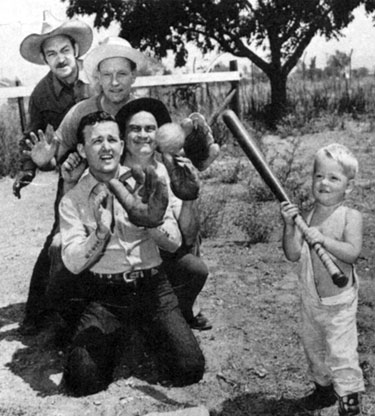 Ted French, musician Don Weston, Dub Taylor and Jimmy play catch as
Johnny is at bat.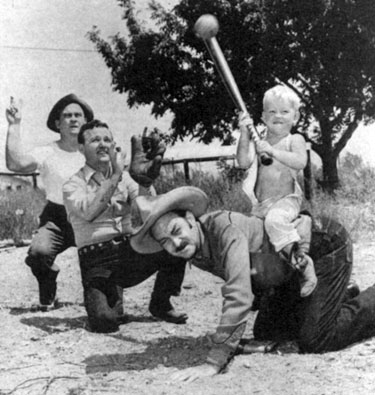 Little Johnny gets a lift from Ted French while Jimmy is catcher. Looks like "Cannonball" is calling two strikes on the kid.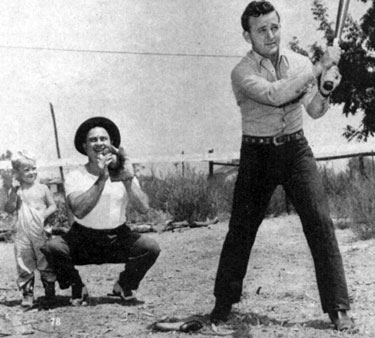 Jimmy's turn at bat.
Now it's time for a little fishing as Jimmy puts on his waders.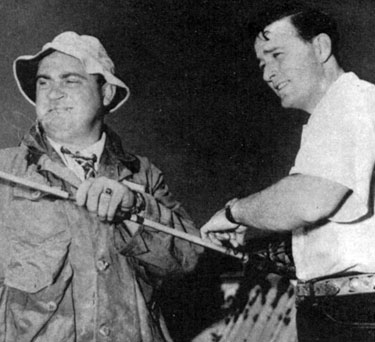 Back home in Oklahoma Jimmy loved fishing, and he still does. His specialty, however, is fresh water fishing so he needed an assist from Dub Taylor in getting his rod properly strung for surf casting.
Jimmy casts his line into the Pacific waves.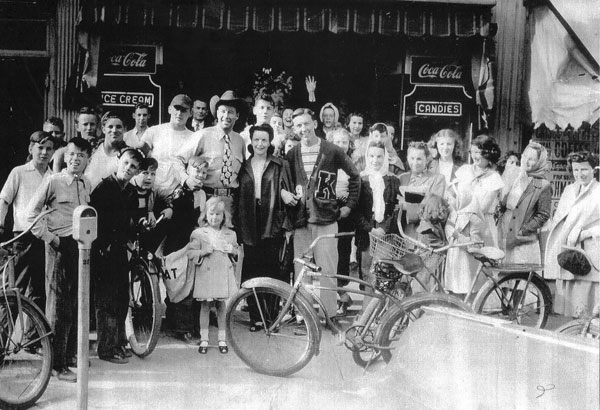 Bill Elliott at Kenton, OH, in 1947 for a furniture store opening. (Thanx to Bobby Copeland.)
While filming "Cheyenne", on weekends Clint Walker often liked to get out into the Mojave in his cabin truck with his then wife Verna and six year old daughter Valerie Jean. The cabin truck was fully equipped with Geiger-scintillator, ultra-violet light, field glasses, pans and enough food for the weekend.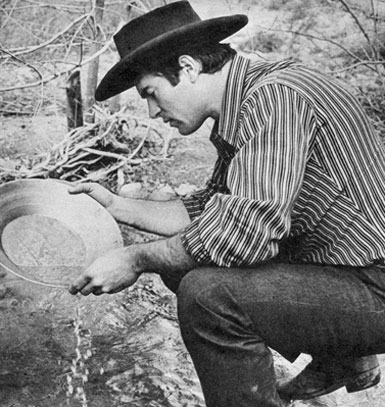 Clint pans for precious gold ore, washing the sand carefully to remove excess mud and rocks from the silt.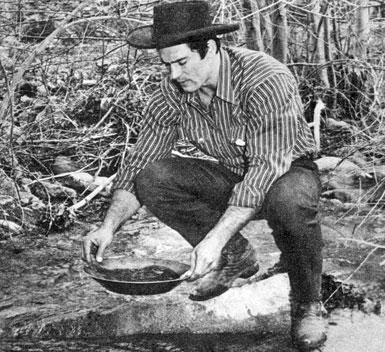 Clint continues his panning operation.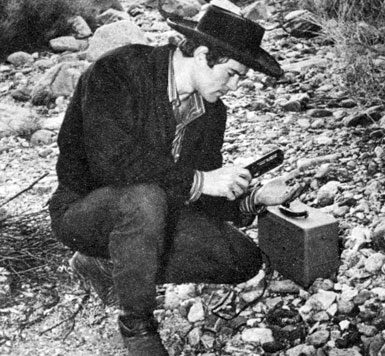 Checking rock formations with a Geiger-scintillator for uranium ore deposits.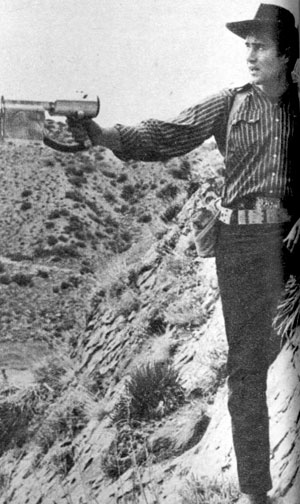 Clint used an ultra-violet light to locate uranium ore. This is obviously a staged photo as Clint tells us you only use ultra-violet at night.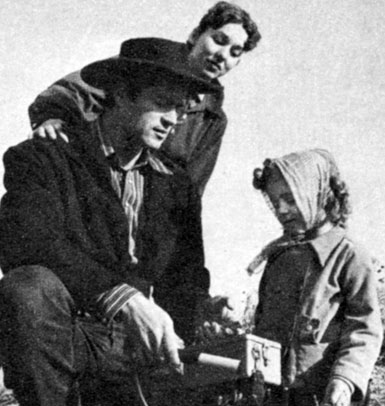 Clint explains to Verna and Valerie Jean how the pointer can indicate the
presence of ore.
Daughter Valerie Jean enjoys her weekend outdoors with Mom and Dad.
Clint packs Valerie Jean on his back while he hunts for ore deposits.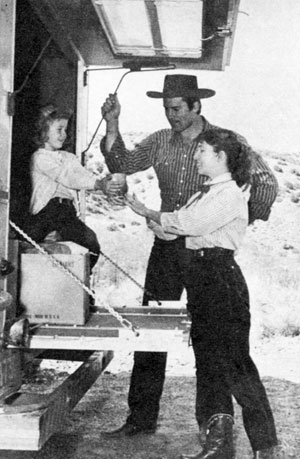 ...and after all that work, it's time for a cookout hamburger dinner on the back of
Clint's cabin truck.
Richard Boone gave up gun, traveled to Broadway in early 1959 to play Lincoln in
"The Rivalry". His co-stars were Martin Gabel and Nancy Kelly.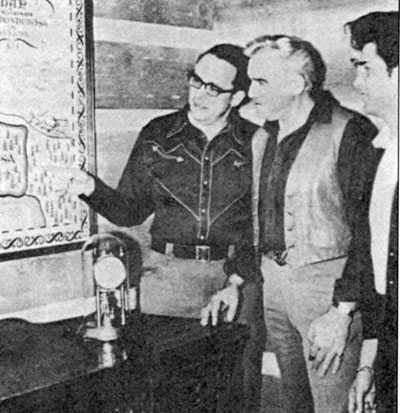 David Dortort indicates a position on the "Bonanza" map to Lorne Greene
and Michael Landon.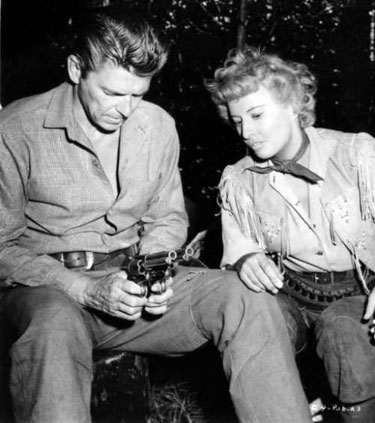 "Are you a two gun man or just glad to see me?" muses Barbara Stanwyck to Ronald Reagan while making "Cattle Queen of Montana" in 1954. (Thanx to Jerry Whittington.)