Los Angeles Angels owner Gene Autry with Viva Records co-owners Snuff Garrett and Clint Eastwood at a cocktail reception in L.A. on Dec. 1, 1982 to mark the debut of the soundtrack album for Eastwood's feature film "Honky Tonk Man".
1,250 fans jammed the Don Theatre in Oklahoma in 1948 to see B-Western star
Tim Holt.
Allan "Rocky" Lane at home. (Courtesy Billy Holcomb.)
The Andrews Sisters and Gabby Hayes on the Orpheum stage for
"The Andrews Sisters" radio show.
Capitol songstress Jo Stafford takes a look at Tex Williams latest songs
to be recorded in 1950.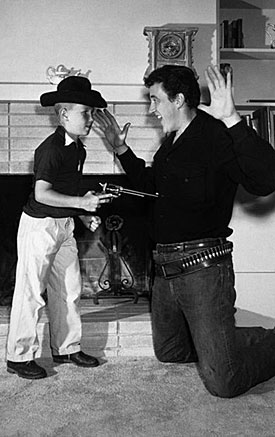 James Arness' son Craig gets the drop on Marshal Dillon.
Director Earl Bellamy (holding the script), Dale Robertson and the entire cast and crew of a "Tales of Wells Fargo" episode. Robertson's stunt double Dean Smith is mounted on the rear left.
Rex Reason and James Garner take a break from filming a "Maverick".
Grace Bradley and husband Bill "Hopalong Cassidy" Boyd take their splendid
Arabian steeds out for a ride.
Relaxing between scenes of TV's "Riverboat" are (L-R) John Mitchum, singer Rusty Richards, Burt Reynolds, woman (name unknown) choreographer for that episode of the series, director Dick Bartlett, scriptwriter Norm Jolley and guest star Debra Paget.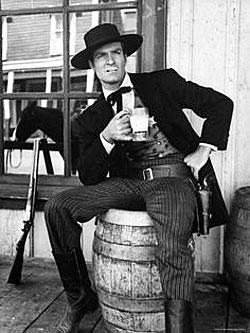 Got milk? Hugh "Wyatt Earp" O'Brian.
Setting up for a scene...Pernell Roberts, Michael Landon, Lorne Greene, Dan Blocker.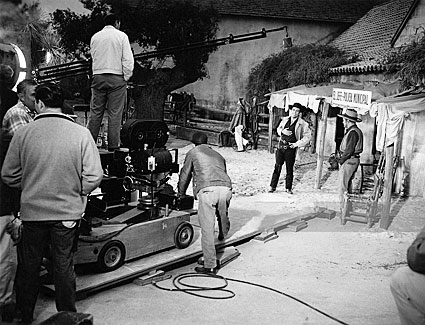 Pernell Roberts makes ready for another scene.
Michael Landon and Lorne Greene in between shots.
Lorne Greene carefully observes the mental struggle between Dan Blocker and
Michael Landon.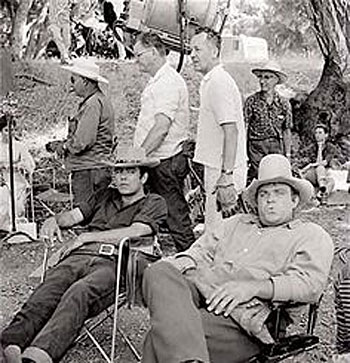 Waiting for the next shot...Pernell Roberts and Dan Blocker.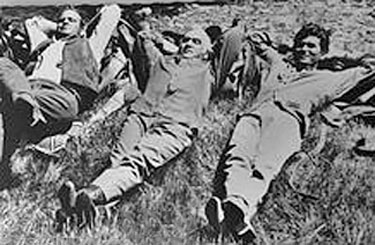 Naptime...Dan Blocker, Lorne Greene, Michael Landon.
Oh, those box lunches on location are so good, aren't they Michael?
Good dreams are about to come to an end!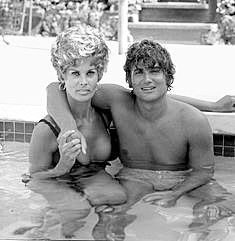 Michael Landon in the pool with Monique Mattson. Who?
Poolside pals...Doug McClure and Michael Landon.
Dan Blocker clowns around with Frank Sinatra while filming "Lady in Cement" ('68).
Dan Blocker has fun in a Western skit on the Dean Martin show.