TV GUIDE photo spread from September 1959 as nine new TV westerns hit the trail. (L-R) Lorne Greene, Michael Landon, Dan Blocker, Pernell Roberts of "Bonanza"; behind them Ty Hardin in "Bronco"; Michael Ansara in "Law of the Plainsman&rduo;...note the show is called "Tales of the Plainsman" here; Don Durant in "Johnny Ringo"; Allen Case in "The Deputy"; Nick Adams as "The Rebel"; Jody McCrea in "Wichita Town"; Robert Rockwell as "The Man from Blackhawk" and Earl Holliman in "Hotel de Paree".
The members of the Stage Crew of Henry E. Huntington Intermediate School in San Marino, CA, figured they'd seen enough westerns to make one and did just that. The 1959 epic, "Gunsmog", was supervised by James Garner, star of Warner Bros.' "Maverick".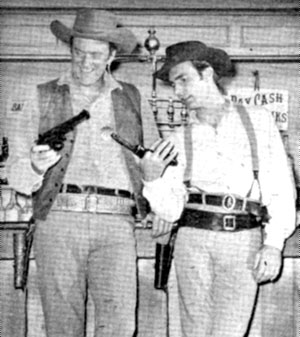 James Arness as Matt Dillon and Dennis Weaver as Chester Goode laughingly compare guns on "Gunsmoke".
Rodeo star and sometime actor/stuntman Casey Tibbs with Audie Murphy and Guy Mitchell. Probably during the time of Audie and Guy's "Whispering Smith" TV series.
New Republic star Rex Allen signs autographs in Bloomington, IL, in 1949 with his first film "Arizona Cowboy" playing at the local theatre. (Thanx to Bobby Copeland.)
Forrest Taylor and Jock Mahoney converse during a break in filming from "Smoky Canyon" ('52 Columbia).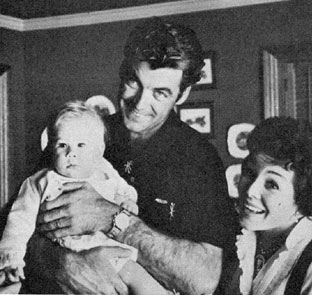 Rory Calhoun and wife Lita Baron regard parenthood as a great privilege. Here they practice with good friend Guy Madison's daughter Bridget in late '56.
Gene Autry at his home office in 1949. Gene's desk is now a proud possession of Boyd and Donna Magers and WESTERN CLIPPINGS.
Bill Boyd and wife Grace Bradley sign an autograph for a fan while dining at the popular Brown Derby restaurant in L.A.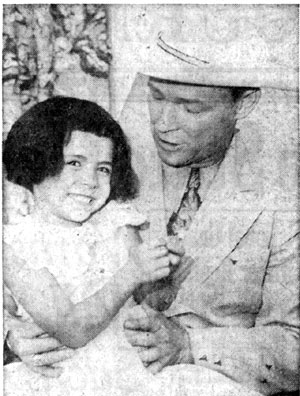 Roy Rogers and four and half year old daughter Debbie at a press conference for the September 1957 New Mexico State Fair in Albuquerque, NM.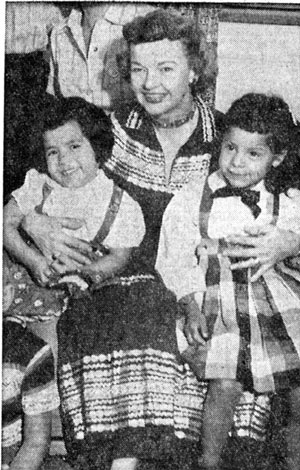 Dale Evans was at the September 1957 New Mexico State Fair as well; shown here with four and half year old daughter Debbie (left) and five and half year old Dodie (right).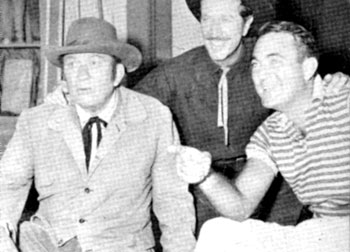 Richard Boone as Paladin grins for the camera with "Have Gun Will Travel" director Andrew McLaglen (right) and his actor/father Victor McLaglen who co-starred on the episode "The O'Hare Story" in '58.
Sunset Carson, back from a 10 year world tour, shows his bulging scrapbook filled with press clippings to Thrane and Imogene Parsons during a 1967 visit to their home in Plainview, TX. (Thanx to Bobby Copeland.)
Lane Chandler and Doris Hill get some direction from Oliver Drake on the set of "Texas Tornado" ('32 Kent).
Gary Cooper gives daughter Maria Cooper Janis a bite of his snack on the set of "High Noon" ('52).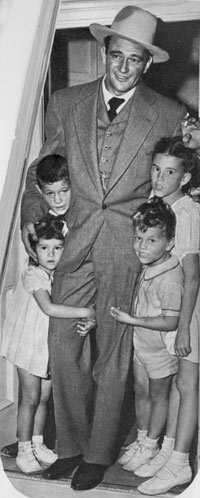 John Wayne in late 1944 with his children, Michael and Pat and the girls Toni and Melinda.
Photo from the Easter 1949 TEX RITTER TRAIL NEWS. Tex with fan club president Helene Meconi and secretary Frances Sturdivan.
Hugh O'Brian in Africa...holding on to "someone from the front office".
Paul Brinegar gets his beard trimmed by Raton, New Mexico, barber Roy Buchanan on September 3, 1957, while his father P. A. Brinegar gives a little sage advice. Paul was visiting his parents in Raton and was co-starring at the time as Mayor Jim "Dog" Kelly on Hugh O'Brian's "Wyatt Earp" TV series.
Lorne Greene breaks up a spat between Pernell Roberts and Dan Blocker on "Bonanza"...that's Michael Landon in mid-air. Article from November 7, 1959 TV GUIDE.
John Bromfield, star of TV's "Sheriff of Cochise" and "U. S. Marshal" watches wife Larri Thomas try on a funny hat in a Mexican curio store in 1959.
Offscreen, Pat Conway, who played Sheriff Clay Hollister on TV's "Tombstone Territory', was an amateur chef.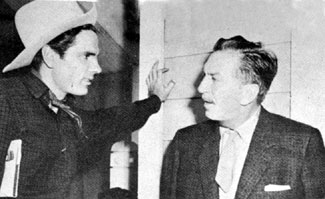 Tom Tryon talks over his "Texas Jim Slaughter" series with "Uncle" Walt Disney.
Author Alan Barbour with Rod Cameron at a 1976 Atlanta Western Film convention.
Oh for the good old days! The Alamo Theatre in Washington, D.C., in 1937. (Thanx to Bill Sasser.)