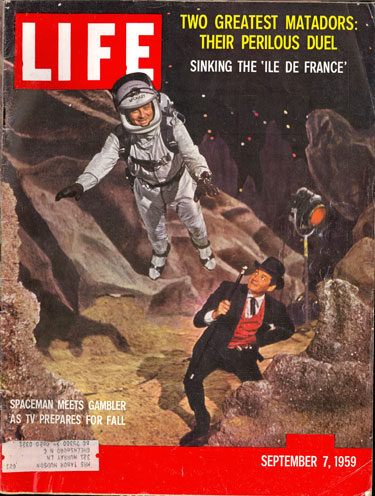 William Lundigan of "Men in Space" meets Gene Barry of "Bat Masterson" for a promotional shot on the cover of the September 7, 1959 LIFE magazine.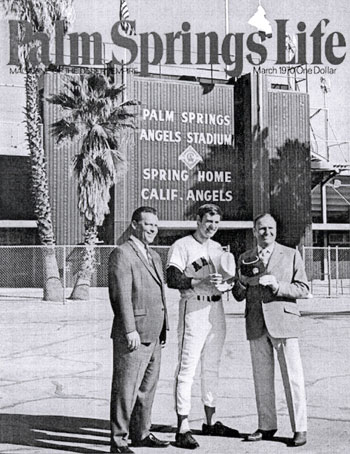 Gene Autry, owner of the California Angels, on the cover of PALM SPRINGS LIFE
in March 1970.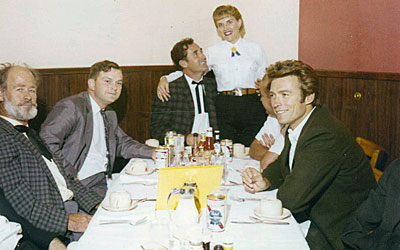 While appearing at a rodeo in Sikeston, MO, Paul Brinegar, Sheb Wooley and Clint Eastwood enjoy a bite to eat at the War Drum restaurant in the Gay 90s Village
in Sikeston.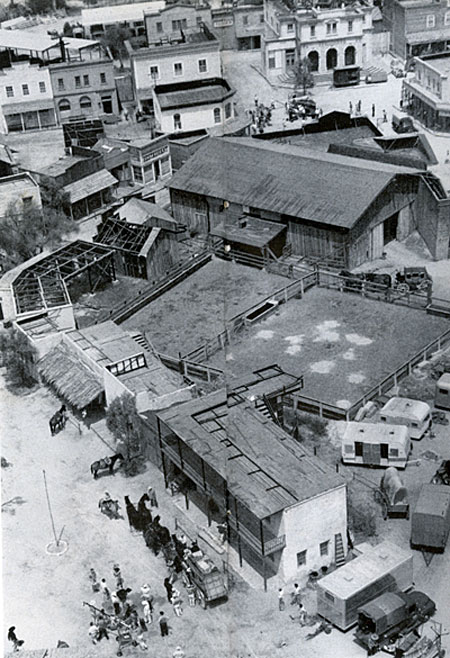 Two TV Westerns filming at the same time on the Warner Bros. backlot.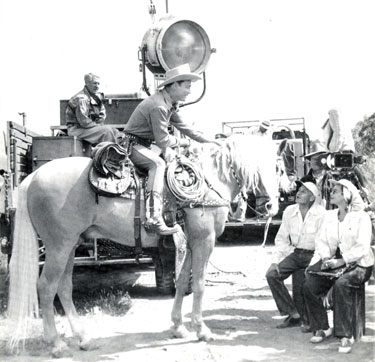 Roy Rogers and Trigger get ready to film another Republic Pictures scene.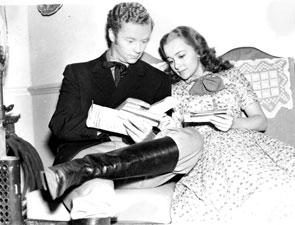 Tim Holt and Olivia de Havilland look over their fan mail while filming "Gold Is Where You Find it" ('38 Warner Bros.).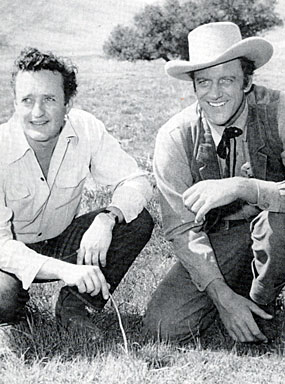 "Gunsmoke" scriptwriter John Meston and James Arness.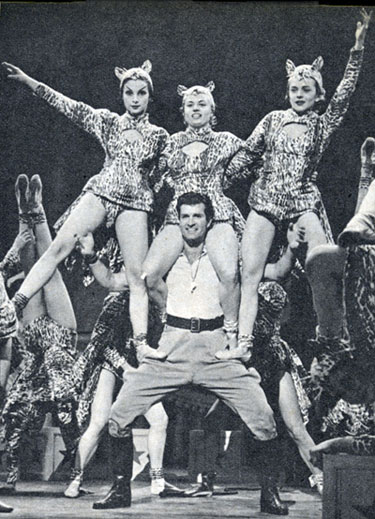 Jackie Gleason enlisted TV's "Wyatt Earp", Hugh O'Brian, to headline a circus show on Gleason's CBS variety program in 1957.
Noah Beery Jr. and wife Maxine, daughter of Buck Jones, at home in 1957.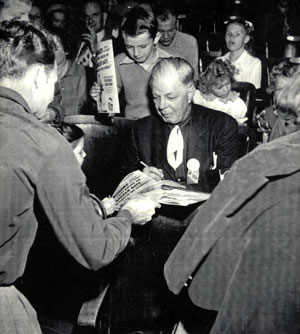 A later-in-life Hoot Gibson signs autographs at an event somehow involving Roy Rogers and Quaker Oats. (Photo from LONE PINE IN THE MOVIES.)
Guess who? He became one of the screen's biggest cowboy stars. In this photo he
was three and a half years old. (Answer at bottom of this column.)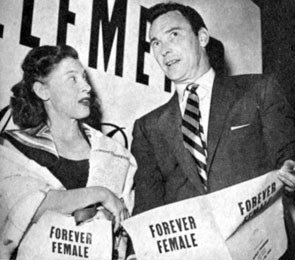 Comedienne Judy Canova and actor Barry Sullivan were among the stars who were in
Palm Springs for the first "Telemeter tests" in early 1954. (Telemetry is an automated communications process by which measurements and other data are collected at remote or inaccessible points and transmitted to receiving equipment for monitoring.) Barry Sullivan later became the star of TV's "Tall Man".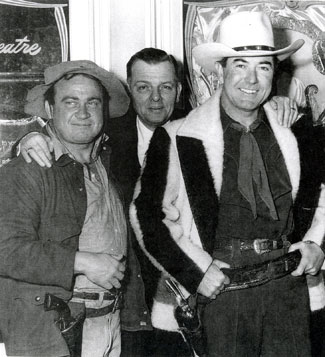 Dub "Cannonball" Taylor and Johnny Mack Brown, wearing a Hudson Bay coat, are ready for a movie theatre appearance with the local owner. (Photo courtesy Cynthia Hale.)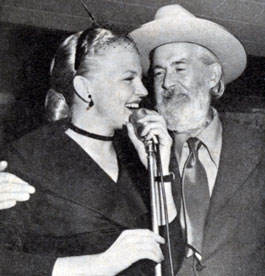 Singer Peggy Lee with Gabby Hayes.
Candid shot while filming "The White Buffalo" ('77). Slim Pickens is on the left, Charles Bronson has on the sunglasses he wore in the film and director J. Lee Thompson is on the high crane.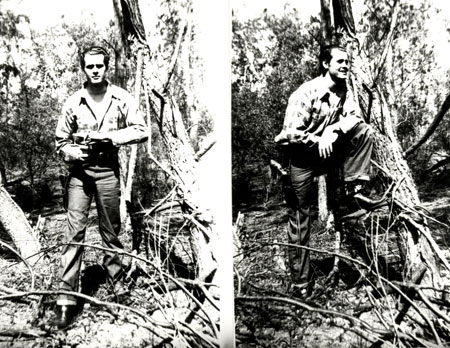 Two early promotional shots Michael Harrison had made of himself before he became Sunset Carson at Republic Pictures.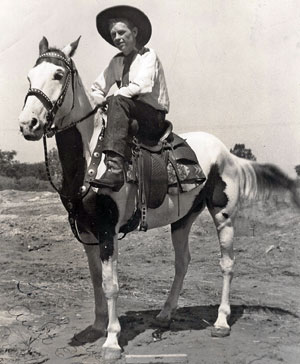 A very young pre-Republic Rex Allen. (Thanx to Glenn Mueller.)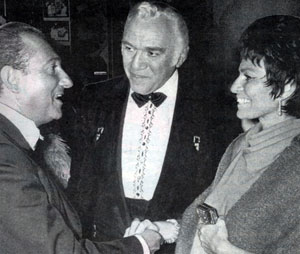 "Bonanza"'s Lorne Greene and wife Nancy greet Toronto theatre owner Ed Mirvish in the early '70s. Mirvish bought and restored Toronto's historic Royal Alexandra
Theatre in '63.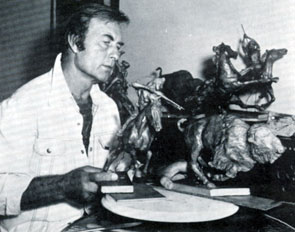 Actor/Artist George Montgomery with one of his many bronze sculptures.
Manolito, Henry Darrow, relaxes on the set of "High Chaparral". (Thanx to Ginny Shook.)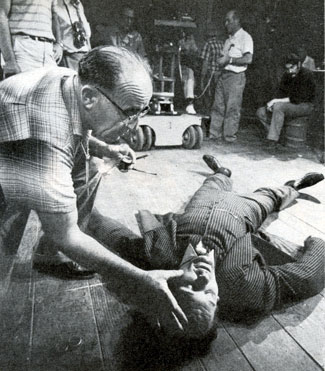 To simulate bruises a make-up man daubs makeup on the face of Robert Rockwell for an episode of TV's "Man From Blackhawk" after Bob is knocked out in a brawl.
"Huh...guess I really need a bow," says Ken Maynard.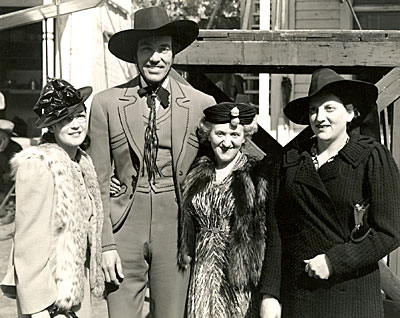 Cesar Romero as the Cisco Kid with three devoted fans in 1940.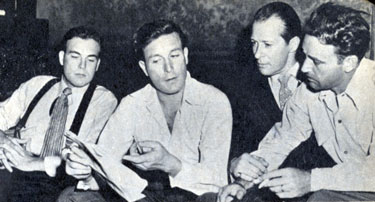 Scott Brady, circa 1945, before he was in the movies, visited a set with his brother Lawrence Tierney (center), actor Morgan Conway and director Gordon Douglas. Brady eventually starred in several Westerns and was TV's "Shotgun Slade".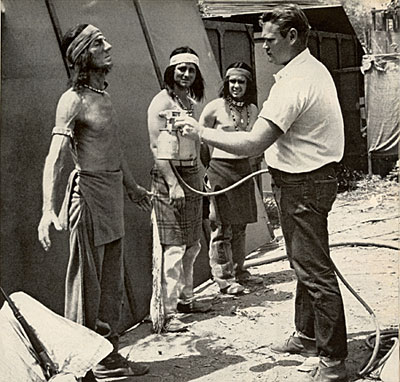 To meet the need for Indians in TV Westerns, paleface actors on "Laramie" become spray-gunned with reddish paint.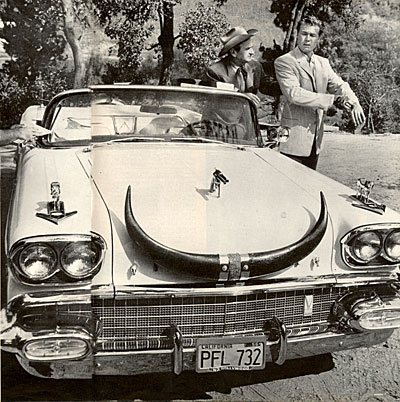 After parking his pistol-packing Pontiac, famed Western tailor Nudie delivers a new jacket to John Smith, star of TV's "Laramie".
Answer: TOM MIX