Remember when our B-Western and TV cowboy heroes appeared not only on the screen, but IN PERSON...
(If any readers can identify the location of the theatres we don't have listed cities for,
let us know.)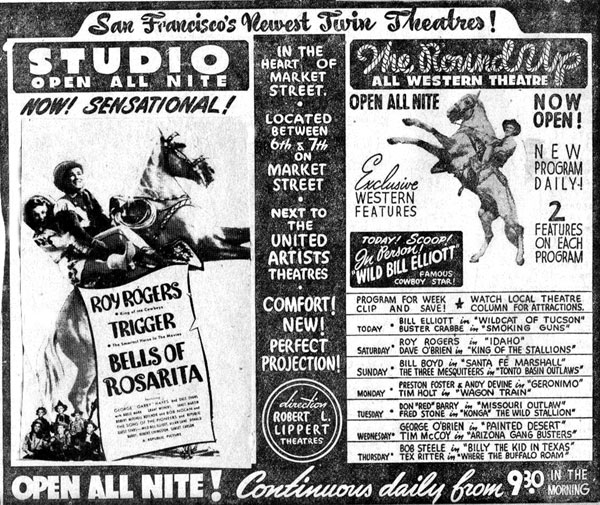 These two San Francisco theatres were owned and operated by Robert L. Lippert and were in operation from about 1944-1947. This ad, courtesy Billy Holcomb, comes from 1945.

What a group of western stars turned out on August 5, 1940, to honor director George Marshall in two theatres in Hollywood.
Ray Corrigan at the Cozy Theatre in Pittsburg, Kansas on Sept. 16, 1938.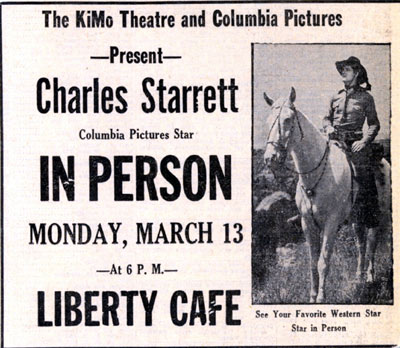 Assume Starrett also was afforded dinner at the Liberty Cafe which was in Albuquerque, New Mexico. This ad from March 12, 1939.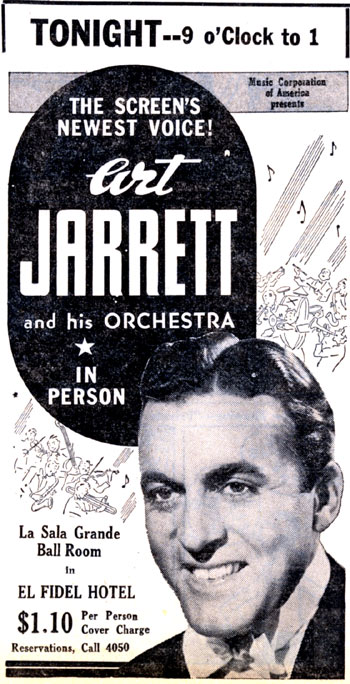 Bandleader/singer Art Jarrett appearing in Las Vegas, New Mexico in January 1939. Later that year Jarrett starred with Lee Powell and Fuzzy St. John in "Trigger Pals" for Grand National.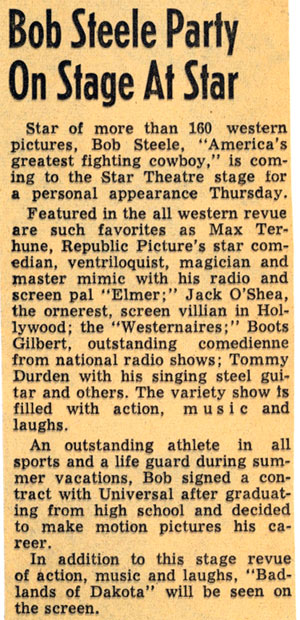 The Star Theatre was most likely somewhere in Texas as we know Tommy Durden was touring with Bob Steele's show in Texas in 1948. Obviously "Badlands of Dakota" was in re-release as it was made in 1941.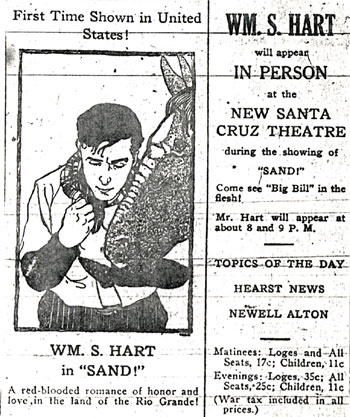 William S. Hart in Santa Cruz, CA, on March 30, 1920.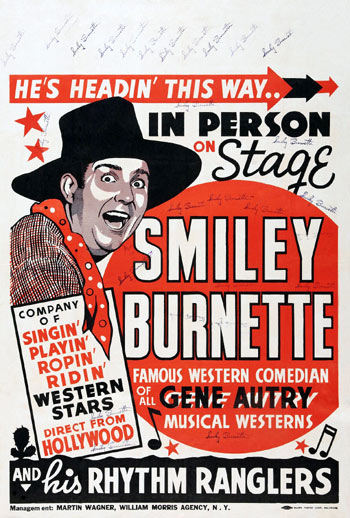 A standard pre-WWII personal appearance poster for Smiley Burnette...signed many times for Glenn Mueller.
Tex Ritter in Hammond, Indiana, in December 1944.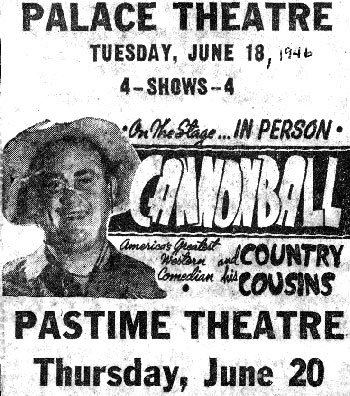 Dub Taylor appeared at two theatres in Memphis, Tennessee in June 1946.
Circa late '40s.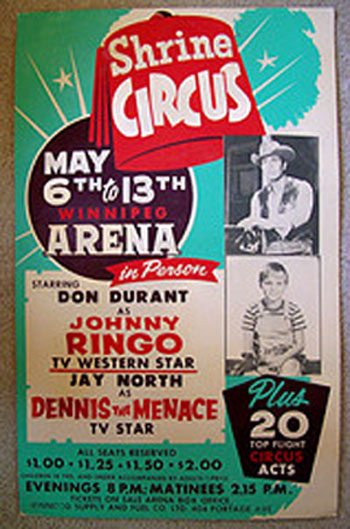 Winnipeg, Canada.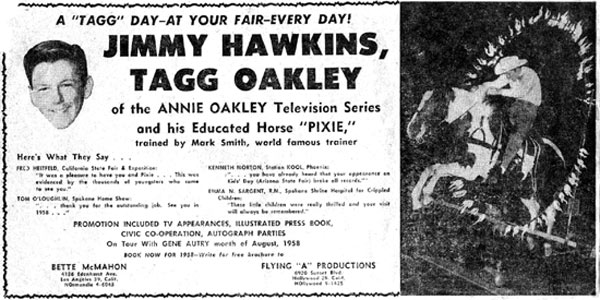 A general sales pitch for booking Jimmy Hawkins as Tagg Oakley. (Thanx to Billy Holcomb.)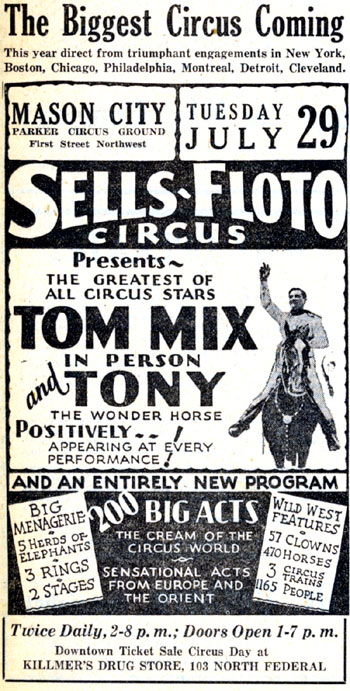 Mason City, Iowa, July 1930.
Smith Ballew in Jeannette, Westmoreland County, PA, on September 2, 1938.
The Range Rider (Jock Mahoney) and Dickie West (Dick Jones) at Fort Madison, Iowa,
in September 1954.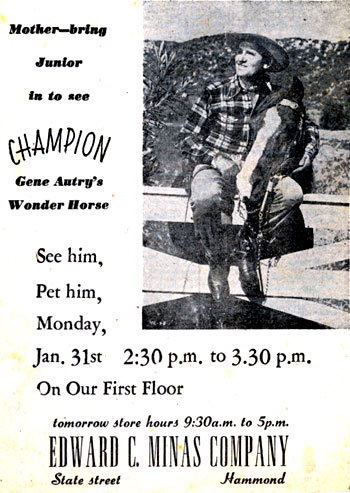 Even Champion made appearances without Gene. Hammond, Indiana, circa late '40s.
Gene Austin in Memphis, Tennessee, on October 9, 1933.
Art Davis at the San Antonio, Texas, Club 75 in March, 1949.
Note that Gene Autry owned this rodeo.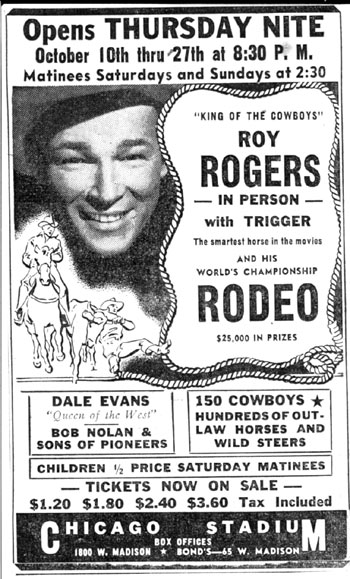 Roy Rogers at Chicago Stadium in October 1946.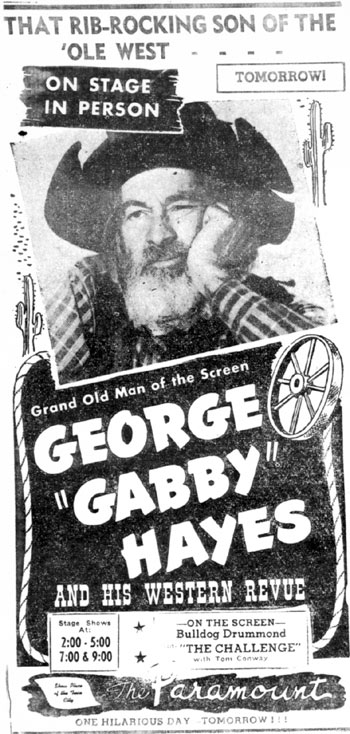 Gabby Hayes in Minneapolis/St. Paul in 1948.
Bristol, Tennessee, 1942.
Tim Holt in Dodge City, Kansas, on October 14, 1952.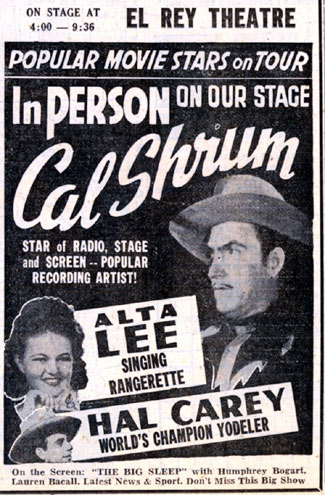 Cal Shrum's show at the El Rey in Albuquerque, New Mexico, on January 1, 1947. Cal was filming several never-released or never-completed B-westerns in Albuquerque
at the time.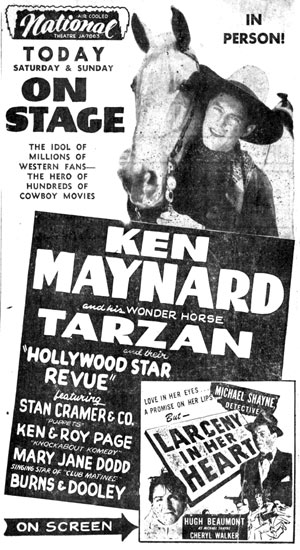 Ken Maynard in Louisville, Kentucky, in 1946.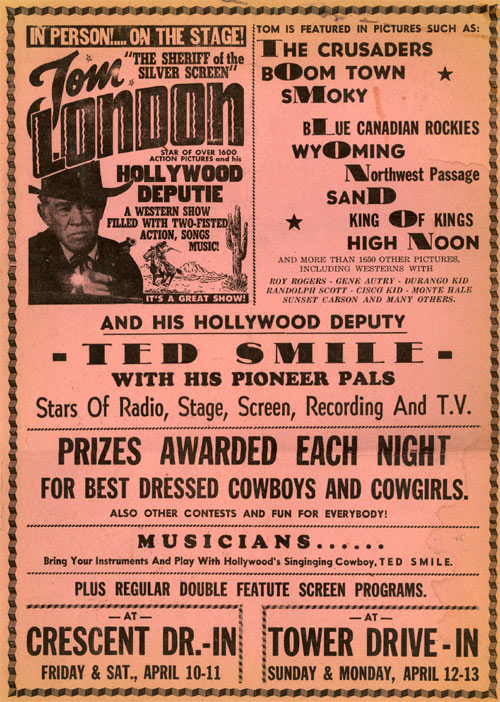 Fabulous character actor Tom London appearing with singer/actor Ted Smile at two drive-in theatres in Abilene, Texas, in the mid-'50s.