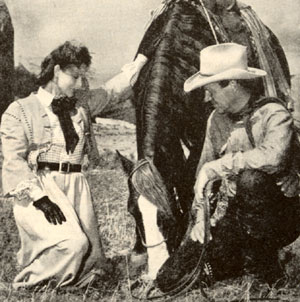 Joel McCrea and wife Frances Dee between scenes of "Four Faces West" ('48).
TV's "The Texan", Rory Calhoun, and wife Lita Baron in 1955.
Hawaiian leis became bridal wreaths for John Wayne and Pilar Palette in November 1954.
Dale Robertson and daughter Rochelle in 1955.
Chief Thunder Cloud as Tonto, supervising producer Bob Beche and Lee Powell behind the mask for Republic's 1938 serial "The Lone Ranger".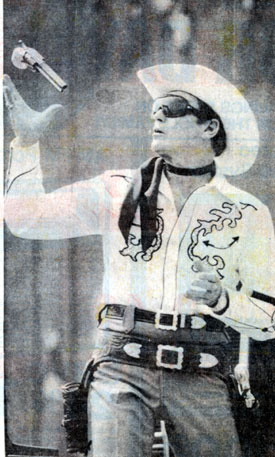 Clayton Moore, 64, makes an appearance as the Lone Ranger in Louisville, KY, during his "dark glasses" period in September 1979.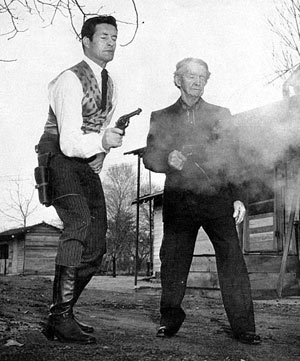 Hugh O'Brian, TV's "Wyatt Earp", and real life badman Al Jennings, 93, draw and fire for a LOS ANGELES TIMES photo in 1957.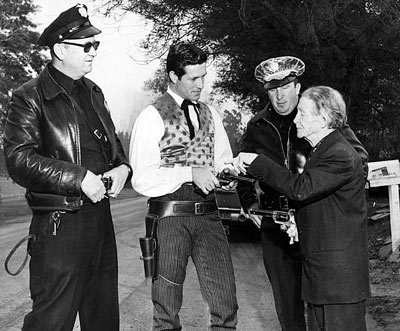 When neighbors became alarmed over the above gunfire, police were called. Here officers Melbie and Henkin observe as Al Jennings shows Hugh O'Brian how Colts were handled in the old days.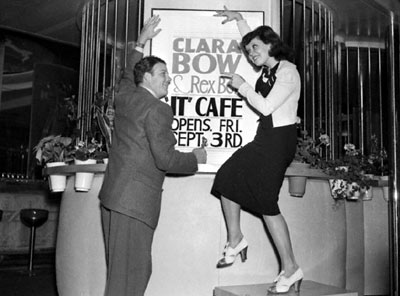 Western star Rex Bell and his wife Clara Bow preparing for the opening of their It Cafe in the Hollywood Plaza hotel in 1937. (Thanx to Bobby Copeland.)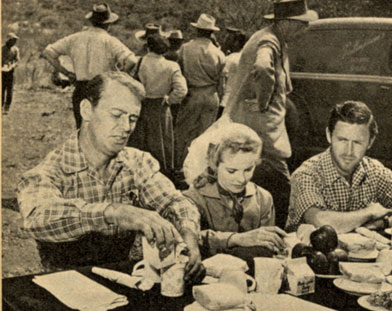 Taking a lunch break while filming "Branded" in Arizona are (L-R) Alan Ladd, Mona Freeman and Peter Hansen.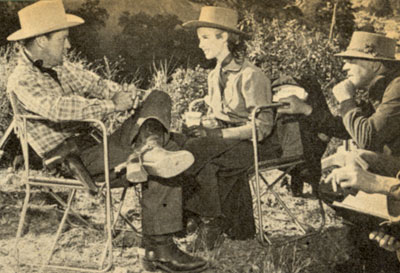 Alan Ladd, Mona Freeman and director Rudy Mate take a break between filming scenes of "Branded" in Salt River Canyon, Arizona.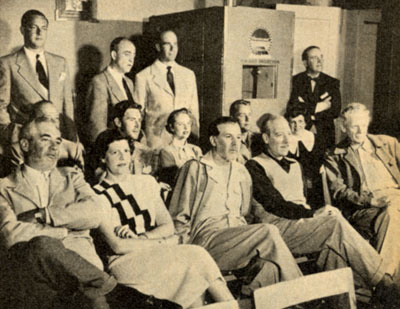 During filming, daily rushes for Paramount's "Branded" were shown every night at the hotel. Seated in the front row are George J. Lewis (center) and Charles Bickford (R). Seated in the second row are Peter Hansen, Mona Freeman, Alan Ladd and Ladd's wife Sue Carroll. Standing at the far right is producer Mel Epstein.
There was nobody better at gun handling than Monogram's Johnny Mack Brown. Photo from March 1946.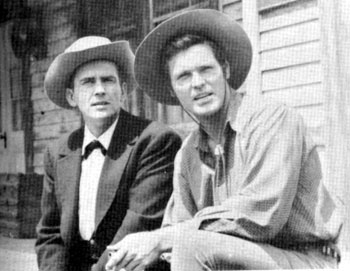 "Maverick" meets "Bronco". Jack Kelly and Ty Hardin on the Warner Bros. backlot.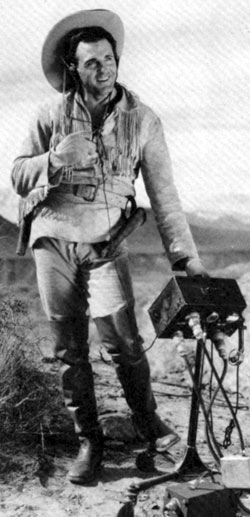 Behind the scenes candid of Ray Corrigan during the filming of Republic's "The Painted Stallion" serial in 1937.
Grace Bradley Boyd, Leo Carrillo and William Boyd at a July 1945 Roy Rogers Rodeo in Hollywood.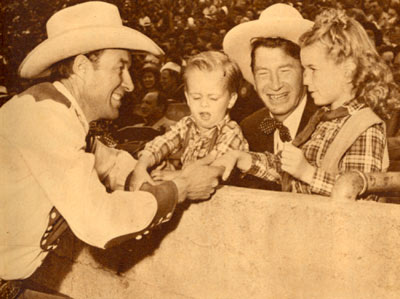 Chill Wills introduces his kids to Wild Bill Elliott at the July 1945 Roy Rogers Rodeo in Hollywood.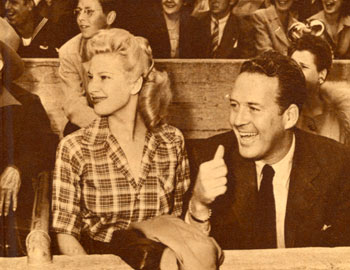 Actress Chili Williams and Dick Foran at the Roy Rogers Rodeo in July 1945 in Hollywood.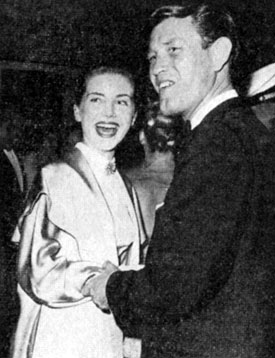 Earl Holliman, star of TV's "Hotel de Paree" and "Wide Country", on a date with Delores Hart in 1957.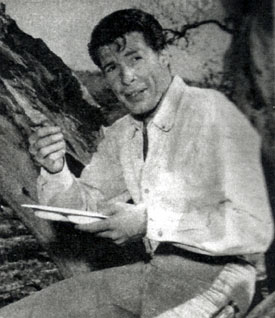 Robert Horton grabs a bite to eat in between scenes of "Wagon Train". (Photo courtesy
Terry Cutts.)
Out on the town in 1957..."The Rebel", Nick Adams, and his date Lili Gentle.
Guy Madison ("Wild Bill Hickok") and Sheila Connolly. The couple were married in October 1954.