Sunset Carson with a group of Esterville, IA youngsters on October 11, 1974. Sunset was appearing at the Family Funtime Show raising money for the Emmet County Handicapped Workers Activity Center.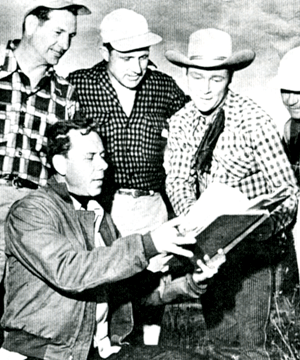 Taken during the formation of Roy Rogers Productions for his TV show. (L-R) Director Les Martinson (lower left), script supervisor/assistant director Bob Vreeland, director Robert Walker, Roy Rogers, cinematographer Joe Novak.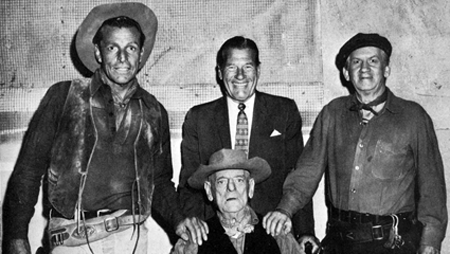 On the set of producer Alex Gordon's "The Bounty Killer". (L-R) Buster Crabbe, Richard Arlen, Fuzzy Knight, Broncho Billy Anderson seated.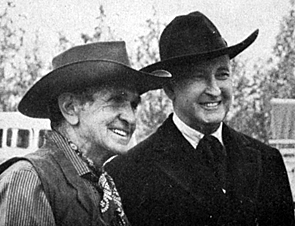 Bob Steele and Tim McCoy were also in the cast of "The Bounty Killer" ('65).
Director Mack V. Wright (right) and Hoot Gibson go over a script for one of their 1918 two-reel Westerns. When this photo was taken, Wright, who had a long career as a director, was one of the youngest directors in the business.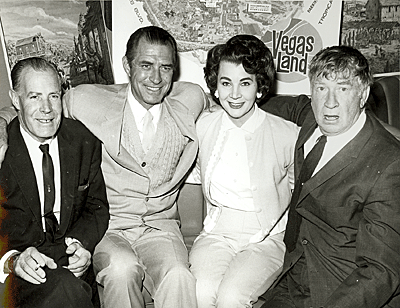 Promo photo for the newly opened Vegas Land in 1963. (L-R) Director Oliver Drake, Jock Mahoney, Dorothy Gibson (Hoot Gibso's wife), Chill Wills.
Guy Madison's 1954 birthday party with (L-R) Ricardo Montalban, Andy Devine, Richard Egan and Marissa Pavan.
Andy Devine and his wife Dorothy (at Guy's left) look on as Guy goes to work blowing out candles on his 1954 birthday cake.
Buck Jones with the first Catalina trophy won by his new yacht, The Sartartia.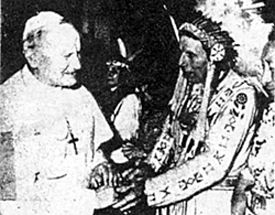 Iron Eyes Cody went to Rome for "Keep America Beautiful" and met with
Pope John Paul.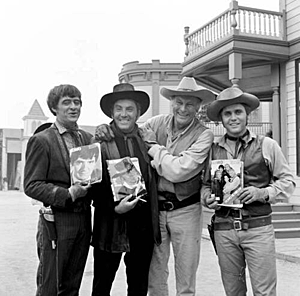 On location in Arizona, holding their cast photos, are (L-R) Henry Darrow, Cameron Mitchell, Leif Erickson, Mark Slade.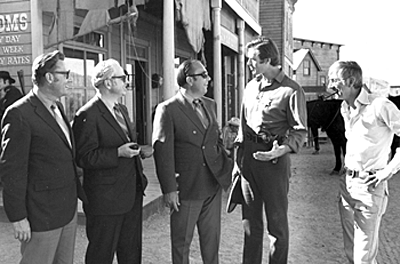 On location for the TV movie "Yuma", star Clint Walker and producer Aaron Spelling meet with some local businessmen.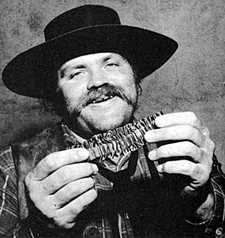 Dan "Hoss" Blocker remembers the blissful, zany years he spent before "Bonanza" playing the happy buffoon.
Electrician, plumber, carpenter, TV's "The Texan", Rory Calhoun does much of his own work around his ranch in Wheeler Springs, CA, in 1955.
Robert Fuller at home.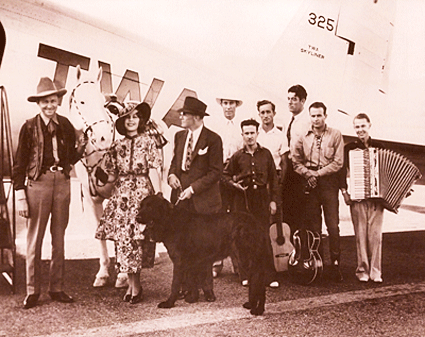 Tex Ritter has just landed in Hollywood in 1936 to begin work on his first Western, "Song of the Gringo". He's met by (L-R) leading lady Joan Woodbury, writer/director John McCarthy (with dog), Cactus Mack (with white hat), Glenn Strange (tall man in back), and four unidentified musicians.
Cast and crew of "Lawless Code" ('49 Monogram) starring Jimmy Wakely (kneeling in center). (Center Row L-R) Unknown, unknown, unknown, Steve Clark, screenwriter Basil Dickey, assistant director Eddie Davis, producer Louis Grey, director Oliver Drake, Ellen Hall, Kenne Duncan, unknown, unknown, Terry Frost, Tris Coffin plus a host of other crew members.
Writer/producer/director Oliver Drake, Terry Frost, Fred Scott at a Charlotte, NC
film festival.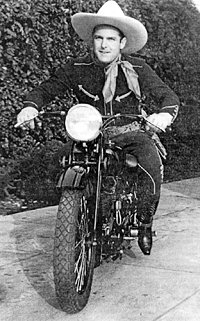 Ken Maynard and a motorized Tarzan.
Universal star Johnny Mack Brown and Nell O'Day in 1939 beside a new Nash furnished by Universal. Probably publicity for "Boss of Bullion City".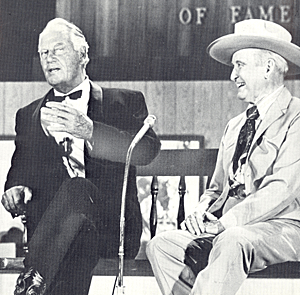 "This is Your Life" Joel McCrea. Tim McCoy was a guest on the telecast made at the Cowboy Hall of Fame in Oklahoma City on November 19, 1972.
Jock Mahoney at home with son Ricky.
Audie Murphy has his hat adjusted by young son Terry.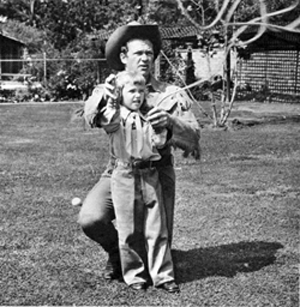 A little backyard fun! Bill ("Kit Carson") Williams and daughter Jody.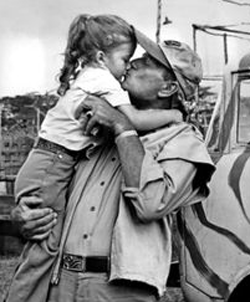 John Wayne and daughter Aissa.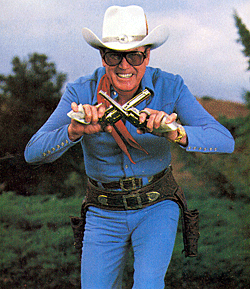 "I'm a very proud man. Proud I continued my character as The Lone Ranger and decided to wear the white hat for the rest of my life."