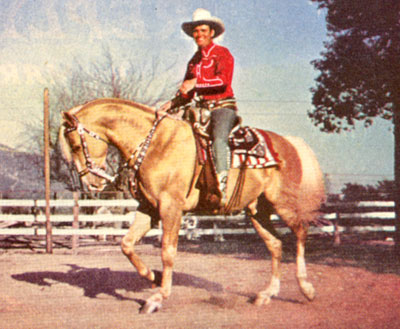 Gene Autry on a palomino named Pal. No idea for the reason on this photo.
Tom Mix with his third wife Mabel Ward and daughter Ruth Mix outside an Erie, PA, courtroom on January 21, 1933, where Col. Zack Miller, former operator of the 101 Ranch in Oklahoma, was suing Mix for $342,000 in damages on charges of breach of contract.
William Boyd gives a hug to actress Joan Crawford and wife Grace Bradley in mid-1951.
John Wayne with wife Pilar and children, Aissa, Ethan and Marisa in the late '60s.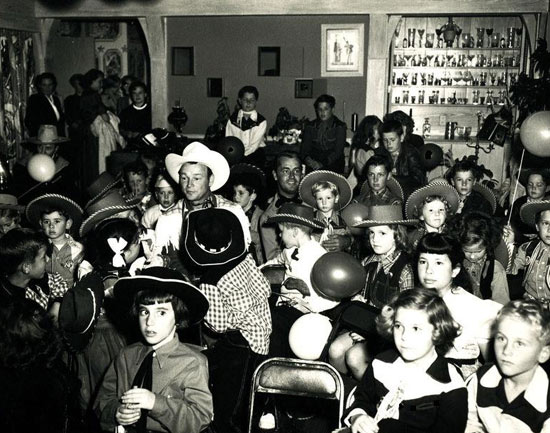 Roy Rogers and Alan Ladd at a children's birthday party. Date unknown but looks to be late '40s or early '50s. (Thanx to Jerry Whittington.)
Jerry Whittington's uncle owned and operated the Davidson Theater, State Theater and the Palace Theater in Thomasville, NC, during the heyday of B-westerns. Many of the cowboy stars appeared there in person. (Top to Bottom above) Ray "Crash" Corrigan, Bob Baker, Bill Elliott, Max Terhune. (Thanx to Jerry Whittington.)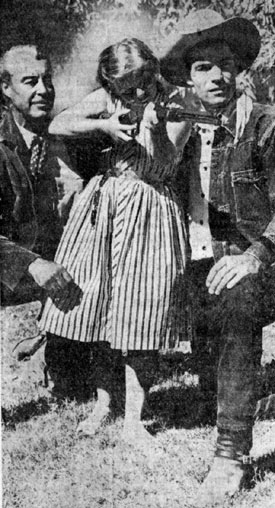 Eleven year old Marilyn Kington of Rockville, CT, received an A+ on her class assignment about Arizona, then got to visit the set of "26 Men" in Scottsdale, AZ. Tris Coffin (left) and Kelo Henderson give marksmanship pointers to Marilyn.
Guy Madison's good friends Rory and Lita (Baron) Calhoun visit Guy on location for "Wild Bill Hickok" at Big Bear Lake, CA.
John Bromfield, star of "Sheriff of Cochise" and "U.S. Marshal", and wife Larri Thomas get ready for a bit of surf fishing off the coast of California.
Director George Marshall shows Audie Murphy just how he should grab Kathryn Grant for a scene in Columbia's "Guns of Fort Petticoat" ('57) on location in Tucson, AZ.
A group of western film actors and entertainers returning in late 1951 by Navy plane from a series of shows for some 32,000 hospitalized Korea veterans at Mare Island and Oakland Navy Hospitals, Letterman Army General Hospital and Oak Knoll Hospital. The benefits were the latest in a series of eleven staged for wounded personnel by Roy Canada, William S. Chaney and Lennie Smith. In the top photo: Roy Canada (far left), Tom London (second from left top row), Carolina Cotton (next to London) and stuntman Fred Carson kneeling (second from left). Others are unknown. Second photo shows London and Carolina Cotton with a young boy. Others are unknown. Third photo is again London and Carolina and two unknowns. Fourth photo is Carolina Cotton in one of the toured hospitals.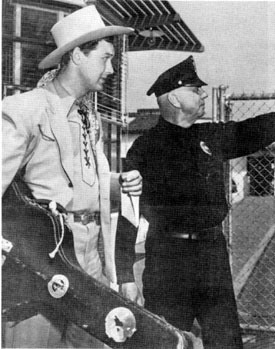 Monte Hale gets directions from a Republic Studio guard.
Dale Robertson's seven year old daughter Rochelle shows Dad her pet baby alligator. (Photo circa late 1959.)
Cameron Mitchell surrounded by the crew during a scene for "High Chaparral". Mark Slade on the right behind the camera. (Courtesy "High Chaparral" newsletter.
info@highchaparralnewsletter.com)
Kirk Douglas clowns around between takes of "Gunfight at the OK Corral" ('57 Paramount). (Thanx to Pat Shields and Jerry Whittington.)
Stuntman Fred Carson, singer/actor Ted Smile and perennial B-western extra Herman Hack in the early '50s.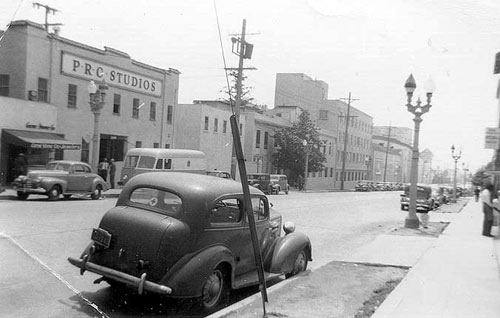 PRC Studios in 1942, B-western home to Buster Crabbe, George Houston and others. (Thanx to Bill Sasser.)