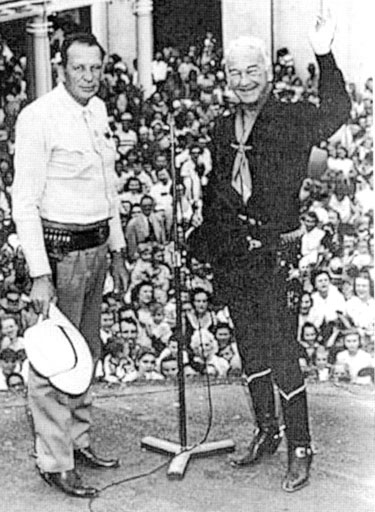 Hopalong Cassidy was Ozie Waters' guest at Elitch Gardens in Denver, CO, circa 1950. 30,000 kids that were members of Ozie's Junior Ranger Club attended.
Singer Ozie Waters chats with guest Hoot Gibson on Ozie's KBTV-Denver TV show in 1954. Note the microphone on the upper right and where the set ends on the left and top.
Wild Bill Elliott shakes hands with James Grainger, president of Republic and General Sales Manager in charge of distribution, at an area sales meeting with Republic franchise holders, sales executives and Gabby Hayes. Circa 1943. (Thanx to Billy Holcomb.)
Gene Autry with Tom O'Rourke. Circa late '30s. (Thanx to Brian Dalrymple.)
Roy Rogers and Dale Evans at a children's birthday party in the '60s. Note the elaborate cake. (Thanx to Jerry Whittington.)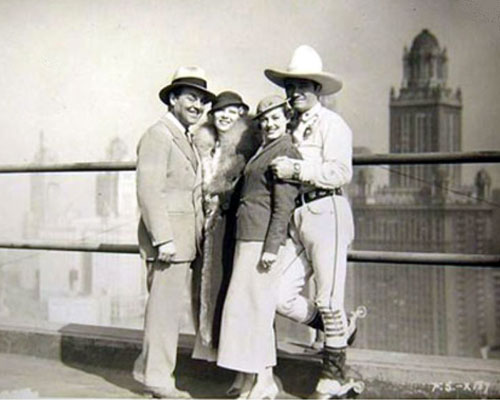 Leo Carrillo and Tom Mix in London with ??? (Thanx to Jerry Whittington.)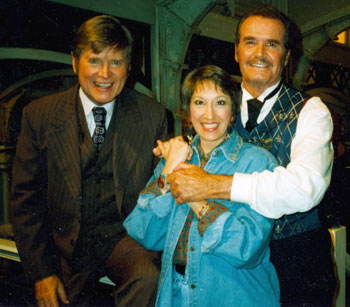 Will ("Sugerfoot") Hutchins, his lovely wife Barbara and James Garner taken during the making of Mel Gibson's "Maverick" in '95.
Nick ("The Rebel") Adams and his wife Carol Nugent circa 1960.
John Wayne and Robert Mitchum with their mothers on the set of "El Dorado" ('67). (Thanx to Jerry Whittington.)
John Ford gives some direction to Tim Holt during the making of "Stagecoach".
In 1960 John Ford directed an episode of "Wagon Train"..."The Colter Craven Story". Shown here are Frank McGrath, Terry Wilson, Ford, Carleton Young and Ward Bond.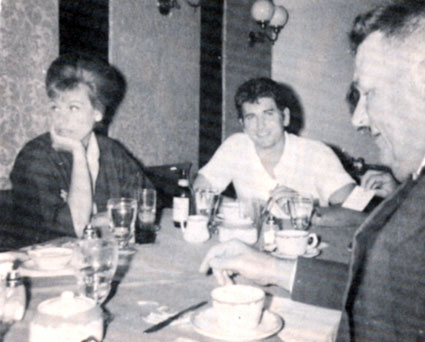 Michael ("Bonanza") Landon and his wife Lynn Noe enjoy dinner at the Colonial Lounge in Titusville, FL, in 1964. (Thanx to V. Poole.)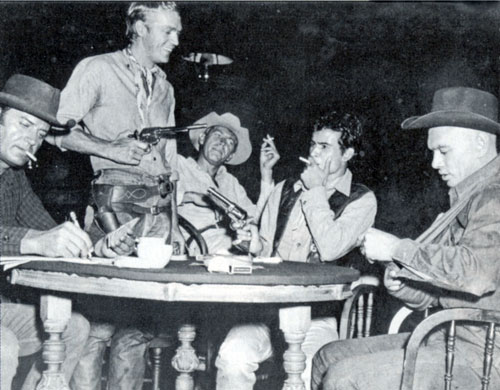 Guns drawn...looks like this card game could turn unfriendly during a break from the making of "The Magnificent Seven" ('60). Note Steve McQueen is wearing an early version of the Andy Anderson Walk and Draw gun rig with gunfighter stitching. (L-R) Brad Dexter, McQueen, James Coburn, Horst Buchholz, Yul Brynner.
Joel McCrea and wife Frances Dee on their Thousand Oaks, CA, ranch.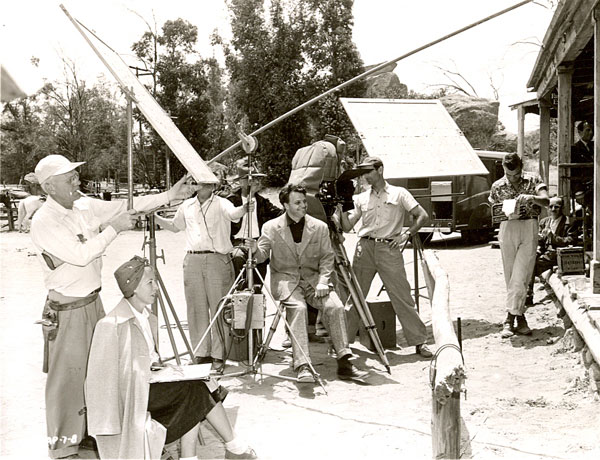 Ron Ormond directs a scene of Lash LaRue's "King of the Bullwhip" ('51).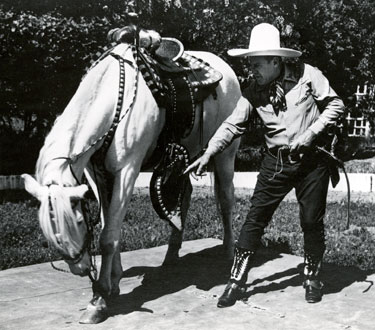 Ken Maynard goes over a few tricks with Tarzan.
James Ellison, Anita Louise and Fay Wray out for a Sunday ride in 1940.
Brace Beemer was radio's "Lone Ranger". 1945 photo.
Looking over a "Gunsmoke" radio script are director Norman Macdonnell and William Conrad who was Matt Dillon.
Ed "Hoot" Gibson pictured here as winner of the Gold Belt offered by Richard K. Fox
of the POLICE GAZETTE for the best all-around cowboy in the world at a Pendleton, OR, Round Up.
William S. Hart at a WWI benefit affair.
On the set of "Night Passage" ('57), James Stewart and Elaine Stewart chat with director James Neilson.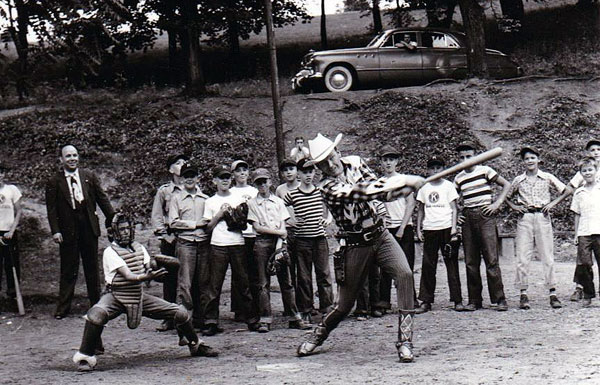 Rex Allen hits a homer for a Kiwanis Club boys team. (Thanx to Rex Allen Jr. and Bobby Copeland.)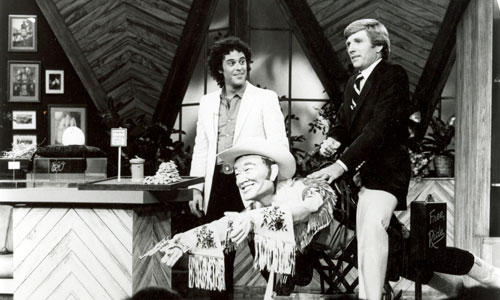 "Sculptoonist" Larry Shapiro puts host Gary Collins high on the saddle during an episode of "Hour Magazine". Problem is, Collins is riding Roy not Trigger!