Richard Boone on location in the Alabama Hills of Lone Pine, CA, for an episode of "Have Gun Will Travel".
Hugh "Wyatt Earp" O'Brian guesting on the "Ed Sullivan Show".
(Courtesy Neil Summers.)
"Angel and the Badman" gag shot on location with director James Edward Grant, John Wayne and cinematographer Archie Stout.
Dan Blocker and Lorne Greene of "Bonanza" ham it up for Nevada Governor Grant Sawyer and hundreds of fans in downtown Reno in 1964. Blocker and Greene were in town for the Reno Chamber of Commerce's annual Silver Spurs Award banquet.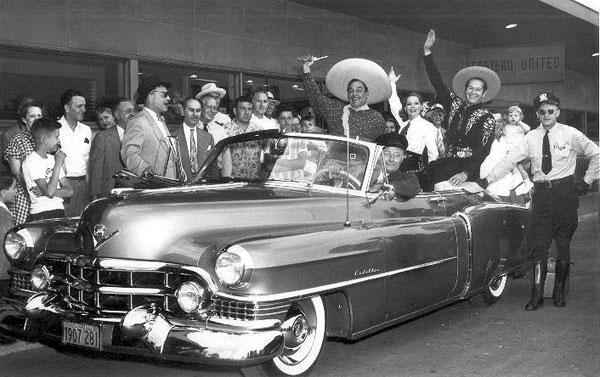 The Cisco Kid (Duncan Renaldo) and Pancho (Leo Carrillo) arrive at an airport for a personal appearance in the mid '50s. (Courtesy Billy Holcomb.)
Los Angeles Dodgers pitcher Don Drysdale guested on a "Rifleman" episode, "The Skull" with Chuck Connors, a former ball player himself.
Clint Eastwood limbers up between takes on the set of "Rawhide".
In October 1958 seven Warner Bros. TV heroes guested on Pat Boone's TV show in New York City. Afterward all seven helped man the phones at a Cerebral Palsy Telethon. L-R top row: Will "Sugarfoot" Hutchins, Peter "Lawman" Brown, Wayde "Colt .45" Preston. Bottom Row L-R: Ty "Bronco" Hardin, James "Maverick" Garner, Jack "Maverick" Kelly, John "Lawman" Russell. The MC left of Hardin is Dennis James.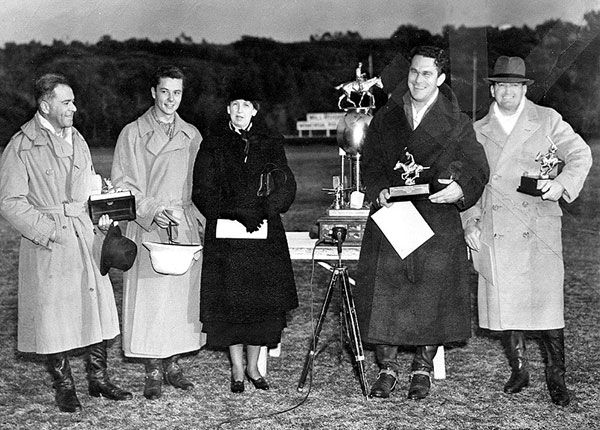 Producer Walter Wanger, Tim Holt, Mrs. Will Rogers, Big Boy Williams and Carl Crawford. Mrs. Rogers was presenting trophies to the winners of the First Annual Will Rogers Memorial Polo Tournament at the Uplifters Club in Pacific Palisades.
Circa 1937-'39. (Photo courtesy Carl Crawford's stuntlady daughter Martha Crawford.)
Roy Rogers and Gabby Hayes in New York circa 1950. (Courtesy Billy Holcomb.)
Great TV GUIDE spread of Gail Davis and her many Annie Oakley and civilian outfits.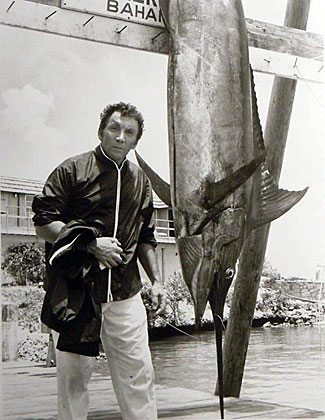 "The High Chaparral"'s; Uncle Buck (Cameron Mitchell) turned fisherman in the Bahamas and caught a big one. (Thanx to Marianne Ritner-Holmes.)
Gene Autry with a very young fan.
Hopalong Cassidy and Smokey the Bear thank the folks for helping to prevent forest fires.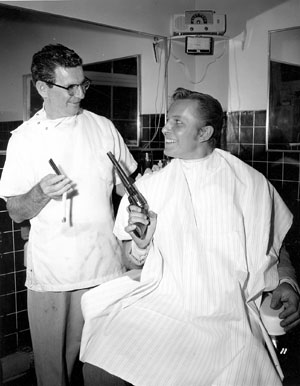 "If you nick me...we're gonna have trouble," says badman Jan Merlin.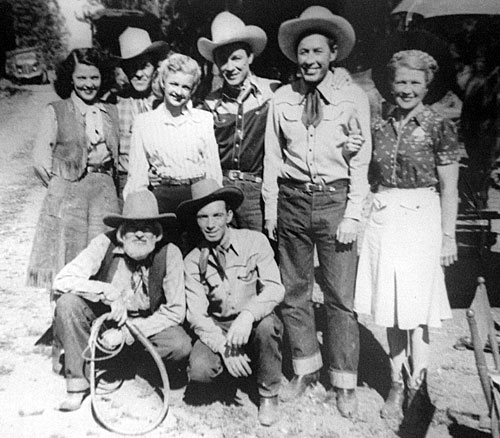 Group photo taken in the mid '40s during one of Roy Rogers' Republic Westerns. Top row L-R: riding double Mildred Jenkins, Tim Spencer, Dale Evans, Roy Rogers, Karl Farr, unknown. Kneeling: Gabby Hayes, Ken Carson.
(Photo from the family of Mildred Jenkins.)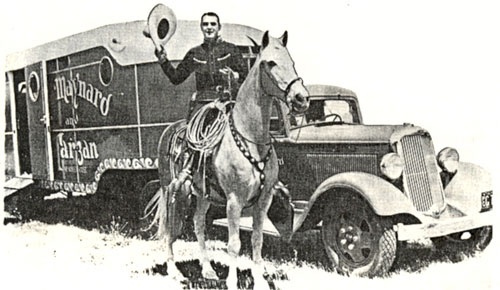 Ken Maynard takes Tarzan out of his travel van in the '30s. Tarzan's van was the forerunner of today's costly horse trailers.
Montie Montana has his horse bow down for Montie's 'leading lady'.
Tom Mix in 1923 explaining to an Indian lady what a razor and shaving is all about.
"See Fuzzy, this is the chamber...," Buster Crabbe tells a perplexed Al "Fuzzy" St. John.
TV's "The Deputy", Allen Case, tends to his other business interests between scenes.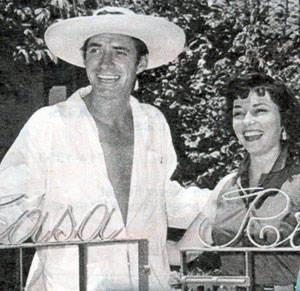 Jock Mayhoney and wife Margart Field enjoy some vacation time at a place
called Casa Rio.

Making TV's "How the West Was Won" in Canon City, CO. Top photo shows 60 Cavalry Troopers awaiting the arrival of Zeb Macahan (James Arness) and Chief Santangkai (Ricardo Montalban). Bottom photo depicts troopers maneuvering for attack during the Indian war.