TV COWBOYS OFF THE RANGE!
(Pt. 2)
"The Lone Ranger"—Clayton Moore with actress Lupe Velez. (Thanx to Chuck Anderson.)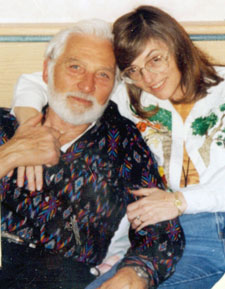 "The Lone Ranger", "Hawkeye"—John Hart whom Donna Magers of WESTERN CLIPPINGS always figured was a definite "10".
"Restless Gun"—John Payne with wife Gloria DeHaven, daughter Julie Ann
and baby Kathleen in 1946.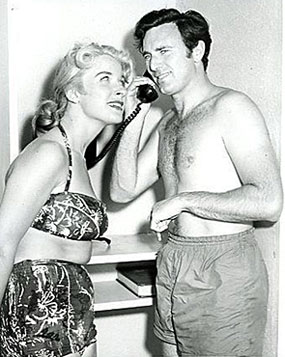 "Jim Bowie"—Scott Forbes and wife, actress Jeanne Moody.
"Legend of Jesse James"—Chris Jones, Susan Strasberg and child.
"The Deputy", "Legend of Jesse James"—Allen Case.
"Broken Arrow"—John Lupton, daughter Rollin and Lupton's co-star
Michael Ansara in 1957.
"Law of the Plainsman"—Michael Ansara and wife/actress Barbara Eden.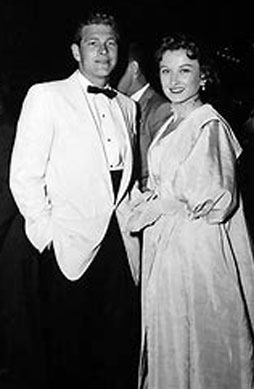 "Colt .45"—Wayde Preston and wife/actress Carol Ohmart.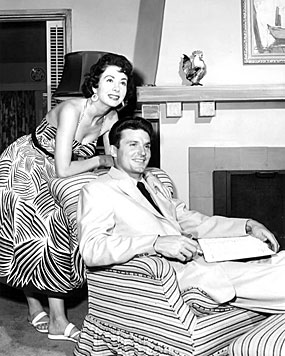 "Brave Eagle"—Keith Larsen at home with wife/actress Susan Cummings.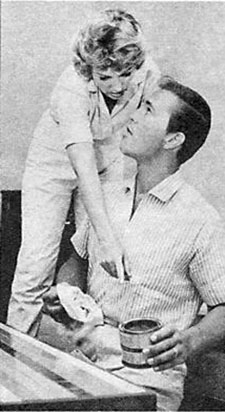 "Johnny Ringo"—Don Durant and wife/actress Trudy Wroe.
"Destry"—John Gavin and wife/actress Constance Towers during Gavin's time as Ambassador to Mexico ('81-'86) under President Reagan.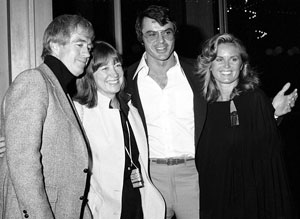 "The Tall Man"/"Lazarus Man"—Clu Gulager with wife Miriam, Robert Urich with wife Heather in 1978.
"The Californians"—Richard Coogan and family.
"Bonanza" —Don Rickles would make anyone laugh, including Lorne Greene.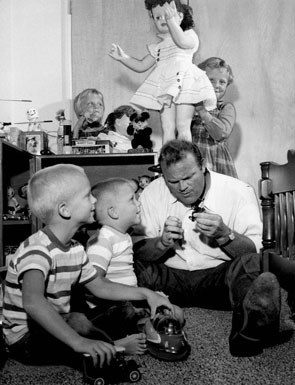 "Bonanza", "Cimarron City"—Dan Blocker with his children, David (on the left), Dirk, and twins Debra Lee and Danna Lynn. Circa early '60s.
"Bonanza", "Little House on the Prairie"—Michael Landon playing with son Mark.
"Bonanza"—Pernell Roberts and others take a break during the March 1, 1965
Selma to Montgomery, Alabama Civil Rights March.
"Boots and Saddles"—John Pickard with Donna Magers of WESTERN CLIPPINGS at a Western film festival.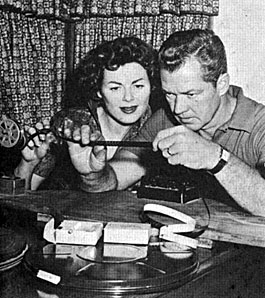 "Adventures of Kit Carson"—Bill Williams and wife/actress Barbara Hale enjoyed
the hobby of home movies.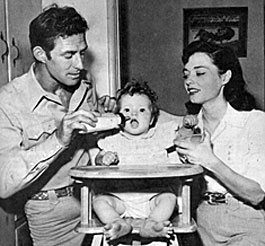 "Range Rider", "Yancy Derringer"—Jock Mahoney and wife/actress Margaret Field feed daughter Princess.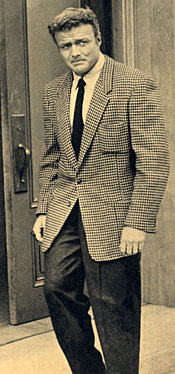 "The Westerner"—ex-Marine Brian Keith.
"The Rifleman", "Branded", "Cowboy in Africa"—Chuck Connors. First baseman
for the Chicago Cubs in 1951.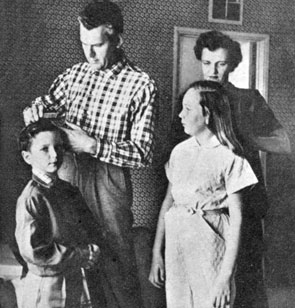 "The Man From Blackhawk"—Robert Rockwell in 1955 with his family, Bob, Susan and wife Betts (Betty Anna).
"Annie Oakley", "Gene Autry Show"—Gail Davis smiles sweetly for Gene Autry's
Instamatic camera.
"Shotgun Slade"—Scott Brady at Guy Madison's birthday party in 1954 snuggles up to beer heiress Beverly Pabst.
"Empire"—Richard Egan at Guy Madison's birthday party in 1954 dines with Italian engenue Marisa Pavan, Pier Angeli's twin sister.
"Davy Crockett", "Daniel Boone"—Fess Parker, holding his guitar, attends a
benefit in 1956.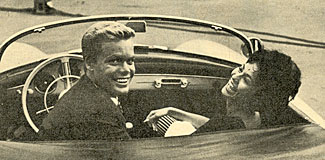 "The Virginian", "Overland Trail", "Barbary Coast"—Doug McClure in 1961 with bride-to-be Barbara Luna.
"Bearcats", "Outlaws" ('87)—Australian Rod Taylor, archery fan.
"The Big Valley"—Richard Long with wife/actress Mara Corday,
whom he married in '47.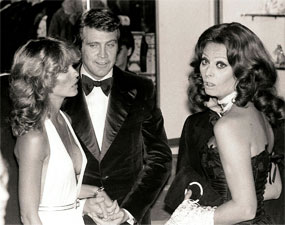 "The Big Valley"—Lee Majors glances at wife/actress Farrah Fawcett...but what is Sophia Loren looking at?
...more next month!