Roy Rogers and son Dusty relive a few childhood memories.
Roy Rogers and Bob Steele at a honorarium for Steele in L.A. in August 1986.
(L-R) Harry Carey Jr., Dale Evans, Roy Rogers and Jock Mahoney at a Stuntmen's Life Achievement Awards dinner in 1983.
(L-R) George Montgomery, James Arness, Dale Evans, Roy Rogers, Esther Williams and Jock Mahoney at the Stuntmen's Life Achievement Awards dinner in 1983.
(L-R) Yakima Canutt, Rex Allen, 6 year old Scott Blair and Rex Allen Jr. on location for taping of a Merv Griffin special at Snuff Garrett's ranch in Bell Canyon, California on June 18, 1982. The special aired in July 1982 and also featured Roy Rogers, Gene Autry and Dusty Rogers.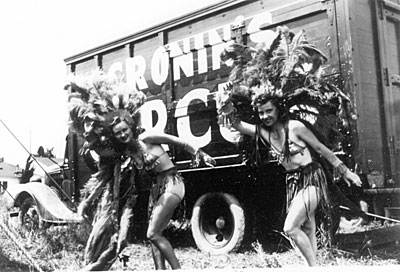 B-Western leading ladies Evelyn Finley (left) and Betty Miles in 1945 while performing a trick horse riding act for S. L. Cronin's Circus which only operated from '44 to '45.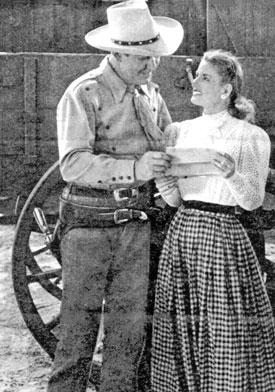 Johnny Mack Brown and leading lady Virginia Belmont look over a script page while filming "Prairie Express" ('47 Monogram). Virginia also worked with Hopalong Cassidy and Jimmy Wakely and co-starred in the Republic serial "Dangers of the Canadian Mounted" in '48.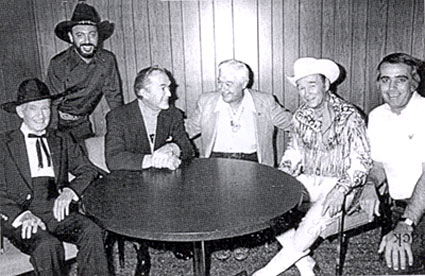 (L-R) Tim McCoy, record producer and collector Snuff Garrett, Kirk Alyn, Monte Hale, Roy Rogers and Tom Snyder. The group was together for Tom Snyder's NBC late night talk show "Tomorrow" on November 28, 1977.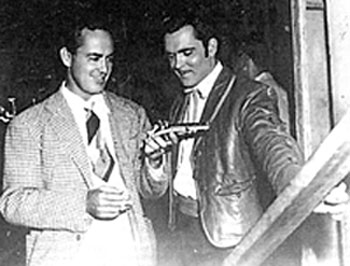 Producer (and former actor) Buddy Rogers and star Richard Martin look over a prop gun used in their "Adventures of Don Coyote" ('47 Comet/UA).
(L-R) Lash LaRue, Eddie Dean, Don Barry, Jimmy Wakely and Ken Maynard are feted
at the Hollywood Press Club in April 1971.
The following seven photos were taken in 1945 at a Roy Rogers Rodeo in California.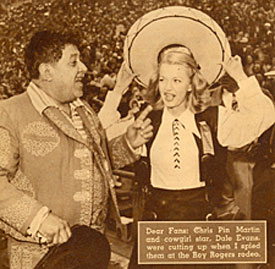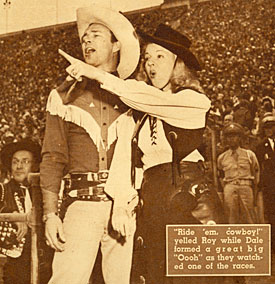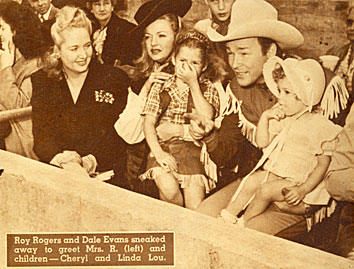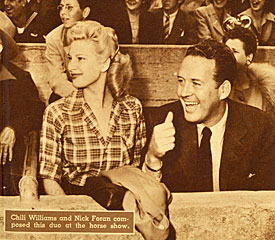 Oops! One correction, that's DICK Foran not Nick.
Bruce Cabot and Jean Willes rehearsing for an April 7, 1960 CBS special with
Jack Benny and Phil Silvers.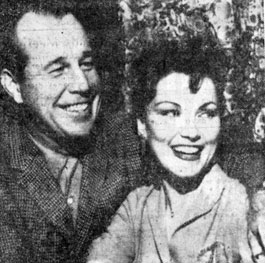 Actress Debra Paget, 27, and director Budd Boetticher, 44, were married March 28, 1960 in a Tiajuana, Mexico cafe. After three weeks of marriage Debra moved out of their apartment into her mother's apartment following a quarrel with Budd. Their divorce became final on August 24, 1961.
Gene Autry performs with the Jensen Sisters (probably in the early '80s).
Audie Murphy shows a young fan an article about himself in a movie magazine.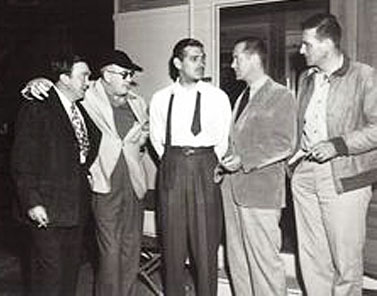 (L-R) Thomas Mitchell, John Ford, Clark Gable, Robert Montgomery and John Wayne have a chat while Ford, Montgomery and Wayne were all making "They Were Expendable" in 1945.
For "The Plainsman" ('36) director Cecil B. DeMille gives direction to actors John Miljan as George Armstrong Custer and Gary Cooper as Wild Bill Hickok.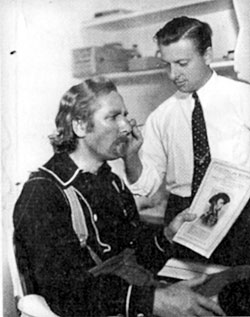 Head of Paramount's make-up department, Wally Westmore, prepares John Miljan to play George Armstrong Custer in "The Plainsman" ('36).
Wedding photo of Tom Mix and his bride Mabel Ward. The couple were married February 15, 1932 in Mexicali, Mexico by a retired general of the Mexican army.