Christmas display of Acme Boots for the Warner Bros. TV cowboys—James Garner and Jack Kelly ("Maverick"), Will Hutchins ("Sugarfoot"), Wayde Preston ("Colt .45"), John Russell and Peter Brown ("Lawman"). (Photographed at the Geppi Toy Museum in Baltimore by Steve St. John.)
The last photo taken of Buck Jones only hours before he was fatally burned in the tragic Cocoanut Grove fire in Boston November 28, 1942. This photo was taken when Jones visited the Children's Hospital in Boston.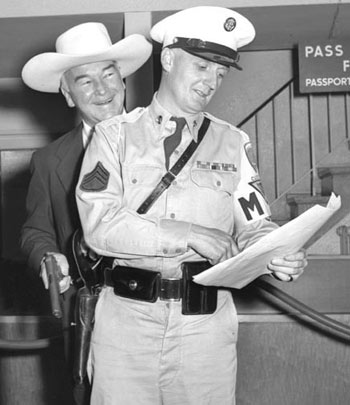 William Boyd (Hopalong Cassidy) arrives at the Rhein-Main Airport in Frankfort, Germany, August 27, 1954, to begin a European vacation with his wife Grace. For a publicity photo, Hoppy appears to be playfully swiping the M.P.'s weapon. (Thanx to Joel O'Brien.)
Tex Ritter and wife Dorothy Fay talk to a reporter in Wiesbaden, Germany, on January 21, 1971, at the beginning of their tour of U.S. military bases in Europe.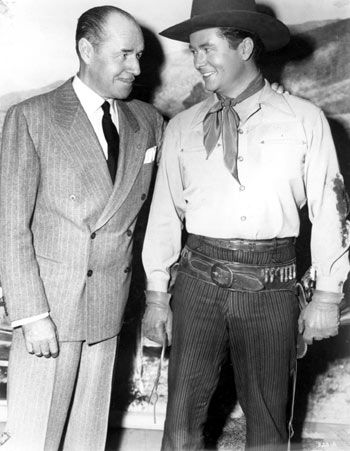 Jack Holt seems very proud of his son Tim Holt's RKO western features in the late '40s-early '50s.
Comedian Jackie Gleason and "The Rifleman" Chuck Connors at the 1968 PAGA Golf Classic's Celebrities Category at Canyon Country Club.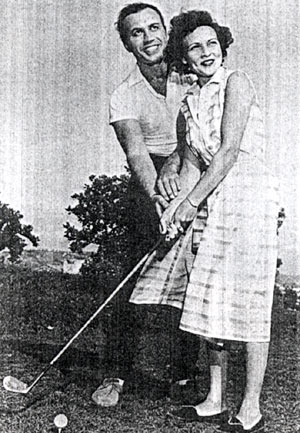 Golfer Michael Ansara, Cochise on "Broken Arrow", gives a few pointers to Betty White, then star of "A Date with the Angels".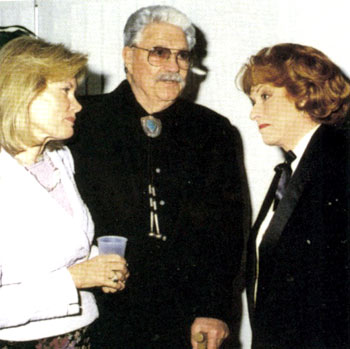 Dale Robertson ("Tales of Wells Fargo", "Iron Horse" and many films) with his wife Susan and actress Maureen O'Hara at the Cowboy Hall of Fame Western Heritage Awards in Oklahoma City in April 2002.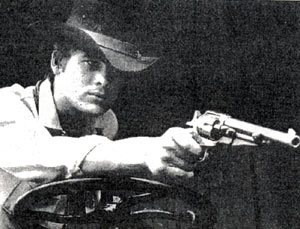 Christopher Jones who, in 1965 averaged 7,500 fan letters a week for his ABC TV series "The Legend of Jesse James".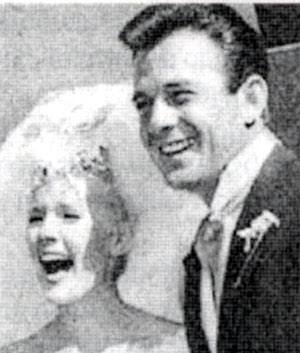 James Stacy and Connie Stevens' wedding in October 1963. Sadly, divorce followed not even three years later.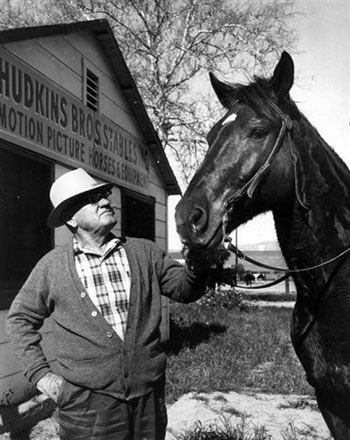 Ace Hudkins at Hudkins Brothers Stables. Date unknown. Hudkins Bros., located near Warner Bros., began renting horses to movies in the '30s. (Thanx to Sam Lawson, Pat Mefford.)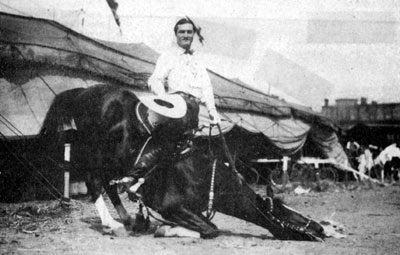 Tom Mix and Tony perform one of their numerous tricks on the grounds of Tom's circus.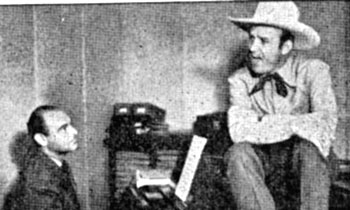 Gene Autry with lyricist and comedy writer Eddie Cherkose. Cherkose, born May 25, 1912, in Detroit, came to Hollywood writing comedy for radio and by 1937 was steadily employed writing music and lyrics at Republic. He wrote many songs for Gene's pictures. During his career he also wrote gags for Abbott and Costello, Olsen and Johnson, Spike Jones, The Ritz Brothers and Charlie McCarthy. He died at 87 in 1999.
Robert Livingston and Steven Barclay played brothers Johnny and Kenny Revere in Republic's "Pride of the Plains" ('44).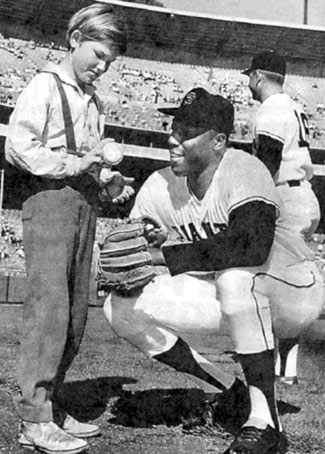 Young Kurt Russell chats with SanFrancisco Giant's star Willie McCovey at Candlestick Park. Kurt's dad, actor Bing Russell, an ex-minor league baseball player, coached Kurt's Little League team. After high school graduation in '69 Kurt played minor league ball until '73. A promising big league prospect as a second baseman in the California Angels organization, Kurt was leading the Texas League in hitting when he tore his rotator cuff, ending his baseball career. Kurt starred on TV's "Travels of Jaimie McPheeters" and "The Quest".

Here's one for the ladies. William Smith ("Laredo") at his prime in the '60s.
May 19, 2001—Robert Fuller and Jennifer Savidge were married at the Little Brown Church in Studio City, California.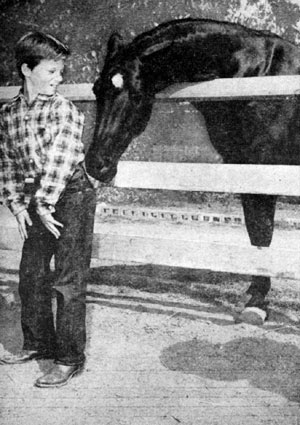 "Fury" steals a carrot from Bobby Diamond in June 1956. The nine year old black stallion was owned by trainer Ralph McCutcheon.
Don Durant, star of "Johnny Ringo" ('59-'60), with is wife Trudy Wroe and their lovable Bassett Hound Sir Richard.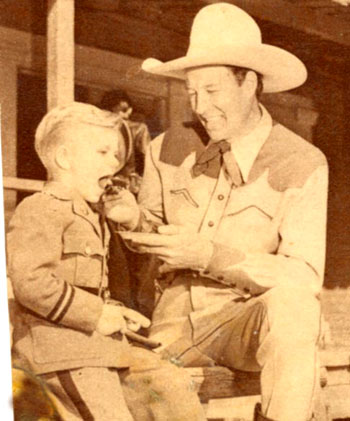 Bill Elliott takes time to feed a bite of cake to a young boy (at some sort of military school judging by the uniform?) in 1941.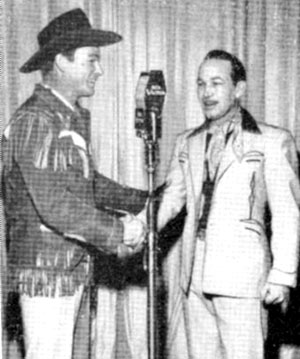 Roy Rogers congratulates Spade Cooley on his new television show originating from the Santa Monica Ballroom in California in 1948.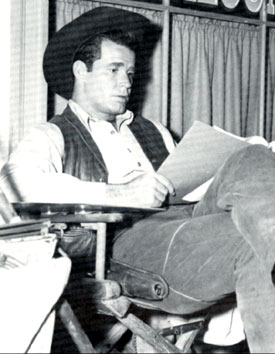 James Garner studies his script for "Maverick: Greenbacks Unlimited" which aired 3/13/60.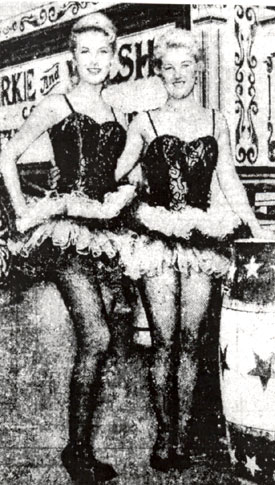 For her role as a trapeze artist on "Circus Boy: Big Top Angel" (1/57), Jan Shepard (left) was coached and doubled by real aerialist Shawn Gallagher.
Alice Van (Springsteen), ready to double Gail Davis as "Annie Oakley", paused to take a photo with noted cinematographer Bill Bradford, who worked tirelessly for Gene Autry's Flying A Productions. Alice was married to noted director R. G. Springsteen.