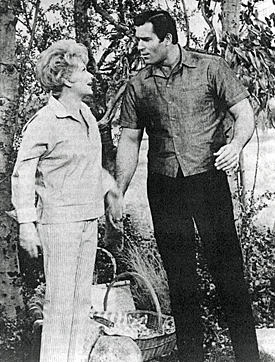 Clint Walker meets Lucille Ball on "The Lucy Show" in 1966. (Thanx to Terry Cutts.)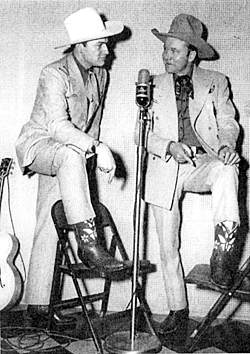 Tex Ritter tells singer Wesley Tuttle, "Your boots are the same as mine!"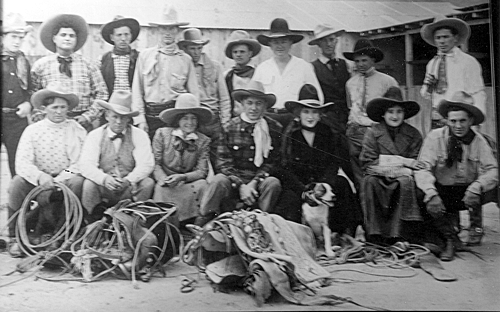 Bottom L-R: Bud Osborne, Neal Hart, script girl, Harry Carey Sr., Ollie Carey, unknown, Joe Rickson. Top Row: fifth from left: Bill Steele, second from right: Johnny Tyke.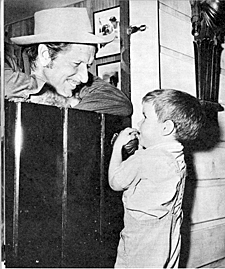 Richard "Paladin" Boone with his son Peter in 1958.
Ty "Bronco" Hardin dances with cute singer Molly Bee in 1962.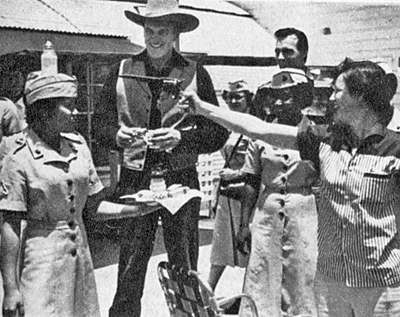 James Arness was Grand Marshal of the town's annual rodeo in El Toro, CA. Invited to lunch at Toro Marine Base, he watches as Private "Monty" Montgomery displays her female marksmanship.
While two autograph seekers speak to Mr. and Mrs. Eddy Waller, WC's Boyd Magers and another man await their turn at an early Memphis Film Festival.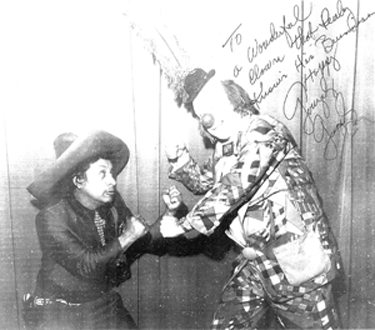 Pedro Gonzalez Gonzalez strikes a fighting pose with Happy the Clown (aka Dave Twomey).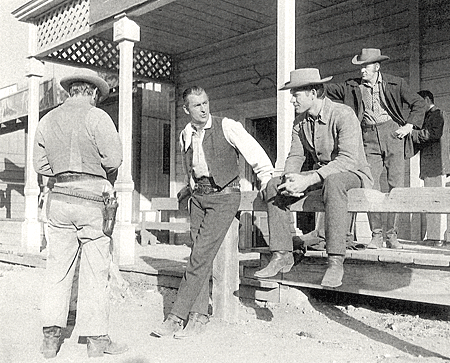 Kelo Henderson (sittling on railing), star of TV's "26 Men", was the gun coach to Stewart Granger in "Gun Glory".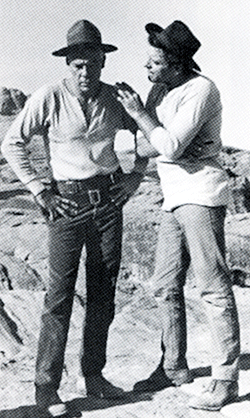 Lee Marvin and Burt Lancaster on location in Nevada for
"The Professionals" in 1966.
Steve McQueen, Robert Preston and director Sam Peckinpah discuss a scene on location in Prescott, AZ, for "Junior Bonner" (1972).
Monte Hale, Lash LaRue, Sunset Carson, Fred Scott at Fred Scott's Golden Boot Award in 1991.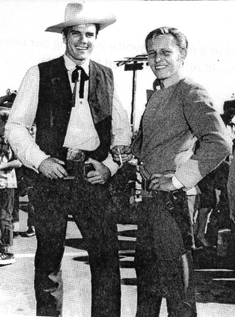 Tom Tryon ("Texas John Slaughter") and Jan Merlin ("The Rough Riders") pose for publicity at a charity event.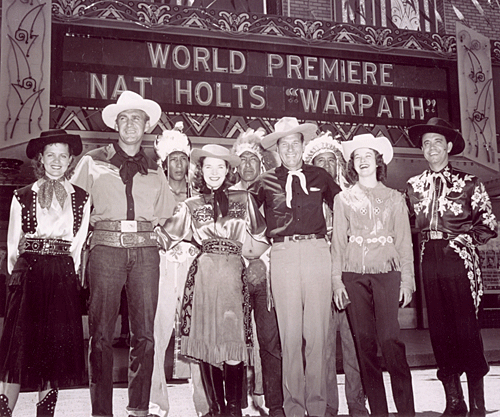 World premiere of "Warpath" (July 28, 1951). Forrest Tucker (second from left),
Polly Bergen (center), Richard Arlen (next to her), and local dignitaries.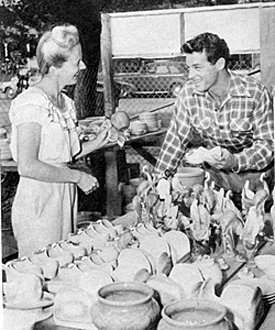 Guy Madison shops for souveniers while appearing at the La Jolla Playhouse in
"Dear Ruth" ('47).
Bob Baker after his Universal B-Westerns as a policeman in Arizona.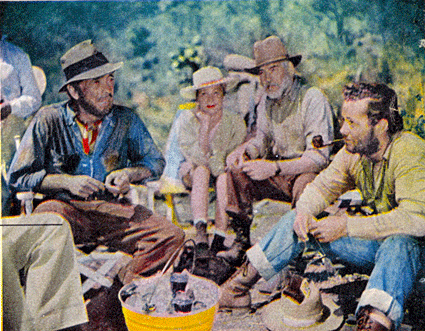 While filming "Treasure of Sierra Madre", having lunch together are Humphrey Bogart, hairdresser Betty Lou Delmont, Walter Huston and Tim Holt.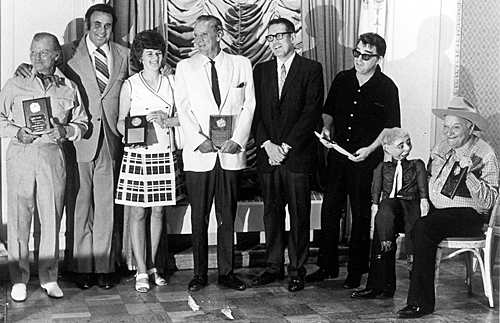 Gathered at an early Memphis Film Festival are Don Barry, Sunset Carson, unknown, Russell Hayden, panel moderator Jim Shoenberger, Lash LaRue, Max Terhune and Elmer.
(L-R) Jimmy Wakely, stuntman Wayne Burson, actor Ted French, director Oliver Drake, Johnny Bond, Bob Nolan in November 1975.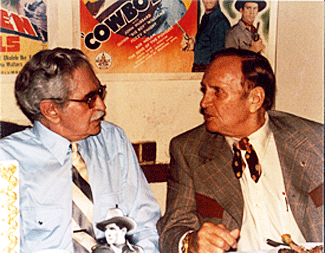 Bob Steele chats with Gene Autry at the Masquers Club honoring Bob on
November 20, 1982.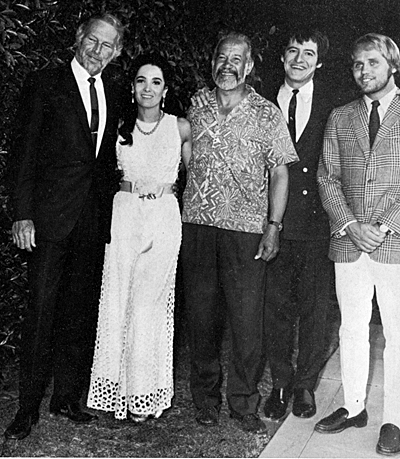 Cast of "High Chaparral" in civilian clothes. (L-R) Leif Erikson, Linda Cristal,
Frank Silvera, Henry Darrow, Mark Slade.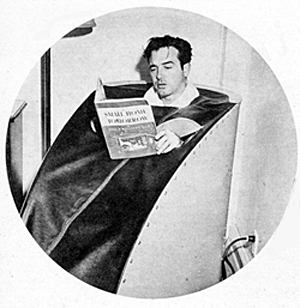 John Payne, TV's Vint Bonner on "The Restless Gun", enjoys a steam bath in 1947.
Hopalong Cassidy endorses Anderson Ice Cream.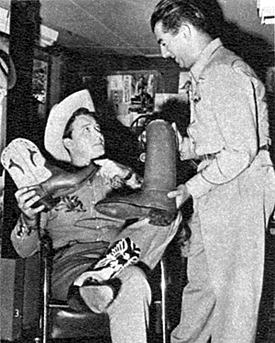 "But I like the fancy ones..." sez Monte Hale as he tries on boots at Turk's Western Wear in Hollywood.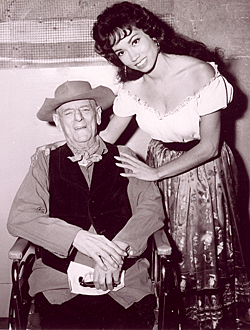 Silent Western star Broncho Billy Anderson in later years with actress
Dolores Domasin.