Terrific shot of James "Maverick" Garner shooting a scene on the
Warner Bros. soundstage. (Thanx to Roy Bonario.)
Clint Walker joined James Garner and Randolph Scott for a chat while the latter two were filming "Shootout at Medicine Bend" ('57 WB). (Thanx to Neil Summers.)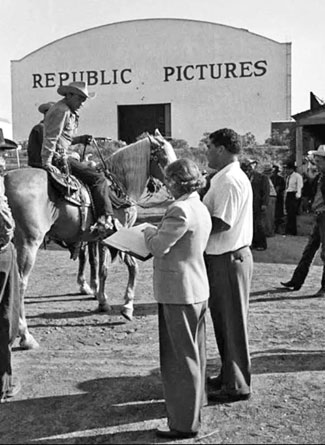 Waiting to go into action, Roy Rogers talks with a script supervisor and director Bill Witney. (Thanx to Jay Dee Witney.)
Ken Maynard and Tarzan surprise a young fan during a stage presentation
in the early '30s.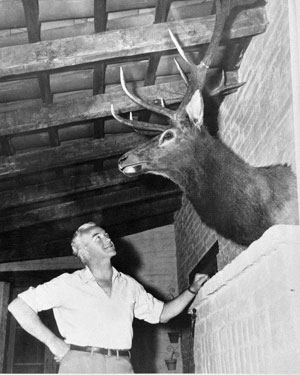 Bill Boyd always admired a buck.
Gene Autry greets a group of theater owners. (Note the pedestal.)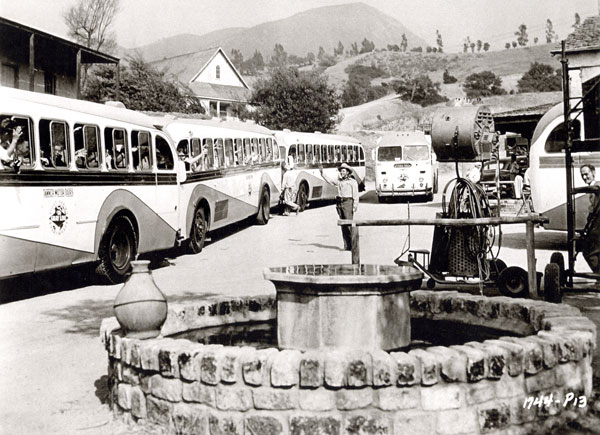 While filming "Ride Clear of Diablo", Audie Murphy waves at the Universal-International tourist buses on the U-I backlot.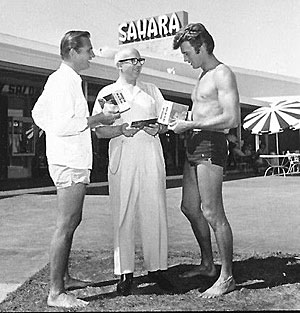 "Rawhide"'s Eric Fleming and Clint Eastwood are greeted for a tennis tournament at the Sahara casino in Las Vegas, NV. (Thanx to Terry Cutts.)
Court time at the Sahara for David Janssen and Eric Fleming. (Thanx to Terry Cutts.)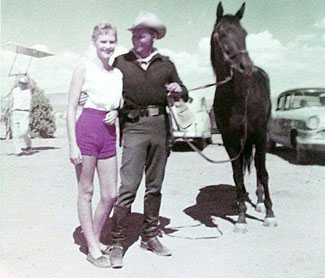 John Pickard, star of "Boots and Saddles", with Judy Zomar while filming the TV series in Kanab, UT in 1957. Judy and her brother Joe were the children of special effects man Joseph A. Zomar (1920-1997). (Thanx to Joe Zomar.)
Tom Mix with his palomino Comanche pose next to Tom's Nash at the Sells-Floto Circus in 1930. Tom toured with the circus from 1929 to 1931 at a reported salary of $20,000 a week. Although Tony was the horse most associated with Tom he often used Comanche for parades and personal appearances. (Thanx to Roy Bonario.)
John Wayne and ?? in front of the Alamo replica in Brackettville, TX.
Jennifer Savidge, Robert Fuller, Alex Cord and Dawn Moore (Clayton's daughter)
share a laugh and a drink. (Thanx to Terry Cutts.)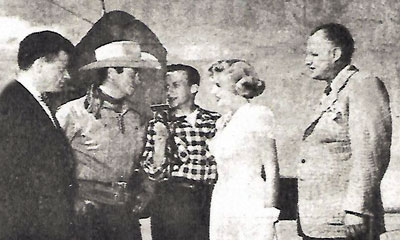 Tim Holt is greeted after landing in Casper, WY in 1950 for a personal appearance by (L-R) Mayor Robert Rose, Ed Peiss of radio station KVOC, Jacqueline White and Russell Schulte, executive vice president of Rialto Theater Inc. Jacqueline was now Mrs. Bruce Anderson and living in Casper.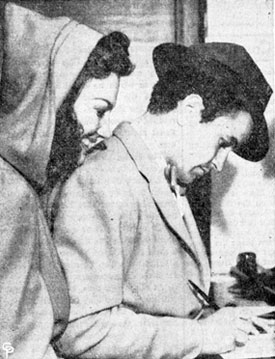 Buck Jones' daughter Maxine and Noah Beery Jr. apply for a marriage license at the marriage license bureau in L.A. on March 25, 1940.
Promoting the premiere of "Dodge City" ('39) in Dodge City, KS are Warner Bros. contractees (back row) Wayne Morris, Gilbert Roland, John Payne, Allan Jones, Frank McHugh. (front row) Priscilla and Rosemary Lane, Jean Parker, Frances Robinson.
Rex Allen Jr., Rex Allen and Roy Rogers lay down tracks for "The Last of the Silver Screen Cowboys" song which was included on Rex Jr.'s 1982 album "The Singing Cowboy" produced by Snuff Garrett.
Bob Baker rides up on Apache to a Universal studio projection room to view his latest, "Border Wolves" ('38). (Thanx to Neil Summers.)
Ty "Bronco" Hardin signs an autograph in Brookwater, Australia. (Thanx to Terry Cutts.)
Don Collier (right) was the guest star at a horse race in Brackettville, TX in 1963.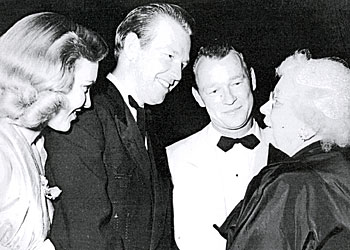 Rex Allen and his wife are introduced to Ida Koverma by Roy Rogers at a dinner to honor Adolph Zukor. Koverma came to give thanks to the Western stars for appearing at many of her benefits.
James Arness at a 1957 New York City boat show with Noreen, honorary
queen of the show.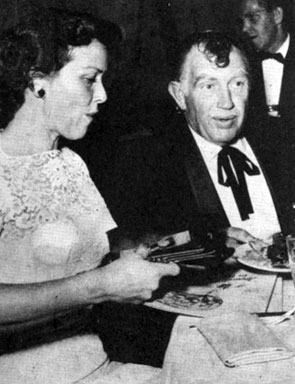 Andy Devine and wife Dodie "jingle" at the premiere party for "Arond the World in 80 Days".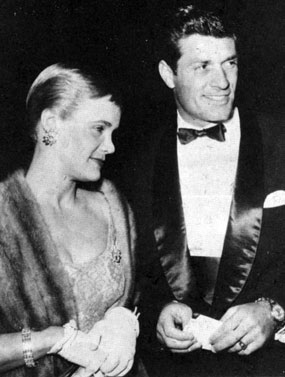 Hugh "Wyatt Earp" O'Brian at an outing with starlett Dee Outland.