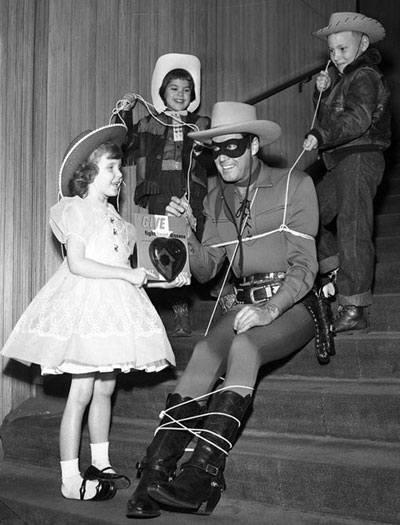 The Lone Ranger (Clayton Moore) roped and tied for the Heart Foundation.
(Thanx to Carmen Sacchetti.)
Peggy Stewart and Don Barry at their wedding in 1940.
They were married until 1944. (Thanx to Bobby Copeland.)
Tom Mix and daughter Thomasina (4/02/25).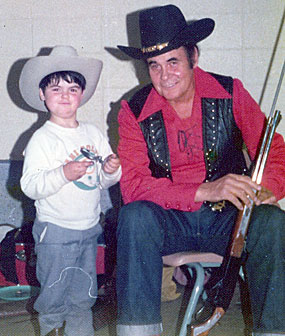 The above three photos were taken when Sunset Carson was traveling with the Tommy Scott Show in 1978 after Tim McCoy died in January of '78. Sunset stayed with Scott for five seasons.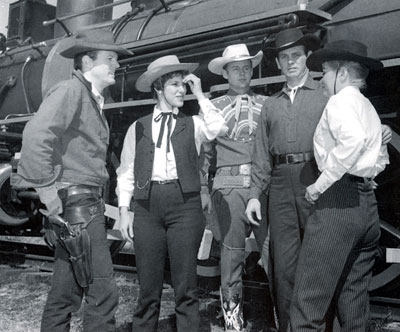 Robert Culp of TV's "Trackdown&qrduo; and his wife ,singer Johnny Western, Mr. and Mrs. David Janssen at a personal appearance in Dodge City, KS, in Septemer 1958.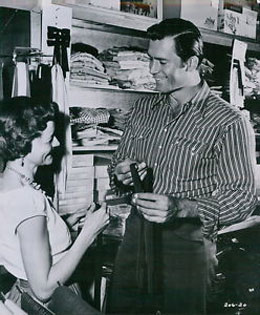 Clint "Cheyenne" Walker goes shopping for a tie.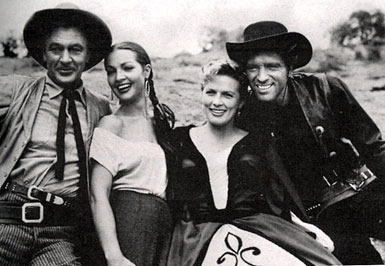 Gary Cooper, Sarita Montiel, Denise Darcel and Burt Lancaster on the set of "Vera Cruz" ('54). (Courtesy of Laura Wagner, CLASSIC IMAGES.)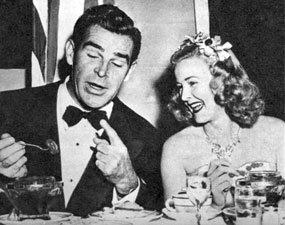 Republic Western star Rod Cameron seems to be telling a funny story to Monogram leading lady Reno Browne at a 1950 dinner party.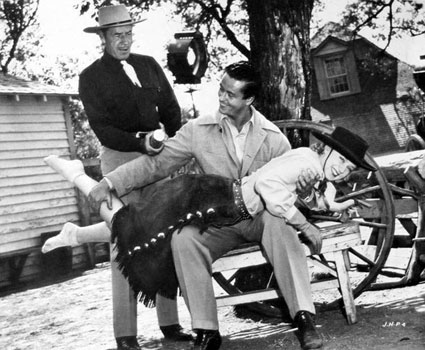 Clowning around with the Holt family...Jack, Tim and Jennifer.
(Thanx to Bobby Copeland.)
Gene Autry and Gail Davis as Annie Oakley interviewed by LIBERTY magazine's Frank Rasky. Gene and Gail performed August 24-September 8, 1956, at the 24,000 seat grandstand at the Canadian National Exhibition in Toronto.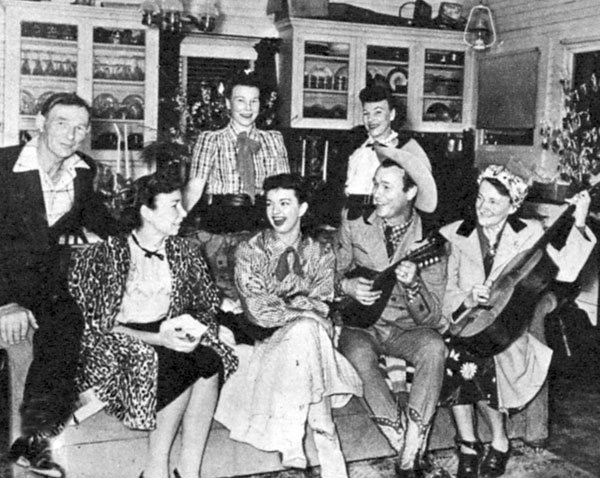 A Rogers family get-together. Roy, Dale, Roy's Mom and Dad and three sisters in 1950.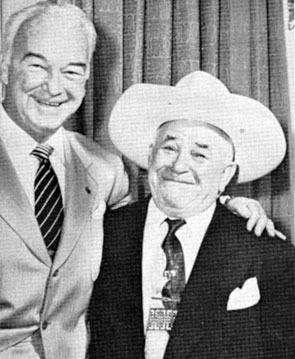 William Boyd with famous Bronx livery stable owner 'Hopalong' Abramowitz in 1954.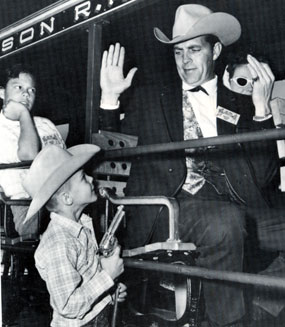 Young George Masek of Tucson holds a gun on "Tales of Wells Fargo" star Dale Robertson at the official dedication of Old Tucson in January 1960.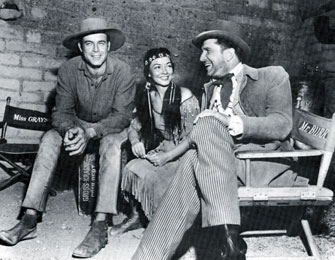 Scott Brady played a trader and Kathryn Grayson starred as the Indian woman he
marries while Vincent Price was the heavy in "Playhouse 90: Lone Woman" filmed in Tucson in February '57.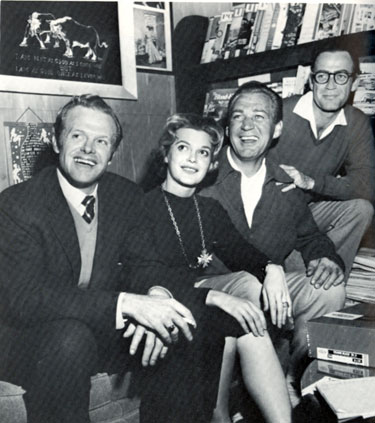 Kevin Hagen, Gail Kobe, Forrest Tucker and Mark Stevens relaxing at the Mountian Osyter Club in Tucson in December 1957. The four were in town filming
"Gunsmoke in Tucson".
The Tucson, AZ, Retail Trade Bureau and the Sunshine Climate Club held a parade and luncheon in 1959 to honor nine movie and TV stars including Alan Hale Jr., Peter Brown of "Lawman", Roger Smith and Connie Stevens.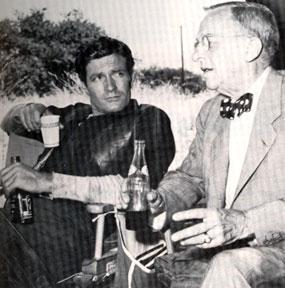 TV's "Wyatt Earp", Hugh O'Brian, relaxes on the set with Stuart Lake, consultant to the ABC series, who knew the real Earp and gathered material for his book WYATT EARP, FRONTIER MARSHAL.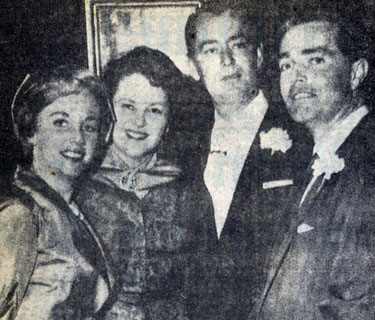 Carol Lee Ladd (left), daughter of Mr. and Mrs. Alan Ladd (center), and Warner Bros. executive John Veitch upon their marriage at the Little Brown Church of the Valley in Hollywood. (2/10/58 UP Telephoto).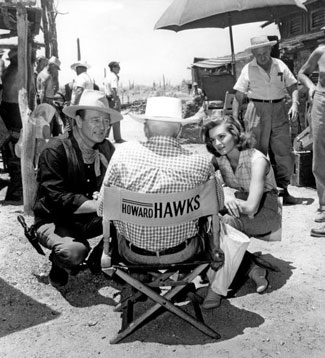 John Wayne and Angie Dickinson listen to director Howard Hawks on the set of "Rio Bravo" ('59 Warner Bros.).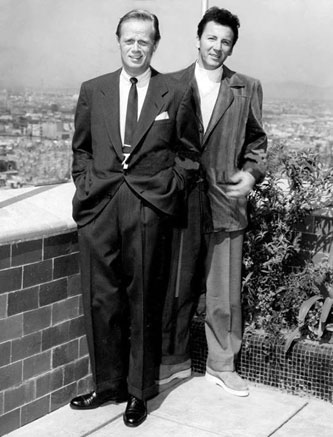 Richard Widmark and Cameron Mitchell got together while making
"Garden of Evil" in '54.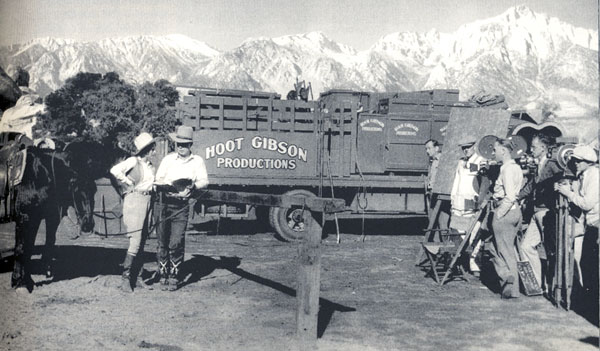 Hoot Gibson and Sally Eilers on location in Lone Pine, CA, in 1930.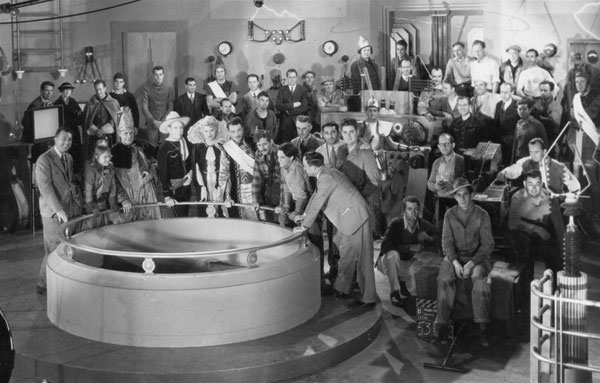 The cast and crew of Gene Autry's "Phantom Empire" ('35 Mascot).
(Thanx to Jay Dee Witney.)