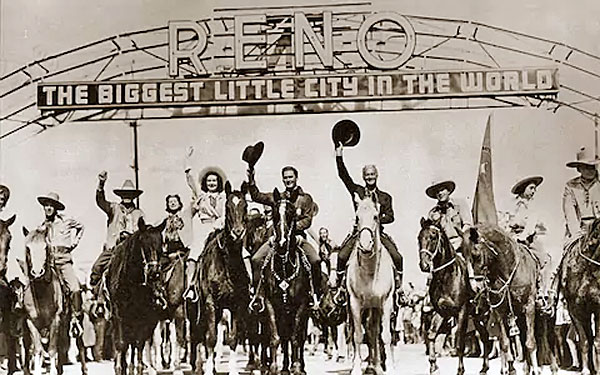 In 1940 Warner Bros. sent an 18 car train with 225 stars and newspapermen to both Virginia City and Reno, NV for the premiere of "Virginia City" starring Errol Flynn. Flynn and William Boyd as Hopalong Cassidy wave their hats in the center. Buck Jones is on the far right.
Virgina Mayo (left), unknown, Buck Jones, unknown, Errol Flynn at the
"Virginia City" premiere..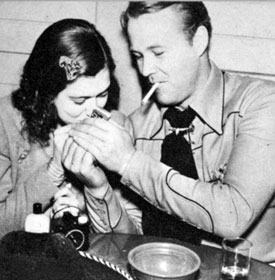 Wayne Morris lights a cigarette for Priscilla Lane during "Virginia City"
premiere festivities.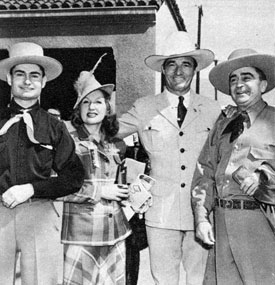 Tom Mix and others at the "Virginia City" premiere. (Other photos from this premiere
on Gallery 52.)
Bill Witney directs an episode of "Bonanza" with Dan Blocker and Lorne Greene.
(Thanx to Jay Dee Witney.)
Audie Murphy and Charles Drake during a break from filming "Showdown"
('60 Universal).
"Whadda mean, you're gonna be a Maverick cousin?" wonders Ty "Bronco" Hardin to Roger Moore. Andrea Martin smiles in the middle.
Eric Fleming and Kathleen Crowley rehearse a scene for the horror-Western
"Curse of the Undead".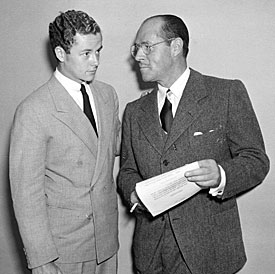 Jack Holt gives his 21 year old son Tim some fatherly advice about the movie biz before signing the legal document allowing Tim to star in Westerns at RKO.
Toluca Lake Chamber of Commerce banquet in February 1961 honoring baseball legend Casey Stengel. (L-R) Chamber president Coz Aslobelli, new honorary mayor Tex Ritter, Casey Stengel, outgoing honorary mayor Gene Autry, outgoing Chamber president Harold Hefner. (Thanx to Billy Holcomb.)
While filming "The Alamo" John Wayne met with ladies from the Daughters of the Republic of Texas. At the time, the 120 year old group had run The Alamo since 1905.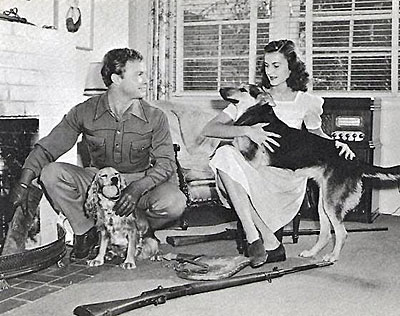 A 1942 tranquil moment in the marriage between Don Barry and Peggy Stewart.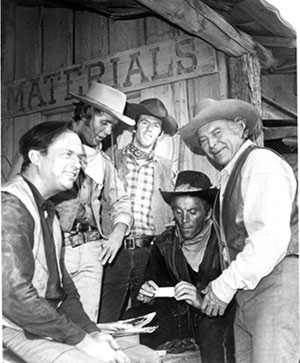 Ralph Meeker (left) guested on "High Chaparral: The Pride of Revenge" ('67). (L-R) Meeker, Mark Slade, stuntman Neil Summers, Cameron Mitchell, Leif Erickson.
Ken Curtis, Ben Johnson and Harry Carey Jr. harmonize on the set of
"Rio Grande" ('50 Republic).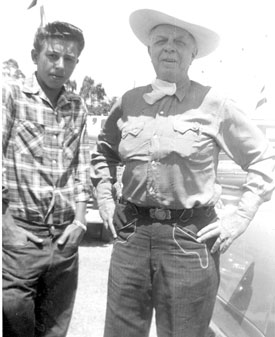 Hoot Gibson poses with a young fairgrounds worker in ??
Rex Allen looks over a pair of Nudie's colorful boots.
A great gathering of guns...(top row L-R) Pat Buttram, Guy Madison, John Hart, John Pickard. (second row L-R) Duncan Renaldo, John Russell, Rex Allen, Don Barry, David McLean above Barry, Peggy Stewart, John Smith above Peggy, Pedro Gonzales Gonzales, Rand Brooks, Will Hutchins. (kneeling L-R) Scott Brady, Roy Rogers, Dale Evans, Jock Mahoney. Photo orginally appeared in the Canadian WEEKEND MAGAZINE on July 8, 1978.
Director of Photography Walter Strenge checks lighting on Mari Blanchard for a
scene in "Stagecoach to Fury" ('56 Fox).
Ken Maynard and Tarzan with Ken's private plane.
Ken Maynard, his wife Bertha, Tarzan and Ken's private plane.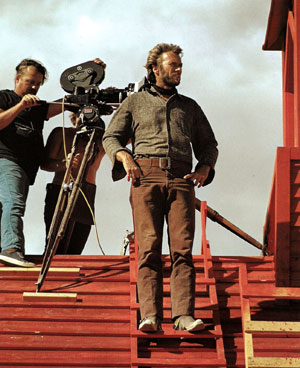 Clint Eastwood sets up a scene for his "High Plains Drifter".
"Gunsmoke" veterans James Arness, Ken Curtis, Amanda Blake, Dennis Weaver
and his wife.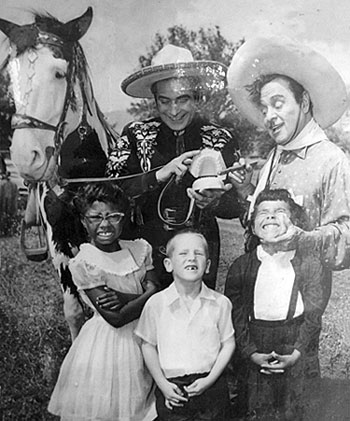 The Cisco Kid (Duncan Renaldo) and Pancho (Leo Carrillo) clown around with a
group of young fans.
Two great photos of Whip Wilson with his horse Rocket.