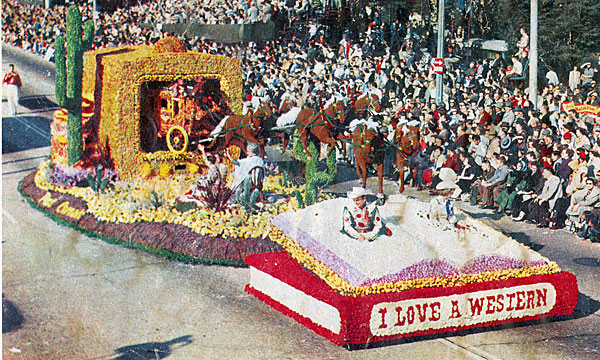 M E R R Y C H R I S T M A S !
Roy Rogers and Dale Evans Post Cereals 1956 Tournament of Roses float won the Governor's Trophy.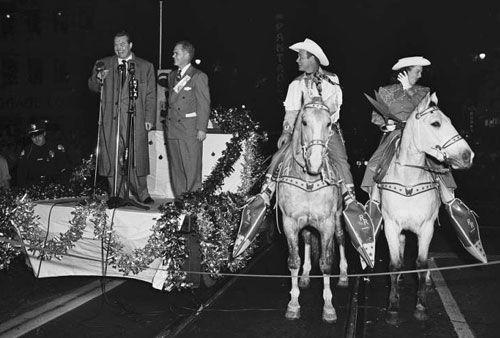 Roy Rogers and Dale Evans on Trigger and Buttermilk await the start of the 1951 Santa Claus Lane Parade in Hollywood while comedian Red Skelton and chairman William Parker kick off the ceremonies.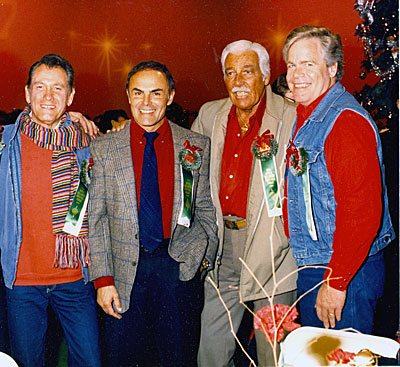 Christmastime with Earl Holliman, John Saxon, Cesar Romero and Doug McClure.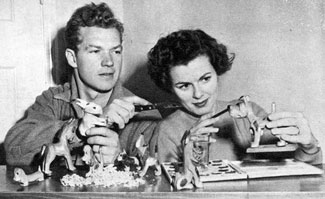 Bill ("Kit Carson") Williams and wife Barbara Hale create their own Yuletide gifts. Bill carves minature animals and Barbara adds the paint job. (Photo circa 1949.)
A Ponderosa Christmas! Dan Blocker, Pernell Roberts, Lorne Greene and Michael Landon.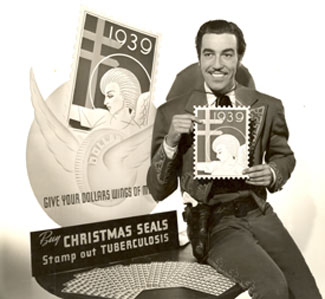 Cesar Romero as The Cisco Kid introduces 1939 Christmas Seals.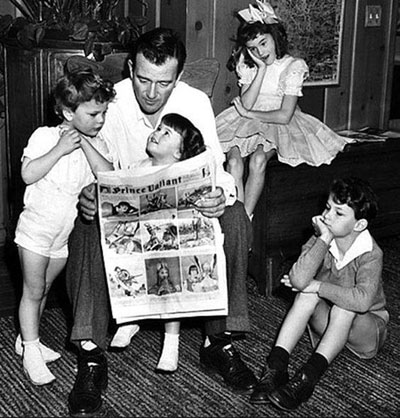 John Wayne reads the December 20, 1942 Sunday comics to his children...Michael, Mary Antonia (Toni), Patrick and Melinda.
Hopalong Cassidy with a young fan. Hoppy's wife Grace Bradley looks on.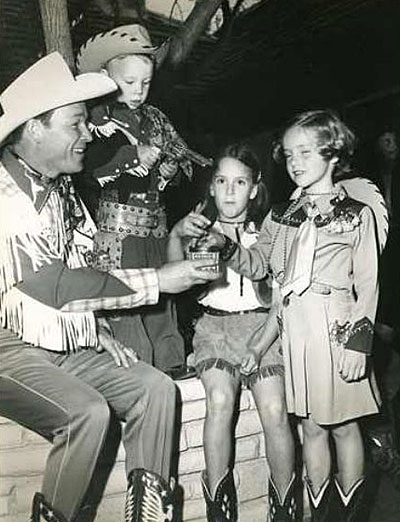 Roy Rogers hands Alan Ladd's daughter Alana some candy. (Thanks to Jerry Whittington.)
James Arness with son Rolf who is ready for some surfing.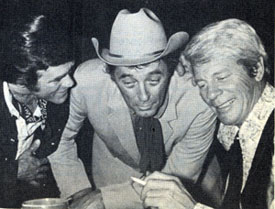 At a 1971 Hollywood party, perhaps a bit tipsy, Christopher George, Robert Mitchum and Peter Graves swap a few lies.
"Howdy!" from Montie Montana and Rex.
"Uhh...let's see now...maybe I..." Smiley Burnette and Ringeye.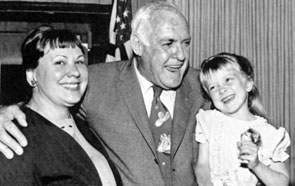 Ken Maynard and a couple of fans in 1967.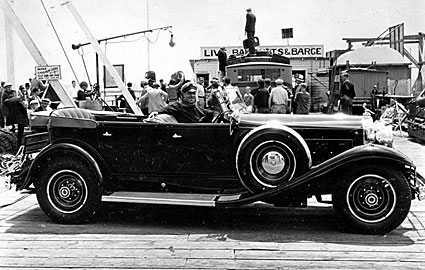 Jack Holt sits in a mighty fine automobile in 1931.
A 1943 night on the town with Jimmy Wakely, singer Frances Langford and
bandleader Kay Kyser.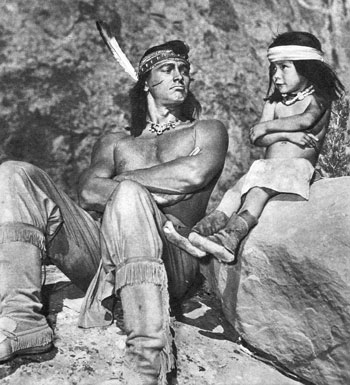 Rock Hudson spent a lot of time between takes while filming "Taza, Son of Cochise" by playing with three year old Jimmy Yellow, youngest of 100 Navajo Indians who worked on the film. Neither could speak the other's language but they got on splendidly together just the same.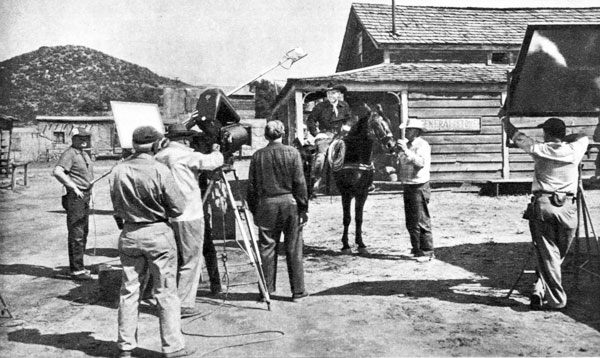 Setting up a scene for Johnny Carpenter's "Outlaw Treasure" ('55 American Releasing).
Gene Autry takes a break while technicians make ready for his next scene.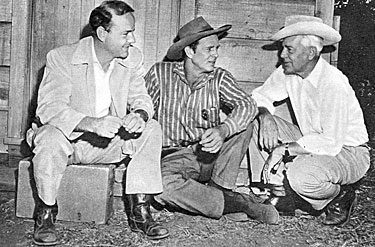 On the set of "Shotgun" ('55 Allied Artists), (L-R) producer John Champion, Sterling Hayden and director Lesley Selander.
Rod Cameron, director Lesley Selander and Bonita Granville take a break from filming "Strike It Rich" ('48 Allied Artists).
Tim McCoy looks on while director James Cruze makes a presentation to one of the Indian Chiefs who appeared in "The Covered Wagon" ('23).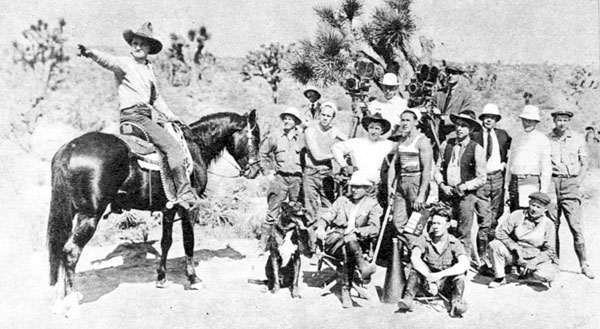 Rare production shot from a silent Tom Mix western. Note the brawny assistant cameraman attired in the striped undershirt who later became a western star himself...George O'Brien.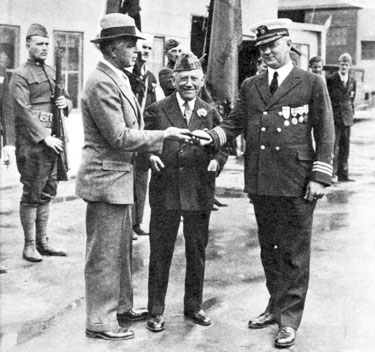 Hoot Gibson and movie pioneer Carl Laemmle on the Universal backlot at a ceremony honoring the veterans of foreign wars.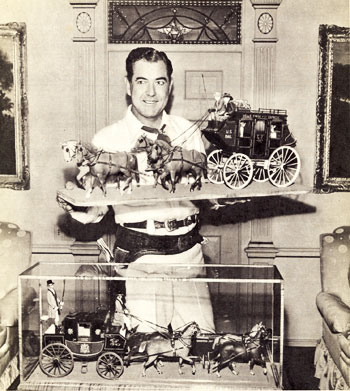 Johnny Mack Brown, an enthusiastic collector of old west model coaches, shows off a couple of recent additions to his collection.
Two American icons.