That's a lotta bull! Ken Maynard. (Note the tips on the bull's horns.)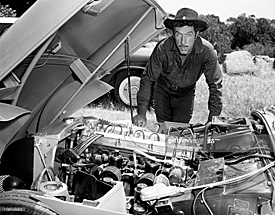 Richard Boone: "I think I'm out of my element, but I bet I
could travel faster with this."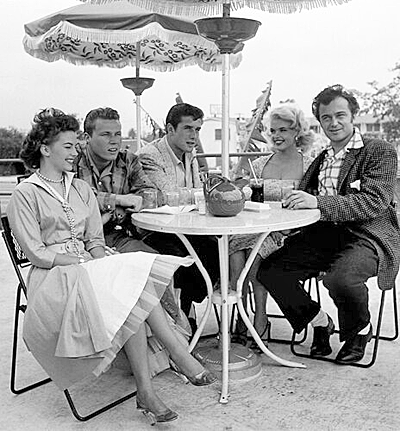 An eclectic group to be sure. (L-R) Natalie Wood, John Smith, Robert Fuller, Jayne Mansfield, Michael Callan get together for a publicity shot. (Thanx to Terry Cutts.)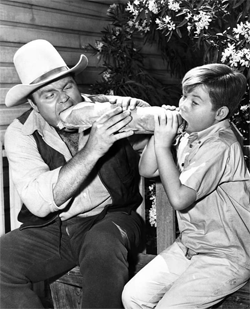 Who will get to the center first? Hoss Cartwright (Dan Blocker of "Bonanza") or Chip Douglas (Stanley Livingstone of "My Three Sons"). (Thanx to Terry Cutts.)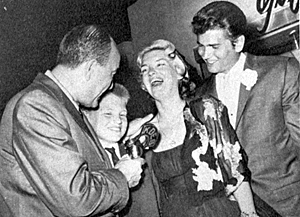 Being interviewed in 1960 by KDES radio in Palm Springs: Michael Landon with wife
Dody and stepson Mark.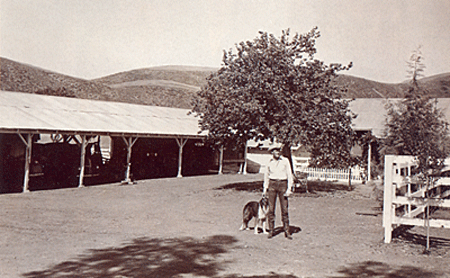 In 1932, heeding the advice of Will Rogers, Joel McCrea bought 1,000 acres 40 miles northwest of Hollywood. Joel said, "Will told me, 'You need to get out of this town regularly to get perspective on it, and there's no better spot than the back of a horse, herdin' cows.' He was right."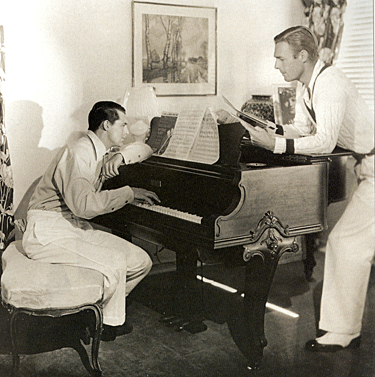 After meeting at Paramount, Cary Grant and Randolph Scott shared residences off and on for a decade from 1932 to 1942. Grant's frugality was well known among his friends. "Cary opened the bills, Randy wrote the checks, and if Cary could talk someone out of a stamp, he mailed them," laughed Carole Lombard. Playwright Moss Hart once noted, if he stayed with Grant and Scott for more than a few days they would give him an itemized bill for his laundry, phone calls and incidentals.
When Allan Jones visited Johnny Mack Brown on the set of "Bad Man from Red Butte" ('40), he compared the size of his dagger to Johnny Mack Brown's six-gun.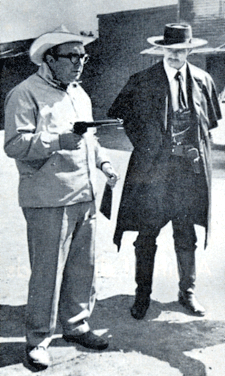 Director Sergio Leone and Lee Van Cleef while filming "The Good, The Bad and The Ugly".
Clint Eastwood with his 1958 Jaguar XK1505.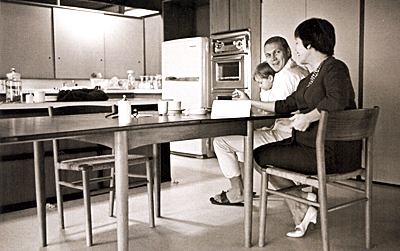 Steve McQueen and wife Neile Adams with their one-year-old daughter Terry at their new Hollywood Hills home in 1960.
At home with Alan Ladd.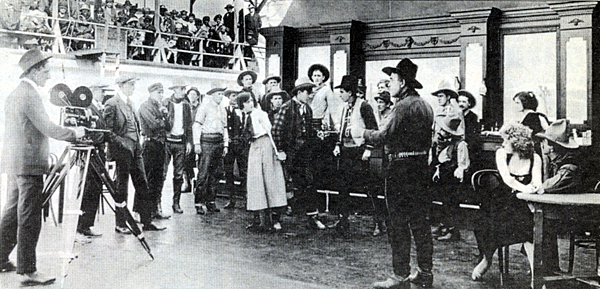 Even in 1917 Universal Studios knew how to make a few extra bucks by admitting tourists (top left) to its lot in the Cahuenga Pass area. Here they are viewing the filming of a Harry Carey Sr. silent Western.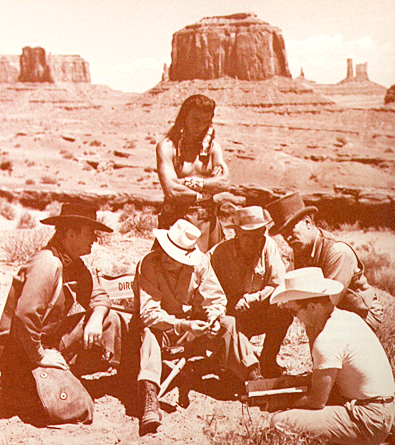 While talking over the making of a scene for "The Searchers" ('55) in Monument Valley, Utah, an Indian actor stands beside (L-R) John Wayne, director John Ford, Harry Goulding, Ward Bond and a man holding the script.

(L-R) Stuntman Harvey Parry, director Spencer Gordon Bennet, stuntman George DeNormand, stuntman Dave Sharpe, Hollywood Stuntmen Hall of Fame owner John Hagner and producer/director Ed Finney.
James Arness with his son Rolf who is about to go surfing.
Leo Carrillo in Tucson, AZ, in November 1956 with three young fans.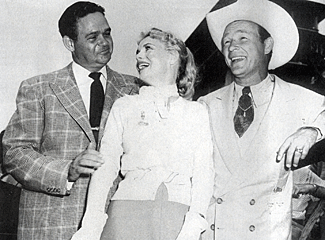 Marie ("My Friend Irma") Wilson and Roy Rogers with an Indianapolis
500 official in 1954.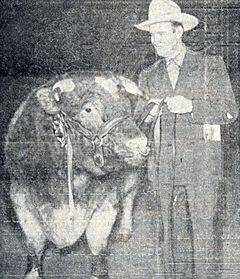 Gene Autry stands beside Arngibbon Reserve, Grand Champion Shorthorn bull at the April 1942 Southwest Rodeo and Fat Stock Show at Fort Worth, Texas.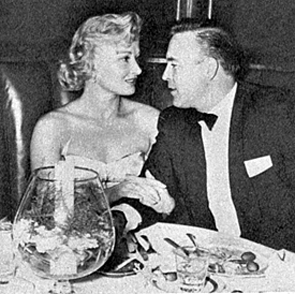 "Shotgun Slade" star Scott Brady on a date with Carol Ohmart. Carol was later married to Wayde Preston, star of "Colt .45".
Ty "Bronco" Hardin and Andra Martin take a break from filming "Bronco: Borrowed Glory" in 1959. (Thanx to Terry Cutts.)
Jimmie and Eddie Dean during their WLS radio days.
Audie Murphy and Sandra Dee prepare for a shot while filming "The Wild and the Innocent" ('59 Universal).
Breakfast in July 1942 before heading off to the studio, George Montgomery's mother pours him a glass of milk.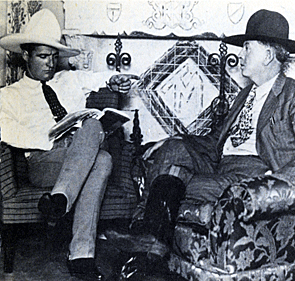 Tom Mix and Emmett Dalton talk over the old days. Emmett was the only member of
gang to survive the Coffeyville, Kansas raid.