A two for one Western rodeo in the early'40s with Roy Rogers and Brace Beemer as the Lone Ranger. (Thanx to Bobby Copeland.)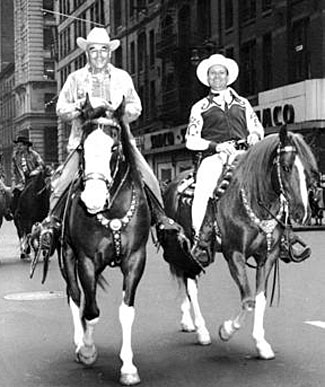 Gene Autry with his rodeo producer (1942-1959) partner Everett Colburn riding
in a New York City parade.
On the Columbia backlot with Randolph Scott, Evelyn Keyes, Glenn Ford and Edgar Buchanan while filming "The Desperadoes" ('43).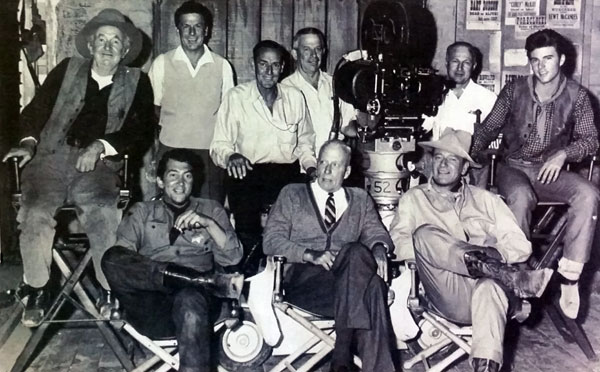 The main cast and crew of "Rio Bravo" ('59 WB). (L-R front) Walter Brennan, Dean Martin, director Howard Hawks, John Wayne, Ricky Nelson. (Thanx to Jerry Nolan.)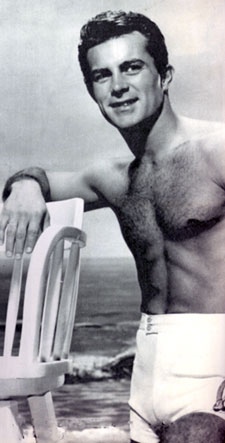 Some beefcake for the gals! Robert "Wild Wild West" Conrad.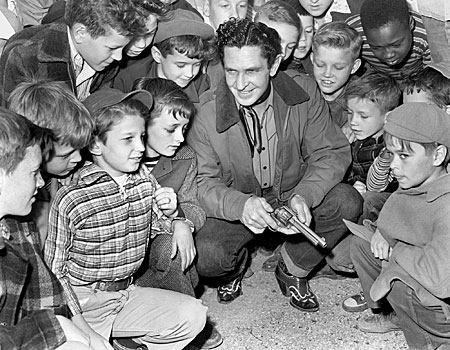 Bob Steele with a group of fans at the Midtown Theater in Oak Ridge, TN, on March 14, 1948. (Thanx to Bobby Copeland who was there.)
Allan "Rocky" Lane and Sheila Ryan wedding picture from 1945. (Thanx to Ed O'Reilly.)
Wally Wales (center, white hat) in what appears to be a cast shot from the late silent era. We're still trying to identify any of the other players. (Thanx to Jim Oeland.)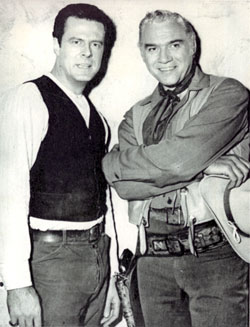 Robert Culp of CBS' "Trackdown" visits Lorne Greene of NBC's "Bonanza".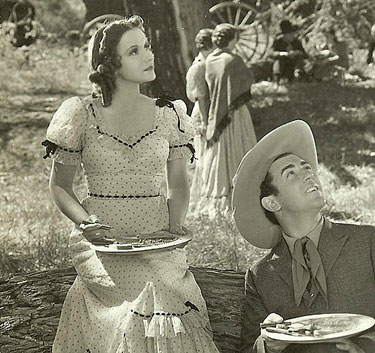 Pausing to look up at someone while eating lunch on location are Johnny Mack Brown and leading lady ???
Tom Mix and Fred Leggett with the Sells Floto Circus. Leggett was considered one
of the top riders. (Thanx to Bobby Copeland.)
Ken Maynard Roman riding with Tarzan and Ken's wife (not sure which wife this is...Arlie, Jeanne or Mary).
A 19 year old Rex Allen with 18 year old wife Doris and new born daughter Rexine.
(Thanx to Glenn Mueller.)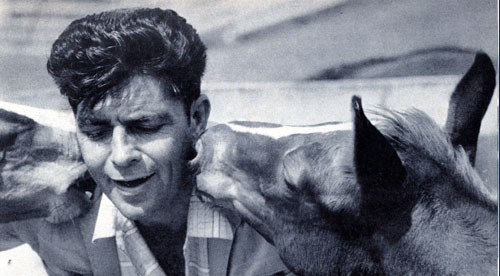 A cowboy never kisses his horse but these two horses sure are loving up Dale Robertson.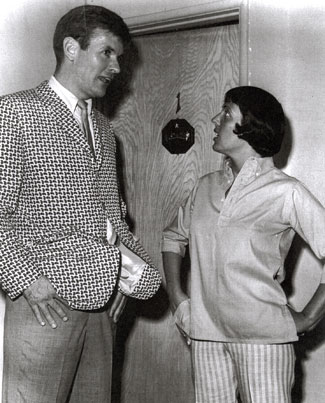 Keely Smith seems to saying to Will "Sugarfoot" Hutchins, "Where did you get that jacket?" Will said, "Same place you got those pants."
Hopalong Cassidy goes gunning with a young fan.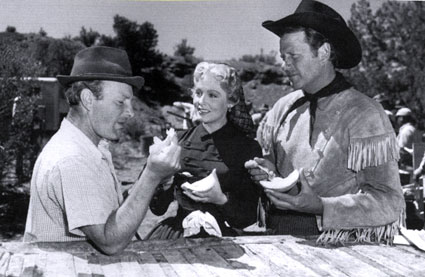 Director Roy Rowland, Arlene Dahl and Joel McCrea pause for a bite of melon while filming "The Outriders" ('50 MGM).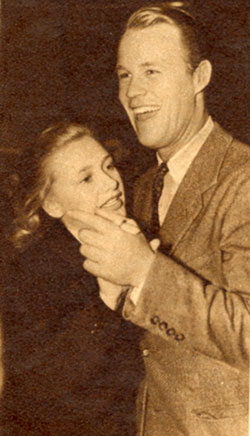 Warner Bros. stars Priscilla Lane and Wayne Morris share a dance in 1938.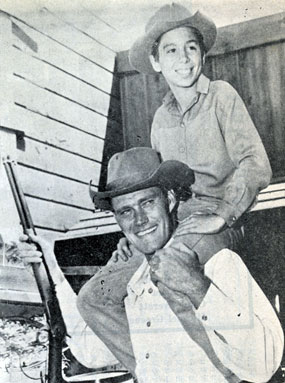 Chuck Connors and Johnny Crawford on the set of "The Rifleman".
Director Henry Hathaway, Michael Mendoza and Susan Hayward talk about scenes for "Garden of Evil" ('54 20th Century Fox). (Thanx to Marianne Ritner-Holmes.)
Buck Jones in 1938 with a lady named Molly. (Anyone know who she is?)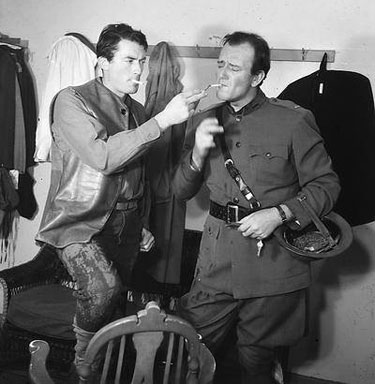 Gregory Peck visits John Wayne on the set of "Blood Alley" ('55 WB).