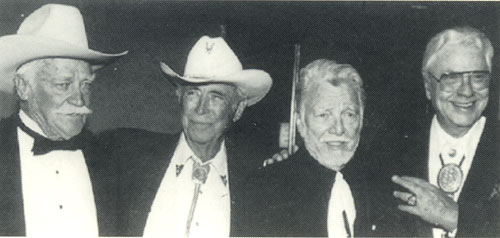 Richard Farnsworth, Eddie Dean, Lash LaRue and Monte Hale at the Autry Museum of Western Heritage fundraising Gala in Fall 1995.
Monte Hale gets fitted for a new suit at Nudie's Western Tailor Shop.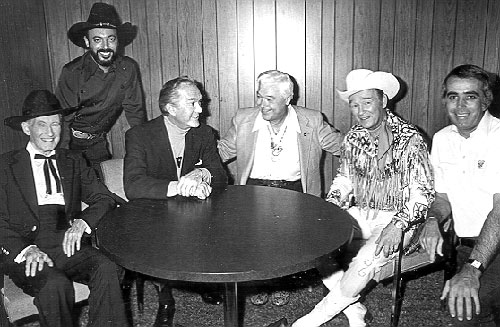 (L-R) Tim McCoy, music producer and former owner of Nostalgia Merchant Snuff Garrett, Kirk Alyn, Monte Hale, Roy Rogers and Tom Snyder backstage during the taping of Snyder's late night "Tomorrow" talk show on NBC on November 28, 1977.
Monte Hales presides over a beauty contest in Odessa, TX, in 1948. The girl, Enid Holm, won the Miss West Texas title and was later a runner up for the Miss Texas title.
Monte Hale shares a smile with Robert Mitchum circa early '80s. (Thanks to Neil Summers.)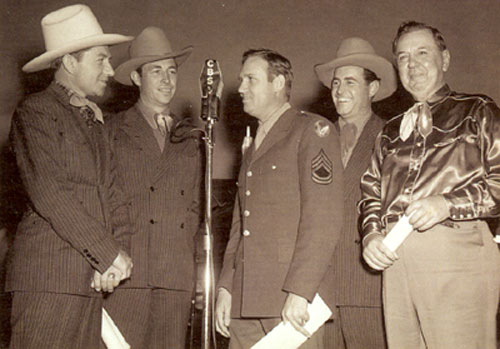 Gene Autry's "Melody Ranch" CBS radio show emanated from Luke Air Force Base in Arizona from 1940-1945. (L-R) Dick Reinhart, Eddie Dean, Gene, Jimmie Dean (Eddie's brother) and show comic Horace Murphy, known as "Shorty Long" on Gene's program. In the late '30s Murphy was a B-western screen sidekick to Tex Ritter (often named Stubby or Ananias). Murphy played dozens of sheriffs and other characters on screen from '35-'45. (Thanks for ID help to O. J. Sikes, Jimmy Glover, Billy Holcomb.)
Alan Ladd stops to chat with William "Hopalong Cassidy" Boyd. Best guess is the photo was taken in the mid '50s.
Leo Carrillo and Tom Mix pose with two lovely ladies in Chicago in 1933.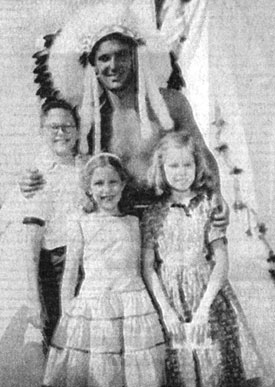 Keith Larsen as TV's "Brave Eagle" poses circa 1955-'56 with Robert, Sherron and Beverly Forrester of Oklahoma.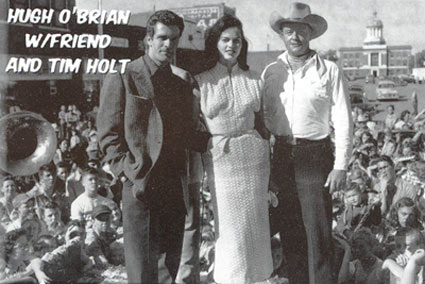 Hugh 'Wyatt Earp" O'Brian and Tim Holt make a personal appearance in Sayre, OK, in the '50s. The girl was apparently a local beauty queen. (Photo courtesy John Stovall from the Sayre Shortgrass Country Museum '09 calendar.)
Buck Jones at about 18 or 19 years of age as a working cowboy on the Miller Brothers 101 Ranch near Ponca City, OK. Buck's pay was $15 a month plus "chuck and bunk".
In his early 20s Buck Jones worked at the Indianapolis Speedway as a test driver under the tuteledge of noted race car driver Harry Stillman.
Hoot Gibson personal appearance newspaper ad from 1931.
Randolph Scott's "Albuquerque" held its world premiere in Albuquerque, NM, in January 1948 simultaneously at two theatres—The Kimo and The Sunshine (both of which still exist).
State Police formed an escort line for Randolph Scott as he arrived at the Kimo Theatre for the world premiere of "Albuquerque".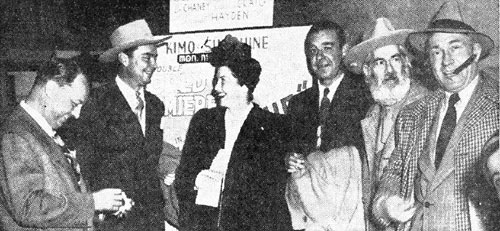 At the world premiere of "Albuquerque" left to right are Bill Thomas, studio executive of Pine-Thomas Studios who produced the western for Paramount release; film co-stars Russell Hayden, Catherine Craig, Lon Chaney Jr., Gabby Hayes; and actor William Demarest who was not in the film but appeared at the premiere.
Randolph Scott and comedian Billy DeWolfe (right) arrive at the train station in Albuquerque, NM, for the world premiere of "Albuquerque". Greeting them are Duke Clark, Paramount distribution chief for the western United States, and the film's producer William (Bill) Thomas of Pine-Thomas.
Screen gangster Edward G. Robinson and screen cowboy Tom Mix greet the public. Circa late '30s.
Gene Autry "At Mail Call Today." 1948. (Thanks to Bobby Copeland.)
Roy Rogers tries to help Jane Withers with a flat bicycle tire.
English B-western researcher and interviewer John Brooker (right) with Ken Maynard at Maynard's trailer park home in 1970. Read John's interviews with various western stars in every print issue of WESTERN CLIPPINGS.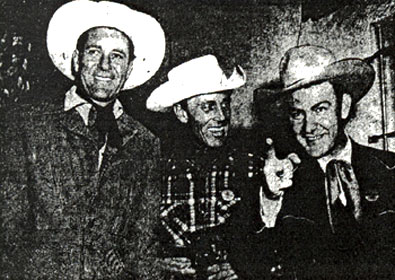 Valley Village, CA, honorary mayor Tex Williams (right) with pals Doye O'Dell (left) and Ken Curtis (center) (5/16/49).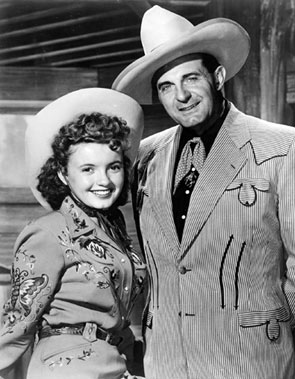 Ray "Crash" Corrigan and wife Elaine DuPont.
Silent and early '30s B-western star Buddy Roosevelt.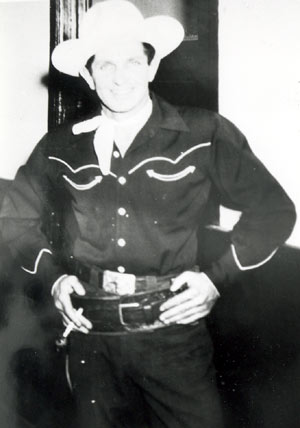 Bob Steele poses for a fan foto in the '40s at a theatre in Winston-Salem, NC. Oops! Shoulda doused that cigarette before posing, Bob.