WWII "Up Front" cartoonist Bill Mauldin and Audie Murphy who both play Union soldiers in John Huston's "Red Badge of Courage" ('51 MGM).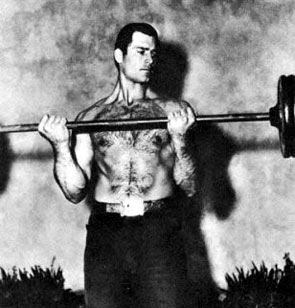 One of the many ways Clint ("Cheyenne") Walker stayed in shape.
William (Hopalong Cassidy) Boyd, accompanied by his wife, Grace Bradley, presents his card to Harvey, the unseen giant rabbit of the James Stewart starrer of the same name in 1950.
An off-the-range Ed Cobb dressed in his Plus Fours (golf pants) with pipe in mouth. Looks as if he's been walking his cat...how else to explain the leash? Obviously taken in the '30s. (Thanx to John Bickler.)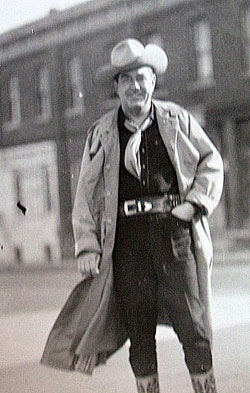 Johnny Mack Brown in the late '30s when he was visiting a town in either east Tennessee or western North Carolina...photographer Grady Franklin's father took the picture and had photo studios at various times in both states.
Gene Barry joins his wife, Betty, on his "Bat Masterson" set during her guest appearance in the "No Amnesty for Death" episode in '61.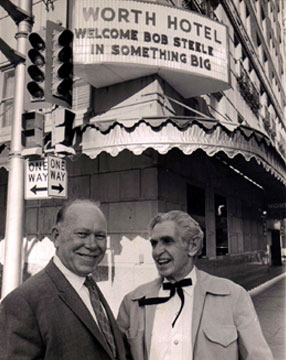 Back in 1946 Bob Steele made an appearance at the Gaines Star Theatre in Denison, Texas. 25 years later in 1971, Bob was making his last appearance in Dallas/Ft. Worth for the premiere of "Something Big". At that time Bob had a reunion with Harry Gaines (above). The DALLAS MORNING NEWS featured Bob on the cover of their weekly magazine with a write-up inside. Bob was given royal treatment as the star he had been for decades. (Thanx to Billy Holcomb.)
Pat Conway as Sheriff Clay Hollister and Richard Eastham as TOMBSTONE EPITAPH editor Harris Claybourne on the set of the sheriff's office for ABC's "Tombstone Territory". The other man could be a director or even the set decorator.
A pre-"Sergeant Preston" pose of Richard Simmons.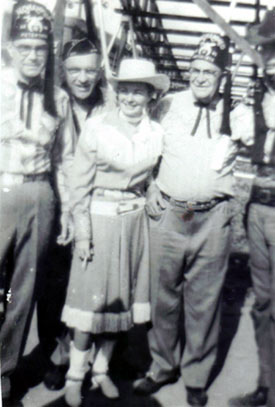 Gail Davis as Annie Oakley posed for a picture with a few Shriners while signing some autographs. Not sure where or when this was taken. (Thanx to Billy Holcomb.)
For whatever reason, Tony Curtis looks a little "peturbed" as he glances toward Dale Evans, Bob Hope, Roy Rogers and Delores Hope during the Viet Nam Veterans Salute to the USO dinner at the Century Plaza Hotel in Los Angeles on November 12, 1984. (Thanx to Bobby Copeland.)
Roy Rogers speaks with Jimmy Stewart at the USO dinner mentioned in the above photo. (Thanx to Bobby Copeland.)
Actress Jan Shepard and "Lawman" John Russell take a break between scenes. Note the cigarette in John's hand.
Dressed in his civvies, Clint ("Cheyenne") Walker shakes hands with Ty Hardin in costume for his "Bronco" series on the Warner Bros. back lot in 1958. (Thanx to Neil Summers.)
Karen Sharpe and Don Durant talk over the script for another episode of
CBS' "Johnny Ringo".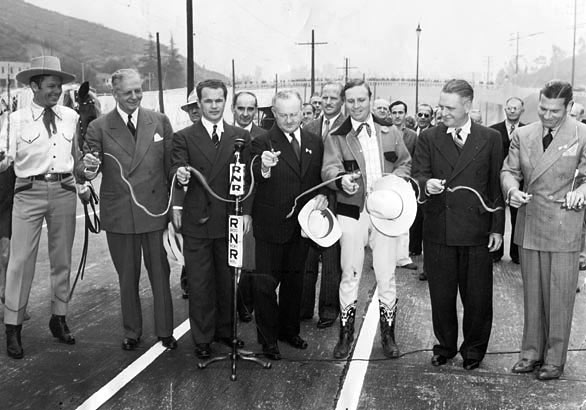 Dedication in 1940 of the Cahuenga Pass Freeway. (L-R) Tom Keene, honorary Mayor of Sherman Oaks; Gov. Colbert Olson; John B. Kingsley, President of the Hollywood Chamber of Commerce; L. A. Mayor Fletcher Bowron; Gene Autry, honorary Mayor of North Hollywood; Burbank Mayor Frank C. Tillson; and Richard Arlen, honorary Mayor of Sunland. (Thanx to Bobby Copeland.)
On the back lot of Warner Bros., Jack Elam poses for wardrobe shots for his charater of Deputy J. D. Smith on the short-lived but excellent Warner Bros. series "The Dakotas" in 1963. (Thanx to Marty Kelly.)
Gary Cooper and Fess Parker study the script for "Springfield Rifle" ('52 Warner Bros.). (Thanx to Neil Summers.)
Robert Strauss, Bette Davis and Ward Bond as wagonmaster Major Seth Adams during a lull in shooting for "The Elizabeth McQueeney Story" episode of
NBC's "Wagon Train" in 1959.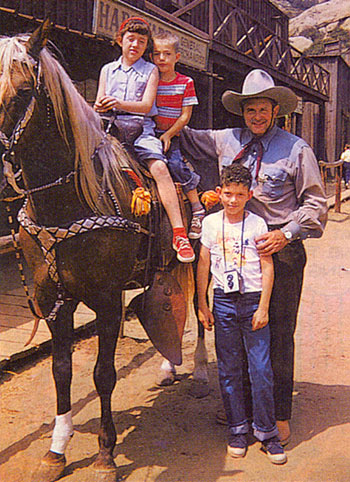 Ray "Crash" Corrigan poses at Corriganville with members of the Dohren family of Aurora, Illinois, in 1956.
No one could be happier than Czech-born Vera Hruba Ralston as she reads the wonderful V-E Day headlines with Wild Bill Elliott on the Republic back lot in 1945. (Thanx to Bobby Copeland.)
Actor Victor French, stuntman Al Wyatt and stuntman/actor Neil Summers visited western great Randolph Scott at his home in Beverly Hills in 1985. (Thanx to Neil Summers.)

MGM TV's production crew on location in Canon City, Colorado, for "How the West Was Won" that starred James Arness. Above photo shows troopers maneuvering for attack during an Indian war. The Westernaires, a unit of 60 young men, were retained by executive producer John Mantley to serve as U.S. Cavalry troopers.
John Wayne and director Howard Hawks take a break during the filming of
"Rio Lobo" ('70).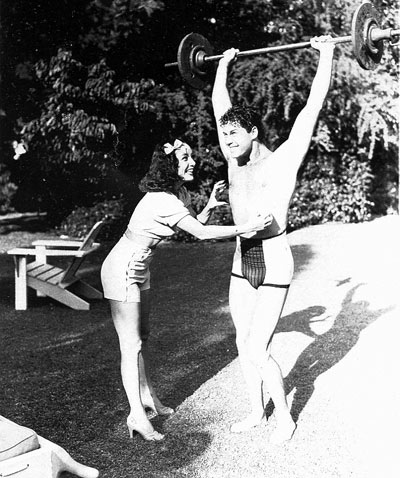 A pre-Lone Ranger Clayton Moore seems to be saying to Lupe Velez, "Don't tickle me while I've got this barbell." (Thanx to John Bickler.)
Cast and crew of "Frontier Revenge" ('48) assemble on Iverson's Ranch for a group photo. Lash LaRue dead center, to his right is Jim Bannon. Is that producer Ron Ormond to Lash's left, shirt open? Director Ray Taylor and most likely script supervisor Moree Herring are seated to Lash's right. Co-stars Ray Bennett and Lee Morgan are in the back to Lash's left. Others unidentified. Can anyone help? Cute to notice the kids looking on while hiding in the bushes. Obviously missing from the cast foto are Fuzzy St. John, Peggy Stewart and Sarah Padden.