Randolph Scott with his two Great Danes in 1933.
For their 1953 rodeo appearances, Jock Mahoney as the "Range Rider" and Dick Jones as Dick West staged a 10 minute "movie fight" during which they slugged it out with fists and splintering chairs.
Publicity photo of Wild Bill Elliott during his '38-'39 Columbia years.
Youngster Steve Salina asks Hoot Gibson questions about old cowboy films which Hoot discusses and shows during a filmed but apparently never released June 1950 TV series. Hoot also had guests drop by such as Rand Brooks pictured here.
Hoot did host a series of 15 minute TV programs promoting the sale of Aristo Blue Chinchillas. Music was included by the Jimmie Haskell Trio. That show was aired and I have several of those which appear to have all been filmed at the same time.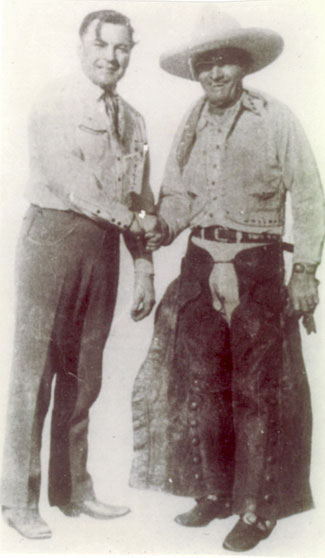 In the late '20s Buck Jones and Tom Mix were two of the top western stars.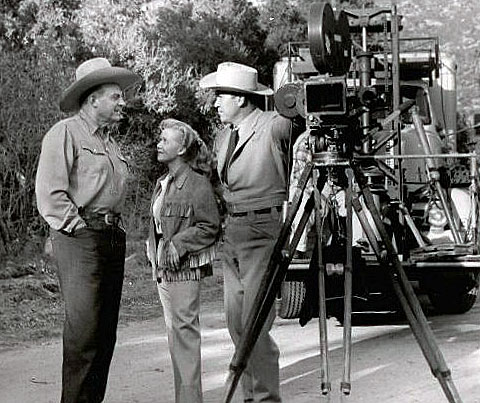 Ray "Crash" Corrigan visits with "Sky King" (Kirby Grant) and niece Penny (Gloria Winters) when the series was filiming at Corriganville in 1952.
William "Hopalong Cassidy" Boyd and wife Grace Bradley celebrate a dinner out at Ciro's in 1949.
Marie Windsor, star of Republic's "Hellfire", and Rod Cameron, star of Republic's "Brimstone", in August 1949.
Roy Rogers and Dale Evans assist Trigger in putting his hoofprints in cement at the
old Hitching Post theatre in L.A.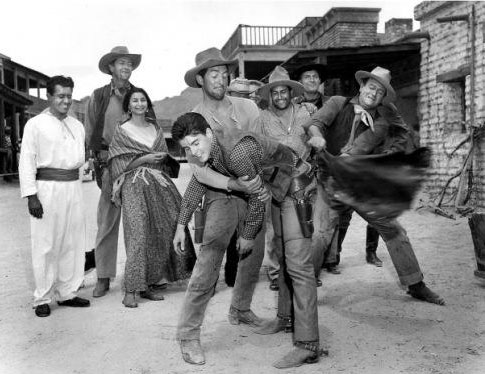 Dean Martin, John Wayne and others celebrate Ricky Nelson's 19th birthday
on the set of "Rio Bravo" in 1959.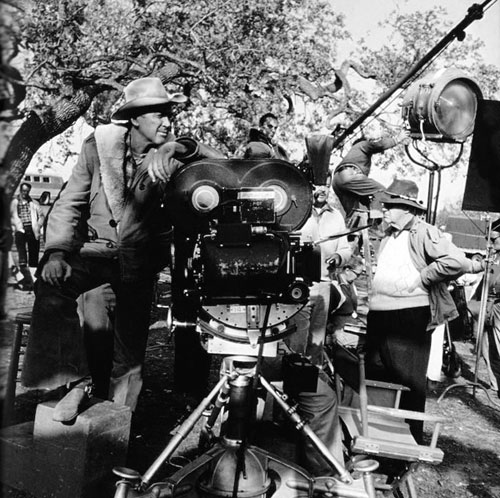 James Stewart and director John Ford await the next scene setup on "Two Rode Together" ('61). (Thanx to Jerry Whittington.)
Hugh O'Brian, TV's "Wyatt Earp", unveils dinner in July 1967 for Marine Sgt. William Ferrell, a patient at Yokosuka Naval hospital. He was wounded the previous month at Dong Ha, Viet Nam. Behind them are Linda Michele and Ruth Lawrence of the U.S.O.'s "Guys and Dolls" dance troupe.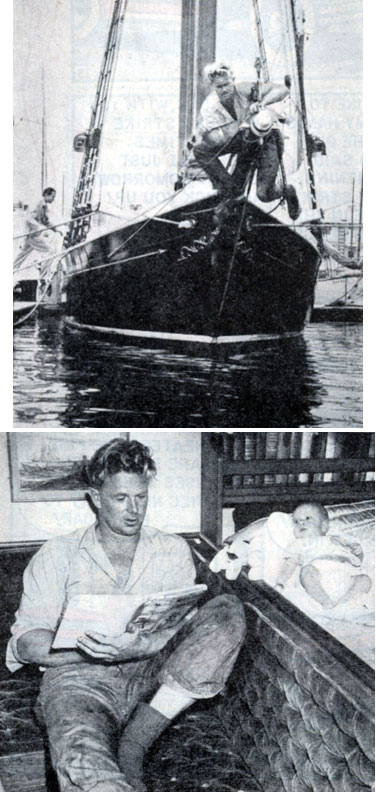 Sterling Hayden aboard his 50 foot schooner in 1949. Seen with his son Christian
(nickname Windy) aboard the schooner.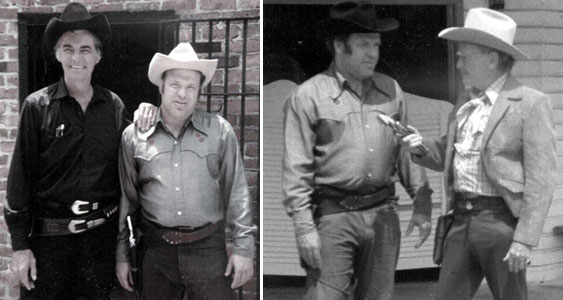 Back in the '70s, after the filming of "Buckstone County Prison", Sunset Carson and some backing partners opened up Sunset Carson's Carson City Western tourist attraction in Chimney Rock, NC. Pictured are Rory Calhoun and Jerry Whittington in front of the Carson City jail and Jerry Whittington and Don Barry in front of the saloon. (Thanx to Jerry Whittington.)
Malcolm Williams, Lane Chandler, Gary Cooper and Paul Fix while making Paramount's "The First Kiss" in 1928.