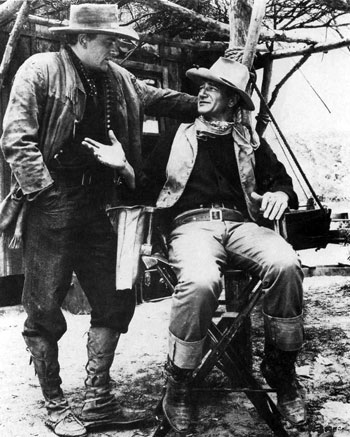 James Arness and John Wayne talk things over during a break in the making of "Hondo". ('53 WB). (Thanx to Jerry Whittington.)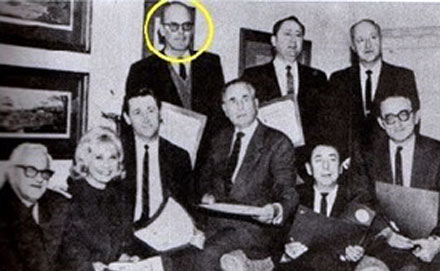 Rare '60s photo of Allan "Rocky" Lane and a group of executives and stars of
"Mr. Ed". Lane is circled at the top, Connie Hines and Alan Young are second and third from the left. (Thanx to Carmen Sacchetti.)
1932 photo of Tom Mix with his wife Mable and daughter Thomasina. (Thanx to Jerry Whittington and Bud Norris.)
A very untypical outfit for Gene Autry as he strums his Martin guitar.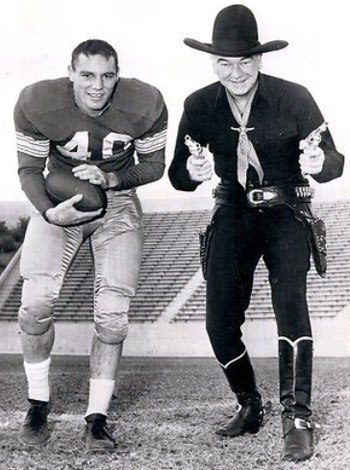 Two for the price of one! Halfback Howard Cassady of the Ohio State Buckeyes ('52-'55) poses with William "Hopalong Cassidy" Boyd. Cassady won the Heisman trophy in '55 and was elected to the college football hall of fame in '79. (Thanx to Jerry Whittington.)
Ken Maynard offers words of wisdom to Tony Perkins who was set to star in "Tin Star" ('57 Paramount). Those wisdom words won't be going out the other ear, Hoot Gibson is seeing to that. The two western greats, along with other former movie cowboys, attended a barbecue hoedown at Paramount hosted by Perkins to promote "Tin Star" which co-starred Henry Fonda. (Thanx to Jerry Whittington.)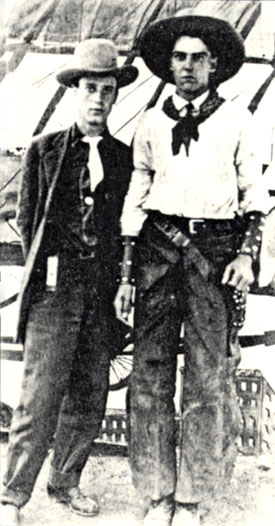 Ken Maynard on the right in 1923 when he was a trick rider with Ringling Bros. Circus. The man on the left may be Kermit Maynard.
Clyde Beatty and Hoot Gibson beside a 1937 Studebaker in Jacksonville, FL, in October 1938 getting ready for the Robbins Circus tour.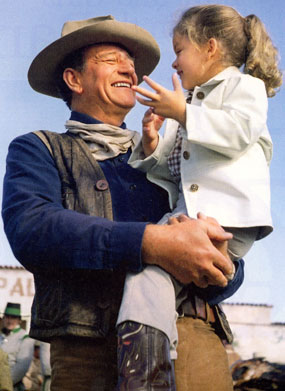 John Wayne with daughter Aissa in 1960 while making "The Alamo".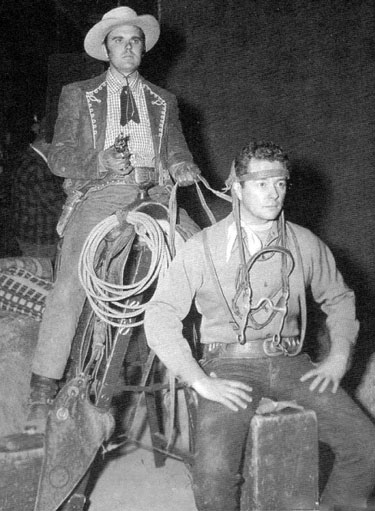 Gag shot of Richard Martin and Tim Holt taken during the making of "Stagecoach Kid" ('49 RKO). (Thanx to Jerry Whittington.)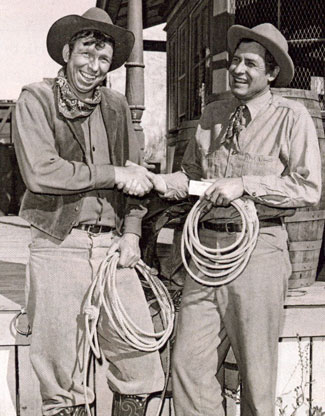 Slim Pickens (left) hands an award to Will Rogers Jr. making him an honorary member of the Rodeo Cowboys Association in 1952.
Andy Devine and Guy Madison check over their scripts for the next episode of
"Wild Bill Hickok".
Monte Hale looks at a painting of a horse. Taken in the Republic prop room?
(Thanx to Jerry Whittington.)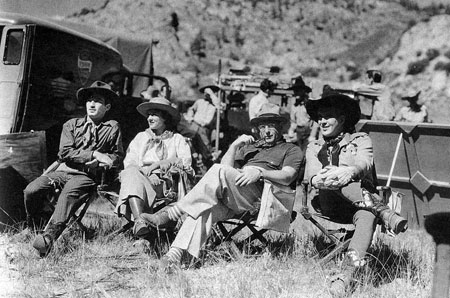 (L-R) George E. Stone, Sheila Mannors, director D. Ross Lederman and Dick Foran on location for "Moonlight on the Prairie".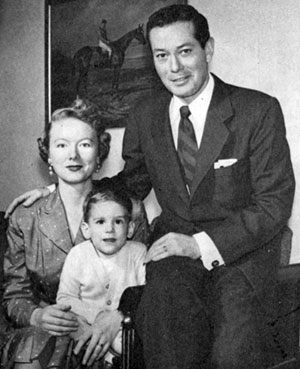 "The Gray Ghost" in civvies...Tod Andrews with his wife Gloria and three year old son Tod Walter Andrews in 1955.
Johnny Mack Brown looks over his household collection of antiques. These are Chelseas, one for each month of the year. Photo taken in early '46.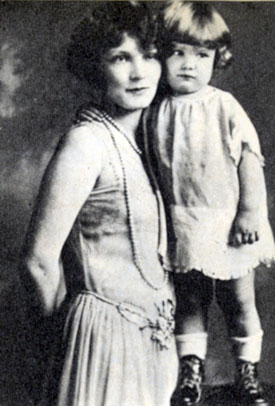 Did she know she'd grow up to become "Annie Oakley"? A young Gail Davis with her mother, Mrs. Grayson.
Gene Autry appears on Bud Guest's WJR-Detroit "Sunny Side of the Street" radio show in mid 1955.
A little beefcake for the ladies. Robert Horton of "Wagon Train" and "A Man Called Shenandoah". (Thanx to Terry Cutts.)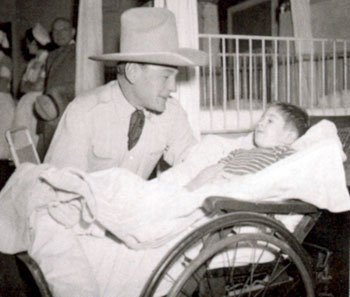 Buck Jones was fond of visiting children in hospital wards whenever possible.
Singer Margaret Whiting and Hugh O'Brian attend a Thalians dinner in 1956.
Republic star Sunset Carson working on "Hollywood Nostalgia Theatre" two weeks before his death. (Thanx to Jerry Whittington.)
Roy Rogers welcomes "The Arizona Cowboy" Rex Allen to the Republic lot in 1949.

Terrific color photo of the Republic lot taken circa 1944. (Thanx to Jerry Whittington.)
Overview of the Universal backlot circa mid-40's. (Thanx to Jerry Whittington.)