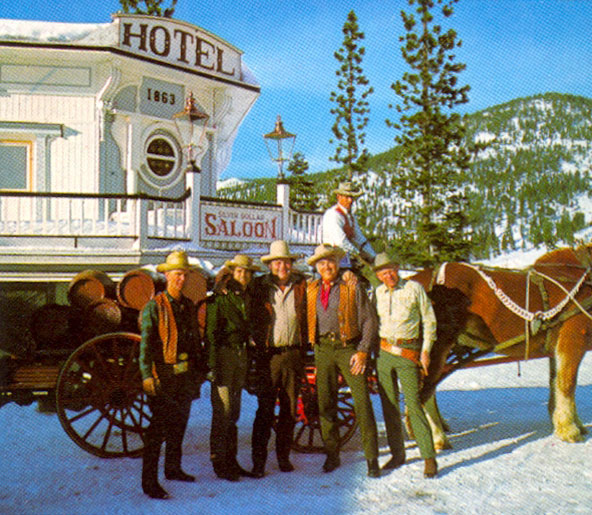 Wintertime at Incline Village, Lake Tahoe, NV, Ponderosa Ranch with Michael Landon, Dan Blocker, Lorne Greene and others.
On the set of "When the West Was Fun: A Western Reunion" ('79) with The Lone Ranger (Clayton Moore) and The Rifleman (Chuck Connors). George Montgomery can be glimpsed in the back.
In civvies, Eric Fleming and Clint Eastwood...otherwise Gil Favor and Rowdy Yates on "Rawhide", receive one of the many awards they've won. Photo circa 1964.
"Stump the Stars" host and producer Mike Stokey gently tugs at the whiskers of guests Paul Brinegar (Wishbone on "Rawhide") and Sebastian Cabot in 1964. Stokey was once married to B-Western actress Pamela Blake.
Buster Crabbe with son Cuffy in 1952.
Amanda Blake as Miss Kitty and "Gunsmoke" guest star Bette Davis share a laugh after a tough scene filming "The Jailer" episode in 1966.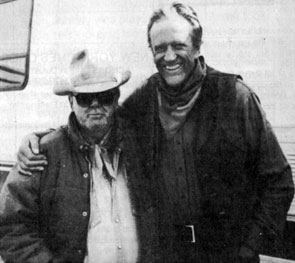 Costumer Luster Bayless poses with James Arness on the set of "Gunsmoke: To the Last Man" in 1992.
Director Ida Lupino has a script conference with "The Virginian" James Drury, Doug McClure and guest star Alice Rawlings on the set of the "Dead Eye Dick" episode in 1966.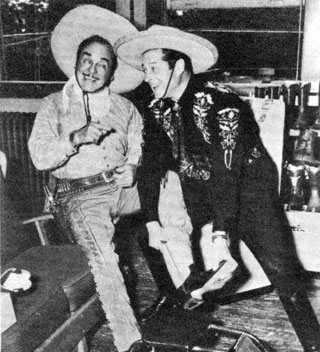 The Cisco Kid (Duncan Renaldo) fits sidekick Pancho (Leo Carrillo) with a pair of boots at the H. J. Justin and Sons plant's 75th Anniversary in Fort Worth, Texas.
John Wayne and Gary Cooper dressed for a relaxing day at the beach.
Bob Steele is joyous after riding off with the championship in the PAGA 1968 Golf Classics Celebrities category.
William "Laredo" Smith on the cover of STRENGTH & HEALTH circa 1983.
That's no way for Clint "Cheyenne" Walker to spot for Will "Sugarfoot" Hutchins in the Warner Bros. gym.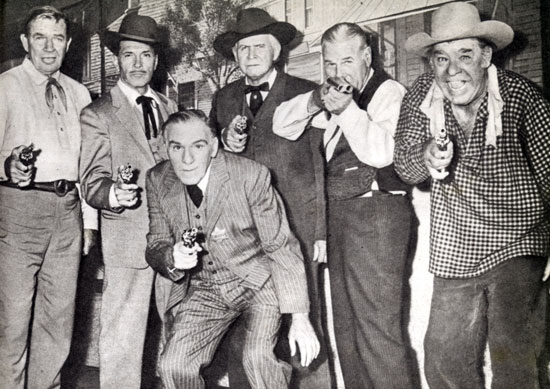 A gang of oldtimers reunite for roles in A. C. Lyles' "Law of the Lawless" ('64 Paramount). (L-R) Bruce Cabot, Kent Taylor, William Bendix, Barton MacLane,
Richard Arlen, Lon Chaney Jr.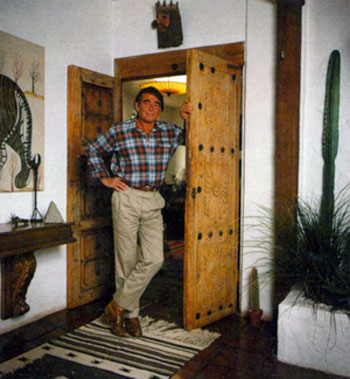 Stuart Whitman, star of TV's "Cimarron Strip", at his Montecito, CA,
home in March 1984.
Monte and Joanne Hale at home in 1984.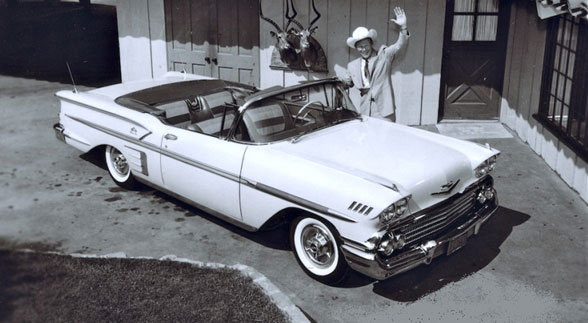 Roy Rogers at home in 1958 with his new Chevy.
The gun behind so many Hollywood heroes..technical fastdraw coach, full blood Chickasaw Indian Rodd Redwing at home in 1960.
George Montgomery proudly displays his Custer's Last Stand bronze.
Director Arthur Hiller talks over the script of "Goodyear Theatre: The Golden Shanty" ('59) with star Errol Flynn.
Hugh O'Brian challenges pretty Eva Norlund of Denmark to the draw as the Norwegian girl joined other memebers of the Miss Universe contest during a visit to the set of Hugh's "Wyatt Earp" in July 1958.
George Peppard on location with wrangler Dick Webb for "How the West Was Won" ('62 MGM). Webb was a well known wrangler on other Westerns such as "Cimarron" ('60), "The Reivers" ('69), "Hearts of the West" ('75) and "The Blue and the Gray" ('82).
Filming MGM's "Cimarron" ('60) with Glenn Ford.