No. 1 B-western screen badman Charlie King relaxes at Lloyd Sparkman's home in Valley View, Texas, about 5 miles south of Gainesville, TX, in 1955. King was born in nearby Hillsboro, TX, February 21, 1895. He was visitor to the area a number of times during the last couple of years of his life. King died May 7, 1957. (Photo courtesy Billy Holcomb.)
"Range Rider" Jock Mahoney supports his pard, Dick West (Dick Jones), on the streets of Corriganville. Note the observing horse who can't quite believe his eyes. (Photo courtesy Terry Cutts.)
Audie Murphy (second from right) at the Caldwell, ID, rodeo on August 4, 1957.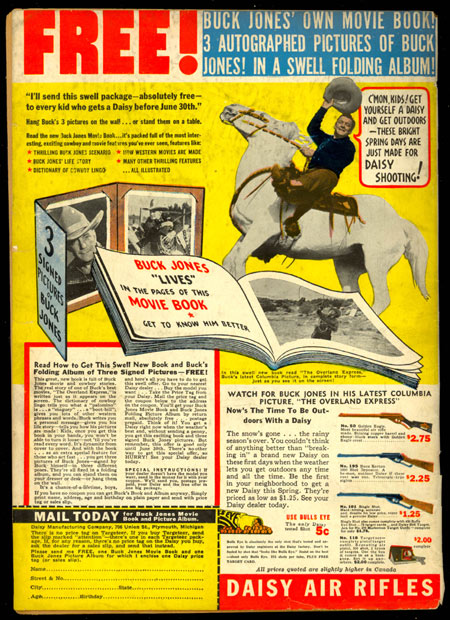 Did you have one of these? Buck Jones Daisy Air rifle ad on the back of POPULAR COMICS #29 (June '38).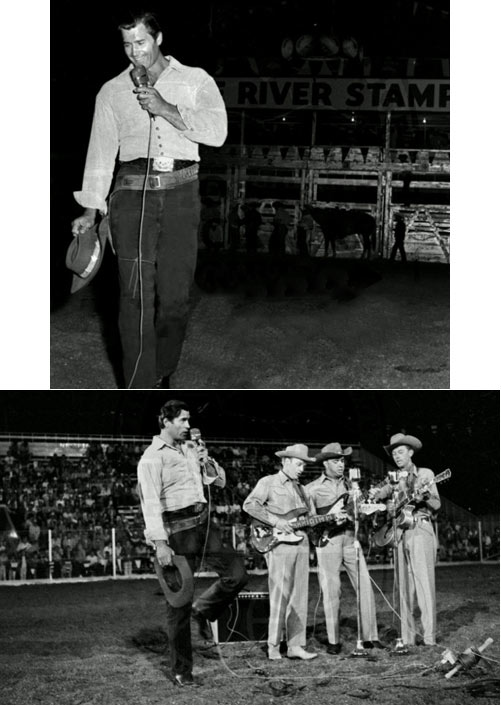 Clint "Cheyenne" Walker entertains at the Snake River Stampede in Idaho in 1962.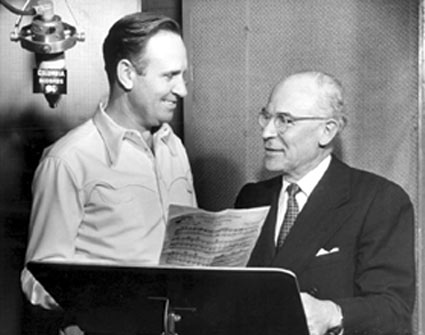 Gene Autry with (I believe) Art Satherly at a 1950 Columbia recording session. (Thanx to Bobby Copeland.)
Wild Bill Elliott and sidekick Gabby Hayes have a little fun with Republic sales executives, circa 1943. (Thanx to Billy Holcomb.)
A young Peter Ford visits his dad Glenn Ford on location.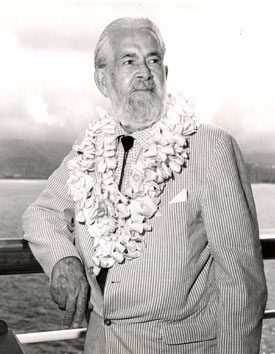 Aloha, Podner! A very debonair George Gabby Hayes aboard Matson liner Lurline before sailing from Honolulu after a May 1965 vacation. (Photo courtesy Neil Summers.)
A young pre-war Tim Holt lunches with actress Ann Shirley in the RKO commissary.
Child actor Ricky Vera snuggles up to a camel and talks with "Broken Arrow" series star John Lupton between scenes of the December 1956 episode "Cry Wolf".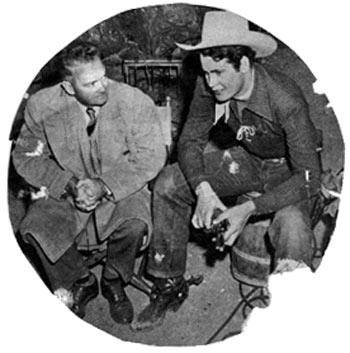 Director Tommy Carr with Republic star Sunset Carson circa 1945. (Photo courtesy Billy Holcomb.)
Ray "Crash" Corrigan visits the State Theatre in Thomasville, NC, in 1939. Corrigan was then a member of The Three Mesquiteers. (Thanx to Bobby Copeland.)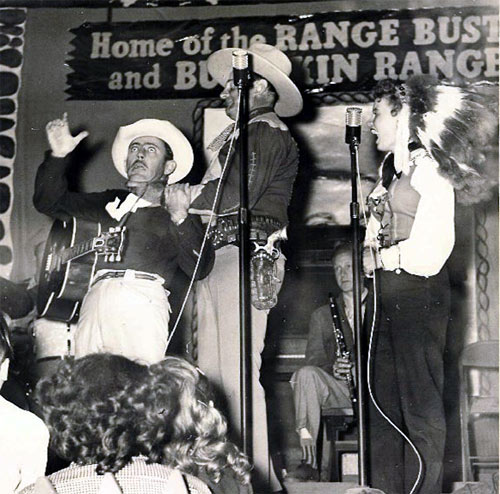 The Broome Brothers (Joe, Lee and Ray) used to be Ray "Crash" Corrigan's band at Corriganville in the '50s. Here Lee Broome does a routine with Crash and his wife Elaine Dupont. Note the sign refers to both Corrigan's Range Busters and his unsold TV pilot "Buckskin Rangers". (Photo courtesy Ron Broome.)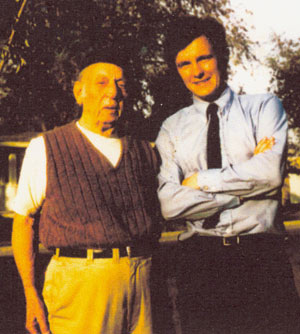 Raymond Hatton with WESTERN CLIPPINGS columnist John Brooker outside Hatton's home in the '70s.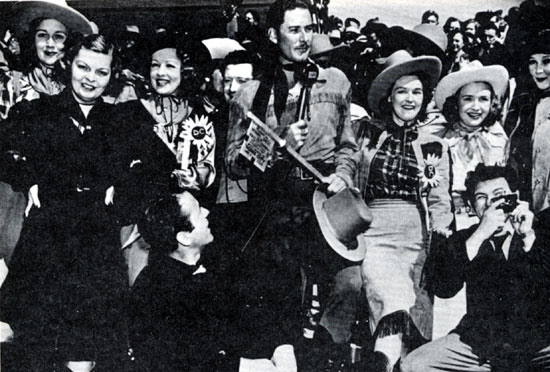 (L-R) Lola Lane (with hat), Mayo Methot, Humphrey Bogart (sitting), Claire Windsor, Frank McHugh (behind Flynn), Rosemary and Priscilla Lane, John Garfield (with camera) and Jean Parker join Errol Flynn in accepting the key to the city of Dodge City, Kansas during the November 1938 premiere of Warner Bros.' "Dodge City".
PRC's "Cowboy Rambler" Bill Boyd meets with a group of his fans in 1942.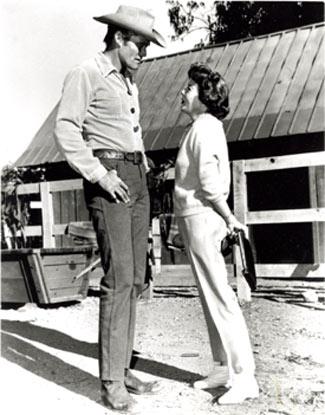 Chuck Connors talks with director Ida Lupino. Lupino directed the "Assault" episode of "The Rifleman" in 1961.
Roy Rogers, Angie Dickinson and Gene Autry at a Golden Boot Awards dinner in the '90s. (Photo courtesy Neil Summers.)

Vintage photo of Tom Mix on Tony. Could the rider with him possibly be is father? There is a strong resemblence, but.... (Photo courtesy Bobby Copeland.)
Robert Horton with British theatre actress Margaret Leighton. (Photo courtesy Terry Cutts.)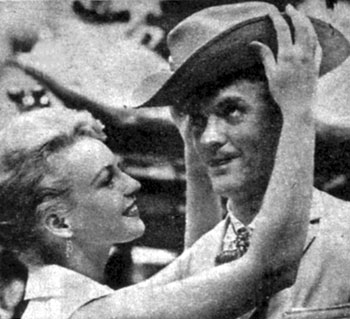 Actress Venetia Stevenson admires Will Hutchins' hat. The pair did three episodes of "Sugarfoot" together. (Photo courtesy Terry Cutts.)
The "Maverick" brothers, Jack Kelly and James Garner, chuckle over their latest script.
Mari Blanchard and Cesar Romero talk with Eric Fleming during a break from the filming of "Rawhide: Incident of the Stalking Death" in November 1959. Note Paul "Wishbone" Brinegar on horseback in the background.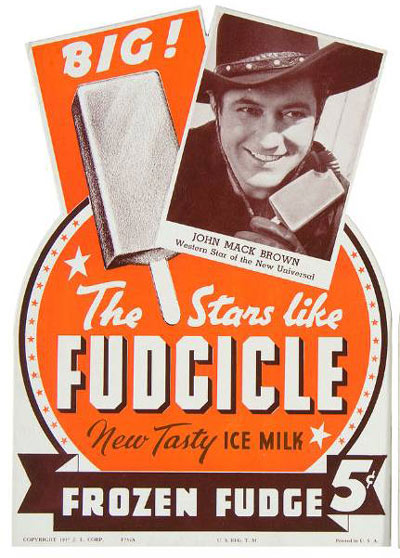 Hmmmmmm.....Let's close with something good to eat! A Johnny Mack Brown endorsed frozen Fudcicle, circa late '30s. And only 5 cents! (Thanx to Bobby Copeland.)