Jon Provost of "Lassie" and Clayton Moore as the Lone Ranger promote the U.S. Savings Bond Peace Patrol for the Treasury Dept. in 1959.
The Lone Ranger (Clayton Moore) unmasked. (Thanx to Bobby Copeland.)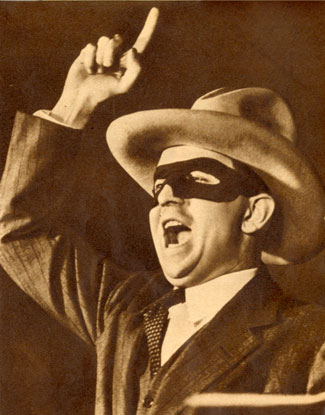 The radio Lone Ranger, Earle Graser in 1938.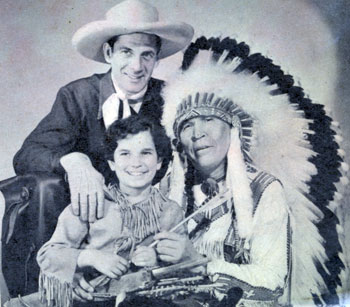 Radio Red Ryder Reed Hadley smiles as his Little Beaver, Tommy Cook, is "adopted" by Chief Yowlachie circa 1942.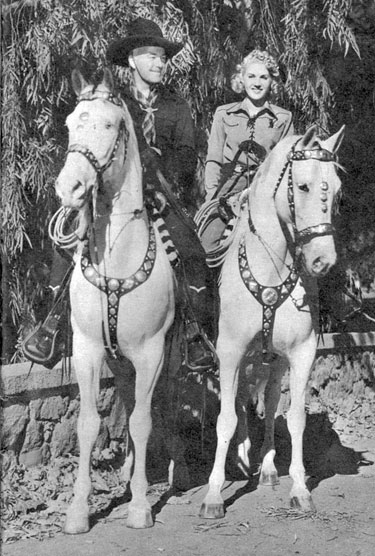 William "Hopalong Cassidy" Boyd with wife Grace Bradley in 1942.
In late 1948, preparing for his starring days at Republic, Rex Allen looks over a pair of hand tooled boots at Nudie's Western Wear shop.
"Look Ma, no hands!" Adele Mara shows off on her bike in March 1943.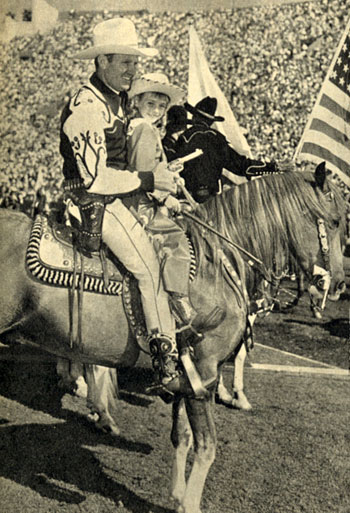 It was a day of thrills and spills for some 100,000 fans at the 5th Annual Sheriff's Rodeo at the L.A. Coliseum in late 1949. The photo above of Gene Autry with fan Eleanor Truitt and the following six photos are all from that rodeo.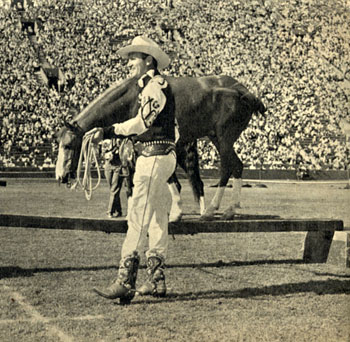 Gene Autry puts Little Champ (?) through his trick paces at the rodeo.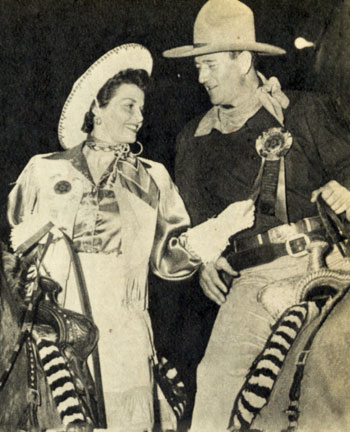 Rodeo Queen Jane Russell and Grand Marshal John Wayne compare their official badges as they wait for the Grand Entry Parade which they led.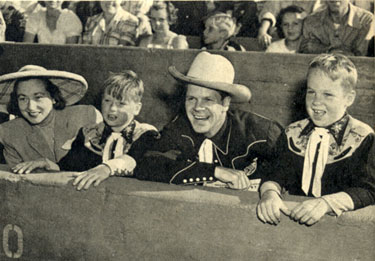 Rodeo fans all, lined up in front row seats...Dan Duryea with wife Helen and sons Peter (left) and Richard.
John Wayne obliges Gene Autry who needed a little help with his cuff button.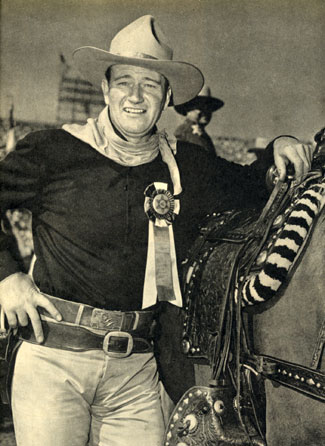 Rodeo Grand Marshal John Wayne. Note the "Red River" belt buckle.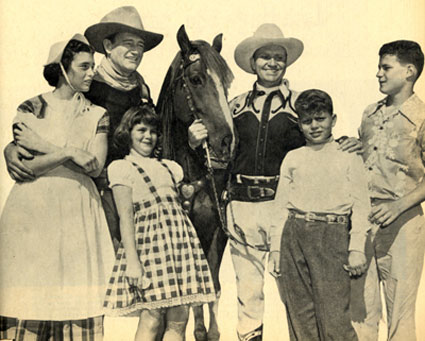 Wayne and Autry with Duke's kids (L-R) Toni, Melinda, Patrick and Michael.
Scott Brady and Joan Leslie brush up on their do-si-dos while square dancing in December '49.
Dan Blocker as Hoss Cartwright tries on a pair of wings in the "Bonanza" episode "Ponderosa Bird Man" (2/7/65).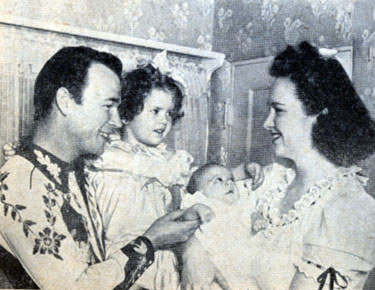 Roy Rogers with three year old daughter Cheryl, months old Linda Lou and wife Arlene in mid 1943.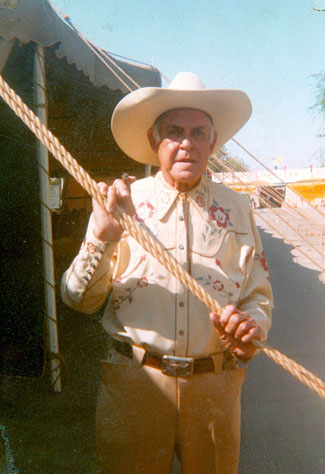 Ken Maynard in his late 60s.
A 1962 Christmas card sent to George Virgines from and signed by Bonnie
and Jack Hoxie.
In 1924 artist Usalbal presents Buck Jones with a 29x23" oil painting of Buck. The painting hung in Buck and Del's home for many years until it was auctioned off by High Noon in 2002 to purchasers Boyd and Donna Magers. It now holds a place of honor in their livingroom.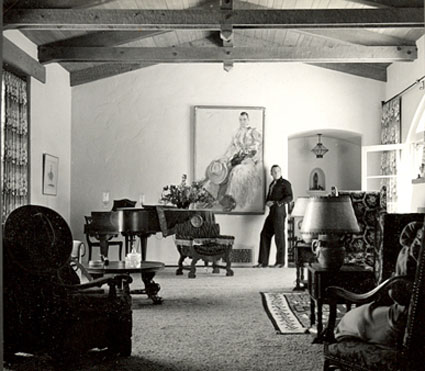 Buck stands before his painting in his home.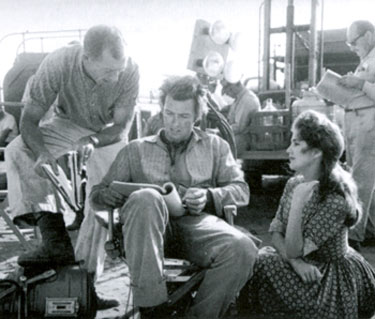 Director Ted Post goes over a "Rawhide" scene with Clint Eastwood.
Actress is unknown.
Producer Harry "Pop" Sherman, unknown, unknown and Joel McCrea on the set of "Four Faces West" in 1948.
Tom Mix (front row third from right) stands in front of the north entrance to the Texas State Capitol with Texas Rangers (L-R back row) Flevis (illegible last name), man misidentified as Tim McCoy (unless that was the name of this Ranger), unknown Ranger. (L-R front row) illegible, Berger Moleswo???, Capt. Frank Hamer, unknown, Mix, Tom Hickman, L. E. Trimble, Sag Cummings.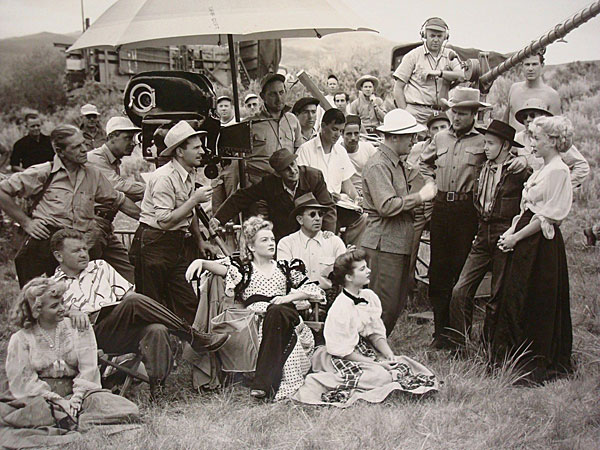 Main cast and crew of "Roughshod" ('49 RKO). Seated left: Jeff Donnell, seated middle front: Myrna Dell, Martha Hyer. Director Mark Robson standing with white hat talks to Robert Sterling, Claude Jarman Jr. and Gloria Grahame. Camera operator was James Daly and cinematographer was Joseph Biroc (likely man in white hat by camera.)
(Thanx to Leonard Maltin.)