Will "Sugarfoot" Hutchins has fun at a party with niece Leslie Hutchason (Will's last name before he became Will Hutchins at Warner Bros.).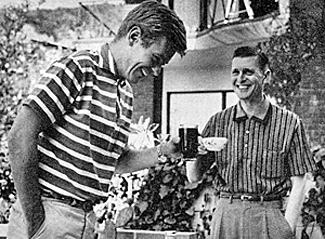 Will Hutchins with his brother Bill, joking about their health drink which combined grape and other fruits.
Robert Horton and Ward Bond take a coffee break while filming another episode of "Wagon Train".
John "Lawman" Russell at home with his family...son John James, Dad John, wife Renata, daughter Renata (12) and daughter Shaunna (11) in 1959.
Columnist Army Archerd turns actor for an episode of "Cimarron City: The Bitter Lesson" in 1959 with stars Audrey Totter and John Smith.
Warner Bros. premiere for "Virginia City" was held in Virginia City, NV, in 1940. The stars really turned out...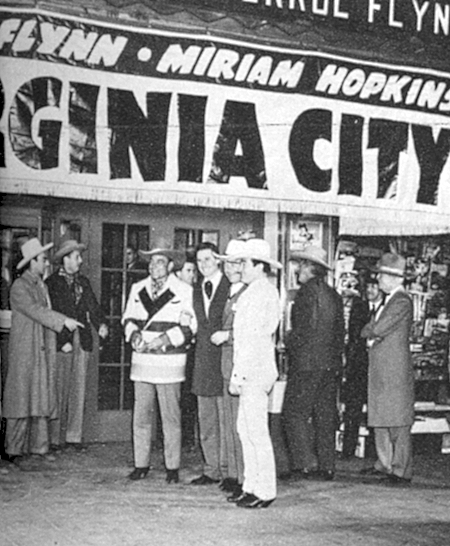 (L-R) Unknown, Unknown, Buck Jones, Errol Flynn, William Boyd, Tom Mix, Unknown, Unknown.
Buck Jones doffs his hat as he enters the doings.
Buck Jones sits down with ??
Unknown, Unknown, Tom Mix, Unknown.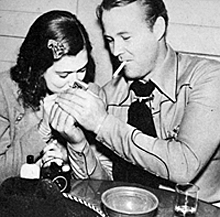 Wayne Morris lights a cigarette for...isn't that Sigrid Gurie?
Unknown, Wayne Morris, William (Hopalong Cassidy) Boyd.
(Other ladies attending were Rosemary Lane, May Robson, Jane Wyman, Mary Astor, Patricia Ellis and Sigrid Gurie. Do you recognize any of the unidentified women or men in these pictures?)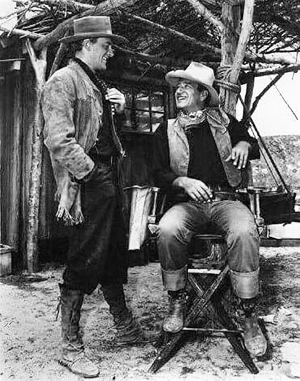 Two Western legends...and friends. James Arness and John Wayne.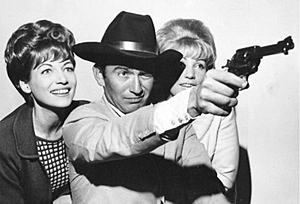 "The Virginian", James Drury, takes aim in Essendon Airport in Melbourne, Australia with Australian TV personalities Panda and singer Val Ruff.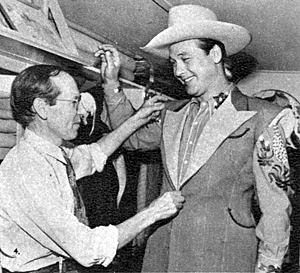 Republic star Monte Hale gets custom fitted for a Western tailored suit at Turk's of Hollywood.
Great brothers—Dan "Hoss" Blocker and Michael "Little Joe" Landon.
Rod Cameron offers a bit of hay to his colt in 1950.
Johnny Mack Brown and his wife Cornelia in front of their gabled English-type house. They were married when Johnny was still a gridiron star and were blessed with four children, Jane, Lachlin, Cynthia and Sally.

Art Rush, Roy Rogers' manager, worked his way through college as a barber's assisstant. Roy was skeptical of Art's prowess and insisted on Republic's barber, Frank Dellante, standing by for any emergence.
Rex Bell and Clara Bow with children, Rex Jr. (born 1934) and new born
son George (born late '30s).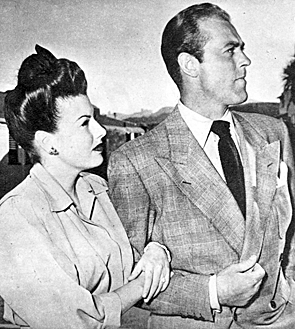 Allan "Rocky" Lane and new bride Sheila Ryan on their Las Vegas honeymoon in October 1945. They were divorced in 1946.
Ken Maynard helps himself to some barbeque at a chuck wagon dinner he hosted in April 1930.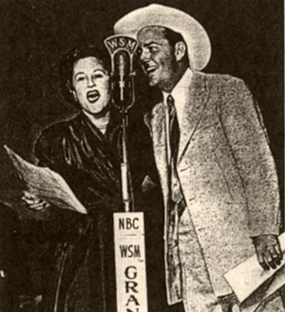 Margaret Whiting and Jimmy Wakely on the Grand Ole Opry in 1949.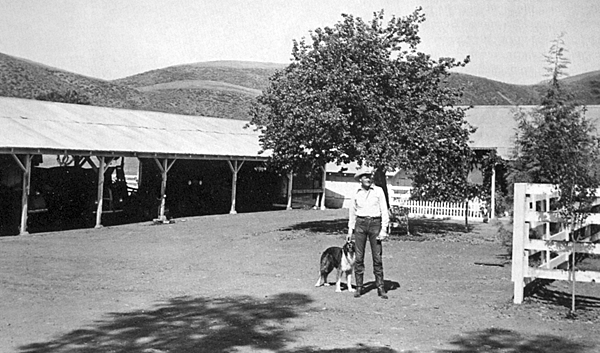 Joel McCrea looks over only a part of his 1,000 acre ranch near Camarillo, CA.
Audie Murphy with his sons Terry and James.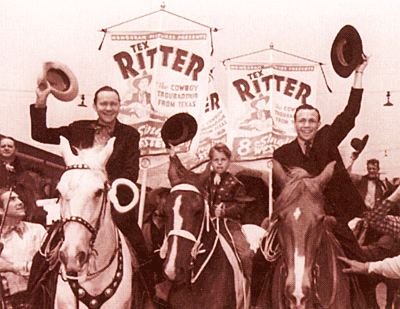 Tex Ritter (left) on tour in 1937.