The Real Lone Ranger!
Clayton Moore, Sheriff Eugene Biscailuz, Jay Silverheels at an annual L.A. Sheriff's Rodeo. Note Clayton is wearing the large mask and dark trousers. Silver has no spot in his ear indicating it is the original horse. Also note Clayton's open holster...previously worn by Brace Beemer. (Thanx to Carmen Sacchetti.)
Sheriff Eugene Biscailuz, Joan and William Mohr, Clayton Moore at a Sheriff's Championship Rodeo in L.A. Coliseum.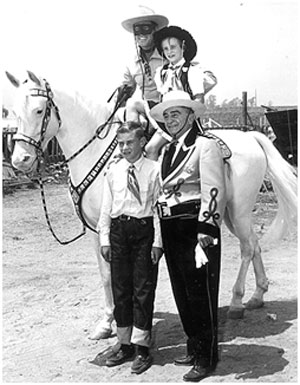 Clayton Moore on the original Silver with Joan and William Mohr, Sheriff Biscailuz at the Sheriff's annual rodeo.
Clayton Moore personal appearance in Kansas City with local dignitary
Matt Plunkett. 2/11/56.
Clayton Moore talks with a crippled child and presents her with a Lone Ranger record at the New Orleans Charity Hospital on February 4, 1956.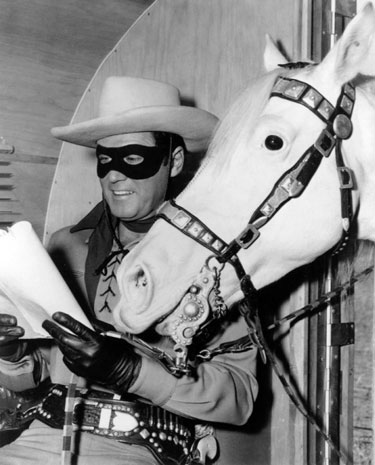 Clayton Moore studies his script for the big budget 1956 "Lone Ranger" movie.
Clayton Moore is welcomed to Oklahoma City, OK, by Warner Theatre managers while promoting the 1956 "Lone Ranger" movie.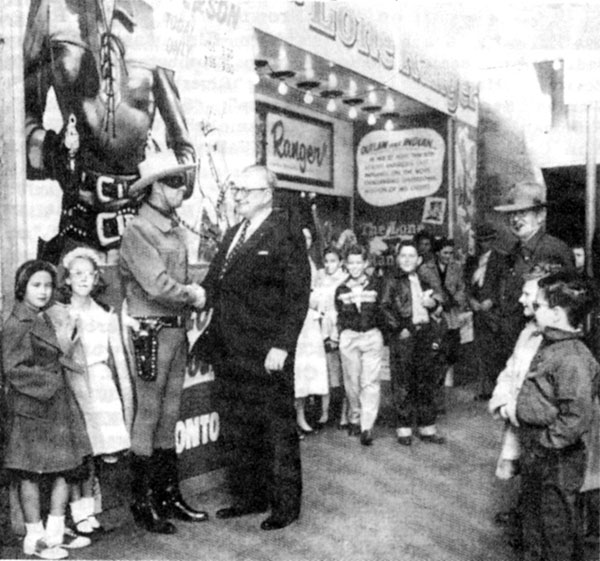 Clayton Moore is greeted by Ray Jones, manager of the Worth Theatre in Fort Worth, TX, along with a throng of admiring children during the 1956 promotional tour for the theatrical version of "The Lone Ranger".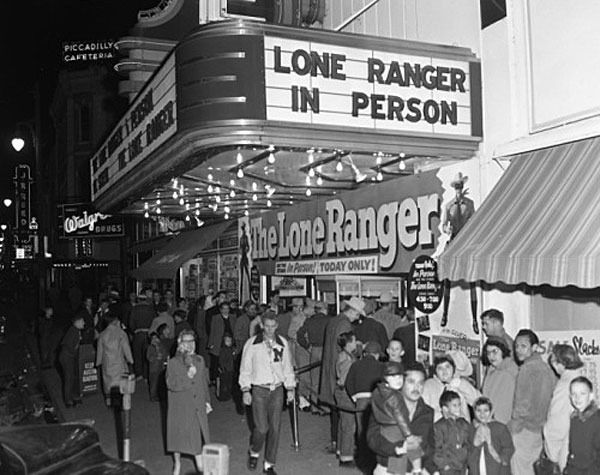 Clayton Moore appeared in person at the Austin Theatre in Austin, TX, to promote the 1956 theatrical "Lone Ranger". (Thanx to Jerry Whittington.)
Clayton Moore ties the scarf of a young Boston fan. Clayton was in Boston to promote "The Lone Ranger" 1956 film.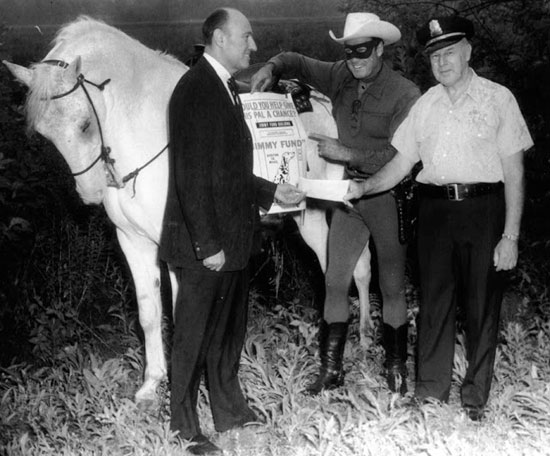 The Lone Ranger helps to promote the Jimmy Fund which raises vital funds to support adult and pediatric cancer care and research at the Dana-Farber Cancer Institute in Boston. Founded in 1948.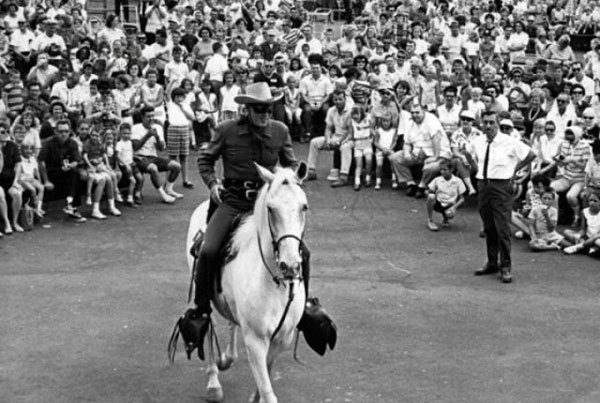 The Lone Ranger rides again in this 1967 photo.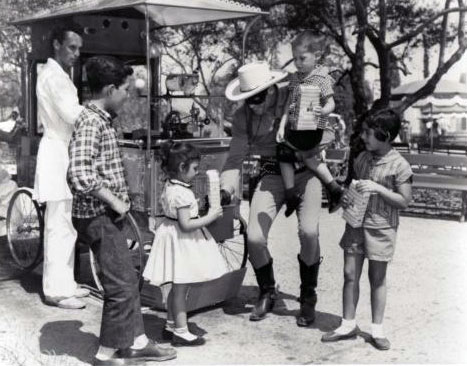 The Lone Ranger shares his popcorn with a group of young admirers.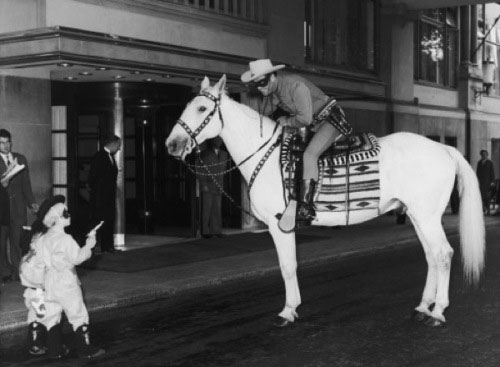 The Lone Ranger is stuck up by a younger version of himself during a
public appearance tour.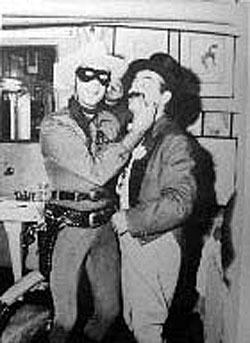 Clayton Moore as the Lone Ranger clowns around with ringmaster Jerry Colonna on TV's "Super Circus" on February 12, 1956.
The Lone Ranger guest starred on "Lassie" with Jon Provost in the "Peace Patrol" episode on May 5, 1959.
Clayton Moore as the Lone Ranger and Jay Silverheels as Tonto were big promoters of Christmas Seals.
Clayton Moore as The Lone Ranger made an appearance in the '50s at Shopper's World in Framingham, MA.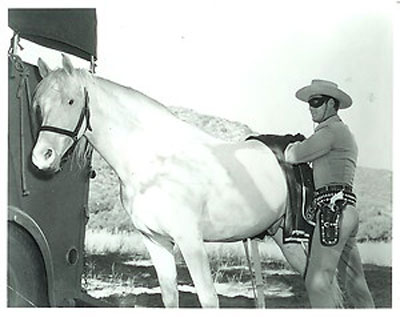 The Lone Ranger prepares to saddle Silver.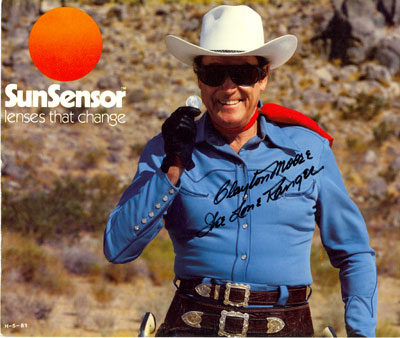 With the release of "The Legend of the Lone Ranger" movie in 1981, Clayton Moore was stripped of his mask and took to wearing and promoting SunSensor sunglasses.
Wearing sunglasses, Clayton Moore appeared at Texas Rangers games for several years.
Clayton Moore with Hollywood tailor Manuel.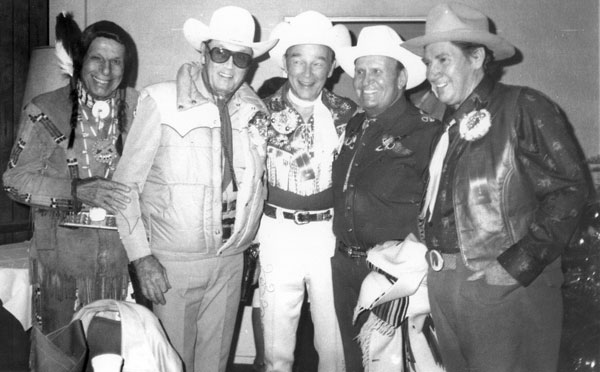 At the November 29, 1981, Hollywood Christmas Parade...(L-R) Iron Eyes Cody, Clayton Moore, Roy Rogers, Gene Autry and Pat Buttram.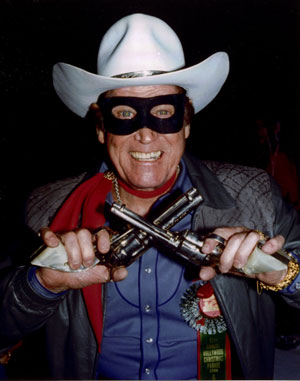 Clayton Moore at the 55th annual Hollywood Christmas Parade in 1986.
A classic photo from ABC's 25th anniversary show on February 5, 1978. (L-R) Hugh O'Brian ("Wyatt Earp"), Chuck Connors ("The Rifleman"), Clint Walker ("Cheyenne"), John Wayne, David Carradine ("Kung Fu"), Clayton Moore ("The Lone Ranger"), Michael Ansara ("Broken Arrow"), Jack Kelly ("Maverick").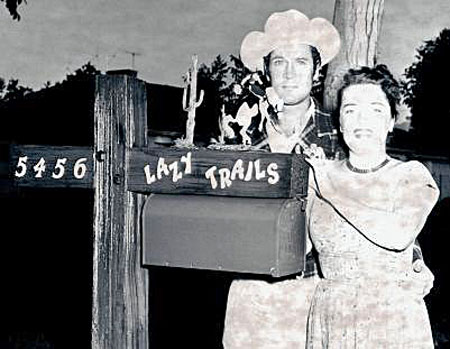 Clayton Moore and his wife Sally at their Lazy Trails home in Tarzana. Sally was his wife from 1943 til her death in 1986. (Courtesy Lone Ranger Fan Club website.)
...and we remember as well the
Radio Lone Rangers!
Earle Graser as the Lone Ranger on WXYZ Radio, Detroit, in 1937. After Graser was killed in an auto accident Brace Beemer assumed the role.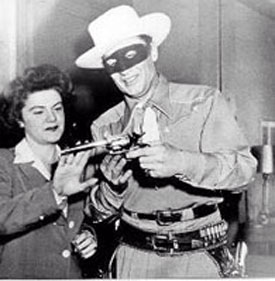 Radio Lone Ranger Brace Beemer shows his pistol to an admirer.