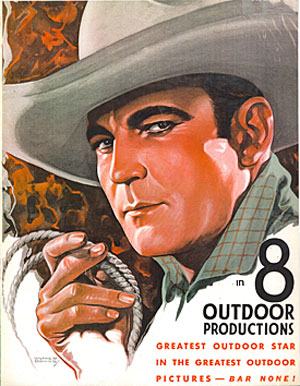 Fabulous 1933 promotional placard for Buck Jones Westerns.
DON BARRY AT HOME...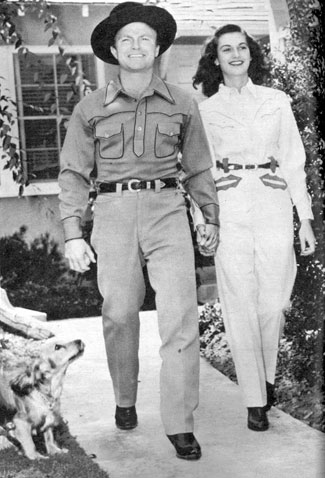 Don and wife Peggy Stewart in 1942. They'd been married about a year. Seen here taking their Spaniel Sir Talleywacker for a walk in front of their San Fernando Valley home.
Don with Sir Talleywacker and their shepherd Lady O'Barry...and Don with a portion of his gun collection.
Don keeps fit by chopping wood...and later answers his fan mail.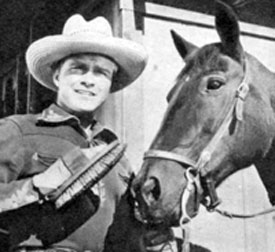 Don readies Cyclone for another Republic B-Western adventure.
Roy Rogers teaches a few gun tricks to New York Mayor Laguardia on October 7, 1943.
Wild Bill Elliott samples one of his own fancy pastries before rewarding the cast and crew of "Wyoming" ('47 Republic) with his delicacies.
Tom Mix points out a little gun safety to some young fans while his Tom Mix Circus played in Toledo, OH on August 5, 1935.
Gene Autry stopped off to meet Lash LaRue while both were appearing at an Illinois State Fair. Young fan in the middle is Roger Ladage of Vernon, IL.
Director Lesley Selander (white shirt seated on the ground) directs Evelyn Venable and Robert Barrat in a scene for Paramount's "Heritage of the Desert" ('39) while several crew members and star Donald Woods (center) look on.
Singer/actor Johnny Western gets a grip on costar Judi Meredith while Dale Robertson seems to wonder why, as the star of "Tales of Wells Fargo", he didn't get the girl! Episode is "The Prisoner" which aired 2/17/58.
Ken Maynard and veteran heavy Fred Kohler take time out for lunch while on location in Lone Pine, CA, during the filming of "Fiddlin' Buckaroo" ('33 Universal). Peeking out of the car at the extreme right is the owner of Lone Pine's Anchor Ranch, Russ Spainhower.
A couple of years after his "Hopalong Cassidy" movies ended, William "Hoppy" Boyd, then 53, was scheduled to make a movie called "Hi Partner" for Paramount with Bing "Hippy" Crosby. The film never got made.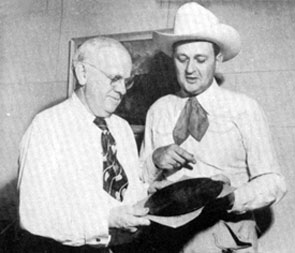 Bill "Cowboy Rambler" Boyd presents a copy of his "New Fort Worth Rag" to Fort Worth Mayor Deen circa 1947.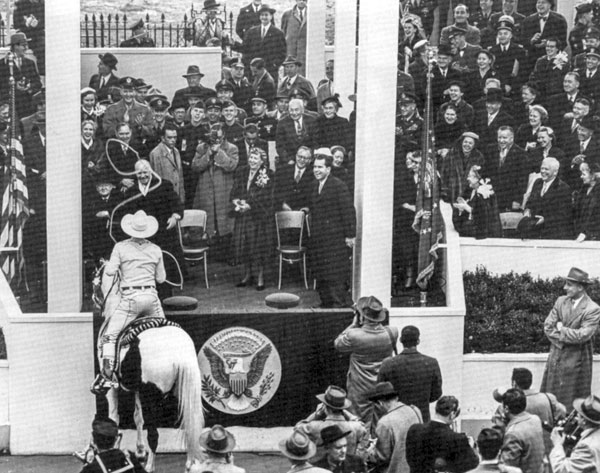 Montie Montana roped President Dwight Eisenhower during his inauguration in 1953. The Secret Service was not amused, but Mamie Eisenhower and Vice President Richard Nixon seem to be getting a chuckle out of it.
Randolph Scott and Fred Astaire share a box and a pair of field glasses at Santa Anita Turf Club in 1938.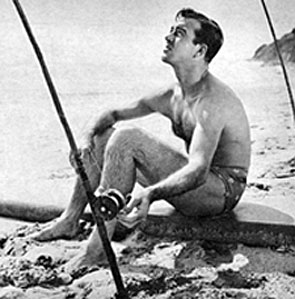 John Payne takes a break from filming to go fishing at Malibu Cove in 1947.
Smiley Burnette seranades Glenn Ford and ?? at the Hitching Post Theater
in the late '40s.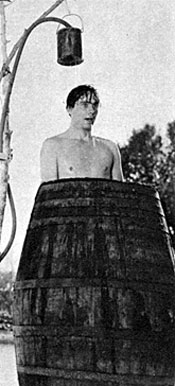 "It's hot out there in the desert making them Hopalong Cassidy movies," sez Russell Hayden as he cools off in a makeshift shower.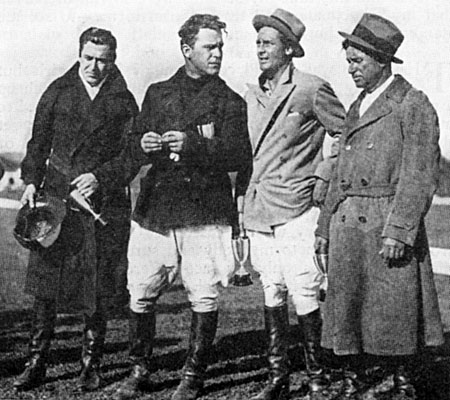 Winners at the Riverside Polo Club! (L-R) Johnny Mack Brown (holding the trophy), Big Boy Williams, Charles Farrell and Will Rogers.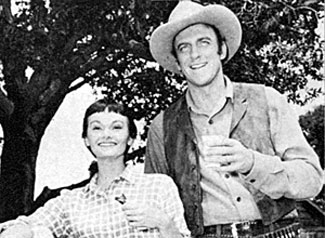 Guest star Gloria Talbott and James Arness take a break from filming the fourth episode of "Gunsmoke", "Home Surgery" ('55).
Michael ("Law of the Plainsman") Ansara shares an apple with date Beverly Garland.
Silent and early '30s B-Western star Jack Hoxie still ready to go after the badguys at 79 years old in 1964. Hoxie died at 80 March 28, 1965 in Elkhart, KS.